Abstract
Carbonaceous materials are widely used in electrochemistry. All allotropic forms of carbons—graphite, glassy carbon, amorphous carbon, fullerenes, nanotubes, and doped diamond—are used as important electrode materials in all fields of modern electrochemistry. Examples include graphite and amorphous carbons as anode materials in high-energy density rechargeable Li batteries, porous carbon electrodes in sensors and fuel cells, nano-amorphous carbon as a conducting agent in many kinds of composite electrodes (e.g., cathodes based on intercalation inorganic host materials for batteries), glassy carbon and doped diamond as stable robust and high stability electrode materials for all aspects of basic electrochemical studies, and more. Amorphous carbons can be activated to form very high specific surface area (yet stable) electrode materials which can be used for electrostatic energy storage and conversion [electrical double-layer capacitors (EDLC)] and separation techniques based on electro-adsorption, such as water desalination by capacitive de-ionization (CDI). Apart from the many practical aspects of activated carbon electrodes, there are many highly interesting and important basic aspects related to their study, including transport phenomena, molecular sieving behavior, correlation between electrochemical behavior and surface chemistry, and more. In this article, we review several important aspects related to these electrode materials, in a time perspective (past, present, and future), with the emphasis on their importance to EDLC devices and CDI processes.
Access options
Buy single article
Instant access to the full article PDF.
US$ 39.95
Tax calculation will be finalised during checkout.
Subscribe to journal
Immediate online access to all issues from 2019. Subscription will auto renew annually.
US$ 79
Tax calculation will be finalised during checkout.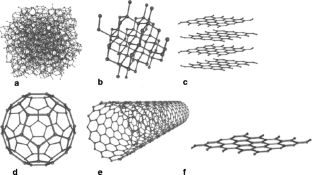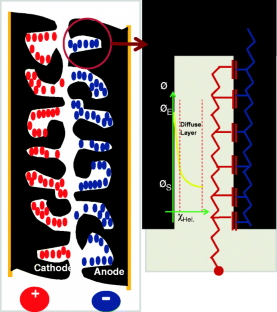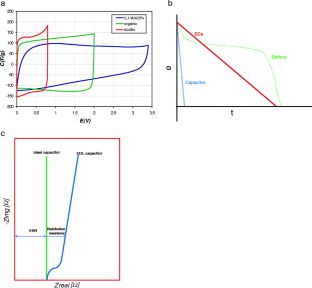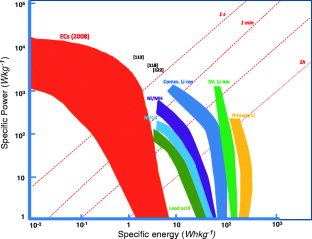 References
1.

Roop CB, Meenakshi G (2005) Activated carbon adsorption. Taylor & Francis Group, LLC

2.

Burchell TD (ed) (1999) Carbon materials for advanced technologies. Elsevier Science

3.

Kroto HW, Heath JR, O'Brien SC, Curl RE, Smalley RE (1985) Nat Lond 318:162–163

4.

Frondel C, Marvin U (1967) Nature 214:587–589

5.

Dresselhaus MS, Dresselhaus G, Eklund C (1996) Science of fullerenes and carbon nanotubes. Academic, New York

6.

Novoselov KS, Jiang D, Schedin F, Booth TJ, Khotkevich VV, Morozov SV, Geim AK (2005) PNAS 102:10451–10453

7.

Kinoshita K (1988) Carbon: electrochemical and Physiochemical Properties. Wiley–Interscience, New York

8.

David L, Thomas BR (eds) (2002) Handbook of batteries. The McGraw-Hill Companies, Inc

9.

Soffer A, Saguee S, Golub D, Azaria M, Hassid M, Cohen H. Method of improving the selectivity of carbon membranes by chemical vapour deposition, U.S. Patent 5,695,818

10.

Koresh JE, Soffer A (1983) Sep Sci Technol 18:723

11.

Koresh J, Soffer A (1987) Sep Sci Technol 22:973

12.

Jones CW, Koros WJ (1994) Carbon 32:1419

13.

Centeno TA, Fuertes AB (1999) J Membr Sci 160:201

14.

Kawabuchi Y, Kishino M, Kawano S, Whitehurst DD, Mochida I (1996) Langmuir 12:4281

15.

Mochida I, Yatsunami S, Kawabuchi Y, Nakayama Y (1995) Carbon 33:1611

16.

Hsieh HP (1990) Membr Mater Process 84:1

17.

Koresh J, Soffer A (1980) J Chem Soc Faraday Trans I 76:2472

18.

Jinwoo L, Jaeyun K, Taeghwan H (2006) Adv Mater 18:2073–2094

19.

Corma A (1997) Chem Rev 97:2373

20.

Kyotani T, Nagai T, Inoue S, Tomita A (1997) Chem Mater 9:609

21.

Rodriguez-Miraso J, Cordero T, Radiovic LR, Rodriguez JJ (1998) Chem Mater 10:550

22.

Johnson SA, Brigham ES, Olliver PJ, Mallouk TE (1997) Chem Mater 9:2448

23.

Ma ZX, Kyotani T, Tomita A (2000) Chem Commun 2365

24.

Ma ZX, Kyotani T, Liu Z, Terasaki O, Tomita A (2001) Chem Mater 13:4413

25.

Kyotani T, Ma Z, Tomita A (2003) Carbon 41:1451

26.

Hou PX, Orikasa H, Yamazaki T, Matsuoka K, Tomita A, Setoyama N, Fukushima Y, Kyotani T (2005) Chem Mater 17:5187

27.

Tamai H, Kakii T, Hirota Y, Kumamoto T, Yasuda H (1996) Chem Mater 8:454

28.

Tamai H, Ikeuchi M, Kojima S, Yasuda H (1997) Adv Mater 9:55

29.

Oya A, Yoshida S, Alcaniz-Monge J, Linares-Solano A (1995) Carbon 33:1085

30.

Oya A, Yoshida S, Alcaniz-Monge J, Linares-Solano A (1996) Carbon 34:53

31.

Patel N, Okabe K, Oya A (2002) Carbon 40:315

32.

Ozaki J, Endo N, Ohizumi W, Igarashi K, Nakahara M, Oya A (1997) Carbon 35:1031

33.

Oya A, Kasahara N (2000) Carbon 38:1141

34.

Barton SS, Evans MJB, Harrison BH (1974) J Colloid Interface Sci 49:462

35.

Howard GJ, Szynaka S (1975) J Appl Poly Sci 19:2633

36.

Marsh H, Crowford DO, O'Gradey TM, Wennenberg A (1982) Carbon 20:419

37.

Verma SK, Walker PL (1992) Carbon 30:837

38.

Carrott PJM (1995) Carbon 33:1307

39.

Breck DW (1974) Zeolite molecular sieves. Wiley, New York

40.

Barrer RM (1978) Zeolites and clay minerals as sorbents and molecular sieVes. Academic, New York

41.

Koresh J, Soffer A (1986) J Chem Soc Faraday Trans I 82:2057

42.

Salitra G, Soffer A, Eliad L, Cohen Y, Aurbach D (2000) J Electrochem Soc 147(7):2486

43.

Takashi K (2000) Carbon 38:269–286

44.

Helmholtz HV (1853) Ann Phys (Leipzig, Ger) 89

45.

Gouy G (1903) Ann Chim Phys 29(7):145

46.

Chapman DL (1913) Phil Mag 25(6):475

47.

Oren Y, Tobias H, Soffer A (1984) J Electroanal Chem 162:87

48.

Oren Y, Soffer A (1985) J Electroanal Chem 186:63

49.

Oren Y, Soffer A (1986) J Electroanal Chem 206:101

50.

Conway BE (1999) Electrochemical supercapacitors. Kluwer Academic/Plenum Publishers, New York

51.

Eliad L, Salitra G, Soffer A, Aurbach D (2001) J Phys Chem B 105:6880

52.

Diederich L, Barborini E, Piseri P, Podesta A, Milani P, Schneuwly A, Gallay R (1999) Appl Phys Lett 75:2662

53.

Ma RZ, Liang J, Wei BQ, Zhang B, Xu CL, Wu DH (1999) J Power Sources 84:126

54.

Xia J, Chen F, Li J, Tao N (2009) Nat Nanotechnol 4:505–509

55.

Stankovich S, Dikin DA, Dommett GHB, Kohlhaas KM, Zimney EJ, Stach EA, Piner RD, Nguyen ST, Ruoff RS (2006) Nature 442:282–286

56.

Stoller MD, Park S, Zhu Y, An J, Ruoff RF (2008) Nano Lett 8:10

57.

Polak E, Salitra G, Soffer A, Aurbach D (2006) Carbon 44:3302

58.

Soffer A (1973) J Electroanal Chem 40:153

59.

Chmiola J, Yushin G, Gogotsi Y, Portet C, Simon P, Taberna OL (2006) Science 313:1760

60.

Levi MD, Salitra G, Levy N, Aurbach D, Maier J (2009) Nat Mater 11:872

61.

Yau-Ren N, Hsisheng T (2003) J Electroanal Chem 540:119–127

62.

Chang SK, Do-Young K, Han-Kyu L, Yong-Gun S, Tae-Hee L, (2002) J Power Sources 108:1–2 1 185

63.

Pollak E, Genish I, Salitra G, Soffer A, Klein L, Aurbach D (2006) J Phys Chem B 110:7443

64.

Service RF (2006) Science 313:902–905

65.

Tarascon JM, Arm M (2001) Nature 414:359–367

66.

Simon P, Gogotsi Y (2008) Nat Mater 7:845

67.

Miller JR, Simon P (2008) Science 321:651

68.

Frackowiak E (2007) Phys Chem Chem Phys 9:1774

69.

Hahn M, Baertschi M, Barbieri O, Sauter JC, Kotz R, Gallayb R (2004) Electrochem Solid-State Lett 7(2):A33–A36

70.

Balducci A et al (2005) Electrochim Acta 50:2233–2237

71.

Kotz R, Carlen M (2000) Electrochim Acta 45:2483–2498

72.

Frackowiak E, Beguin F (2001) Carbon 39:937

73.

Frackowiak E, Lota G, Pernak J (2005) Appl Phys Lett 86:164104

74.

Ue M, Ida K, Mori S (1994) J Electrochem Soc 141:2989

75.

Balducci A et al (2007) J Power Sources 165:922–927

76.

Balducci A, Soavi F, Mastragostino M (2006) Appl Phys A 82:627–632

77.

Ue M (2005) In: Ohno H (ed) Electrochemical aspects of ionic liquids. John Wiley & Sons, Inc, p 205

78.

Dupont J, Suarez PAZ (2006) Phys Chem Chem Phys 8:2441

79.

Endres F, MacFarlane D, Abbott A (eds) (2008) Electrodeposition from ionic liquids. (Wiley-VCH)

80.

Beck F, Dolata M, Grivei E, Probst N (2001) J Appl Electrochem 31:845

81.

Portet C, Yushin G, Gogotsi Y (2007) Carbon 45(13):2511

82.

Richner R, Muller S, Wokaum A (2002) Carbon 40:307

83.

Pekala RW (1989) J Mater Sci 24:3221

84.

Pekala RW, Alviso CT, Kong FM, Hulsey SS (1992) J NonCryst Solids 145:90

85.

Pekala RW, Schaefer DW (1993) Macromolecules 26:5487

86.

Tamon H, Ishzaka H, Araki T, Okazaki M (1998) Carbon 36:1257

87.

Pr¨obstle H, Wiener M, Fricke J (2003) J Porous Mater 10:213

88.

Fischer U, Saliger R, Bock V, Petricevic R, Fricke J (1997) J Porous Mater 4:281

89.

Schmitt C, Pr¨obstle H, Fricke J (2001) J NonCryst Solids 285:277

90.

Pr¨obstle H, Schmitt C, Fricke J (2002) J Power Sources 105:189

91.

Petricevic R, Glora M, Fricke J (2001) Carbon 39:857

92.

Li W, Reichenaur G, Fricke J (2002) Carbon 40:2955

93.

Pekala RW, Melamine-formaldehyde aerogels. US Patent 5,081,163, January 14, 1992, Assignee: TheUnited States of America as represented by the Department of Energy, Washington, DC

94.

Noked M, Soffer A, Avraham E, Aurbach D (2009) J Phys Chem C 113(51):21319

95.

Pandolfo AG, Hollenkamp AF (2006) J Power Sources 157:11–27

96.

Braun A, Bartsch M, Schnyder B, Kotz R, Haas O, Haubold HG, Goerigk G (1999) J NonCryst Solids 260:1

97.

Jenkins GM, Kawamura K (1976) Polymeric carbons–carbon fibre, glass and char. Cambridge University Press, Cambridge

98.

Oya A, Marsh H, Heintz E A, Rodriguez-Reinoso F (eds) (1997) Introductionto Carbon Technologies, Universidad de Alacante: 561

99.

Sullivan MG, Bartsch M, Kotz R, Haas O (1996) Proceedings of the Electrochemical Socioety, vol. 96–25, The Electrochemical Society, Pennington, NJ: 192

100.

Braun A, Bartsch M, Schnyder B, Kotz R, Haas O, Wokaun A (2002) Carbon 40:375

101.

Braun A, Bartsch M, Merlo O, Schnyder B, Schaffner B, Kotz R, Haas O, Wokaun A (2003) Carbon 41:759

102.

Jurewicz K, Vix C, Frackowiak E, Saadallach S, Reda M, Parmentier J, Patarin J, Be´guin F (2004) J Phys Chem Solids 65:287

103.

Yoon S, Lee J, Hyeon T, Oh SM (2000) J Electrochem Soc 147:2507

104.

Kyotani T (2000) Carbon 38:2

105.

Ryoo R, Joo SH, Kruk M, Jaroniec M (2001) Adv Mater 45:677

106.

Han S, Lee KT, Oh SM, Hyeon T (2003) Carbon 41:1049

107.

Fuertes AB (2003) J Mater Chem 13:3085

108.

Ania CO, Khomenko V, Raymundo-Pinero E, Parra JB, Béguin F (2007) Adv Funct Mater 17:1828–1836

109.

Yamada H, Nakamura H, Nakahara F, Moriguchi I, Kudo T(2007) J Phys Chem C (1):227–233

110.

Avraham E, Bouhadana Y, Soffer A, Aurbach D (2008) J Phys Chem C 112:7385

111.

Pollak E, Levy N, Eliad L, Salitra G, Soffer A, Aurbach D (2008) Isr J Chem 48:287–303

112.

Endo M, Maeda T, Takeda T, Kim YJ, Koshiba K, Hara H, Dresselhaus MS (2001) J Electrochem Soc 148:A910

113.

Hyeok An K, Kim WS, Park YS, Choi YC, Lee SM (2001) Adv Mater 13:7

114.

Niu C, Sichel EK, Hoch R, Moy D, Tennent H (1997) Appl Phys Lett 70:1480

115.

Chunsheng D, Pan N (2006) Nanotechnology 17:5314–5318

116.

Frackowiak E, Delpeux S, Jurewicz K, Szostak K, Cazorla-Amoros D, B´eguin F (2002) Chem Phys Lett 361:35

117.

Bordjiba T, Mohamedi M, Dao LH (2008) Adv Mater 20:815–819

118.

Jagannathan S, Liu T, Kumar S (2010) Compos Sci Technol 70:593–598

119.

Izadi-Najafabadi A, Yamada T, Futaba D, Yudasaka M, Takagi H, Hatori H, Iijima S, Hata K, ACS Nano

120.

Kim et al (2010) J Phys Chem C 114(35):15223

121.

Park et al (2009) Appl Surf Sci 255(11):6028–6032

122.

Vivekchand SRC, Rout CS, Subrahmanyam KS, Govindaraj A, Rao CNR (2008) Chem Sci 120:9–13

123.

Wang Y, Shi Z, Huang Y, Ma Y, Wang C, Chen M, Chen Y (2009) J Phys Chem C 113:13103–13107

124.

Liu C, Yu Z, Neff D, Zhamu A, Jang BZ (2010) Nano Lett 10:4863–4868

125.

Stoller MD, Park S, Zhu Y, An J, Ruoff RS (2008) Nano Lett 8:3499

126.

Oren Y, Soffer A (1978) J Electrochem Soc 125(6):869

127.

Avraham E, Yaniv B, Soffer A, Aurbach D (2009) J Electrochem Soc 156:P95

128.

Avraham E, Noked M, Yaniv B, Soffer A, Aurbach D (2009) J Electrochem Soc 156:P157

129.

Johnson AM, Venolia AW, Wilbourne RG, Newman J (1970) The Electrosorb Process for Desalting Water, Marquardt, Van Nuys, CA

130.

Caudle DD, Tucker JH, Cooper JL, Arnold BB, Papastamataki A (1966) Electrochemical demineralization of water with carbon electrodes, Research Report, Oklahoma University Research Institute

131.

Johnson AM, Newman J (1971) J Electrochem Soc 118(3):510–517

132.

Oren Y (2008) Desalination 228:10–29

133.

Farmer JC, Fix DV, Mack GC, Pekala RW, Poco JF (1996) J Appl Electrochem 26:1007–1018

134.

Li L, Zou L, Song H, Morris G (2009) Carbon 47:775

135.

Ban A, Schafer A, Wendt H (1998) J Appl Electrochem 28:227–236

136.

Ayranci E, Conway BE (2001) Anal Chem 73:1181–1189

137.

Ryoo MW, Seo G (2003) Water Res 37:1527–1534

138.

Ayranci E, Conway BE (2001) J Appl Electrochem 31:257–266

139.

Park KK, Lee JB, Park PY, Yoon SW, Moon JS, Eum HM, Lee CW (2007) Desalination 206:86

140.

Andersona MA, Cuderob AL, Palmab J (2010) Electrochim Acta 55:3845–3856

141.

Bouhadana Y, Avraham E, Soffer A, Aurbach D (2010) AIChE J 56:779–789
About this article
Cite this article
Noked, M., Soffer, A. & Aurbach, D. The electrochemistry of activated carbonaceous materials: past, present, and future. J Solid State Electrochem 15, 1563 (2011). https://doi.org/10.1007/s10008-011-1411-y
Received:

Revised:

Accepted:

Published:
Keywords
Carbon electrodes

Activated carbons

EDLC

CDI

Adsorption phenomena