Abstract
This paper deals with electrochemical oxidation of formaldehyde in alkaline solution with a new electrocatalytic system composed of carbon paste electrode coated with poly(1,5-diaminonaphthalene) (P-1,5-DAN) film containing incorporated Ni(II)/Ni(III) redox ions. The modifier layer of (P-1,5-DAN-Ni)(OH)2 at the electrode surface acts as a catalyst for the oxidation of formaldehyde in 0.1-M NaOH solution. Cyclic voltammetric and chronoamperometric experiments showed that the formaldehyde can be oxidized at the surface of Ni/P-1,5-DAN-modified carbon paste electrode. In cyclic voltammetry studies, the peak current of the oxidation of nickel hydroxide in the presence of formaldehyde increases and is followed by a decrease in the corresponding cathodic current. The rate constant (k) for the chemical reaction between the formaldehyde and nickel hydroxide has been evaluated by chronoamperometry method. This polymeric-modified electrode can oxidize the formaldehyde with high current density (over 7 mA cm−2). Thus, it can be a candidate as an anode for fuel cell applications.
Access options
Buy single article
Instant access to the full article PDF.
USD 39.95
Price excludes VAT (USA)
Tax calculation will be finalised during checkout.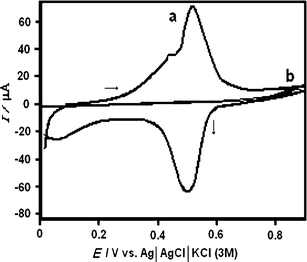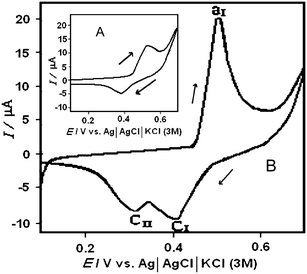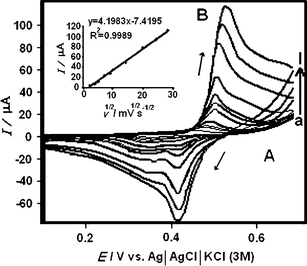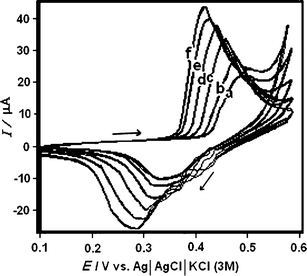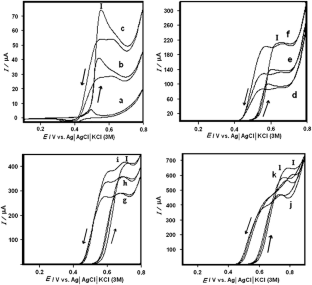 References
Murray RW (1984) Chemically modified electrodes in electroanalytical chemistry, volume 13. In: Bard AJ (ed) Marcel Decker, New York, p 191

Nakabayashi Y, Yoshikawa H (2000) Anal Sci 16:609 doi: 10.2116/analsci.16.609

Bu H-Z, Mikkelsen SR, English AM (1995) Anal Chem 67:4071 doi: 10.1021/ac00118a007

Kalcher K, Kauffman JM, Wang J, Svancara I, Vytras K, Neuhold C, Yang Z (1995) Electroanalysis 7:1 doi: 10.1002/elan.1140070103

Ojani R, Pournaghi-Azar MH (1995) Talanta 42:657 doi: 10.1016/0039-9140(94)01438-4

Ojani R, Pournaghi-Azar MH (1999) J Solid State Electrochem 3:392

Ojani R, Pournaghi-Azar MH (2000) J Solid State Electrochem 4:75 doi: 10.1007/s100080050004

Profeti D, Olivi P (2004) Electrochim Acta 49:4979 doi: 10.1016/j.electacta.2004.06.013

Cataldi TRI, Desimoni E, Ricciardi G, Lelj F (1995) Electroanalysis 7:435 doi: 10.1002/elan.1140070506

Liu SJ (2004) Electrochim Acta 49:3235 doi: 10.1016/j.electacta.2004.02.038

Dryhrst G, McAllister DL (1984) In: Kissinger PT, Heinemann WR (eds) Laboratory techniques in electroanalytical chemistry. Marcel Dekker, New York, p 289

Almeida CMVB, Giannetti BF (2002) Electrochem Commun 4:985 doi: 10.1016/S1388-2481(02)00511-8

Ciszewski A, Milczarek G (1997) J Electroanal Chem 426:125 doi: 10.1016/S0022-0728(96)04976-5

Ciszewski A (1995) Electroanalysis 7:1132 doi: 10.1002/elan.1140071207

Malinski T, Ciszewski A, Bennet J, Fish JR, Czuchajowski L (1991) J Electrochem Soc 138:2008 doi: 10.1149/1.2085915

El-Shafei AA (1999) J Electroanal Chem 471:89 doi: 10.1016/S0022-0728(99)00235-1

Abdel Rahim MA, Abdel Hameed RM, Khalil MW (2004) J Power Sources 134:160 doi: 10.1016/j.jpowsour.2004.02.034

Yi Q, Zhang J, Huang W, Liu X (2007) Catal Commun 8:1017 doi: 10.1016/j.catcom.2006.10.009

Manzanares MI, Pavese AG, Solis VM (1991) J Electroanal Chem 310:159 doi: 10.1016/0022-0728(91)85259-R

Nishimura K, Kunimatsu K, Machida K, Enyo M (1989) J Electroanal Chem 260:181 doi: 10.1016/0022-0728(89)87109-8

Yang H, Lu TH, Xue KH, Sun SG, Lu GQ, Chen SP, Mol J (1999) Catal A Chem (Kyoto) 144:315

Ramanauskas R, Jurgaitiene I, Vaskelis A (1997) Electrochim Acta 42:191 doi: 10.1016/0013-4686(96)00143-0

Yahikozawa K, Nishimura K, Kumazawa M, Tateishi N, Takasu Y, Yasuda K, Matsuda Y (1992) Electrochim Acta 37:453 doi: 10.1016/0013-4686(92)87035-X

Pavese A, Solis V (1991) J Electroanal Chem 301:117 doi: 10.1016/0022-0728(91)85463-Y

Villullas HM, Mattos-Costa FI, Nascente PAP, BulhÕes LOS (2004) Electrochim Acta 49:3909 doi: 10.1016/j.electacta.2004.01.079

Santos MC, Bulhões LOS (2004) Electrochim Acta 49:1893

Ojani R, Raoof JB, Salmani-Afagh P (2004) J Electroanal Chem 571:1 doi: 10.1016/j.jelechem.2004.03.032

Hong SY, Park SM (2003) J Electrochem Soc 150:E360 doi: 10.1149/1.1580826

Abdel-Azzem M, Yousef US, Pierre G (1998) Eur Polym J 34:819 doi: 10.1016/S0014-3057(97)00194-8

Jackowska K, Bukowska J, Jamkowski M (1995) J Electroanal Chem 388:101 doi: 10.1016/0022-0728(95)03912-Z

Abdel -Azzem M, Yousef US (1994) Synth Met 63:79 doi: 10.1016/0379-6779(94)90253-4

Jin CS, Shim YB, Park SM (1995) Synth Met 69:561 doi: 10.1016/0379-6779(94)02569-K

Fleischmann M, Korinek K, Pletcher D (1971) J Electroanal Chem 31:39 doi: 10.1016/S0022-0728(71)80040-2

Visscher W, Barendrecht E (1983) J Electroanal Chem 154:69

Hahn F, Eden BB, Croissant MJ, Lamy C (1986) J. Electrochim Acta 31:335 doi: 10.1016/0013-4686(86)80087-1

Oliva P, Leonard J, Laurent JF, Delmas C, Braconnier JJ, Figlarz M, Fievet F, Guibert AD (1982) J Power Sources 8:229 doi: 10.1016/0378-7753(82)80057-8

Yevidal AD, Figlarz M (1987) J Appl Electrochem 17:589 doi: 10.1007/BF01084134

Desilvestro J, Corrigan DA, Weaver MJ (1988) J Electrochem Soc 135:885 doi: 10.1149/1.2095818

Barnard R, Randell CF (1983) J Appl Electrochem 13:89 doi: 10.1007/BF00615892

Chen S-M, Wang C-H (2007) J Solid State Electrochem 11:581 doi: 10.1007/s10008-006-0202–3

Ramanauskas R, Jurgaitiene I, Vaskelis A (1996) Electrochim Acta 41:191 doi: 10.1016/S0013-4686(96)90233-9

Zhang X-G, Murakami Y, Yahikozawa K, Takasu Y (1996) Electrochim Acta 41:223 doi: 10.1016/0013-4686(95)00318-5

Ciszewski A, Milczarek G (1999) J Electroanal Chem 469:18 doi: 10.1016/S0022-0728(99)00180-1

Gao G-Y, Guo D-J, Li H-L (2006) J Power Sources 162:1094 doi: 10.1016/j.jpowsour.2006.07.057

Bard AJ, Faulkner LR (2001) Electrochemical methods, fundamentals and applications. Wiley, New York ch.12
About this article
Cite this article
Ojani, R., Raoof, J.B. & Zavvarmahalleh, S.R.H. Preparation of Ni/poly(1,5-diaminonaphthalene)-modified carbon paste electrode; application in electrocatalytic oxidation of formaldehyde for fuel cells. J Solid State Electrochem 13, 1605–1611 (2009). https://doi.org/10.1007/s10008-008-0718-9
Received:

Revised:

Accepted:

Published:

Issue Date:

DOI: https://doi.org/10.1007/s10008-008-0718-9
Keywords
Formaldehyde

Electrocatalytic oxidation

Poly(1

5-diaminonaphthalene)

Carbon paste electrode

Fuel cell