Abstract
Purpose
The purpose of this systematic review was to compare the clinical outcomes of dental implants in users of antihypertensive medication with those of nonusers.
Methods
This systematic review followed the guidelines of the Preferred Reporting Items for Systematic Reviews and Meta-Analyses and was registered in the International Prospective Register of Systematic Reviews under the number CRD42022319336. The electronic databases Medline (PubMed) and Central Cochrane were searched for relevant scientific literature published in English through May 2022. The focused question was, "Do patients taking antihypertensive medications have a similar impact on the clinical outcome and survival of dental implants compared with nonusers?".
Results
A total of 49 articles were found, of which 3 articles were finally selected for a qualitative synthesis. The three studies included 959 patients. In all three studies, the commonly used medication was renin-angiotensin system (RAS) inhibitors. Two studies mentioned implant survival rate, which was 99.4% in antihypertensive medication users and 96.1% in the nonusers. One study found a higher implant stability quotient (ISQ) in patients taking antihypertensive medication (75.7 ± 5.9) compared with patients not taking antihypertensive medication (73.7 ± 8.1).
Conclusions
The limited available evidence showed that patient taking antihypertensive medications had comparable success rate and implant stability to patients not taking medications. The studies included patients taking different antihypertensive medications, so a drug-specific conclusion regarding the clinical outcome of dental implants is not possible. Further studies are needed, including patients taking certain antihypertensive medications, to determine their effects on dental implants.
Access options
Buy single article
Instant access to the full article PDF.
USD 39.95
Price excludes VAT (USA)
Tax calculation will be finalised during checkout.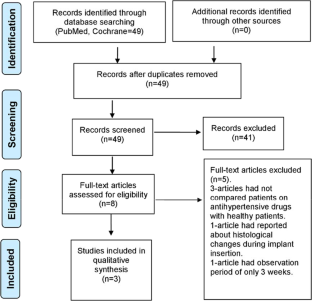 References
Bromfield S, Muntner P (2013) High blood pressure: the leading global burden of disease risk factor and the need for worldwide prevention programs. Cursr Hypertens Rep 15(3):134–136. https://doi.org/10.1007/s11906-013-0340-9

Mills KT, Stefanescu A, He J (2020) The global epidemiology of hypertension. Nat Rev Nephrol 16(4):223–237. https://doi.org/10.1038/s41581-019-0244-2

Jarari N, Rao N, Peela JR et al (2016) A review on prescribing patterns of antihypertensive drugs. Clin Hypertens 22:7

Manrique N, Pereira CCS, Luvizuto ER et al (2015) Hypertension modifies OPG, RANK, and RANKL expression during the dental socket bone healing process in spontaneously hypertensive rats. Clin Oral Investig 19(6):1319–1327. https://doi.org/10.1007/s00784-014-1369-0

Gealh WC, Pereira CC, Luvizuto ER, Garcia-Junior IR, Antoniali C, Okamoto R (2014) Healing process of autogenous bone graft in spontaneously hypertensive rats treated with losartan: an immunohistochemical andhistomorphometric study. J Oral Maxillofac Surg 72(12):2569–2581. https://doi.org/10.1016/j.joms.2014.07.010

Cappuccio FP, Kalaitzidis R, Duneclift S, Eastwood JB (2000) Unravelling the links between calcium excretion, salt intake, hypertension, kidney stones and bone metabolism. J Nephrol 13(3):169–177

Javed F, Khan SA, Ayers EW et al (2012) Association of hypertension and bone mineral density in an elderly African American female population. J Natl Med Assoc 104(3–4):172–178. https://doi.org/10.1016/s0027-9684(15)30140-1

Vestergaard P, Rejnmark L, Mosekilde L (2009) Hypertension is a risk factor for fractures. Calcif Tissue Int 84(2):103–111. https://doi.org/10.1007/s00223-008-9198-2

Goiato MC, Dos Santos DM, Santiago JF Jr, Moreno A, Pellizzer EP (2014) Longevity of dental implants in type IV bone: a systematic review. Int J Oral Maxillofac Surg 43(9):1108–1116. https://doi.org/10.1016/j.ijom.2014.02.016

Manor Y, Oubaid S, Mardinger O, Chaushu G, Nissan J (2009) Characteristics of early versus late implant failure: a retrospective study. J Oral Maxillofac Surg 67(12):2649–2652. https://doi.org/10.1016/j.joms.2009.07.050

Monje A, Catena A, Borgnakke WS (2017) Association between diabetes mellitus hyperglycaemi and peri-implant diseases: systematic review and meta-analysis. J Clin Periodontol 44(6):636–648. https://doi.org/10.1111/jcpe.12724

Aghaloo T, Pi-Anfruns J, Moshaverinia A, Sim D, Grogan T, Hadaya D (2019) The effects of systemic diseases and medications on implant osseointegration: a systematic review. Int J Oral Maxillofac Implants 34:s35–s49. https://doi.org/10.11607/jomi.19suppl.g3

Chappuis V, Avila-Ortiz G, Araújo MG, Monje A (2018) Medication-related dental implant failure: systematic review and meta-analysis. Clin Oral Impl Res 29(Suppl. 16):55–68. https://doi.org/10.1111/clr.13137

Perez-Castrillon JL, Justo I, Sanz-Cantalapiedra A, Pueyo C, Hernandez G, Duenas A (2005) Effect of the antihypertensive treatment on the bone mineral density and osteoporotic fracture. Curr Hypertens Rev 1:61–66

Ağaçayak KS, Güven S, Koparal M, Güneş N, Atalay Y, Atılgan S (2014) Long-term effects of antihypertensive medications on bone mineral density in men older than 55 years. Clin Interv Aging 9:509–513. https://doi.org/10.2147/CIA.S60669

Schlienger RG (2004) Use of β-blockers and risk of fractures. JAMA 292(11):1326. https://doi.org/10.1001/jama.292.11.1326

Hijazi N, Alourfi Z (2020) Association between hypertension, antihypertensive drugs, and osteoporosis in postmenopausal Syrian women: a cross-sectional study. Adv Med 2020:1–6. https://doi.org/10.1155/2020/7014212

Pasco JA, Henry MJ, Sanders KM, Kotowicz MA, Seeman E, Nicholson GC (2003) β- Adrenergic blockers reduce the risk of fracture partly by increasing bone mineral density: Geelong Osteoporosis Study. J Bone Miner Res 19(1):19–24. https://doi.org/10.1359/JBMR.0301214

Paizan M, Vilela-Martin J (2014) Is there an association between periodontitis and hypertension? Curr Cardiol Rev 10(4):355–361. https://doi.org/10.2174/1573403X10666140416094901

Muñoz Aguilera E, Suvan J, Buti J et al (2020) Periodontitis is associated with hypertension: a systematic review and meta-analysis. Cardiovasc Res 116(1):28–39. https://doi.org/10.1093/cvr/cvz201

Moher D, Liberati A, Tetzlaff J, Altman DG, PRISMA Group (2010) Preferred reporting items for systematic reviews and meta-analyses: the PRISMA statement. Int J Surg 8(5):336–341. https://doi.org/10.1016/j.ijsu.2010.02.007

Stone PW (2002) Popping the (PICO) question in research and evidence-based practice. Appl Nurs Res 15(3):197–198. https://doi.org/10.1053/apnr.2002.34181

Saravi B, Vollmer A, Lang G et al (2021) Impact of renin-angiotensin system inhibitors and beta-blockers on dental implant stability. Int J Implant Dent 7:31. https://doi.org/10.1186/s40729-021-00309-y

Seki K, Hasuike A, Iwano Y, Hagiwara Y (2020) Influence of antihypertensive medications on the clinical parameters of anodized dental implants: a retrospective cohort study. Int J Implant Dent 6:32. https://doi.org/10.1186/s40729-020-00231-9

Wu X, Al-Abedalla K, Eimar H et al (2016) Antihypertensive medications and the survival rate of osseointegrated dental implants: a cohort study. Clin Implant Dent Relat Res 18(6):1171–1182. https://doi.org/10.1111/cid.12414

James PA, Oparil S, Carter BL et al (2014) Evidence-based guideline for the management of high blood pressure in adults: report from the panel members appointed to the Eighth Joint National Committee (JNC 8). JAMA 311(5):507–520. https://doi.org/10.1001/jama.2013.284427

Ma J, Lee KV, Stafford RS (2006) Changes in antihypertensive prescribing during US outpatient visits for uncomplicated hypertension between 1993 and 2004. Hypertension 48(5):846–852. https://doi.org/10.1161/01.HYP.0000240931.90917.0c

Gu Q, Paulose-Ram R, Dillon C, Burt V (2006) Antihypertensive medication use among US adults with hypertension. Circulation 113(2):213–221. https://doi.org/10.1161/CIRCULATIONAHA.105.542290

See S (2001) Angiotensin II receptor blockers for the treatment of hypertension. Expert Opin Pharmacother 2(11):1795–1804. https://doi.org/10.1517/14656566.2.11.1795

Al-Majed AR, Assiri E, Khalil NY, Abdel-Aziz HA (2015) Losartan: comprehensive profile. Profiles Drug Subst Excip Relat Methodol 40:159–194. https://doi.org/10.1016/bs.podrm.2015.02.003

Bastos MF, de Araújo IV, Brilhante FV et al (2013) Effects of lercanidipine on bone density and bone repair in spontaneously hypertensive rats. Implant Dent 22(1):49–54. https://doi.org/10.1097/ID.0b013e3182777650

Ghosh M, Majumdar SR (2014) Antihypertensive medications, bone mineral density, and fractures: a review of old cardiac drugs that provides new insights into osteoporosis. Endocrine 46(3):397–405. https://doi.org/10.1007/s12020-014-0167-4

Seymour RA, Ellis JS, Thomason JM (2000) Risk factors for drug-induced gingival overgrowth. J Clin Periodontol 27(4):217–223. https://doi.org/10.1034/j.1600-051x.2000.027004217.x
Ethics declarations
Ethics approval
This is a review article. This article does not contain any studies with human participants or animals performed by any of the authors.
Consent to participate
Not applicable as it is a review article.
Consent for publication
Not applicable.
Competing interests
The authors declare no competing interests.
Additional information
Publisher's note
Springer Nature remains neutral with regard to jurisdictional claims in published maps and institutional affiliations.
Rights and permissions
Springer Nature or its licensor (e.g. a society or other partner) holds exclusive rights to this article under a publishing agreement with the author(s) or other rightsholder(s); author self-archiving of the accepted manuscript version of this article is solely governed by the terms of such publishing agreement and applicable law.
About this article
Cite this article
Mishra, S.K., Sonnahalli, N.K. & Chowdhary, R. Do antihypertensive medications have an effect on dental implants? A systematic review. Oral Maxillofac Surg (2023). https://doi.org/10.1007/s10006-023-01167-1
Received:

Accepted:

Published:

DOI: https://doi.org/10.1007/s10006-023-01167-1
Keywords