Abstract
We report a rare case of lymph node metastasis of papillary thyroid cancer (PTC) incidentally detected in a neck dissection specimen of tongue squamous cell carcinoma (SCC). A 42-year-old Japanese woman was diagnosed with tongue SCC (T1N0M0, Stage I). Partial glossectomy with supraomohyoid neck dissection was performed under general anesthesia, and histopathological examinations revealed primary SCC of the tongue and neck metastasis of PTC in neck dissection specimens. A few months later, total thyroidectomy and left modified radical neck dissection were performed by thyroid surgeons. The histopathological diagnosis was PTC of both the thyroid glands. There was no evidence of tumor recurrence or distant metastasis at the 9-month follow-up.
This is a preview of subscription content, log in to check access.
Access options
Buy single article
Instant access to the full article PDF.
US$ 39.95
Tax calculation will be finalised during checkout.
Subscribe to journal
Immediate online access to all issues from 2019. Subscription will auto renew annually.
US$ 99
Tax calculation will be finalised during checkout.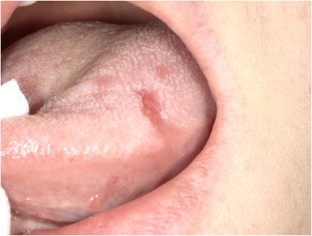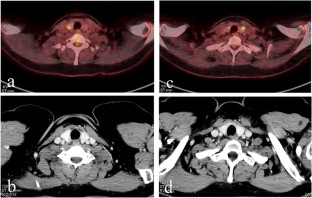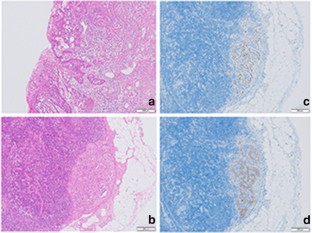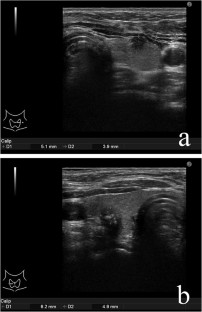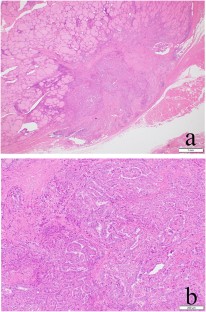 References
1.

Crosher R, McIlroy R (1998) The incidence of other primary tumours in patients with oral cancer in Scotland. Br J Oral Maxillofac Surg 36:58–62

2.

Fukuzawa K, Fukuzawa K, Noguchi Y, Yoshikawa T, Saito A, Doi C, Makino T, Takanashi Y, Ito T, Tsuburaya A (1999) High incidence of synchronous cancer of the oral cavity and the upper gastrointestinal tract. Cancer Lett 144:145–151

3.

Lim YC, Kim WS, Choi EC (2008) Collision metastasis of squamous carcinoma of the oral tongue and incidental thyroid papillary carcinoma to a single cervical lymph node. Int J Oral Maxillofac Surg 37:494–496

4.

Mandapathil M, Lennon P, Ganly I, Patel SG, Shah JP (2019) Significance and management of incidentally diagnosed metastatic papillary thyroid carcinoma in cervical lymph nodes in neck dissection specimens. Head Neck 41:3783–3787

5.

Lenzi R, Marchetti M, Muscatello L (2017) Incidental nodal metastasis of differentiated thyroid carcinoma in neck dissection specimens from head and neck cancer patients. J Laryngol Otol 131:368–371

6.

Xu YM, Gong ZJ, Wu HJ (2018) Papillary thyroid carcinoma incidentally found in cervical lymph nodes during neck dissection for patients with tongue squamous cell carcinoma: a 3-case report and literature review. J Oral Maxillofac Surg 76:2454 e1–2454 e6

7.

Yamamoto T, Tatemoto Y, Hibi Y, Ohno A, Osaki T (2008) Thyroid carcinomas found incidentally in the cervical lymph nodes: do they arise from heterotopic thyroid tissues? J Oral Maxillofac Surg 66:2566–2576

8.

Barnes L, Eveson JW, Reichart P, Sidransky D (eds) (2005) World Health Organization classification of tumours. . Pathology and genetics of head and neck tumors. IARC Press, Lyon, p 232

9.

Resta L, Piscitelli D, Fiore MG, Di Nicola V, Fiorella AM, Altavilla A, Marzullo A (2004) Incidental metastases of well-differentiated thyroid carcinoma in lymph nodes of patients with squamous cell head and neck cancer: eight cases with a review of the literature. Eur Arch Otorhinolaryngol 261:473–478

10.

Fliegelman LJ, Genden EM, Brandwein M, Mechanick J, Urken M (2001) Significance and management of thyroid lesions in lymph nodes as an incidental finding during neck dissection. Head Neck 23:885–891

11.

Ding X, Zhang J, Li B, Wang Z, Huang W, Zhou T, Wei Y, Li H (2012) A meta-analysis of lymph node metastasis rate for patients with thoracic oesophageal cancer and its implication in delineation of clinical target volume for radiation therapy. Br J Radiol 85:e1110–e1119

12.

Akiyama H, Tsurumaru M, Udagawa H, Kajiyama Y (1994) Radical lymph node dissection for cancer of the thoracic esophagus. Ann Surg 220:364–372 discussion 372-373

13.

Mofid B, Shankayi Z, Novin K, Dehghani S, Shankayi M, Haghighatkhah H, Firoozabadi SM (2017) Effective treatment of cervical lymph node metastasis of breast cancer by low voltage high-frequency electrochemotherapy. Acta Med Iran 55:268–271

14.

Takashima T, Nakata B, Hatama M, Nomura S, Komoto M, Ishikawa T, Hirakawa K (2008) Gastric cancer with cervical lymph node metastasis as the first presentation: report of a case. Int Surg 93:295–299

15.

Nagarkar R, Wagh A, Kokane G, Roy S, Vanjari S (2019) Cervical lymph nodes: a hotbed for metastasis in malignancy. Indian J Otolaryngol Head Neck Surg 71:976–980

16.

Copeland B, Clark JM, Sura A, Kilpatrick SE, Shockley W, Meredith S (2001) Prostate carcinoma metastatic to the cervical lymph nodes: report of two cases and review of the literature. Am J Otolaryngol 22:420–423

17.

Hu D, Lin H, Zeng X, Wang T, Deng J, Su X (2019) Risk factors for and prediction model of skip metastasis to lateral lymph nodes in papillary thyroid carcinoma. World J Surg:1–8

18.

Bae JS, Chae BJ, Park WC, Kim JS, Kim SH, Jung SS, Song BJ (2009) Incidental thyroid lesions detected by FDG-PET/CT: prevalence and risk of thyroid cancer. World J Surg Oncol 7:63
Ethics declarations
Conflicts of interest
Not applicable.
Ethics approval
Appropriate.
Consent to participate
Appropriate.
Consent for publication
Appropriate.
Additional information
Publisher's note
Springer Nature remains neutral with regard to jurisdictional claims in published maps and institutional affiliations.
About this article
Cite this article
Ishibashi-Kanno, N., Yamagata, K., Fukuzawa, S. et al. Incidental cervical lymph node metastasis of papillary thyroid cancer in neck dissection specimens from a tongue squamous cell carcinoma patient: a case report. Oral Maxillofac Surg (2020). https://doi.org/10.1007/s10006-020-00894-z
Received:

Accepted:

Published:
Keywords
Papillary thyroid cancer

Squamous cell carcinoma

Tongue cancer

Lymph node metastasis

Incidentally