Abstract
Purpose
The purpose of the study was to evaluate the effect of clenching tasks on the stress and strain of condylar osteosynthesis screws and plates, as well as on the stress, strain distribution and displacement on the whole mandible and bone surrounding screws.
Methods
Three-dimensional finite element models of the mandible, two straight four-hole plates and eight screws were established. Six static clenching tasks were simulated in this study: incisal clench (INC), intercuspal position (ICP), right unilateral molar clench (RMOL), left unilateral molar clench (LMOL), right group function (RGF) and left group function (LGF).
Results
Based on the simulation of the six clenching tasks, none of the inserted screws and plates were broken or bended. For the whole mandibular bone, the maximum von Mises stress and von Mises strain observed were yielded by the ICP. For the bone surrounding the inserted screws, the maximum von Mises stress and von Mises strain were yielded by the LMOL (49.2 MPa and 3795.1 μ).
Conclusion
Clenching tasks had significant effects on the stress distribution on the condylar osteosynthesis and the bone surrounding screws. Contralateral occlusion task (LMOL) had the maximal results of von Mises stress and strain and healing problems could be occur, this result confirms the importance of soft diet after surgery.
Access options
Buy single article
Instant access to the full article PDF.
USD 39.95
Price includes VAT (USA)
Tax calculation will be finalised during checkout.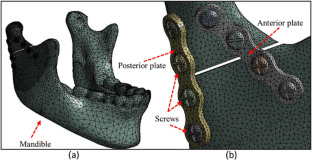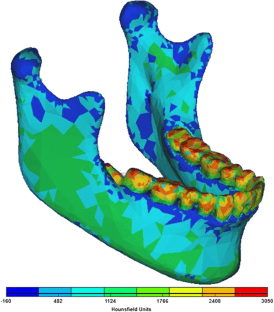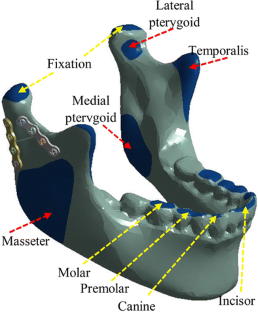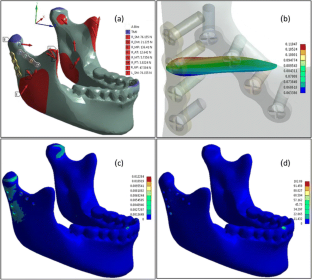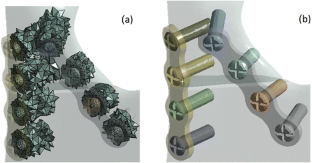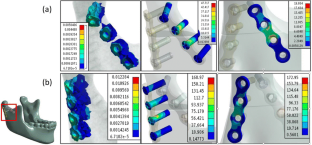 References
1.

Aquilina P, Chamoli U, Parr WC, Clausen PD, Wroe S (2013) Finite element analysis of three patterns of internal fixation of fractures of the mandibular condyle. Br J Oral Maxillofac Surg 51(4):326–331. doi:10.1016/j.bjoms.2012.08.007

2.

Kleinheinz J, Meyer C (2009) Fractures of the mandibular condyle: basic consederations and treatment. In: Meyer C (ed) Biomechanics. IBRA/Quintessence, London, p 147

3.

Pileicikiene G, Surna A, Barauskas R, Surna R, Basevicius A (2007) Finite element analysis of stresses in the maxillary and mandibular dental arches and TMJ articular discs during clenching into maximum intercuspation, anterior and unilateral posterior occlusion. Stomatologija/issued by public institution "Odontologijos studija" [et al] 9(4):121–128

4.

Korioth TW, Hannam AG (1994) Mandibular forces during simulated tooth clenching. J Orofac Pain 8(2):178–189

5.

Parascandolo S, Spinzia A, Parascandolo S, Piombino P, Califano L (2010) Two load sharing plates fixation in mandibular condylar fractures: biomechanical basis. J Craniomaxillofac Surg: Off Publ Eur Assoc Craniomaxillofac Surg 38(5):385–390. doi:10.1016/j.jcms.2009.10.014

6.

Wagner A, Krach W, Schicho K, Undt G, Ploder O, Ewers R (2002) A 3-dimensional finite-element analysis investigating the biomechanical behavior of the mandible and plate osteosynthesis in cases of fractures of the condylar process. Oral Surg Oral Med Oral Pathol Oral Radiol Endod 94(6):678–686. doi:10.1067/moe.2002.126451

7.

de Jesus GP, Vaz LG, Gabrielli MF, Passeri LA, Oliveira TV, Noritomi PY, Jurgens P (2014) Finite element evaluation of three methods of stable fixation of condyle base fractures. Int J Oral Maxillofac Surg 43(10):1251–1256. doi:10.1016/j.ijom.2014.07.011

8.

Kozakiewicz M, Swiniarski J (2014) "A" shape plate for open rigid internal fixation of mandible condyle neck fracture. J Craniomaxillofac Surg: Off Publ Eur Assoc Craniomaxillofac Surg 42(6):730–737. doi:10.1016/j.jcms.2013.11.003

9.

Aquilina P, Parr WC, Chamoli U, Wroe S (2015) Finite element analysis of patient-specific condyle fracture plates: a preliminary study. Craniomaxillofac Trauma Reconstr 8(2):111–116. doi:10.1055/s-0034-1395385

10.

Rashid A, Eyeson J, Haider D, van Gijn D, Fan K (2013) Incidence and patterns of mandibular fractures during a 5-year period in a London teaching hospital. Br J Oral Maxillofac Surg 51(8):794–798. doi:10.1016/j.bjoms.2013.04.007

11.

Haowei X, Jun H, Wenyu Y, Jinli L, Yukun H, Ming S (2014) Application and effective evaluation of rigid internal fixation with double plates in condylar fracture. West China journal of stomatology 32:575–577

12.

Huang HL, Su KC, Fuh LJ, Chen MY, Wu J, Tsai MT, Hsu JT (2015) Biomechanical analysis of a temporomandibular joint condylar prosthesis during various clenching tasks. J Craniomaxillofac Surg: Off Publ Eur Assoc Craniomaxillofac Surg 43(7):1194–1201. doi:10.1016/j.jcms.2015.04.016

13.

van Essen NL, Anderson IA, Hunter PJ, Carman J, Clarke RD, Pullan AJ (2005) Anatomically based modelling of the human skull and jaw. Cells Tissues Organs 180(1):44–53. doi:10.1159/000086198

14.

Lovald ST, Wagner JD, Baack B (2009) Biomechanical optimization of bone plates used in rigid fixation of mandibular fractures. J Oral Maxillofac Surg: Off J Am Assoc Oral Maxillofac Surg 67(5):973–985. doi:10.1016/j.joms.2008.12.032

15.

Oguz Y, Uckan S, Ozden AU, Uckan E, Eser A (2009) Stability of locking and conventional 2.0-mm miniplate/screw systems after sagittal split ramus osteotomy: finite element analysis. Oral Surg Oral Med Oral Pathol Oral Radiol Endod 108(2):174–177. doi:10.1016/j.tripleo.2009.03.051

16.

Mellal A, Wiskott HW, Botsis J, Scherrer SS, Belser UC (2004) Stimulating effect of implant loading on surrounding bone. Comparison of three numerical models and validation by in vivo data. Clin Oral Implants Res 15(2):239–248

17.

Sugiura T, Horiuchi K, Sugimura M, Tsutsumi S (2000) Evaluation of threshold stress for bone resorption around screws based on in vivo strain measurement of miniplate. J Musculoskelet Neuronal Interact 1(2):165–170

18.

Tams J, Van Loon JP, Otten B, Bos RR (2001) A computer study of biodegradable plates for internal fixation of mandibular angle fractures. J Oral Maxillofac Surg: Off J Am Assoc Oral Maxillofac Surg 59(4):404–407 . doi:10.1053/joms.2001.21877discussion 407-408
About this article
Cite this article
Hijazi, L., Hejazi, W., Darwich, M.A. et al. Finite element analysis of stress distribution on the mandible and condylar fracture osteosynthesis during various clenching tasks. Oral Maxillofac Surg 20, 359–367 (2016). https://doi.org/10.1007/s10006-016-0573-2
Received:

Accepted:

Published:

Issue Date:
Keywords
Mandible

Condylar fracture

ORIF

Clenching tasks

Finite element analysis