Abstract
Introduction
One of the common malignant tumors of the head and neck worldwide with generally unfavorable prognosis is squamous cell carcinoma (OSCC) of the oral cavity. Early detection of primary, secondary, or recurrent OSCC by liquid biopsy tools is much needed.
Case presentation
Twelve blood biomarkers were used for monitoring a case of OSCC suffering from precancerous oral lichen ruber planus mucosae (OLP). After curative R0 tumor resection of primary OSCC (buccal mucosa), elevated epitope detection in monocytes (EDIM)-Apo10, EDIM-transketolase-like-1 (TKTL1), squamous cell carcinoma antigen (SCC-Ag), total serum lactate dehydrogenase (LDH), and its anaerobic isoforms (LDH-4, LDH-5) decreased to normal levels. Three and six months after surgery, transformation of suspicious mucosal lesions has been accompanied with an increase of EDIM scores, total serum LDH values, and a metabolic shift from aerobic (decrease of LDH-1, LDH-2) to anaerobic (increase of LDH-4, LDH-5) conditions. Two months later, secondary OSCC was histopathologically analyzed after tissue biopsy. Cytokeratin fraction 21-1 (CYFRA 21-1), carcinoembryonic antigen (CEA), and carbohydrate antigen 19-9 (CA19-9) were not affected during the clinical course of carcinogenesis.
Conclusions
A combination strategy using a standardized panel of established (metabolic) blood biomarkers (TKTL1, LDH, LDH isoenzymes) is worth and can be recommended among others (apoptosis resistance-related Apo10, SCC-Ag) for early detection and diagnosis of primary, secondary, and recurrent OSCC. A tandem strategy utilizing (metabolic pronounced) routine liquid biopsies with imaging techniques may enhance diagnosis of OSCC in the future. Although we demonstrated the diagnostic utility of separated liquid biopsies in our previous study cohorts, further investigations in a larger patient cohort are necessary to recommend this combination strategy (EDIM blood test, LDH value, metabolic shift of LDH isoenzymes, and others, e.g., SCC-Ag or immunophenotyping) as a diagnostic tool for the addition to the OSCC staging system and as a routine procedure in the aftercare.
This is a preview of subscription content, log in to check access.
Access options
Buy single article
Instant access to the full article PDF.
US$ 39.95
Price includes VAT for USA
Subscribe to journal
Immediate online access to all issues from 2019. Subscription will auto renew annually.
US$ 99
This is the net price. Taxes to be calculated in checkout.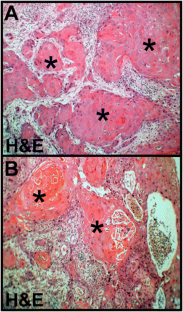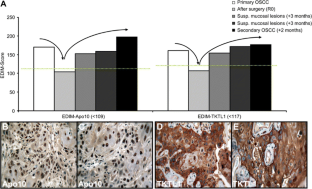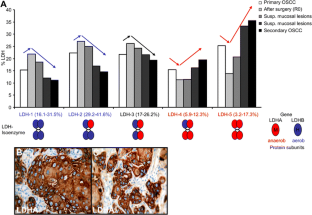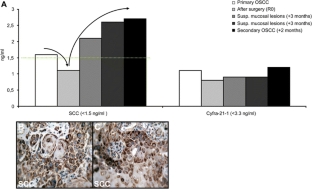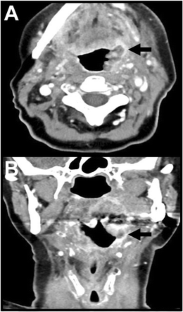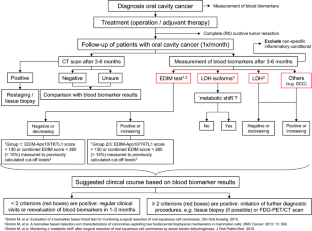 Abbreviations
OSCC:

oral squamous cell carcinoma

EDIM:

epitope detection in monocytes

TKTL1:

Transketolase-like-1

SCC-Ag:

squamous cell carcinoma antigen

CYFRA 21-1:

cyotokeratin fraction 21–-1

H&E:

Hematoxylin and Eosin
References
1.

Rethman MP, Carpenter W, Cohen EE, Epstein J, Evans CA, Flaitz CM, Graham FJ, Hujoel PP, Kalmar JR, Koch WM, Lambert PM, Lingen MW, Oettmeier BW, Jr., Patton LL, Perkins D, Reid BC, Sciubba JJ, Tomar SL, Wyatt AD, Jr., Aravamudhan K, Frantsve-Hawley J, Cleveland JL, Meyer DM, American Dental Association Council on Scientific Affairs Expert Panel on Screening for Oral Souamous Cell C (2012) Evidence-based clinical recommendations regarding screening for oral squamous cell carcinomas. Tex Dent J 129 (5):491–507

2.

Czerninski R, Basile JR, Kartin-Gabay T, Laviv A, Barak V (2014) Cytokines and tumor markers in potentially malignant disorders and oral squamous cell carcinoma: a pilot study. Oral Dis 20(5):477–481. doi:10.1111/odi.12160

3.

Lin WH, Chen IH, Wei FC, Huang JJ, Kang CJ, Hsieh LL, Wang HM, Huang SF (2011) Clinical significance of preoperative squamous cell carcinoma antigen in oral-cavity squamous cell carcinoma. Laryngoscope 121(5):971–977. doi:10.1002/lary.21721

4.

Rajkumar K, Ramya R, Nandhini G, Rajashree P, Ramesh Kumar A, Nirmala Anandan S (2015) Salivary and serum level of CYFRA 21-1 in oral precancer and oral squamous cell carcinoma. Oral Dis 21(1):90–96. doi:10.1111/odi.12216

5.

da Silva SD, Ferlito A, Takes RP, Brakenhoff RH, Valentin MD, Woolgar JA, Bradford CR, Rodrigo JP, Rinaldo A, Hier MP, Kowalski LP (2011) Advances and applications of oral cancer basic research. Oral Oncology 47(9):783–791. doi:10.1016/j.oraloncology.2011.07.004

6.

Krimmel M, Hoffmann J, Krimmel C, Cornelius CP, Schwenzer N (1998) Relevance of SCC-Ag, CEA, CA 19.9 and CA 125 for diagnosis and follow-up in oral cancer. J Craniomaxillofac Surg Off Publ European Assoc Craniomaxillofac Surg 26(4):243–248

7.

Sawant SS, Zingde SM, Vaidya MM (2008) Cytokeratin fragments in the serum: their utility for the management of oral cancer. Oral Oncol 44(8):722–732. doi:10.1016/j.oraloncology.2007.10.008

8.

Grimm M, Cetindis M, Lehmann M, Biegner T, Munz A, Teriete P, Kraut W, Reinert S (2014) Association of cancer metabolism-related proteins with oral carcinogenesis—indications for chemoprevention and metabolic sensitizing of oral squamous cell carcinoma? J Transl Med 12:208. doi:10.1186/1479-5876-12-208

9.

Grimm M, Kraut W, Hoefert S, Krimmel M, Biegner T, Teriete P, Cetindis M, Polligkeit J, Kluba S, Munz A, Reinert S (2015) Evaluation of a biomarker based blood test for monitoring surgical resection of oral squamous cell carcinomas. Clin Oral Invest. doi:10.1007/s00784-015-1518-0

10.

Grimm M, Krimmel M, Hoefert S, Kraut W, Calgeer B, Biegner T, Teriete P, Munz A, Reinert S (2015) Monitoring a 'metabolic shift' after surgical resection of oral squamous cell carcinomas by serum lactate dehydrogenase. J Oral Pathol Med Off Publ Int Assoc Oral Pathologists Am Acad Oral Pathol. doi:10.1111/jop.12374

11.

Project TIN-HsLPF (1993) A predictive model for aggressive non-Hodgkin's lymphoma. N Engl J Med 329(14):987–994. doi:10.1056/NEJM199309303291402

12.

Garbe C, Peris K, Hauschild A, Saiag P, Middleton M, Spatz A, Grob JJ, Malvehy J, Newton-Bishop J, Stratigos A, Pehamberger H, Eggermont AM, European Dermatology F, European Association of D-O, European Organization of R, Treatment of C (2012) Diagnosis and treatment of melanoma. European consensus-based interdisciplinary guideline–Update 2012. Eur J Cancer 48(15):2375–2390. doi:10.1016/j.ejca.2012.06.013

13.

Grimm M, Schmitt S, Teriete P, Biegner T, Stenzl A, Hennenlotter J, Muhs HJ, Munz A, Nadtotschi T, Konig K, Sanger J, Feyen O, Hofmann H, Reinert S, Coy JF (2013) A biomarker based detection and characterization of carcinomas exploiting two fundamental biophysical mechanisms in mammalian cells. BMC Cancer 13(1):569. doi:10.1186/1471-2407-13-569

14.

Feyen O, Coy JF, Prasad V, Schierl R, Saenger J, Baum RP (2012) EDIM-TKTL1 blood test: a noninvasive method to detect upregulated glucose metabolism in patients with malignancies. Future Oncol 8(10):1349–1359. doi:10.2217/fon.12.98

15.

Parihar A, Eubank TD, Doseff AI (2010) Monocytes and macrophages regulate immunity through dynamic networks of survival and cell death. J Innate Immu 2(3):204–215. doi:10.1159/000296507

16.

Soland TM, Brusevold IJ (2013) Prognostic molecular markers in cancer - quo vadis? Histopathology 63(3):297–308. doi:10.1111/his.12184

17.

Powers RH, Dean DE (2009) Evaluation of potential lactate/lactate dehydrogenase interference with an enzymatic alcohol analysis. J Anal Toxicol 33(8):561–563

18.

Jansen N, Coy JF (2013) Diagnostic use of epitope detection in monocytes blood test for early detection of colon cancer metastasis. Future Oncol 9(4):605–609. doi:10.2217/fon.13.8

19.

Grimm M, Lazariotou M (2012) Clinical relevance of a new pre-treatment laboratory prognostic index in patients with oral squamous cell carcinoma. Med Oncol 29(3):1435–1447. doi:10.1007/s12032-011-0045-3

20.

Grimm M, Cetindis M, Lehmann M, Biegner T, Munz A, Teriete P, Reinert S (2015) Apoptosis resistance-related ABCB5 and DNaseX (Apo10) expression in oral carcinogenesis. Acta Odontol Scand 73(5):336–342. doi:10.3109/00016357.2014.961029

21.

Khurana P, Tyagi N, Salahuddin A, Tyagi SP (1990) Serum lactate dehydrogenase isoenzymes in breast tumours. Indian J Pathol Microbiol 33(4):355–359

22.

Cantor JR, Sabatini DM (2012) Cancer cell metabolism: one hallmark, many faces. Cancer Discov 2(10):881–898. doi:10.1158/2159-8290.CD-12-0345

23.

Hanahan D, Weinberg RA (2011) Hallmarks of cancer: the next generation. Cell 144(5):646–674. doi:10.1016/j.cell.2011.02.013

24.

Grimm M, Munz A, Teriete P, Nadtotschi T, Reinert S (2014) GLUT-1/TKTL1 coexpression predicts poor outcome in oral squamous cell carcinoma. Oral Surg Oral Med Oral Pathol Oral Radiol 117(6):743–753. doi:10.1016/j.oooo.2014.02.007

25.

Kostakoglu L, Fardanesh R, Posner M, Som P, Rao S, Park E, Doucette J, Stein EG, Gupta V, Misiukiewicz K, Genden E (2013) Early detection of recurrent disease by FDG-PET/CT leads to management changes in patients with squamous cell cancer of the head and neck. Oncologist 18(10):1108–1117. doi:10.1634/theoncologist.2013-0068

26.

Suenaga Y, Kitajima K, Ishihara T, Sasaki R, Otsuki N, Nibu KI, Minamikawa T, Kiyota N, Sugimura K (2015) FDG-PET/contrast-enhanced CT as a post-treatment tool in head and neck squamous cell carcinoma: comparison with FDG-PET/non-contrast-enhanced CT and contrast-enhanced CT. European Radiol. doi:10.1007/s00330-015-3902-1

27.

Yeh CY, Lin CL, Chang MC, Chen HM, Kok SH, Chang SH, Kuo YS, Hahn LJ, Chan CP, Lee JJ, Jeng JH (2015) Differences in oral habit and lymphocyte subpopulation affect malignant transformation of patients with oral precancer. J Formos Med Assoc Taiwan yi zhi. doi:10.1016/j.jfma.2015.07.017

28.

Lee JJ, Lin CL, Chen TH, Kok SH, Chang MC, Jeng JH (2010) Changes in peripheral blood lymphocyte phenotypes distribution in patients with oral cancer/oral leukoplakia in Taiwan. Int J Oral Maxillofac Surg 39(8):806–814. doi:10.1016/j.ijom.2010.04.045

29.

Millrud CR, Mansson Kvarnhammar A, Uddman R, Bjornsson S, Riesbeck K, Cardell LO (2012) The activation pattern of blood leukocytes in head and neck squamous cell carcinoma is correlated to survival. PLoS one 7(12):e51120. doi:10.1371/journal.pone.0051120

30.

Tabata T, Hazama S, Yoshino S, Oka M (1999) Th2 subset dominance among peripheral blood T lymphocytes in patients with digestive cancers. Am J Surg 177(3):203–208

31.

Young M (2014) Immunological phenotypes of premalignant oral lesions and the immune shifts with the development of head and neck cancer. Austin J Otolaryngol 1(2):7

32.

Ma Y, Zhang Z, Tang L, Xu YC, Xie ZM, Gu XF, Wang HX (2012) Cytokine-induced killer cells in the treatment of patients with solid carcinomas: a systematic review and pooled analysis. Cytotherapy 14(4):483–493. doi:10.3109/14653249.2011.649185

33.

Grimm M, Feyen O, Hofmann H, Teriete P, Biegner T, Munz A, Reinert S (2015) Immunophenotyping of patients with oral squamous cell carcinoma in peripheral blood and associated tumor tissue. Tumour Biol J Int Soc Oncodevelopmental Biol Med. doi:10.1007/s13277-015-4224-2

34.

Omar E (2015) Future imaging alternatives: the clinical non-invasive modalities in diagnosis of oral squamous cell carcinoma (OSCC). Open Dentist J 9:311–318. doi:10.2174/1874210601509010311

35.

Omar E (2015) Current concepts and future of noninvasive procedures for diagnosing oral squamous cell carcinoma–a systematic review. Head Face Med 11:6. doi:10.1186/s13005-015-0063-z

36.

Weigum SE, Floriano PN, Redding SW, Yeh CK, Westbrook SD, McGuff HS, Lin A, Miller FR, Villarreal F, Rowan SD, Vigneswaran N, Williams MD, McDevitt JT (2010) Nano-bio-chip sensor platform for examination of oral exfoliative cytology. Cancer Prev Res 3(4):518–528. doi:10.1158/1940-6207.CAPR-09-0139

37.

Ebenezar J, Ganesan S, Aruna P, Muralinaidu R, Renganathan K, Saraswathy TR (2012) Noninvasive fluorescence excitation spectroscopy for the diagnosis of oral neoplasia in vivo. J Biomed Opt 17(9):97007–97001. doi:10.1117/1.JBO.17.9.097007
Acknowledgments
We thank biovis' Diagnostik MVZ especially Melanie Hügen and Martina Thümmler for the technical support.
Authors' contributions
MG, SH, and MK performed follow-up of the patient and were major contributors in conducting, writing, and revising the manuscript. TB and MG evaluated the immunohistology and immunohistochemistry slides. OF performed the flow cytometric analysis. PT and SR conceived the study and drafted the manuscript. All authors read and approved the final manuscript.
Ethics declarations
Consent
Written informed consent to participate was obtained prospectively from the patient (Ethics Committee Tuebingen, Germany, approval number: 562-2013BO2).
Competing interests
OF is an employee and shareholder of Zyagnum AG, Frankfurt am Main, Germany, and declares a potential conflict of interest due to the possible utilization of Apo10 and TKTL1 for diagnostic and/or therapeutic purposes. The authors have no other affiliations or financial involvement with any organization or entity with a financial interest in or financial conflict with the subject matter or materials discussed in the manuscript apart from those disclosed.
About this article
Cite this article
Grimm, M., Hoefert, S., Krimmel, M. et al. Monitoring carcinogenesis in a case of oral squamous cell carcinoma using a panel of new metabolic blood biomarkers as liquid biopsies. Oral Maxillofac Surg 20, 295–302 (2016). https://doi.org/10.1007/s10006-016-0549-2
Received:

Accepted:

Published:

Issue Date:
Keywords
Biomarkers

monitoring

Transketolase-like-1

Lactate dehydrogenase

Squamous cell carcinoma antigen

Cytokeratin fraction 21-1

Epitope detection in monocytes (EDIM) technology

Oral squamous cell carcinoma