Zusammenfassung
Fragestellung
Ziel dieser Untersuchung war die kritische Evaluation des Stellenwertes der HBO-Therapie bei der Behandlung von Patienten mit einer Unterkiefer-Osteomyelitis.
Material und Methode
Alle Patienten, die von 2000 bis 2004 aufgrund einer Osteomyelitis im Kieferbereich unsere Klinik aufsuchten und mittels HBO-Therapie behandelt wurden, gingen in die Auswertungen für diese Studie ein. Die klinische Beschwerdefreiheit der Patienten war dabei der entscheidende Erfolgsparameter. Alle Patienten wurden nach Schweregrad des Krankheitsverlaufes in drei Gruppen eingeteilt: Gruppe 1: Nicht vorbehandelte Patienten, Erstmanifestation einer Unterkiefer-Osteomyelitis; Gruppe 2: Leichter Verlauf, Patienten mit einem Rezidiv nach einer alleinigen antibiotischen Therapie und Gruppe 3: Schwerer Verlauf, Patienten mit einem Rezidiv nach einer chirurgischen und antibiotischen Therapie.
Ergebnisse
Insgesamt konnten die Krankheitsverläufe von 27 Patienten ausgewertet werden, wobei acht Patienten deutlich jünger als 30 Jahre waren. Von den insgesamt 13 Patienten, die sich als Ersttherapie einer HBO-Therapie unterzogen hatten (Gruppe 1), waren sieben nach durchschnittlich 40 Sitzungen beschwerde- und (bis heute) rezidivfrei. Von den neun Patienten der Gruppe 3 waren nach 40 Sitzungen vier Patienten beschwerde- und rezidivfrei, wobei es bei den beiden jüngeren Patienten in dieser Gruppe mehrfach zu Rezidiven kam. Demgegenüber sprachen gerade die jüngeren Patienten der Gruppe 2 (drei von vier Patienten) sehr gut auf die HBO-Therapie an.
Schlussfolgerung
Die Ergebnisse unserer Auswertungen zeigen, dass die HBO-Therapie bei vielen Patienten zu einer Beschwerde- und Rezidivfreiheit führt. Damit stellt die HBO-Therapie eine sinnvolle Ergänzung der Behandlungsoptionen bei Osteomyelitis-Patienten dar.
Abstract
Background
Chronic osteomyelitis of the jaw is a relapsing disease with multiple treatment strategies described in the literature. Hyperbaric oxygen therapy is one of them. The purpose of this study was to evaluate the clinical outcome of hyperbaric oxygen therapy in these patients.
Method
All patients with a chronic osteomyelitis of the mandible who received in our department hyperbaric oxygen therapy between 2000 and 2004 were included in this study. The clinical outcome (lack of symptoms e.g. pain, swelling, etc.) was the pivotal evaluation parameter. All patients were divided in three groups according to their medical history. Group 1: All patients with osteomyelitis of the mandible, who received no treatment before. Group 2: All patients with one local relapse, who received only antimicrobial treatment. Group 3: Patients with at least one local relapse after antimicrobial and surgical treatment.
Results
27 patients were evaluated in this study. Seven out of 13 patients in group 1 were relapse free after performing 40 hyperbaric oxygen therapies. However, only 4 of 9 patients in group 3 were relapse free after treatment. In group 2 the hyperbaric oxygen therapy was successful particularly in the younger patients (3 of 4).
Conclusion
Adjuvant hyperbaric oxygen therapy was successful in the treatment of patients with chronic recurrent osteomyelitis of the mandible. Therefore, it is an treatment option which can avoid ablative surgery in some cases.
Access options
Buy single article
Instant access to the full article PDF.
US$ 39.95
Tax calculation will be finalised during checkout.
Subscribe to journal
Immediate online access to all issues from 2019. Subscription will auto renew annually.
US$ 79
Tax calculation will be finalised during checkout.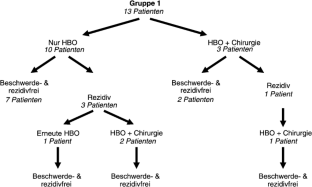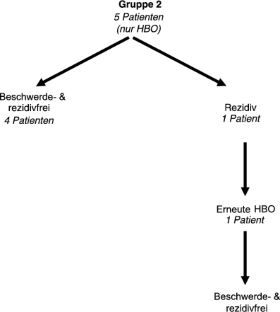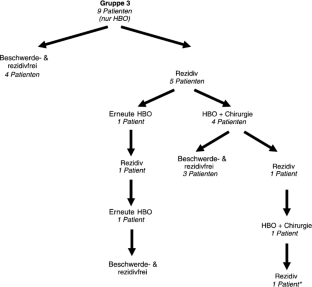 Literatur
1.

Baltensperger M, Gratz K, Bruder E, Lebeda R, Makek M, Eyrich G (2004) Is primary chronic osteomyelitis a uniform disease? Proposal of a classification based on a retrospective analysis of patients treated in the past 30 years. J Craniomaxillofac Surg 32:43–50

2.

Betts NJ, Abaza NA, Kazemi A (1996) An expansile bony lesion of the posterior mandible in a 12-year-old girl. J Oral Maxillofac Surg 54:203–209

3.

Feldmeier J (2003) Hyperbaric Oxygen 2003: Indications and Results: The Hyperbaric Oxygen Therapy Committee Report. Kensington: Undersea and Hyperbaric Medical Society

4.

Frey G, Lampl L, Radermacher P, Bock KH (1998) [Hyperbaric oxygenation. An area for the anesthetist?]. Anaesthesist 47:269–289

5.

Hohn D (1980) Host resistance of infection: established and emerging concepts. In: Hunt TK (ed) edn. Appleton-Century-Crofts, New York, pp 264–280

6.

Hopf HW, Gibson JJ, Angeles AP, Constant JS, Feng JJ, Rollins MD, Zamirul Hussain M, Hunt TK (2005) Hyperoxia and angiogenesis. Wound Repair Regen 13:558–564

7.

Hudson JW (1993) Osteomyelitis of the jaws: a 50-year perspective. J Oral Maxillofac Surg 51:1294–1301

8.

Jamil MU, Eckardt A, Franko W (2000) [Hyperbaric oxygen therapy. Clinical use in treatment of osteomyelitis, osteoradionecrosis and reconstructive surgery of the irradiated mandible]. Mund Kiefer Gesichtschir 4:320–323

9.

Knighton DR, Silver IA, Hunt TK (1981) Regulation of wound-healing angiogenesis-effect of oxygen gradients and inspired oxygen concentration. Surgery 90:262–270

10.

Korner T, Kreusch T, Bohuslavizki KH, Brinkmann G, Kohnlein S (1997) [Magnetic resonance imaging vs. three-dimensional scintigraphy in the diagnosis and monitoring of mandibular osteomyelitis]. Mund Kiefer Gesichtschir 1:324–327

11.

Lentrodt S, Lentrodt J, Kubler N, Modder U (2007) Hyperbaric oxygen for adjuvant therapy for chronically recurrent mandibular osteomyelitis in childhood and adolescence. J Oral Maxillofac Surg 65:186–191

12.

Mader JT, Brown GL, Guckian JC, Wells CH, Reinarz JA (1980) A mechanism for the amelioration by hyperbaric oxygen of experimental staphylococcal osteomyelitis in rabbits. J Infect Dis 142:915–922

13.

Mader JT, Adams KR, Wallace WR, Calhoun JH (1990) Hyperbaric oxygen as adjunctive therapy for osteomyelitis. Infect Dis Clin North Am 4:433–440

14.

Mandell GL (1974) Bactericidal activity of aerobic and anaerobic polymorphonuclear neutrophils. Infect Immun 9:337–341

15.

Marx RE, Ehler WJ, Tayapongsak P, Pierce LW (1990) Relationship of oxygen dose to angiogenesis induction in irradiated tissue. Am J Surg 160:519–524

16.

Marx RE (2003) Pamidronate (Aredia) and zoledronate (Zometa) induced avascular necrosis of the jaws: a growing epidemic. J Oral Maxillofac Surg 61:1115–1117

17.

Maurer P, Meyer L, Eckert AW, Berginski M, Schubert J (2006) Measurement of oxygen partial pressure in the mandibular bone using a polarographic fine needle probe. Int J Oral Maxillofac Surg 35:231–236

18.

Niinikoski J, Hunt TK (1972) Oxygen tensions in healing bone. Surg Gynecol Obstet 134:746–750

19.

Park M, Muhvich K, Myers R (1994) Effects of hyperbaric oxygen in infectious diseases: Basic mechanisms. In: Kindwall E (ed) Hyperbaric Medicine Practice. Best Publishing, Flagstaff, pp 141–164

20.

Prasad KC, Prasad SC, Mouli N, Agarwal S (2007) Osteomyelitis in the head and neck. Acta Otolaryngol 127:194–205

21.

Reinert S, Widlitzek H, Venderink DJ (1999) The value of magnetic resonance imaging in the diagnosis of mandibular osteomyelitis. Br J Oral Maxillofac Surg 37:459–463

22.

Springer IN, Wiltfang J, Dunsche A, Lier GC, Bartsch M, Warnke PH, Barth EL, Terheyden H, Russo PA, Czech N, Acil Y (2007) A new method of monitoring osteomyelitis. Int J Oral Maxillofac Surg 36:527–532

23.

Van den Wyngaert T, Huizing MT, Vermorken JB (2007) Osteonecrosis of the jaw related to the use of bisphosphonates. Curr Opin Oncol 19:315–322

24.

Verklin RM Jr, Mandell GL (1977) Alteration of effectiveness of antibiotics by anaerobiosis. J Lab Clin Med 89:65–71
About this article
Cite this article
Handschel, J., Brüssermann, S., Depprich, R. et al. Hyperbare Sauerstofftherapie bei Unterkiefer-Osteomyelitis. Mund Kiefer GesichtsChir 11, 285–290 (2007). https://doi.org/10.1007/s10006-007-0073-5
Received:

Accepted:

Published:

Issue Date:
Schlüsselwörter
HBO-Therapie

Unterkiefer

Osteomyelitis

Rezidive
Keywords
Hyperbaric oxygen therapy

Mandible

Osteomyelitis

Relapse