The reaction pathway analysis of phosphoric acid with the active radicals: a new insight of the fire-extinguishing mechanism of ABC dry powder
Abstract
Dry powder fire-extinguishing agent is one of Halon substitutes due to its superior fire-extinguishing performance, non-toxicity, and environmental friendliness. As one of the most widely used dry powders, ABC dry powder has attracted wide attention. Understanding its reaction mechanism is important to the design of more efficient compound dry powder based on it. When ABC dry powder was applied to the flame, ammonium dihydrogen phosphate (the main fire-extinguishing component of ABC dry powder) would rapidly decompose into phosphoric acid (H3PO4) and ammonia. Therefore, in order to figure out the chemical reaction mechanism of ABC dry powder and active radicals, the main focus of this paper is on the H3PO4. Analysis of the electrostatic potential on van der Waals surface of H3PO4 was carried out. Besides, detailed theoretical investigation has been performed on the mechanism, kinetics, and thermochemistry of the reactions of H3PO4 with H, OH, and CH3 radicals and further decomposition of H3PO4 using M06-2X/6-311G(d,p)//CCSD(T)/cc-pVTZ level of theory. Mayer bond order for all intrinsic reaction coordinate points was also calculated. Finally, it is theoretically proved that ABC dry powder extinguishes the fire mainly by chemical inhibition on H and OH radicals.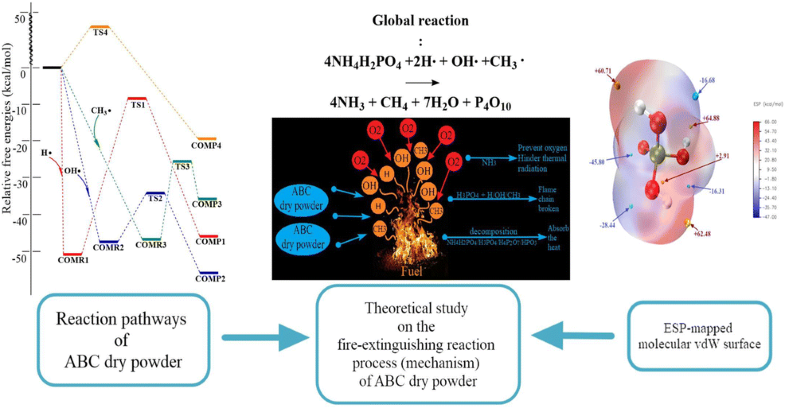 Keywords
ABC dry powder 
Thermal decomposition 
H3PO4 
Reaction mechanism 
Fire suppression mechanism 
Notes
Acknowledgments
We are grateful to the High-Performance Computing Center of Nanjing Tech University for supporting the computational resources.
Funding information
This work was supported by the National Natural Science Foundation of China (No.51704171), Postdoctoral Science Foundation of China (General Program) (No. 2016M601796), Planned Projects for Postdoctoral Research Funds of Jiangsu (No. 1601033C), Six Talent Peaks Project of Jiangsu (No. 2014-XCL-010), and the Priority Academic Program Development of Jiangsu Higher Education Institutions.
Copyright information
© Springer-Verlag GmbH Germany, part of Springer Nature 2019