Defective graphene domains in boron nitride sheets
Part of the following topical collections:
Abstract
Novel two-dimensional materials have emerged as hybrid structures that combine graphene and hexagonal boron nitride (h-BN) domains. During their growth process, structural defects such as vacancies and change of atoms connectivity are unavoidable. In the present study, we use first-principle calculations to investigate the electronic structure of graphene domains endowed with a single carbon atom vacancy or Stone–Wales defects in h-BN sheets. The results show that both kinds of defects yield localized states within the bandgap. Alongside this change in the bandgap configuration, it occurs a splitting of the spin channels in such a way that electrons with up and down spins populate different energy levels above and below the Fermi level, respectively. Such a spin arrangement is associated to lattice magnetization. Stone–Wales defects solely point to the appearance of new intragap levels. These results demonstrated that vacancies could significantly affect the electronic properties of hybrid graphene/h-BN sheets.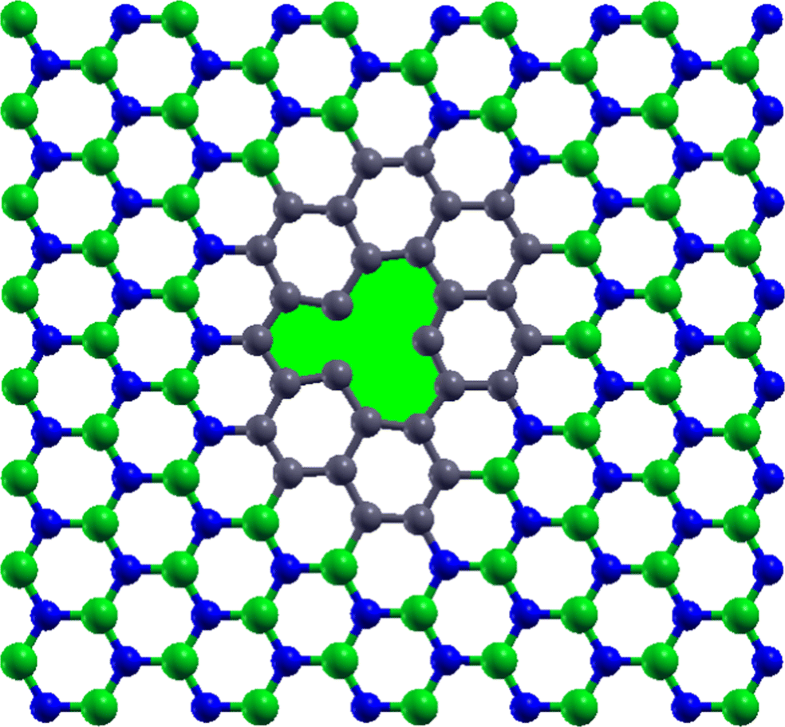 Keywords
Graphene 
Boron nitride 
Domains 
Defects 
Heterostructures 
Notes
Acknowledgements
The authors acknowledge the financial support from the Brazilian Research Councils CNPq and CAPES. The authors also acknowledge the CENAPAD-SP for providing the computational facilities. L.A.R.J and G.M.S gratefully acknowledge the financial support from the Brazilian Research Council FAPDF grants 0193.001.511/2017 and 0193.001766/2017, respectively. L.A.R.J also wishes to thank the Brazilian Ministry of Planning, Budget and Management (Grant DIPLA 005/2016). L.A.R.J. and G.M.S. gratefully acknowledge, respectively, the financial support from CNPq grants 302236/2018-0 and 304637/2018-1.
Copyright information
© Springer-Verlag GmbH Germany, part of Springer Nature 2019