Analysis of lowest energy transitions at TD-DFT of pyrene in vacuum and solvent
Part of the following topical collections:
Abstract
Polycyclic aromatic hydrocarbons are present in interstellar medium and trapped in water ice. Among these compounds, pyrene has a controversial theoretical excitation spectrum. We carried out time-dependent density functional theory, including the long-range correction functionals, with the aim to help to understand the inversion of the first two UV bands of lower energies. The pyrene molecule was optimized at TD-DFT functionals with Def2svp basis set. The spectrum of pyrene molecule was calculated using implicit and explicit solvent models. The explicit solvent effect was studied, including a cluster of 51 water molecules. The implicit solvent PCM model was used with water and benzene as solvents. CAM-B3LYP and ωB97XD give correct band positions and the ω parameter was also optimized. NBO and frontier molecular orbitals were used to study the UV band inversion.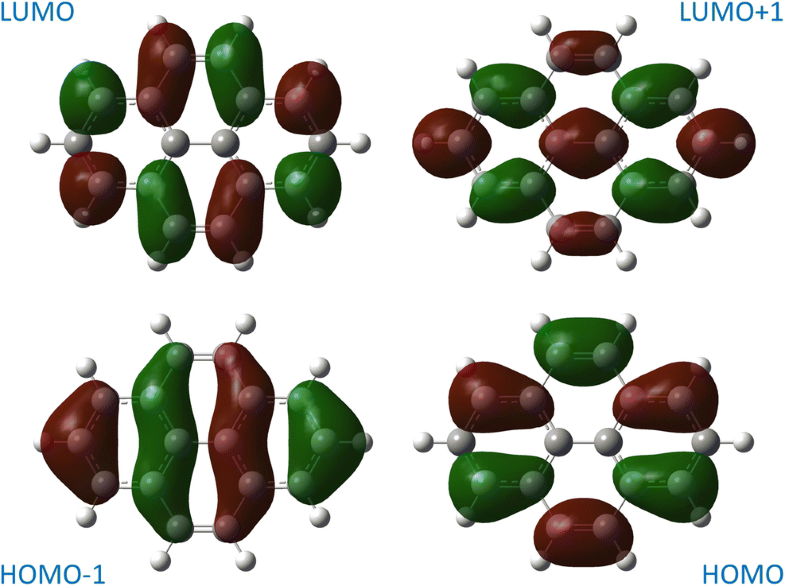 Keywords
Pyrene 
Long range correction 
TD-DFT 
Notes
Acknowledgments
The authors are indebted to the financial support of FAPDF, CNPq, and CAPES and the computational support of CENAPAD/SP and UnB/FINEP Institute of Chemistry Computational Centre.
Copyright information
© Springer-Verlag GmbH Germany, part of Springer Nature 2019