Molecular dynamics of combustion reactions in supercritical carbon dioxide. Part 4: boxed MD study of formyl radical dissociation and recombination
Abstract
Fossil fuel oxy-combustion is an emergent technology where habitual nitrogen diluent is replaced by high pressure (supercritical) carbon dioxide. The supercritical state of CO2 increases the efficiency of the energy conversion and the absence of nitrogen from the reaction mixture reduces pollution by NOx. However, the effects of a supercritical environment on elementary reactions kinetics are not well understood at present. We used boxed molecular dynamics simulations at the QM/MM theory level to predict the kinetics of dissociation/recombination reaction HCO• + [M] ↔ H• + CO + [M], an important elementary step in many combustion processes. A wide range of temperatures (400–1600 K) and pressures (0.3–1000 atm) were studied. Potentials of mean force were plotted and used to predict activation free energies and rate constants. Based on the data obtained, extended Arrhenius equation parameters were fitted and tabulated. The apparent activation energy for the recombination reaction becomes negative above 30 atm. As the temperature increased, the pressure effect on the rate constant decreased. While at 400 K the pressure increase from 0.3 atm to 300 atm accelerated the dissociation reaction by a factor of 250, at 1600 K the same pressure increase accelerated this reaction by a factor of 100.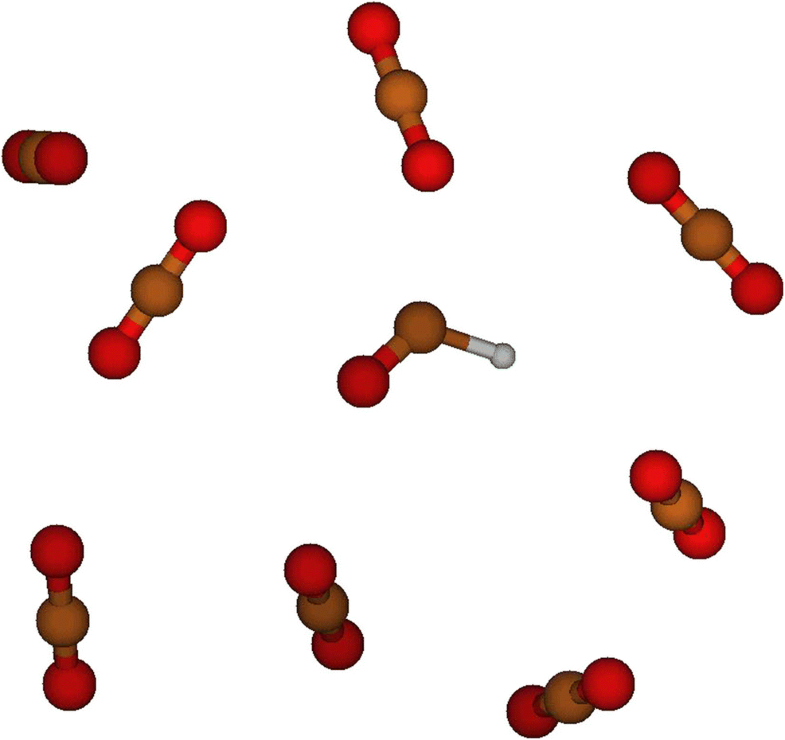 Keywords
Molecular dynamics 
Combustion kinetics 
Notes
Acknowledgements
The authors are grateful to Dr. Glowacki for his assistance with AXD program module. This work was supported in part by the Department of Energy (grant number: DE-FE0025260). The authors also acknowledge the National Energy Research Scientific Computing Center (NERSC), and the University of Central Florida Advanced Research Computing Center (https://arcc.ist.ucf.edu) for providing computational resources and support. A.E.M. acknowledges support by the Act 211 Government of the Russian Federation (contract no. 02.A03.21.0011) and by the "improving of the competitiveness" program of the National Research Nuclear University MEPhI.
Disclaimer: This report was prepared as an account of work sponsored by an agency of the United States Government. Neither the United States Government nor any agency thereof, nor any of their employees, makes any warranty, express or implied, or assumes any legal liability or responsibility for the accuracy, completeness, or usefulness of any information, apparatus, product, or process disclosed, or represents that its use would not infringe privately owned rights. Reference herein to any specific commercial product, process, or service by trade name, trademark, manufacturer, or otherwise does not necessarily constitute or imply its endorsement, recommendation, or favoring by the United States Government or any agency thereof. The views and opinions of authors expressed herein do not necessarily state or reflect those of the United States Government or any agency thereof.
Copyright information
© Springer-Verlag GmbH Germany, part of Springer Nature 2019