The encapsulation of the gemcitabine anticancer drug into grapheme nest: a theoretical study
Abstract
The efficient transport of a drug molecule until its target cell constitutes a significant challenge for delivery processes. To achieve such objectives, solid nanocapsules that protect the immune system during the transport should be developed and controlled at the nanoscale level. From this point of view, nanostructures based on graphene sheets could present some promising properties due to their ultimate size and dimension. In this work, we present theoretical results using DFT calculations, dealing with a graphene-based delivery system. Indeed, we demonstrate the stability of the gemcitabine anticancer molecule when it is encapsulated into two concave graphene sheets organized as a nest. Quantum calculations showed that the most stable state is located inside the nest, which is then formed by two layers distanced 6 Å from each other. For all the optimized systems, we focused on the dependence of the interaction energy on the molecule displacements during its entrance in the graphene nest and its exit from it. We also analyzed their consequence on the local morphological and electronic charge properties.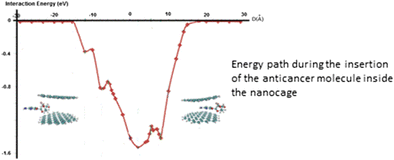 Keywords
Graphene nest 
Gemcitabine 
DFT calculations 
Drug delivery 
Notes
Acknowledgements
Computations have been performed on the supercomputer facilities of the Mesocentre of the University of Franche-Comté. M. M. gratefully acknowledges the support provided by the Tunisian Ministry of High School and Scientific Research. The present work was financially supported by University of FrancheComté in its "accueil de jeunes chercheurs en séjour de recherche post-doctorale" program.
Compliance with ethical standards
Conflict of interest
The authors declare no competing financial interests.
Copyright information
© Springer-Verlag GmbH Germany, part of Springer Nature 2018