MS-CASPT2 study of the ground and low lying states of CsH+
Part of the following topical collections:
Abstract
Correlated ab initio methods [CASPT2 and R-CCSD(T)] in conjunction with the ANO-RCC basis sets in large contraction were used to calculate potential energy curves (PECs) of the ground and excited electronic states of CsH+ (doublets and quartets) with the inclusion of the scalar relativistic effects and spin-orbit interaction. The ground X2Σ+ state is a rather fragile van der Waals molecular ion. The binding energy of this X2Σ+ state provided by both computational methods is estimated to be 0.02–0.04 eV, and is compared with the reported experimental binding energy (0.51–0.77 eV). This large binding energy can be attributed to the A2Σ+ state, and can thus explain the apparent disagreement between theory and experiment. The spectroscopic constants of all bound states were calculated from the PECs and compared with previous published data for X2Σ+ and A2Σ+ states.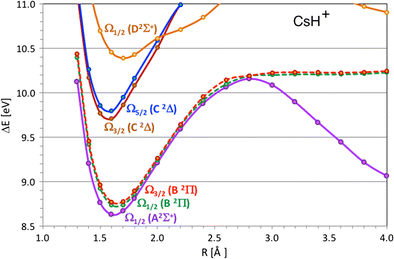 Keywords
Cesium hydride 
CASPT2 
Spectroscopic properties 
Plasma sources 
Potential energy curves 
Notes
Acknowledgments
We thank Slovak Grant Agencies Vedecká grantová agentúra MŠVVaŠ SR a SAV (VEGA) (Grant 1/0092/14) and Agentúra na podporu výskumu a vývoja (APVV) (Project APVV-15-0105). This work was carried out within the framework of the EUROfusion Consortium, and has received funding from the Euratom research and training programme 2014-2018 under Grant Agreement No. 633053. The views and opinions expressed herein do not necessarily reflect those of the European Commission. J.Š. is thankful for the support from the French-Slovak Co-tutelle PhD programme. We thank the Centre de Ressources Informatiques (CRI) of the University of Lille1, the Centre Régional Informatique et d'Applications Numériques de Normandie (CRIANN) and the Research & Development Operational Programme funded by European Regional Development Fund (ERDF) (CGreen-I 26240120001 and CGreen-II 26240120025) for support. J.Š. and F.L. also appreciate support from PIA managed by the French National Research Agency (ANR) under Grant Agreement No. ANR-11-LABX-0005-01 called CaPPA (Chemical and Physical Properties of the Atmosphere) and also supported by the Regional Council "Nord-Pas de Calais" and the "European Funds for Regional Economic Development."
Copyright information
© Springer-Verlag GmbH Germany 2017