Aromaticity, response, and nonlinear optical properties of sumanene modified with boron and nitrogen atoms
Abstract
We investigated the effects of substitution on the sumanene benzylic CH2 groups with BH and NH groups using density functional theory computations. Our study shows that various properties of sumanene could be finely tuned for the application in the areas closely related to the materials science. Structural properties are significantly altered with such modifications and other properties as well. Charge distributions were evaluated through natural population analysis (NPA), while stability of investigated structures was investigated using quantum molecular descriptors. Using molecular orbital analysis further insight into the effects of substitution was obtained. Potential of sumanene as a candidate for application in the field of organic electronics is assessed through calculations of exciton binding energy. Non-linear optical properties of investigated structures were investigated using the first hyperpolarizability tensor. Special attention was paid to the aromaticity of sumanene. This property was evaluated employing NICS parameter while for detailed study of obtained results we used NBO and NBOdel analysis.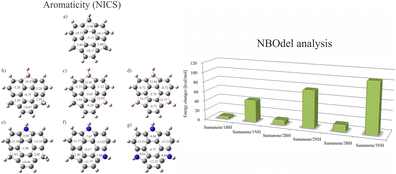 Keywords
Aromaticity 
DFT 
Exciton binding energy 
NBO 
NBOdel 
NLO properties 
Sumanene 
Notes
Acknowledgments
We are expressing our gratitude to Professor Enrique Louis Cereceda, Departamento de Fisica Aplicada, Universidad de Alicante and Professor Emilio San Fabián Maroto, Departamento de Química Física, Universidad de Alicante, for help and access to Gaussian 03. Without their support we wouldn't be able to conduct research.
This work is done within the project of the Ministry of Education and Science of Republic of Serbia grant no. OI 171039.
Dedication
This work is dedicated to our late dear friend and colleague Igor Vragović who worked at Departmento de Fisica Aplicada, Universidad de Alicante. Thanks to his kind support and very useful guides we were able to obtain results of this and several other papers, through which we contribute to the scientific community.
Copyright information
© Springer-Verlag Berlin Heidelberg 2014