Conformation and dynamics of 8-Arg-vasopressin in solution
Abstract
Arginine-vasopressin was subjected to a long (11 μs) molecular dynamics simulation in aqueous solution. Analysis of the results by DASH and principal components analyses revealed four main ring conformations that move essentially independently of the faster-moving tail region. Two of these conformations (labeled "saddle") feature well-defined β-turns in the ring and conserved transannular hydrogen bonds, whereas the other two ("open") feature neither. The conformations have been identified and defined and are all of sufficient stability to be considered candidates for biological conformations in their cognate receptors.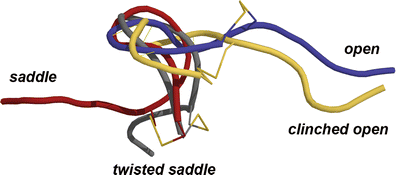 Keywords
Vasopressin 
Molecular dynamics 
DASH analysis 
Peptides 
Principal component analysis 
Notes
Acknowledgments
This work was supported by the European project "Peptide Research Network of Excellence" PeReNE as part of the Interreg IVA France (Channel)—England 2007–2014 program (Interreg EU). We thank Jonathan Essex (University of Southampton, UK) and Ronan Bureau (University of Caen, France) for helpful discussions and Harald Lanig (University of Erlangen, Germany) for support with the simulations. Work in Erlangen was supported by the Deutsche Forschungsgemeinschaft as part of Graduiertenkolleg 1910 "Medicinal Chemistry of Selective GPCR Ligands".
Glossary
AMBER
Assisted Model Building with Energy Refinement
DASH
Dynamics Analysis by Salt and Hudson
ff99sb
Force Field 1999 Stony Brooks
GPCR
G-Protein Coupled Receptor
PCA
Principle Component Analysis
RMSD
Root Mean Square Deviation
T10
DASH analysis of torsions Φ/Ψ 2 to 6 (10 torsions)
T16
DASH analysis of torsions Φ/Ψ 2 to 9 (16 torsions)
TIP4P-Ew
Transferable Intermolecular Potential 4 Point - Ewald
Copyright information
© Springer-Verlag Berlin Heidelberg 2014