Sumanene and its adsorption properties towards CO, CO2 and NH3 molecules
Abstract
Density functional theory calculations were used in the theoretical investigation of the adsorption properties of sumanene towards molecules considered as common air pollutants: CO, CO2 and NH3. The insignificant perturbation of sumanene after adsorption and the adsorption energies obtained indicate a physisorption mechanism. It was shown that, contrary to carbon nanotubes, sumanene is able to adsorb CO molecules, and that adsorption of CO2 by sumanene is stronger than adsorption of CO2 by C60. To better understand the adsorption characteristics of sumanene, density of states and natural bond order analyses were performed, which showed that chemical interactions exist and that these are more important mostly on the convex side. Better adsorption properties were obtained for the concave side as adsorption is dictated by physisorption mechanisms due to the specific bowl-shaped geometry of sumanene, because of which more negative charge is located precisely on the concave side. Molecular electrostatic potential surfaces were also used in order to better locate the adsorption sites and gain additional details about adsorption.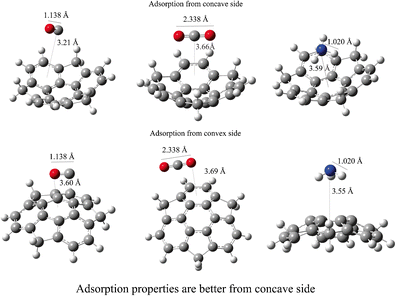 Keywords
Sumanene 
Adsorption 
DOS/OPDOS 
NBO and MEP analysis 
DFT 
Notes
Acknowledgments
We express our gratitude to Professor Enrique Louis Cereceda, Departamento de Fisica Aplicada, Universidad de Alicante and Professor Emilio San Fabián Maroto, Departamento de Química Física, Universidad de Alicante, for help and access to Gaussian 03. Without their support we would not be able to conduct our research. We also express our gratitude to our dear friend and colleague Igor Vragović, Departmento de Fisica Aplicada, Universidad de Alicante for kind support and very useful guidance.
This work was carried out within the project of the Ministry of Education and Science of Republic of Serbia grant no. OI 171039.
Copyright information
© Springer-Verlag Berlin Heidelberg 2014