Abstract
The potential energy surface of the hypothetical NaMgAlSiPSCl system (heavy periodane) is exhaustively analyzed via the gradient embedded genetic algorithm (GEGA) in combination with density functional theory (DFT) computations. The electronegativity differences among the elements in both the second and third rows of the periodic table indicate that low-energy heavy periodane structures are obtained when highly electronegative and electropositive elements are bound together, but the global minimum of the heavy periodane system is completely different to its second-row analog (LiBeBCNOF).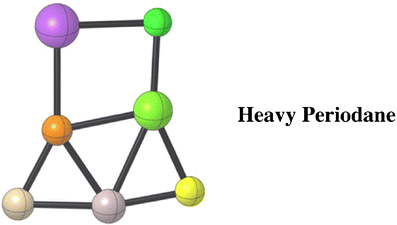 Keywords
Potential energy surface 
Mindless chemistry 
Stochastic search 
Periodane 
Notes
Acknowledgments
Technical and human support provided by Servicio General de Informática (IZO-SGI), Servicios Generales de Investigación (SGIker) (UPV/EHU, MICINN, GV/EJ, ERDF and ESF) is gratefully acknowledged. Financial support from REA-FP7-IRSES TEMM1P (GA 295172) and Consejo Nacional de Ciencia y Tecnología (grant 169338) are gratefully acknowledged. JMA thanks the Spanish Ministry of Education for a Ph. D. fellowship (AP2009-1514). DM thanks Consejo Nacional de Ciencia y Tecnología for the Ph.D. fellowship. We thank José M. Mercero and Edison Osorio for cheerful discussion. GM gratefully acknowledges support from Ikerbasque.