On possible existence of pseudobinary mixed valence fluorides of Ag(I) / Ag(II): a DFT study
Abstract
The DFT calculations performed within local density approximation disclose conceivable existence of two novel mixed–valence Ag(I)/Ag(II) fluorides, Ag2F3, i.e., Ag(I)Ag(II)F3 and Ag3F4, i.e., Ag(I)2Ag(II)F4. Ag2F3 is predicted to crystallize in three equally stable NaCuF3–, KAgF3–, or CuTeO3–type structures, while Ag3F4 should be isostructural to Na2CuF4. The calculated vibration-corrected energies of formation at 0 K of Ag2F3 and Ag3F4 (in their most stable polytypes) from binary fluorides are negative but small (respectively, –0.09 eV and –0.21 eV per formula unit). Formation of Ag3F5 (which, in fact, is a mixed valence Ag(I)/Ag(III) salt) from binary fluorides is much less likely, since the energy of formation is quite positive of about a quarter eV. The predicted volumes per formula unit for all forms of Ag2F3 are larger and that for K2CuF4–type Ag3F4 is smaller than the sum of volumes of the corresponding binary fluorides; Ag2F3 should not form at high pressure conditions due to a decomposition to the binary constituents. Ag2F3 and Ag3F4 should exhibit genuine mixed– and not intermediate–valence with quite different coordination spheres of Ag(I) and Ag(II). Nevertheless, they should not be electric insulators. Ag2F3 is predicted to be a metallic ferrimagnet with a magnetic superexchange coupling constant, J, of –2 meV while Ag3F4 should be a metallic ferromagnet with J of +52 meV. Since Ag2F3 and Ag3F4 are at the verge of thermodynamic stability, a handful of exothermic reactions have been proposed which could yield these as yet unknown compounds.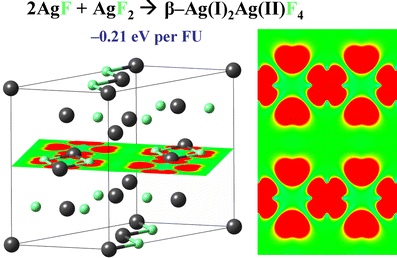 Keywords
Band theory 
Density functional theory 
Fluorine 
Mixed valence 
Oxidizers 
Phonons 
Silver 
Notes
Acknowledgments
The project 'Quest for superconductivity in crystal-engineered higher fluorides of silver' is operated within the Foundation for Polish Science 'TEAM' Program co-financed by the EU European Regional Development Fund. Calculations have been performed at Interdisciplinary Centre for Mathematical and Computational Modelling (ICM) supercomputers. WG is grateful to ICM and Faculty of Chemistry, University of Warsaw, for financial sustenance.