Abstract
The calculation of optimized molecular structure and molecular hyperpolarizability of four new acridine-benzothiazolylamine chromophores (1–4) [2-nitro-6-(piperid-1-yl) acridine (1), 6-(benzothiazol-2-yl-amino)-2-nitro-acridine (2), 6-(6-ethylcarboxylate-benzothiazol-2-yl-amino)-2-nitroacridine (3), 6-(6-(β-hydroxyethyl-benzothiazol-2-yl-amino)-2-nitroacridine (4)] have been investigated using ab initio methods. Ab initio optimization were performed at the Hartree–Fock level using STO-3G basis set. The first hyperpolarizabilities have been calculated at the Hartree–Fock method with 6–31G and 6–311G basis sets using Gaussian 98W. In general, the first hyperpolarizability is dependent on the choice of method and basis set. To understand this phenomenon in the context of molecular orbital picture, we examined the frontier molecular orbital energies of all the molecules by using HF/6–31G, 6–311G levels. The polarizability, anisotropy of polarizability and ground state dipole moment of all the molecules have also been calculated. These acridine-benzothiazolylamine chromophores display significant second–order molecular nonlinearity, β (60.2–137.0 × 10−30 esu) and provide the basis for future design of efficient nonlinear optical materials having the acridine-benzothiazolylamine core.
Access options
Buy single article
Instant access to the full article PDF.
US$ 39.95
Tax calculation will be finalised during checkout.
Subscribe to journal
Immediate online access to all issues from 2019. Subscription will auto renew annually.
US$ 119
Tax calculation will be finalised during checkout.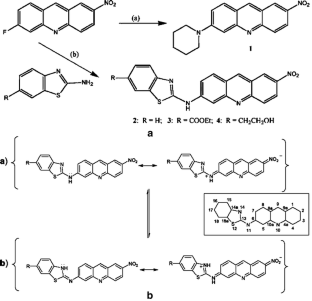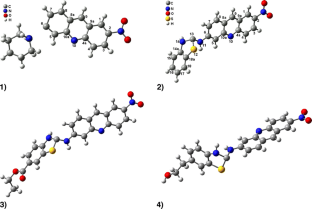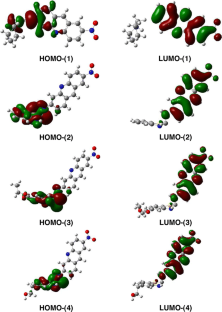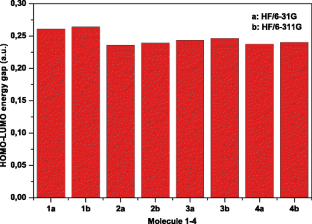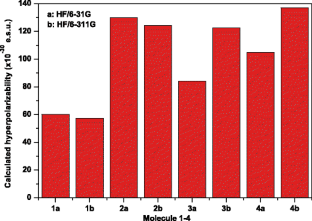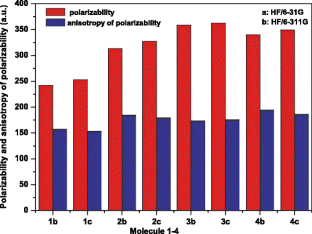 References
1.

Kanis DR, Ratner MA, Marks TJ (1994) Chem Rev 94:195–242

2.

Prasad PN, Williams DJ (1991) Introduction to nonlinear optical effects in molecules and polymers. Wiley, New York

3.

Rice JE, Handy NC (1991) J Chem Phys 94:4959–4971

4.

Li H, Han K, Shen X, Lu Z, Huang Z, Zhang W, Zhang Z, Bai L (2006) J Mol Strut (Theochem) 767:113–118

5.

Molinos-Gómez A, Vidal X, Maymó M, Velasco D, Martorell J, López-Calahorra F (2005) Tetrahedron 61:9075–9081

6.

Avcı D, Atalay Y, Başoğlu A (2007) AIP Conference Proceeding, CP 899:555

7.

Oudar JL, Chemla DS (1977) J Chem Phys 66:2664–2668

8.

Oudar JL (1977) J Chem Phys 67:446–457

9.

Kurtz HA, Stewart JJP, Dieter KM (1990) J Comput Chem 11:82–87

10.

Hurst GJB, Dupuis M, Clementi E (1988) J Chem Phys 89:385–395

11.

Willetts A, Rice JE, Burland DM, Shelton DP (1992) J Chem Phys 97:7590–7599

12.

Levine BF, Bethea CG (1974) Appl Phys Lett 24:445–447

13.

LevineBF, Bethea CG (1975) J Chem Phys 63:2666–2682

14.

Frisch MJ, Trucks GW, Schlegel HB, Scuseria GE, Robb MA, Cheeseman JR, Zakrzewski VG, Montgomery JA, Stratmann Jr RE, Burant JC, Dapprich S, Millam JM, Daniels AD, Kudin KN, Strain MC, Farkas O, Tomasi J, Barone V, Cossi M, Cammi R, Mennucci B, Pomelli C, Adamo C, Clifford S, Ochterski J, Petersson GA, Ayala PY, Cui Q, Morokuma K, Malick DK, Rabuck AD, Raghavachari K, Foresman JB, Cioslowski J, Ortiz JV, Baboul AG, Stefanov BB, Liu G, Liashenko A, Piskorz P, Komaromi I, Gomperts R, Martin RL, Fox DJ, Keith T, Al-Laham MA, Peng CY, Nanayakkara A, Gonzalez C, Challacombe M, Gill PMW, Johnson BG, Chen W, Wong MW, Andres JL, Head-Gordon M, Replogle ES, Pople JA (2001) Gaussian 98, Revision A.9. Gaussian Inc, Pittsburgs PA

15.

Frisch A, Nielsen AB, Holder AJ (2001) Gaussview user manual. Gaussian Inc, Pittsburg

16.

Zyss J, Ledoux I (1994) Chem Rev 94:77–105

17.

Jeewandara AK, de Silva KMN (2004) J Mol Strut (Theochem) 686:131–136

18.

Neelgund GM, Budni ML (2004) Monatshefte für Chemie 135:1395–1407
About this article
Cite this article
Avcı, D., Cömert, H. & Atalay, Y. Ab initio Hartree-Fock calculations on linear and second-order nonlinear optical properties of new acridine-benzothiazolylamine chromophores. J Mol Model 14, 161–169 (2008). https://doi.org/10.1007/s00894-007-0258-8
Received:

Accepted:

Published:

Issue Date:
Keywords
Ab initio HF

Acridine-benzothiazolylamine chromophores

Anisotropy of polarizability

Hyperpolarizability

Polarizability