Abstract
This study examines the use of visual data analytics as a method for historical investigation of national Webs, using Web archives. It empirically analyzes all graphically designed (non-photographic) images extracted from Websites hosted in the historical .yu domain and archived by the Internet Archive between 1997 and 2000, to assess the utility and value of visual data analytics as a measure of nationality of a Web domain. First, we report that only \(23.5\%\) of Websites hosted in the .yu domain over the studied years had their graphically designed images properly archived. Second, we detect significant differences between the color palettes of .yu sub-domains (commercial, organizational, academic, and governmental), as well as between Montenegrin and Serbian Websites. Third, we show that the similarity of the domains' colors to the colors of the Yugoslav national flag decreases over time. However, there are spikes in the use of Yugoslav national colors that correlate with major developments on the Kosovo frontier.
Access options
Buy single article
Instant access to the full article PDF.
US$ 39.95
Tax calculation will be finalised during checkout.
Subscribe to journal
Immediate online access to all issues from 2019. Subscription will auto renew annually.
US$ 79
Tax calculation will be finalised during checkout.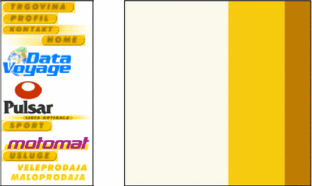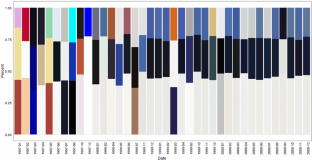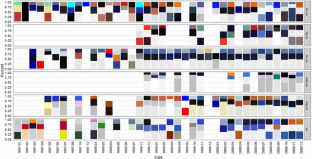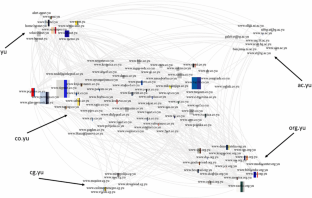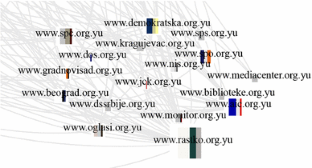 Notes
1.

2.

Elastic Search is a distributed, open source search, and analytics engine, designed for horizontal scalability, reliability, and easy management. It combines the speed of search with the power of analytics via a sophisticated, developer-friendly query language covering structured, unstructured, and time-series data.

3.

4.

A link aggregator is a Website that does not provide much authentic content, but rather presents a categorized list of links to other Websites.
References
1.

Ainsworth, S.G., Alsum, A., SalahEldeen, H., Weigle, M.C., Nelson, M.L.: How much of the web is archived? In: Proceedings of the 11th annual international ACM/IEEE joint conference on Digital libraries, pp 133–136. ACM (2011)

2.

Alkwai, L.M., Nelson, M.L., Weigle, M.C.: How well are Arabic websites archived? In: Proceedings of the 15th ACM/IEEE-CE on Joint Conference on Digital Libraries, pp. 223–232. ACM (2015)

3.

AlSum, A., Weigle, M.C., Nelson, M.L., Van de Sompel, H.: Profiling web archive coverage for top-level domain and content language. Int. J. Digit. Libr. 14(3–4), 149–166 (2014)

4.

Badre, A.: The effects of cross cultural interface design orientation on World Wide Web user performance. Technical Report GIT-GVU-01-03, Georgia Institute of Technology. https://smartech.gatech.edu/handle/1853/3315 (2001)

5.

Barber, W., Badre, A.: Culturability: the merging of culture and usability. In: Proceedings of the 4th Conference on Human Factors and the Web, vol. 7, pp. 1–10 (1998)

6.

Ben-David, A.: What does the Web remember of its deleted past? An archival reconstruction of the former Yugoslav top-level domain. New Media Soc. 18(7), 1103–1119 (2016)

7.

Ben-David, A., Huurdeman, H.: Web archive search as research: methodological and theoretical implications. Alex. J. Natl. Int. Libr. Inf. Issues 25(1–2), 93–111 (2014)

8.

Brügger, N.: Website history and the website as an object of study. New Media Soc. 11(1–2), 115–132 (2009)

9.

Brügger, N.: Probing a nation's web sphere: a new approach to web history and a new kind of historical source. In: Proceedings of the 2014 ACM conference on Web science. ACM (2014)

10.

Brügger, N., Finnemann, N.O.: The web and digital humanities: theoretical and methodological concerns. J. Broadcast. Electron. Media 57(1), 66–80 (2013)

11.

Brunelle, J.F., Kelly, M., SalahEldeen, H., Weigle, M.C., Nelson, M.L.: Not all mementos are created equal: measuring the impact of missing resources. Int. J. Digit. Libr. 16(3–4), 283–301 (2015)

12.

Burger, W., Burge, M.J., Burge, M.J., Burge, M.J.: Principles of Digital Image Processing. Springer, Berlin (2009)

13.

Callahan, E.: Cultural similarities and differences in the design of university web sites. J. Comput. Med. Commun. 11(1), 239–273 (2005)

14.

Costa, M., Gomes, D., Couto, F., Silva, M.: A survey of web archive search architectures. In: Proceedings of the 22nd international conference on World Wide Web companion, pp. 1045–1050. International World Wide Web Conferences Steering Committee (2013)

15.

Davison, B.D.: Topical locality in the web. In: Proceedings of the 23rd annual international ACM SIGIR conference on Research and development in information retrieval, pp. 272–279. ACM (2000)

16.

Dougherty, M., Schneider, S.: Web historiography and the emergence of new archival forms. In: ParK, D., Jankowski, N., Jones, S. (eds.). The long history of new media: technology, historiography, and contextualizing newness, pp. 253–266. Peter Lang Publishing, New York (2011)

17.

Engholm, I.: Digital style history: the development of graphic design on the Internet. Digit. Creat. 13(4), 193–211 (2002)

18.

Finlay, R.: Weaving the rainbow: visions of color in world history. J. World Hist. 18(4), 383–431 (2007)

19.

Gomes, D., Silva, M.J.: Characterizing a national community web. ACM Trans. Int. Technol. (TOIT) 5(3), 508–531 (2005)

20.

Gorsky, M.: Sources and resources into the dark domain: the UK web archive as a source for the contemporary history of public health. Soc. Hist. Med. 28(3), 596–616 (2015)

21.

Hale, S.A., Yasseri, T., Cowls, J., Meyer, E.T., Schroeder, R., Margetts, H.: Mapping the UK webspace: fifteen years of British universities on the web. In: Proceedings of the 2014 ACM conference on Web science, pp. 62–70. ACM (2014)

22.

Hill, B., Roger, T., Vorhagen, F.W.: Comparative analysis of the quantization of color spaces on the basis of the CIELAB color-difference formula. ACM Trans. Graph. (TOG) 16(2), 109–154 (1997)

23.

Hochman, N., Manovich, L.: Zooming into an Instagram city: reading the local through social media. First Monday 18(7) (2013)

24.

Hockx-Yu, H.: Access and scholarly use of web archives. Alex. J. Natl. Int. Libr. Inf. Issues 25(1–2), 113–127 (2014)

25.

Hu, J., Bagga, A.: Categorizing images in web documents. IEEE Multimed. 11(1), 22–30 (2004)

26.

Huurdeman, H.C., Ben-David, A., Sammar, T.: Sprint methods for web archive research. In: Proceedings of the 5th Annual ACM Web Science Conference, pp. 182–190. ACM (2013)

27.

Huurdeman, H.C., Kamps, J., Samar, T., de Vries, A.P., Ben-David, A., Rogers, R.A.: Lost but not forgotten: finding pages on the unarchived web. Int. J. Digit. Librar. 16(3–4), 247–265 (2015)

28.

Jackson, M.H., Purcell, D.: Politics and media richness in World Wide Web representations of the former Yugoslavia. Geograph. Rev. 87(2), 219–239 (1997)

29.

Jatowt, A., Kawai, Y., Tanaka, K.: Page history explorer: visualizing and comparing page histories. IEICE Trans. Inf. Syst. 94(3), 564–577 (2011)

30.

Keenan, T.: Looking like flames and falling like stars: Kosovo, 'The First Internet War'. Soc. Ident. 7(4), 539–550 (2001)

31.

Klein, M., Nelson, M.L.: Moved but not gone: an evaluation of real-time methods for discovering replacement web pages. Int. J. Digi. Libr. 14(1–2), 17–38 (2014)

32.

Lin, J., Kraus, K., Punzalan, R.: Supporting "distant reading" for web archives. Proc. Digital, Humanities, pp. 239–241 (2014)

33.

Manojlovic, I.: The museum of Yugoslav history. The acquisition of the .yu domain. In: Domanovic, A. (ed.). From Yu to Me, pp. 1–5. Firstsite (2014)

34.

Marcus, A., Hamoodi, S.: The impact of culture on the design of Arabic websites. In: International Conference on Internationalization, Design and Global Development, pp. 386–394. Springer, Heidelberg (2009)

35.

Mazzucchelli, F.: What remains of Yugoslavia? From the geopolitical space of Yugoslavia to the virtual space of the web Yugosphere. Soc. Sci. Inf. 51(4), 631–648 (2012)

36.

Milligan, I.: Mining the 'Internet Graveyard': rethinking the historians' toolkit. J. Can. Hist. Assoc. Revue de la Société historique du Canada 23(2), 21–64 (2012)

37.

Nguyen, H., Weber, M.S.: Internet archives as a tool for research: decay in large scale archival records. In: 2015 IEEE International Congress on Big Data (BigData Congress), pp. 724–727. IEEE (2015)

38.

Niu, J.: An overview of web archiving. D-Lib Mag. 18(3), 2 (2012)

39.

Pelet, J.-É., Papadopoulou, P.: The effect of colors of e-commerce websites on consumer mood, memorization and buying intention. Eur. J. Inf. Syst. 21(4), 438–467 (2012)

40.

Phillips, M.E.: What should we preserve? The question for heritage libraries in a digital world. Libr. Trends 54(1), 57–71 (2006)

41.

Robertson, A.R.: The CIE 1976 color-difference formulae. Color Res. Appl. 2(1), 7–11 (1977)

42.

Schafer, V.: Part of a whole: RENATER, a twenty-year-old network within the Internet. Inform. Cult. 50(2), 217–235 (2015)

43.

Schneider, S.M., Foot, K., Kimpton, M., Jones, G.: Building thematic web collections: challenges and experiences from the September 11 web archive and the election 2002 web archive. Digital Libraries, ECDL, pp. 77–94 (2003)

44.

Sharma, G., Bala, R.: Digital Color Imaging Handbook. CRC Press, Boca Raton (2002)

45.

Silakari, S., Motwani, M., Maheshwari, M.: Color image clustering using block truncation algorithm. arXiv preprint; arXiv:0910.1849 (2009)

46.

Thelwall, M., Vaughan, L.: A fair history of the web? Examining country balance in the Internet Archive. Libr. Inf. Sci. Res. 26(2), 162–176 (2004)

47.

Wang, S.-L., Liew, A.: Information-based color feature representation for image classification. In: IEEE International Conference on Image Processing, 2007. ICIP 2007, vol. 6, pp. 353–356. IEEE (2007)

48.

Weikum, G., Ntarmos, N., Spaniol, M., Triantafillou, P., Benczúr, A.A., Kirkpatrick, S., Rigaux, P., Williamson, M.: Longitudinal analytics on web archive data: it's about time! In: CIDR, pp. 199–202 (2011)

49.

Weltevrede, E., Helmond, A.: Where do bloggers blog? Platform transitions within the historical Dutch blogosphere. First Monday 17(2) (2012)

50.

Wesolkowski, S.: Color image edge detection and segmentation: a comparison of the vector angle and the euclidean distance color similarity measures. Master's thesis, University of Waterloo, Canada (1999)

51.

Zhang, J., Hsu, W., Lee, M.L.: An information-driven framework for image mining. In: International Conference on Database and Expert Systems Applications, pp. 232–242. Springer, Heidelberg (2001)
About this article
Cite this article
Ben-David, A., Amram, A. & Bekkerman, R. The colors of the national Web: visual data analysis of the historical Yugoslav Web domain. Int J Digit Libr 19, 95–106 (2018). https://doi.org/10.1007/s00799-016-0202-6
Received:

Revised:

Accepted:

Published:

Issue Date:
Keywords
Web archives

Color analysis

Visual data analytics

Yugoslavia

National domain

Internet Archive