Abstract
In this paper, we introduce a metadata visual interface based on metadata aggregation and automatic classification mapping. We demonstrate that it is possible to aggregate metadata records from multiple unrelated repositories, enhance them through automatic classification, and present them in a unified visual interface. The main features of the interface include dynamic querying using DDC classes as filters, interactive visual views of search results and related DDC classes, and drill-down options for searching and browsing in different levels of details. The interface was tested in a user study of 30 subjects. A comparison was done on three modules of the interface, namely 'search interface', 'hierarchical interface', and 'visual interface.' The results indicate that subjects performed well with all the three interfaces, and they had more positive experience with the hierarchical interface than with the search interface and the visual interface.
This is a preview of subscription content, log in to check access.
Access options
Buy single article
Instant access to the full article PDF.
US$ 39.95
Price includes VAT for USA
Subscribe to journal
Immediate online access to all issues from 2019. Subscription will auto renew annually.
US$ 99
This is the net price. Taxes to be calculated in checkout.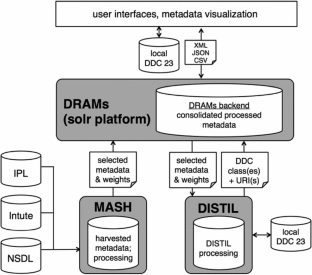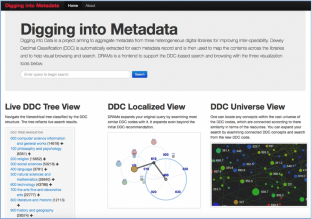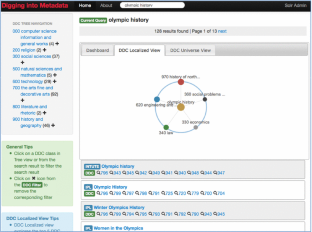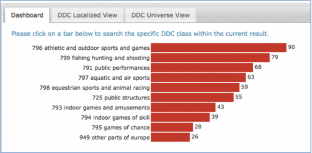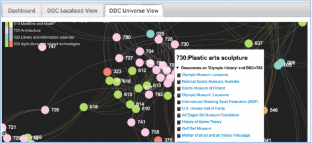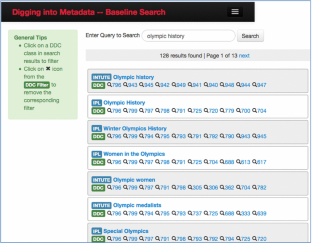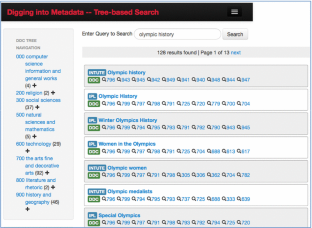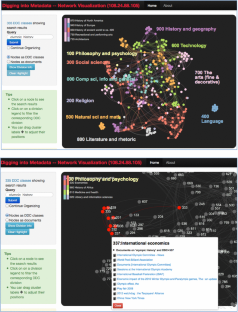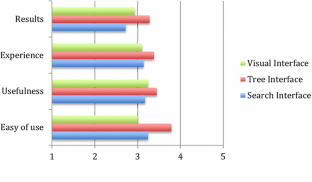 References
1.

Lin, X., Ahn, J.W.: Challenges of knowledge structure visualization. In: Classification and visualization: interfaces to knowledge: Proceedings of the International UDC Seminar, October 24-25, 2013, The Hague, The Netherlands. Ergon Verlag, 2013 (2013)

2.

Johnson, B., Shneiderman, B.: Tree-maps: a space-filling approach to the visual-ization of hierarchical information structures. In: VIS '91: Proceedings of the 2nd conference on visualization '91. pp. 284–291. IEEE Computer Society Press, Los Alamitos, CA, USA. http://portal.acm.org/citation.cfm?id=949654 (1991)

3.

Sintek, M.: Ontoviz, http://protegewiki.stanford.edu/wiki/OntoViz. Accessed Nov 2016

4.

Grefenstette, G.: Explorations in automatic thesaurus discovery. Springer, New York (1994)

5.

Koopman, R., Wang, S., Scharnhorst, A.: Contextualization of topics—browsing through terms, authors, journals and cluster allocations. In: Proceedings of 15th international conference on scientometrics and informetrics. Istanbul, Turkey (2015)

6.

Kleiberg, E., Van De Wetering, H., Van Wijk, J.J.: Botanical visualization of huge hierarchies. In: Information visualization, IEEE symposium on. pp. 87–87. IEEE Computer Society (2001)

7.

OCLC.: Introduction to the Dewey Decimal Classification. http://www.oclc.org/content/dam/oclc/dewey/versions/print/intro.pdf. Accessed Nov 2016

8.

Sweeney, R.: The development of the Dewey decimal classification. J. Doc. 39(3), 192–205 (1983)

9.

Pollitt, A.S., Tinker, A.J.: Enhanced view-based searching through the decomposition of Dewey decimal classification codes. In: Proceedings of the sixth international conference of the International Society for Knowledge Organization, 10–13 July 2000, Toronto, Canada. Eds. C. Beghtol, L. Howarth and N. J. Williamson. Würzburg: Ergon Verlag, 2000. (Advances in Knowledge Organization 7). 288–294 (2000)

10.

Chowdhury, S., Chowdhury, G.: Using DDC to create a visual knowledge map as an aid to online information retrieval. In: 8th international ISKO conference: knowledge organization and the Global Information Society, 2004-07-13 - 2004-07-16, London. http://strathprints.strath.ac.uk/2624/1/strathprints002624.pdf (2004). Accessed Nov 2016

11.

Vizine-Goetz, D.: Dewey browser. Catal. Classif. Q. 42(3–4), 213–220 (2006)

12.

Digging into data challenge.: http://diggingintodata.org/. Accessed Nov 2016

13.

Khoo, M., Ahn, J.W., Binding, C., Jones, H., Lin, X., Massam, D., Tudhope, D.: Augmenting Dublin core digital library metadata with Dewey decimal classification. J. Doc. 71(5), 976–998 (2015)

14.

Khoo, M., Tudhope, D., Binding, C., Jones, H., Orrego, I.: "OAI-PMH and metadata aggregation from heterogeneous digital libraries: three case studies", iConference, Fort Worth, TX, February 12–15, pp. 497–501. www.ideals.illinois.edu/handle/2142/42563 (2013). Accessed Nov 2016

15.

Frant, iK, Ananiadou, S., Mima, H.: Automatic recognition of multi-word terms. Int. J. Digit. Libr. 3(2), 117–132 (2000)

16.

Khoo, M., Tudhope, D., Binding, C., Abels, E., Lin, X., Massam, D.: Towards digital repository interoperability: the document indexing and semantic tagging interface for libraries (DISTIL). In: Zaphiris, P., Buchanan, G., Rasmussen, E., Loizides, F. (eds.) Theory and practice of digital libraries, lecture notes in computer science, vol. 7489, pp. 439–444. Springer, Berlin (2012). http://dx.doi.org/10.1007/978-3-642-33290-6_49. Accessed Nov 2016

17.

Voorhees, E.: The TREC-8 question answering track report. In: Voorhees, E.M., Harman, D.K. (eds), Proceedings of the 8th Text Retrieval Conference, NIST Special Publication 500-246, National Institute of Standards and Technology (NIST), Gaithersberg, MD, pp. 77–82. http://trec.nist.gov/pubs/trec8/t8_proceedings.html (1999). Accessed 10 Jun 2016

18.

Jacomy, M., Heymann, S., Venturini, T., Bastian, M.: Forceatlas2, a continuous graph layout algorithm for handy network visualization designed for the Gephi software. PLOS One. http://dx.doi.org/10.1371/journal.pone.0098679 (2014). Accessed Nov 2016

19.

Eades, P.: A heuristic for graph drawing. Congr. Numer. 42, 149–160 (1984)

20.

Khoo, M., Massam, D., Jones, H.: "I Go Into a Lot of Different Places to Get my Research": graduate students' mental models of research tools. iConference, California (2015)

21.

Khoo, M., Hall, C.: Managing metadata: networks of practice, technological frames, and technical work in a digital library. Inf. Org. 23(2), 81–106 (2013)

22.

Whitelaw, M.: Generous interfaces for digital cultural collections. Digit. Hum. Q. 9(1). http://www.digitalhumanities.org/dhq/vol/9/1/000205/000205.html (2015). Accessed Nov 2016

23.

Nielsen, J.: Tabs, used right. Nielsen Norman Group. https://www.nngroup.com/articles/tabs-used-right/ (2007). Accessed Nov 2016

24.

Zeng, M.L.: Knowledge organization systems. Knowl. Org. 35(2–3), 160–182 (2008)
Appendices
Appendix A
Sample wireframe interfaces used for the focused group studies.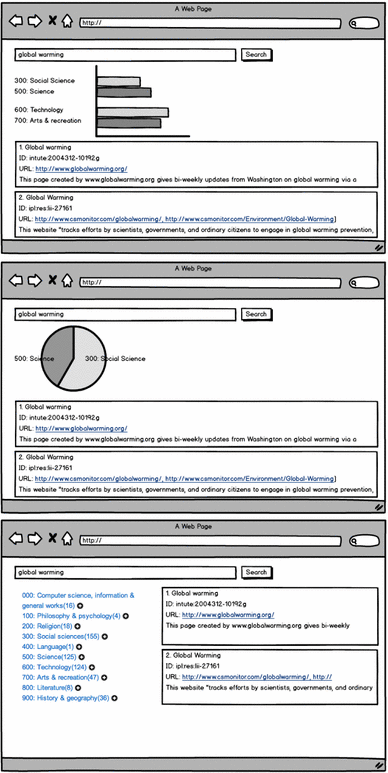 Appendix B
The search tasks used in the experiment:
1.

Please find best Web resources that a high school student should read when working on a paper for nuclear testing sites and its impact to the environments. What DDC classes would be useful for this topic?

2.

You have been asked to prepare a class project on the water cycle, and to identify some of the current environmental, social, political, and other issues associated with different stages of the water cycle. Please identify relevant web resources and DDC classes.

3.

Hurricane Katrina was one of the largest storms to make landfall in the United States, and the costliest in terms of damage to New Orleans and other places. Your project is to collect information for writing a timeline for Hurricane Katrina. The timeline should not just focus on the storm itself, but also look at such issues as the history of New Orleans, the social and political issues that were raised after the storm, the reconstruction, how the storm has been remembered, how the storm has affected peoples' lives today, and so on.
Appendix C
Post-search questionnaire. Each Interface (Search interface, Tree interface, and Visual interface) has a customized post-questionnaire with similar questions. Below is the questionnaire for the Visual Interface.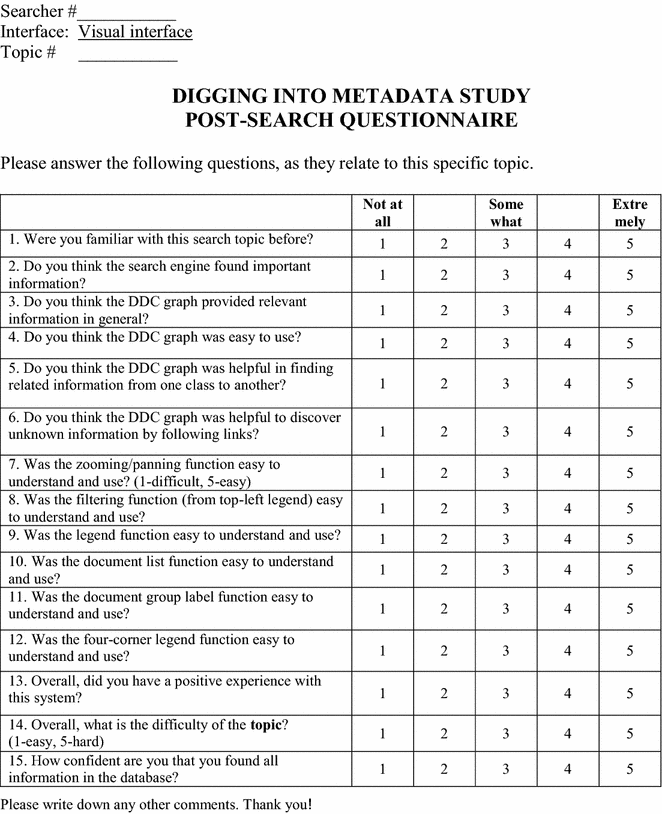 About this article
Cite this article
Lin, X., Khoo, M., Ahn, J. et al. Mapping metadata to DDC classification structures for searching and browsing. Int J Digit Libr 18, 25–39 (2017). https://doi.org/10.1007/s00799-016-0197-z
Received:

Revised:

Accepted:

Published:

Issue Date:
Keywords
Metadata integration

Automatic classification mapping

Dewey decimal classification

Visual interface design

Visualization interfaces