Abstract
In any effort that involves multilingual KOS, the language and cultural variants bring a great degree of complexity, especially when perspectives of different cultures need to be integrated. This paper attempts to explore, within the domain of Chinese art, the interoperability of multilingual/multi-cultural vocabularies by analyzing the issues of aligning the conceptual structures of Chinese and English terminology in the controlled vocabularies observed in our Chinese AAT-Taiwan Project (2010-present). The paper addresses the issues related to the conceptual structures of the concepts for Chinese art in the National Palace Museum (NPM) Vocabulary and Art & Architecture Thesaurus (AAT). The paper presents four patterns found in the effort of achieving semantic interoperability and shares a set of models that have been used to handle various situations. The findings help the understanding of the semantic interoperability of multilingual KOS, especially when dealing with cultural-related concepts that cannot be exactly aligned in vocabularies due to discrepancies in the conceptual structures.
Access options
Buy single article
Instant access to the full article PDF.
US$ 39.95
Tax calculation will be finalised during checkout.
Subscribe to journal
Immediate online access to all issues from 2019. Subscription will auto renew annually.
US$ 79
Tax calculation will be finalised during checkout.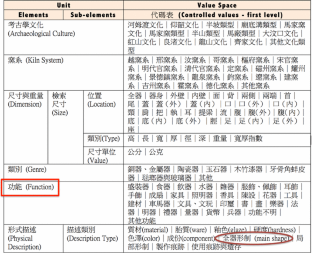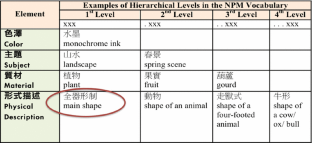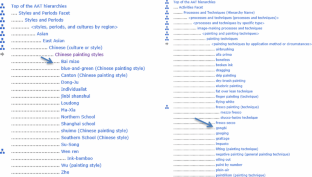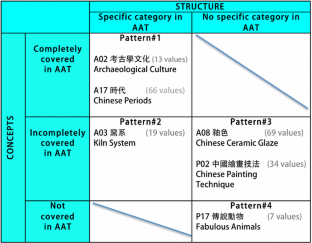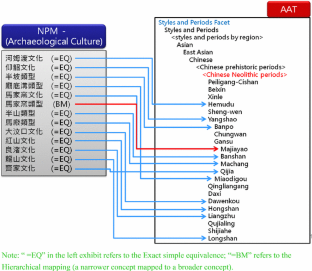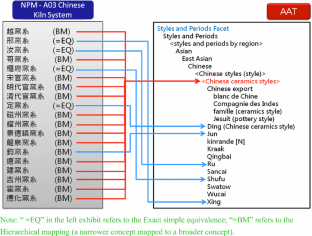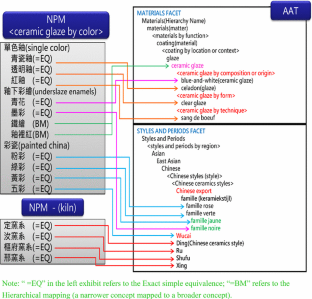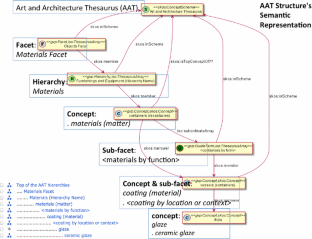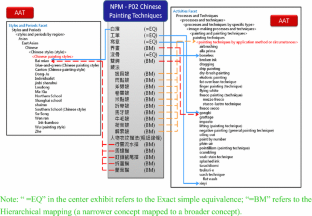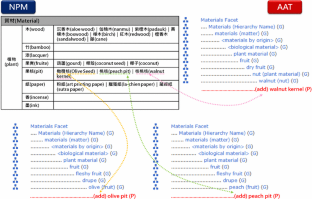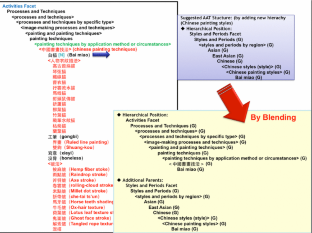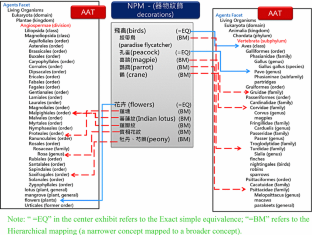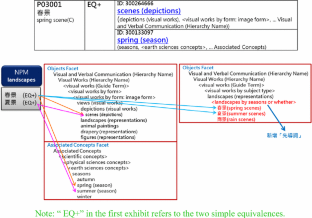 References
1.

Academia Sinica and National Palace Museum: National Palace Museum metadata requirement specification: the Painting and Calligraphy Collection. National Palace Museum, Taipei. http://metadata.teldap.tw/project/filebox/NPMshu/requirement/NPMshu_MRS_v1.0.pdf. Accessed 12 May 2015 (2001)

2.

Academia Sinica and National Palace Museum: National Palace Museum Metadata Requirement Specification: The Antiquities Collection. National Palace Museum, Taipei. http://metadata.teldap.tw/project/filebox/NPMqi/requirement/npm_artifactsSpecv1.2.pdf. Accessed 12 May 2015 (2004)

3.

Art & Architecture Thesaurus Online: Getty Research Institute. http://www.getty.edu/research/tools/vocabularies/aat/index.html. Accessed 12 May 2015 (2000)

4.

Beghtol, C.: Semantic validity: concepts of warrant in bibliographic classification systems. Libr. Resour. Tech. Serv. 30(2), 109–125 (1986)

5.

Chen, S.J., Wu, D., Peng, P.W., Chang, Y.T.: AAT-Taiwan: toward a multilingual access to cultural objects. In: Lalmas, M., et al. (eds.) Research and Advanced Technology for Digital Libraries, pp. 389–392. Springer, Berlin, Heidelberg (2010)

6.

Chen, S.J.: A study of mapping Chinese-English lexical semantics for a thesaurus in Chinese art. National Taiwan University (2012) (unpublihsed Ph.D. dissertation)

7.

Chen, S.J., Kuo, C.C.: A study of knowlege organization system for digital archives in the Naional Palace Museum collections of Cheinese festivals. In: Hsiang, J., et al. (eds.) Digital Humanities and Craft: Technological Change, pp. 39–66. NTU Press, Taipei (2014)

8.

Chinese AAT-Taiwan Project. http://aat.teldap.tw/. Accessed 15 Feb 2015 (2010)

9.

Clarke, S.D.: Thesaural relationships. In: Bean, C.A., Green, R. (eds.) Relationships in the Organization of Knowledge, pp. 37–52. Kluwer, Dordrecht (2011)

10.

Clarke, S.G.D., Zeng, M.L.: From ISO 2788 to ISO 25964: the evolution of thesaurus standards towards interoperability and data modeling. Inf Stand Q 24(1), 20–26 (2012)

11.

Getty Vocabularies Program: Getty vocabularies: linked open data. Semantic representation. Section 2.3.4 top concepts. http://vocab.getty.edu/doc/#The_Getty_Vocabularies_and_LOD. Accessed 15 Feb 2015 (2014)

12.

Harpring, P.: Art and Architecture Thesaurus: Editorial Guidelines. J. Paul Getty Trust, Los Angeles. http://www.getty.edu/research/tools/vocabularies/guidelines/index.html. Accessed 12 May 2015 (2010)

13.

Harpring, P.: Experiences of publishing Getty Vocabularies into LOD. http://aims.fao.org/community/interviews/experiences-publishing-getty-vocabularies-lod. Accessed 12 May 2014 (2014)

14.

Hjørland, B.: Semantics and knowledge organization. Annu Rev Inf Sci Technol 41, 367–405 (2007)

15.

Hulme, E.W.: Principles of book classification. Libr. Assoc. Rec. 13, 354–358, 389–394, 444–449 (1911)

16.

ISO 5964-1985 Documentation—Guidelines for the establishment and development of multilingual thesauri. International Organization for Standardization. Revised by ISO 25964-1:2011 (1985)

17.

ISO: ISO 25964-1:2011 Thesauri and Interoperability with Other Vocabularies Part 1: Thesauri for Information Retrieval. International Organization for Standardization (2011)

18.

ISO: ISO 25964-2:2013 Thesauri and Interoperability with Other Vocabularies Part 2: Interoperability with Other Vocabularies. International Organization for Standardization (2013)

19.

Jörg, C.J.A.: Chinese Export Porcelain. Chine de Commande from the Royal Museums of Art an History in Brussels, Exhibition Catalogue Hong Kong Museum of Art. The Urban Council, Hong Kong (1989)

20.

Pustevojsky, J.: The Generative Lexicon. MIT Press, Cambridge (1995)

21.

Zeng, M.L., Chan, L.M.: Semantic Interoperability. In: Bates, M.J., Maack, M.N. (eds.) Encyclopedia of Library and Information Sciences, pp. 4645–4662. Dekker Encyclopedias, Taylor and Francis Group, New York (2010)
About this article
Cite this article
Chen, Sj., Zeng, M.L. & Chen, Hh. Alignment of conceptual structures in controlled vocabularies in the domain of Chinese art: a discussion of issues and patterns. Int J Digit Libr 17, 23–38 (2016). https://doi.org/10.1007/s00799-015-0163-1
Received:

Revised:

Accepted:

Published:

Issue Date:
Keywords
Controlled vocabularies

Knowledge organization

Semantic mapping

Multilingual terminology