Abstract
In this article, we present PREMIS OWL. This is a semantic formalisation of the PREMIS 2.2 data dictionary of the Library of Congress. PREMIS 2.2 are metadata implementation guidelines for digitally archiving information for the long term. Nowadays, the need for digital preservation is growing. A lot of the digital information produced merely a decade ago is in danger of getting lost as technologies are changing and getting obsolete. This also threatens a lot of information from heritage institutions. PREMIS OWL is a semantic long-term preservation schema. Preservation metadata are actually a mixture of provenance information, technical information on the digital objects to be preserved and rights information. PREMIS OWL is an OWL schema that can be used as data model supporting digital archives. It can be used for dissemination of the preservation metadata as Linked Open Data on the Web and, at the same time, for supporting semantic web technologies in the preservation processes. The model incorporates 24 preservation vocabularies, published by the LOC as SKOS vocabularies. Via these vocabularies, PREMIS descriptions from different institutions become highly interoperable. The schema is approved and now managed by the Library of Congress. The PREMIS OWL schema is published at http://www.loc.gov/premis/rdf/v1.
This is a preview of subscription content, log in to check access.
Access options
Buy single article
Instant access to the full article PDF.
US$ 39.95
Price includes VAT for USA
Subscribe to journal
Immediate online access to all issues from 2019. Subscription will auto renew annually.
US$ 99
This is the net price. Taxes to be calculated in checkout.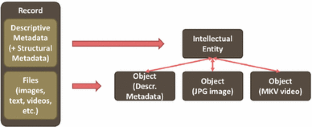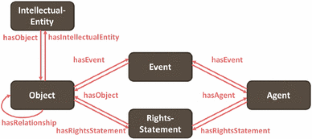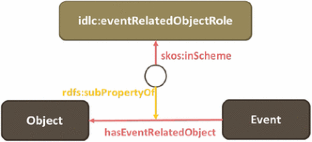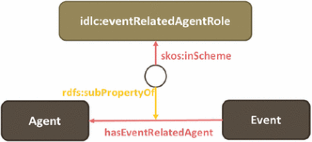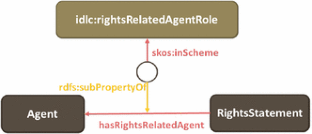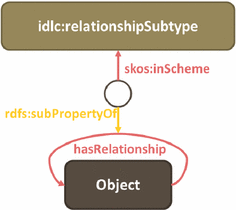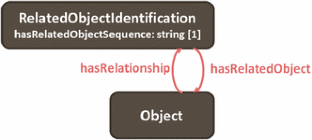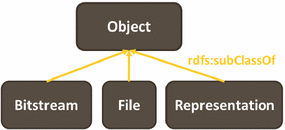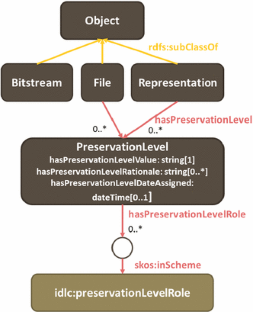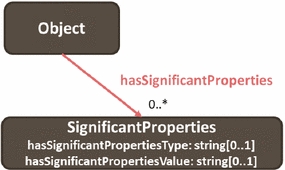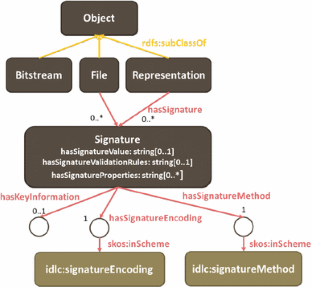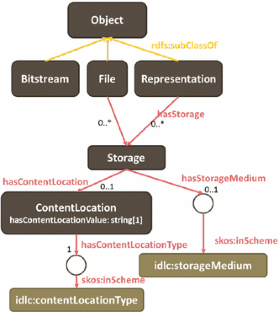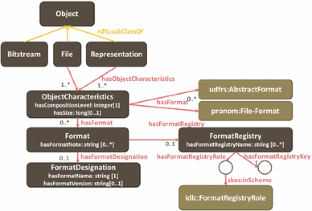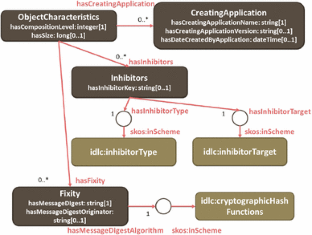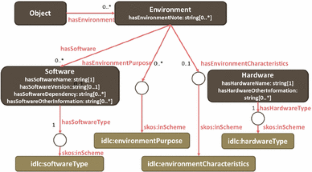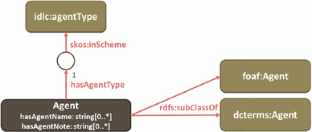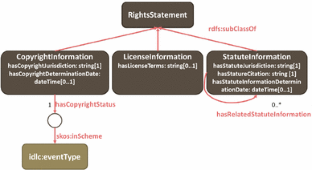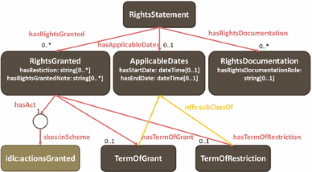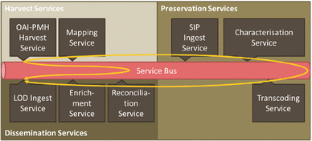 Notes
1.

2.

3.

4.

5.

6.

7.

8.

9.

10.

11.

12.

13.

14.

15.

16.

17.

18.

19.

20.

21.

22.

23.

24.

25.

26.
References
1.

Berners-Lee, T.: Linked Data. In: W3C Design Issues (2006). http://www.w3.org/DesignIssues/LinkedData.html

2.

Boyko, A., Kunze, J., Littman, J., Madden, L., Vargas, B.: The bagIt file packaging for-mat (V0.96) (2009). https://confluence.ucop.edu/download/attachments/16744580/BagItSpec.pdf?version=1

3.

Consultative Committee for Space Data Systems. Reference model for an open archival Information system (OAIS) (2002). http://public.ccsds.org/publications/archive/650x0b1.pdf

4.

RLG/OCLC Working Group on Digital Archive Attributes. Trusted digital repositories: attributes and responsibilities (2002). http://www.oclc.org/programs/ourwork/past/trustedrep/repositories.pdf

5.

Ferreira, M., Baptista, A.A., Ramalho, J.C.: An intelligent decision support system for digital preservation. Int. J. Digit. Libr. 6(4), 295–304 (2007)

6.

Gil, Y., Miles, S., Belhajjame, K., Deus, H., Garijo, D., Klyne, G., Missier, P., Soiland-Reyes, S., Zednik, S.: PROV model primer. Tech. rep. W3C (2012). http://www.w3.org/TR/prov-primer/

7.

Gil, Y., Cheney, J., Groth, P., Hartig, O., Miles, S., Moreau, L., da Silva, P.P., Coppens, S., Garijo, D., Gomez, J.M., Missier, P., Myers, J., Sahoo, S., Zhau, J.: Provenance XG final report (2010). http://www.w3.org/2005/Incubator/prov/XGR-prov/

8.

Hartig, O., Zhao, J.: Publishing and consuming provenance metadata on the web of linked data. In: Proceedings of the 3rd International Provenance and Annotation Workshop IPAW (2010). http://olafhartig.de/files/HartigZhao_Provenance_IPAW2010_Preprint.pdf

9.

Hunter, J., Choudhury, S.: PANIC: an integrated approach to the preservation of composite digital objects using semantic web services. Int. J. Digit. Libr. 6(2), 174–183 (2006)

10.

McGuinness, D., van Harmelen, F.: OWL web ontology language: overview. W3C recommendation. World Wide Web Consortium (2004). http://www.w3.org/TR/owl-features/

11.

Messina, A., Boch, L., Dimino, G., Bailer, W., Schallauer, P., Allasia, W., Basili, R.: Creating rich metadata in the TV broadcast archives environment: the PrestoSpace project. In: IEEE AXMEDIS06 Conference Second International Conference on Automated Production of Cross Media Content for Multi-Channel Distribution. pp. 193–200 (2006)

12.

Miles, Alistair, Pérez-Agüera, José R.: SKOS: simple knowledge organisation for the web. Cat. Classif. Q. 43(3), 69–83 (2007). doi:10.1300/J104v43n03_04

13.

PREMIS working group.: PREMIS data Dictionary for preservation metadata—version 2.0 (2008). http://www.loc.gov/standards/premis/v2/premis-2-0.pdf
Additional information
Sam Coppens: This work was carried out while working at Ghent University-iMinds-Multimedia Lab.
About this article
Cite this article
Coppens, S., Verborgh, R., Peyrard, S. et al. PREMIS OWL. Int J Digit Libr 15, 87–101 (2015). https://doi.org/10.1007/s00799-014-0136-9
Received:

Revised:

Accepted:

Published:

Issue Date:
Keywords
Linked open data

PREMIS OWL

Preservation

Metadata

Ontology

Semantic