Abstract
Desmoplastic reaction (DR) and inflammation are significant pathological manifestations of tumorigenesis in several cancers. However, the correlation between these stromal reactions and cervical adenocarcinoma has been poorly documented. This investigation elucidated whether DR is a prognostic indicator in early cervical adenocarcinoma patients. Fifty-nine patients with early stage cervical adenocarcinoma (stages I/II) were included in the study. DR was divided into three groups, mature, intermediate, and immature, based on the presence of myxoid stroma and hyalinized keloid-like collagen. Inflammatory cell responses were classified as mild, moderate, and severe. Those stromal reactions were separately evaluated in the invasion front stroma and intratumoral stroma. In both the intratumor and invasion front stroma, intermediate/immature DR was correlated with tumor size, T stage, N stage, lymphovascular invasion, and parametrial infiltration (p < 0.001 to p < 0.05). In addition, in the intratumoral stroma, intermediate/immature DR led to short relapse-free survival and overall survival (p < 0.001). In the invasion front stroma, inflammatory cell responses were associated with DR immaturity and FIGO stage (p < 0.01). These results suggest that the classification of DR maturity is a potential prognostic biomarker in early stage cervical adenocarcinoma patients. DR can be evaluated by routine H&E staining without immunohistochemistry, making it convenient and economical in clinical practice.
Access options
Buy single article
Instant access to the full article PDF.
USD 39.95
Price excludes VAT (USA)
Tax calculation will be finalised during checkout.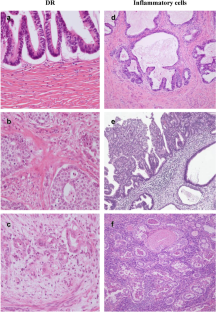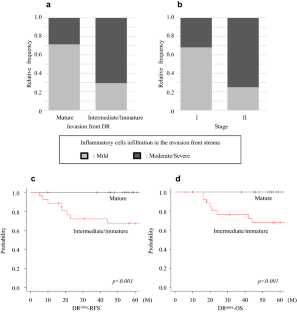 References
Wang SS, Sherman ME, Hildesheim A, Lacey JV Jr, Devesa S (2004) Cervical adenocarcinoma and squamous cell carcinoma incidence trends among white women and black women in the United States for 1976–2000. Cancer 100:1035–1044

Gien LT, Beauchemin MC, Thomas G (2010) Adenocarcinoma: a unique cervical cancer. Gynecol Oncol 116:140–146

Yagi A, Ueda Y, Kakuda M, Tanaka Y, Ikeda S, Matsuzaki S, Kobayashi E, Morishima T, Miyashiro I, Fukui K, Ito Y, Nakayama T, Kimura T (2019) Epidemiologic and clinical analysis of cervical cancer using data from the population-based Osaka cancer registry. Cancer Res 79:1252–1259

Fujiwara K, Monk B, Devouassoux-Shisheboran M (2014) Adenocarcinoma of the uterine cervix: why is it different? Curr Oncol Rep 16:416

Takeuchi S (2016) Biology and treatment of cervical adenocarcinoma. Chin J Cancer Res 28:254–262

Akimoto T, Takasawa A, Takasawa K, Aoyama T, Murata M, Osanai M, Saito T, Sawada N (2018) Estrogen/GPR30 signaling contributes to the malignant potentials of ER-negative cervical adenocarcinoma via regulation of claudin-1 expression. Neoplasia 20:1083–1093

Ueno H, Jones AM, Wilkinson KH, Jass JR, Talbot IC (2004) Histological categorization of fibrotic cancer stroma in advanced rectal cancer. Gut 53:581–586

Ao T, Kajiwara Y, Yonemura K, Shinto E, Mochizuki S, Okamoto K, Aosasa S, Ueno H (2019) Prognostic significance of histological categorization of desmoplastic reaction in colorectal liver metastases. Virchows Arch 475:341–348

Ueno H, Shinto E, Shimazaki H, Kajiwara Y, Sueyama T, Yamamoto J, Hase K (2015) Histologic categorization of desmoplastic reaction: its relevance to the colorectal cancer microenvironment and prognosis. Ann Surg Oncol 22:1504–1512

Ueno H, Kanemitsu Y, Sekine S, Ishiguro M, Ito E, Hashiguchi Y, Kondo F, Shimazaki H, Mochizuki S, Kajiwara Y, Shinto E, Yamamoto J (2017) Desmoplastic pattern at the tumor front defines por-prognosis subtypes of colorectal cancer. Am J Surg Pathol 41:1506–1512

González IA, Bauer PS, Liu J, Chatterjee D (2021) Intraepithelial tumour infiltrating lymphocytes are associated with absence of tumour budding and immature/myxoid desmoplastic reaction, and with better recurrence-free survival in stages I-III colorectal cancer. Histopathology 78:252–264

Scheuba C, Kaserer K, Kaczirek K, Asari R, Niederle B (2006) Desmoplastic stromal reaction in medullary thyroid cancer—an intraoperative '"marker"' for lymph node metastases. World J Surg 30:853–859

Almangush A, Bello IO, Heikkinen I, Hagström J, Haglund C, Kowalski LP, Nieminen P, Coletta RD, Mäkitie AA, Salo T, Leivo I (2021) Stromal categorization in early oral tongue cancer. Virchows Arch 478:925–932

Wei S, Conner MG, Zhang K, Siegal GP, Novak L (2010) Juxtatumoral stromal reactions in uterine endometrioid adenocarcinoma and their prognostic significance. Int J Gynecol Pathol 29:562–567

Cao L, Sun PL, He Y, Yao M, Gao H (2020) Desmoplastic reaction and tumor budding in cervical squamous cell carcinoma are prognostic factors for distant metastasis: a retrospective study. Cancer Manag Res 12:137–144

Shiga K, Hara M, Nagasaki T, Sato T, Takahashi H, Takeyama H (2015) Cancer-associated fibroblasts: their characteristics and their roles in tumor growth. Cancers (basel) 7:2443–2458

Wu Y, Zhou BP (2009) Inflammation: a driving force speeds cancer metastasis. Cell Cycle 8:3267–3273

Huang HW, Chang CC, Wang CS, Lin KH (2021) Association between inflammation and function of cell adhesion molecules influence on gastrointestinal cancer development. Cells 10:67

Kanda Y (2013) Investigation of the freely available easy-to-use software 'EZR' for medical statistics. Bone Marrow Transpl 48:452–458

Hanahan D, Weinberg RA (2011) Hallmarks of cancer: the next generation. Cell 144:646–674

Kalluri R, Zeisberg M (2006) Fibroblasts in cancer. Nat Rev Cancer 6:392–401

Ioachim E, Michael M, Stavropoulos NE, Kitsiou E, Salmas M, Malamou-Mitsi V (2005) A clinicopathological study of the expression of extracellular matrix components in urothelial carcinoma. BJU Int 95:655–659

Noriega-Guerra H, Freitas VM (2018) Extracellular matrix influencing HGF/c-MET signaling pathway: impact on cancer progression. Int J Mol Sci 19:3300

Solinas G, Germano G, Mantovani A, Allavena P (2009) Tumor-associated macrophages (TAM) as major players of the cancer-related inflammation. J Leukoc Biol 86:1065–1073

Motoshima T, Miura Y, Wakigami N, Kusada N, Takano T, Inoshita N, Okaneya T, Sugiyama Y, Kamba T, Takeya M, Komohara Y (2018) Phenotypical change of tumor-associated macrophages in metastatic lesions of clear cell renal cell carcinoma. Med Mol Morphol 51:57–63

Jamiyan T, Kuroda H, Yamaguchi R, Abe A, Hayashi M (2020) CD68- and CD163-positive tumor-associated macrophages in triple negative cancer of the breast. Virchows Arch 477:767–775

Hendry S, Salgado R, Gevaert T et al (2017) Assessing tumor-infiltrating lymphocytes in solid tumors: a practical review for pathologists and proposal for a standardized method from the international immune-oncology biomarkers working group: part 2: TILs in and mesothelioma, endometrial and ovarian carcinomas, squamous cell carcinoma of the head and neck, genitourinary carcinomas, and primary brain tumors. Adv Anat Pathol 24:311–335

Lien HC, Lee YH, Chen IC, Lin CH, Chen TW, Lu YT, Lu YS (2021) Tumor-infiltrating lymphocyte abundance and programmed death-ligand 1 expression in metaplastic breast carcinoma: implications for distinct immune microenvironments in different metaplastic components. Virchows Arch 478:669–678

D'Alessandris N, Palaia I, Pernazza A, Tomao F, Di Pinto A, Musacchio L, Leopizzi M, Di Maio V, Pecorella I, Benedetti Panici P, Della Rocca C (2021) PD-L1 expression is associated with tumor infiltrating lymphocytes that predict response to NACT in squamous cell cervical cancer. Virchows Arch 478:517–525

Van Bockstal M, Lambein K, Smeets A, Slembrouck L, Neven P, Nevelsteen I, Weltens C, Van Limbergen E, Christiaens MR, Van Ongeval C, Wildiers H, Libbrecht L, Floris G (2019) Stromal characteristics are adequate prognosticators for recurrence risk in ductal carcinoma in situ of the breast. Eur J Surg Oncol 45:550–559
Funding
The authors acknowledge the funders of this study: JSPS KAKENHI [Grant Numbers JP20K07409 (A.T.), JP20K16196 (K.T.)].
Ethics declarations
Conflict of interest
The authors have disclosed that they have no significant relationships with, or financial interest in, any commercial companies pertaining to this article.
Ethical approval
The experiments reported here were carried out in agreement with the Declaration of Helsinki and were approved by the Ethics Committee of the Sapporo Medical University Hospital (Sapporo, Japan, IRB study number: 302-197).
Additional information
Publisher's Note
Springer Nature remains neutral with regard to jurisdictional claims in published maps and institutional affiliations.
Supplementary Information
Below is the link to the electronic supplementary material.
About this article
Cite this article
Akimoto, T., Takasawa, A., Takasawa, K. et al. Pathological classification of desmoplastic reaction is prognostic factor in cervical adenocarcinoma. Med Mol Morphol 55, 275–282 (2022). https://doi.org/10.1007/s00795-022-00329-6
Received:

Accepted:

Published:

Issue Date:

DOI: https://doi.org/10.1007/s00795-022-00329-6
Keywords
Desmoplastic reaction

Cervical adenocarcinoma

Tumor microenvironment

Cancer-associated fibroblasts

Histopathological prognosticator