Abstract
Biliary atresia (BA) is characterized by the occlusion of extrahepatic bile ducts due to sclerosing inflammation. Necroptosis is a recently characterized form of programmed cell death but has not been examined in BA. We, therefore, explored the potential involvement of necroptosis in the pathogenesis of BA by evaluating the correlation between necroptosis-related factors and clinicopathological features of BA patients. We studied liver biopsy specimens of 59 patients with BA and 30 with congenital biliary dilatation (CBD). We also evaluated 14 surgical BA cases, who eventually underwent liver transplantation and 9 normal liver from neonates and infants obtained at autopsy. Necroptosis-related factors including toll-like receptor 3 (TLR3), receptor-interacting protein kinase1 (RIP1), receptor-interacting protein kinase3 (RIP3), mixed lineage kinase domain-like (MLKL), and phosphorylated mixed lineage kinase domain-like (pMLKL) in these liver specimens were immunolocalized. TLR3, RIP1, MLKL in the intrahepatic cholangiocytes was significantly higher in BA than CBD. pMLKL immunoreactivity was significantly greater at an earlier age of BA patients. The native liver survival period was significantly prolonged in the high RIP3 group. The low RIP3 status could serve as an adverse clinical prognostic factor for the native liver survival among the necroptosis-related factors examined in this study.
Access options
Buy single article
Instant access to the full article PDF.
USD 39.95
Price excludes VAT (USA)
Tax calculation will be finalised during checkout.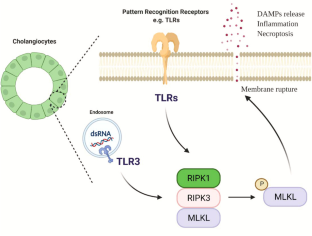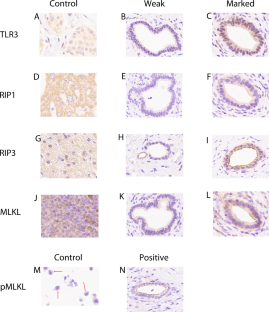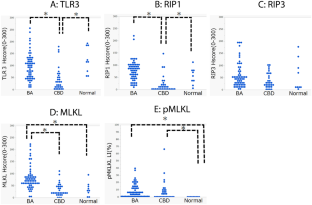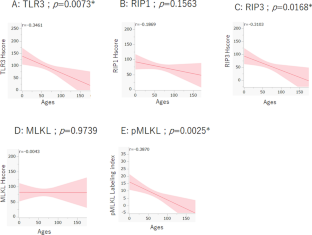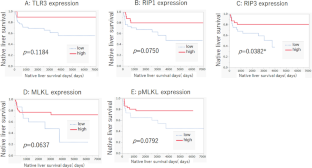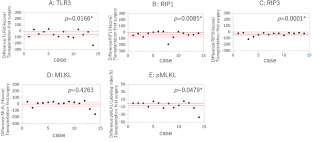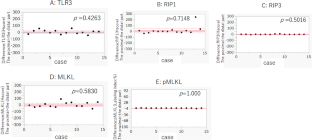 Availability of data and materials
The datasets used and/or analyzed during the current study are available from the corresponding author on reasonable request.
Abbreviations
BA:

Biliary atresia

CBD:

Congenital biliary dilation

TLR3:

Toll-like receptor3

RIP1:

Receptor-interacting protein kinase1

RIP3:

Receptor-interacting protein kinase3

MLKL:

Mixed lineage kinase domain-like

pMLKL:

Phosphorylated mixed lineage kinase domain-like

DAMPs:

Danger-associated molecular patterns

TRIF:

TIR domain-containing adapter protein interferon-β

PBS:

Phosphate-buffered saline

H score:

Histological score

LI:

Labeling index
References
Nio M (2017) Japanese biliary atresia registry. Pediatr Surg Int 33:1319–1325

Sasaki H, Tanaka H, Wada M, Kazama T, Nishi K, Nakamura M, Kudo H, Kawagishi N, Nio M (2014) Liver transplantation following the Kasai procedure in treatment of biliary atresia: a single institution analysis. Pediatr Surg Int 30:871–875

Funaki N, Sasano H, Shizawa S, Nio M, Iwami D, Ohi R, Nagura H (1998) Apoptosis and cell proliferation in biliary atresia. J Pathol 186:429–433

Galluzzi L, Bravo-San Pedro JM, Kroemer G (2014) Organelle-specific initiation of cell death. Nat Cell Biol 16:728–736

Vercammen D, Brouckaert G, Denecker G, Van de Craen M, Declercq W, Fiers W, Vandenabeele P (1998) Dual signaling of the Fas receptor: initiation of both apoptotic and necrotic cell death pathways. J Exp Med 188:919–930

Holler N, Zaru R, Micheau O, Thome M, Attinger A, Valitutti S, Bodmer JL, Schneider P, Seed B, Tschopp J (2000) Fas triggers an alternative, caspase-8-independent cell death pathway using the kinase RIP as effector molecule. Nat Immunol 1:489–495

Cho YS, Challa S, Moquin D, Genga R, Ray TD, Guildford M, Chan FK (2009) Phosphorylation-driven assembly of the RIP1-RIP3 complex regulates programmed necrosis and virus-induced inflammation. Cell 137:1112–1123

Sun L, Wang H, Wang Z, He S, Chen S, Liao D, Wang L, Yan J, Liu W, Lei X, Wang X (2012) Mixed lineage kinase domain-like protein mediates necrosis signaling downstream of RIP3 kinase. Cell 148:213–227

Galluzzi L, Kepp O, Chan FK, Kroemer G (2017) Necroptosis: mechanisms and relevance to disease. Annu Rev Pathol 12:103–130

Desmet VJ (1992) Congenital diseases of intrahepatic bile ducts: variations on the theme "ductal plate malformation." Hepatology (Baltimore, MD) 16:1069–1083

Morecki R, Glaser JH, Cho S, Balistreri WF, Horwitz MS (1982) Biliary atresia and reovirus type 3 infection. N Engl J Med 307:481–484

Riepenhoff-Talty M, Gouvea V, Evans MJ, Svensson L, Hoffenberg E, Sokol RJ, Uhnoo I, Greenberg SJ, Schakel K, Zhaori G, Fitzgerald J, Chong S, Yousef M, Nemeth A, Brown M, Piccoli D, Hyams J, Ruffin D, Rossi T (1996) Detection of group C rotavirus in infants with extrahepatic biliary atresia. J Infect Dis 174:8–15

Harada K, Sato Y, Itatsu K, Isse K, Ikeda H, Yasoshima M, Zen Y, Matsui A, Nakanuma Y (2007) Innate immune response to double-stranded RNA in biliary epithelial cells is associated with the pathogenesis of biliary atresia. Hepatology (Baltimore, MD) 46:1146–1154

Alexopoulou L, Holt AC, Medzhitov R, Flavell RA (2001) Recognition of double-stranded RNA and activation of NF-kappaB by Toll-like receptor 3. Nature 413:732–738

Tatematsu M, Nishikawa F, Seya T, Matsumoto M (2013) Toll-like receptor 3 recognizes incomplete stem structures in single-stranded viral RNA. Nat Commun 4:1833

Kariko K, Ni H, Capodici J, Lamphier M, Weissman D (2004) mRNA is an endogenous ligand for Toll-like receptor 3. J Biol Chem 279:12542–12550

Polykratis A, Hermance N, Zelic M, Roderick J, Kim C, Van TM, Lee TH, Chan FKM, Pasparakis M, Kelliher MA (2014) Cutting edge: RIPK1 Kinase inactive mice are viable and protected from TNF-induced necroptosis in vivo. J Immunol 193:1539–1543

Kaiser WJ, Sridharan H, Huang C, Mandal P, Upton JW, Gough PJ, Sehon CA, Marquis RW, Bertin J, Mocarski ES (2013) Toll-like receptor 3-mediated necrosis via TRIF, RIP3, and MLKL. J Biol Chem 288:31268–31279

Wang H, Sun L, Su L, Rizo J, Liu L, Wang LF, Wang FS, Wang X (2014) Mixed lineage kinase domain-like protein MLKL causes necrotic membrane disruption upon phosphorylation by RIP3. Mol Cell 54:133–146

Nio M, Wada M, Sasaki H, Kazama T, Tanaka H, Kudo H (2016) Technical standardization of Kasai portoenterostomy for biliary atresia. J Pediatr Surg 51:2105–2108

Zhao J, Jitkaew S, Cai Z, Choksi S, Li Q, Luo J, Liu ZG (2012) Mixed lineage kinase domain-like is a key receptor interacting protein 3 downstream component of TNF-induced necrosis. Proc Natl Acad Sci USA 109:5322–5327

Yamazaki Y, Nakamura Y, Shibahara Y, Konosu-Fukaya S, Sato N, Kubota-Nakayama F, Oki Y, Baba S, Midorikawa S, Morimoto R, Satoh F, Sasano H (2016) Comparison of the methods for measuring the Ki-67 labeling index in adrenocortical carcinoma: manual versus digital image analysis. Hum Pathol 53:41–50

Ueki S, Fujishima F, Kumagai T, Ishida H, Okamoto H, Takaya K, Sato C, Taniyma Y, Kamei T, Sasano H (2020) GR, Sgk1, and NDRG1 in esophageal squamous cell carcinoma: their correlation with therapeutic outcome of neoadjuvant chemotherapy. BMC Cancer 20:161

Liu W, Chen B, Wang Y, Meng C, Huang H, Huang XR, Qin J, Mulay SR, Anders HJ, Qiu A, Yang B, Freeman GJ, Lu HJ, Lin HY, Zheng ZH, Lan HY, Huang Y, Xia Y (2018) RGMb protects against acute kidney injury by inhibiting tubular cell necroptosis via an MLKL-dependent mechanism. Proc Natl Acad Sci USA 115:E1475-e1484

Afonso MB, Rodrigues PM, Simao AL, Ofengeim D, Carvalho T, Amaral JD, Gaspar MM, Cortez-Pinto H, Castro RE, Yuan J, Rodrigues CM (2016) Activation of necroptosis in human and experimental cholestasis. Cell Death Dis 7:e2390

Roychowdhury S, McCullough RL, Sanz-Garcia C, Saikia P, Alkhouri N, Matloob A, Pollard KA, McMullen MR, Croniger CM, Nagy LE (2016) Receptor interacting protein 3 protects mice from high-fat diet-induced liver injury. Hepatology (Baltimore, MD) 64:1518–1533

Gautheron J, Vucur M, Reisinger F, Cardenas DV, Roderburg C, Koppe C, Kreggenwinkel K, Schneider AT, Bartneck M, Neumann UP, Canbay A, Reeves HL, Luedde M, Tacke F, Trautwein C, Heikenwalder M, Luedde T (2014) A positive feedback loop between RIP3 and JNK controls non-alcoholic steatohepatitis. EMBO Mol Med 6:1062–1074

Lu C, Xu W, Zhang F, Shao J, Zheng S (2016) Nrf2 knockdown disrupts the protective effect of curcumin on alcohol-induced hepatocyte necroptosis. Mol Pharm 13:4043–4053

Gunther C, He GW, Kremer AE, Murphy JM, Petrie EJ, Amann K, Vandenabeele P, Linkermann A, Poremba C, Schleicher U, Dewitz C, Krautwald S, Neurath MF, Becker C, Wirtz S (2016) The pseudokinase MLKL mediates programmed hepatocellular necrosis independently of RIPK3 during hepatitis. J Clin Investig 126:4346–4360

Moriwaki K, Balaji S, McQuade T, Malhotra N, Kang J, Chan FK (2014) The necroptosis adaptor RIPK3 promotes injury-induced cytokine expression and tissue repair. Immunity 41:567–578
Acknowledgements
We appreciate the skillful technical assistance of Ms. Yayoi Aoyama (Department of Pathology, Tohoku University Hospital, Sendai, Japan). We would like to thank Enago (www.enago.jp) for the English language review.
Ethics declarations
Conflicts of interest
The authors have no conflicts of interest.
Ethics approval and consent to participate
The study protocol was approved by the Ethics Committee of the Tohoku University School of Medicine (Accession No. 2019-1-470). Written informed consent was obtained from all patients prior to surgery.
Additional information
Publisher's Note
Springer Nature remains neutral with regard to jurisdictional claims in published maps and institutional affiliations.
Supplementary Information
Below is the link to the electronic supplementary material.
Supplementary file1 (DOCX 2164 KB) The receiver operating characteristics (ROC) curve against the native liver survival of the H-score and LI
About this article
Cite this article
Hashimoto, M., Fujishima, F., Lomphithak, T. et al. Necroptosis in biliary atresia of the liver. Med Mol Morphol 54, 305–315 (2021). https://doi.org/10.1007/s00795-021-00289-3
Received:

Accepted:

Published:

Issue Date:

DOI: https://doi.org/10.1007/s00795-021-00289-3
Keywords
Biliary atresia

Congenital biliary dilation

Necroptosis

Cholangiocytes

Liver

Immunohistochemistry

Phosphorylated mixed lineage kinase domain-like

Cell death