Abstract
The true-branching heterocystous cyanobacterium Fischerella sp. FS 18 is widely distributed in paddy fields (North) and petroleum polluted soils (South) in Iran. This investigation tested the hypothesis that the cyanobacterium can acclimatize under the combined effect of extreme environmental conditions. Here, we analysed the physiological response of the cyanobacterium under extremely limited irradiance (2 μmol photon m−2 s−1); limited carbon dioxide concentration (no aeration) at alkaline pHs (9 and 11) for up to 96 h. When the cyanobacterium was exposed to these extreme conditions at pH 11, we observed a decline in growth, oxygen liberation, photosystems ratio, chlorophyll a, and phycobilisomes activity compared to pH 9 after 24 h. Besides, we registered a significant decrease in maximum photochemical efficiency and activity of photosystem II at pH 11. The comparative single-cell study revealed that pH 9 caused higher efficiency of photosystem II and I, while increasing alkalinity pH 11 led to disturbed phycobilisomes activity after 24 h. This strain was able to recover its structures after 96 h. In addition, spectroscopy analyses revealed the presence of the Mycosporine-like amino acid at pH 9.
Access options
Buy single article
Instant access to the full article PDF.
USD 39.95
Price includes VAT (USA)
Tax calculation will be finalised during checkout.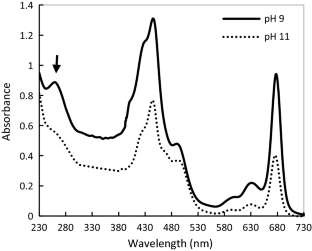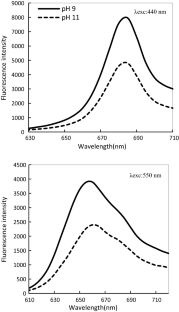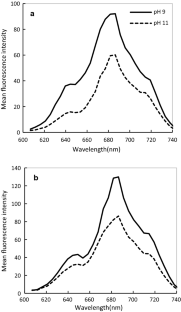 Abbreviations
Chla:

Chlorophyll a

CCM:

Carbon dioxide concentrating mechanism

DIC:

Dissolved inorganic carbon

PBS:

Phycobilisome

PSI, PSII:

Photosystems I and II

CLSM:

Confocal laser scanning microscopy
References
Abbasi B, Shokravi Sh, Golsefidi MAh, Sateiee A, Kiaei E (2019) Effects of alkalinity, extremely low carbon dioxide concentration and irradiance on spectral properties, phycobilisome, photosynthesis, photosystems and functional groups of the native cyanobacterium Calothrix sp. ISC 65. Int J Algae. 29(1):40–58

Adir N, Bar-Zvi S, Harris D (2020) The amazing phycobilisome. Biochimica et Biophysica Acta (BBA)-Bioenergetics 1861(4):148047

Ahmed F, Fakhruddin ANM (2018) A review on environmental contamination of petroleum hydrocarbons and its biodegradation. Int J Environm Sci Natural Resour 11(3):1–7

Ahmed H, Pathak J, Sonkar PK, Ganesan V, Häder DP, Sinha RP (2021) Responses of a hot spring cyanobacterium under ultraviolet and photosynthetically active radiation: photosynthetic performance, antioxidative enzymes, mycosporine-like amino acid profiling and its antioxidative potentials. 3 Biotech 11(1):1–23

Alcorta J, Vergara-Barros P, Antonaru LA, Alcamán-Arias ME, Nürnberg DJ, Díez B (2019) Fischerella thermalis: a model organism to study thermophilic diazotrophy, photosynthesis and multicellularity in cyanobacteria. Extremophiles 23(6):635–647

Amirlatifi F, Soltani N, Saadatmand S, Shokravi S, Dezfulian M (2013) Crude oil- induced morphological and physiological responses in cyanobacterium Microchaete tenera ISC13. Int J Environm Res 7(4):1007–1014

Amirlatifi HS, Shokravi S, Sateei A, Golsefidi MA, Mahmoudjanlo M (2018) Samples of Cyanobacterium Calothrix sp. ISC 65 Collected from Oil Polluted Regions Respond to Combined Effects of Salinity, Extremely Low-Carbon Dioxide Concentration and Irradiance. Int J Algae 20(2):193–210

Badger MR, Price GD (1992) The CO2 concentrating mechanism in cyanobactiria and microalgae. Physiol Plant 84(4):606–615

Beardall J (1991) Effects of photon flux density on the 'C02-concentrating mechanism'of the cyanobacterium Anabaena variabilis. J Plankton Res 13(supp1):133–41

Bouazzara H, Benaceur F, Chaibi R, Boussebci I, Bruno L (2020) Combined effect of temperature, pH and salinity variation on the growth rate of Gloeocapsa sp. in batch culture method using Aiba and Ogawa medium. EurAsian J BioSci 14(2):7101–7109

Briand JF, Leboulanger C, Humbert JF, Bernard C, Dufour P (2004) Cylindrospermopsis raciborskii (cyanobacteria) invasion at mid-latitudes: selection, wide physiological tolerance, orglobalwarming? 1. J Phycol 40(2):231–238

Burns RA, MacDonald CD, McGinn PJ, Campbell DA (2005) inorganic carbon repletion disrupts photosynthetic acclimation to low temperature in the cyanobacterium synechococcus elongatus 1. J Phycol 41(2):322–334

Chittora D, Meena M, Barupal T, Swapnil P, Sharma K (2020) Cyanobacteria as a source of biofertilizers for sustainable agriculture. Biochem Biophy Rep 22:100737

Chris A, Zeeshan M, Abraham G, Prasad SM (2006) Proline accumulation in Cylindrospermum sp. Environ Exp Bot 57(1–2):154–159

Das N, Chandran P (2011) Microbial degradation of petroleum hydrocarbon contaminants: an overview. Biotechnol Res Int. https://doi.org/10.4061/2011/941810

Fraser JM, Tulk SE, Jeans JA, Campbell DA, Bibby TS, Cockshutt AM (2013) Photophysiological and photosynthetic complex changes during iron starvation in Synechocystis sp. PCC 6803 and Synechococcus elongatus PCC 7942. PLoS One 8(3):e59861

Gan F, Zhang S, Rockwell N, Martin SS, Lagarias JC, Bryant DA (2014) Extensive remodeling of a cyanobacterial photosynthetic apparatus in far-red light. Science 345(6202):1312–1317

Grigoryeva N, Chistyakova L (2020) Confocal laser scanning microscopy for spectroscopic studies of living photosynthetic cells. Color Detection UK, IntechOpen, pp 39–64

Hu C, Völler G, Süßmuth R, Dittmann E, Kehr JC (2015) Functional assessment of mycosporine-like amino acids in M icrocystis aeruginosa strain PCC 7806. Environ Microbiol 17(5):1548–1559

Hu C, Ludsin SA, Martin JF, Dittmann E, Lee J (2018) Mycosporine-like amino acids (MAAs)—producing Microcystis in Lake Erie: Development of a qPCR assay and insight into its ecology. Harmful Algae 77:1–10

Inoue-Kashino N, Kashino Y, Satoh K, Terashima I, Pakrasi HB (2005) PsbU provides a stable architecture for the oxygen-evolving system in cyanobacterial photosystem II. Biochemistry 44(36):12214–12228

Giordano M, Beardall J, Raven JA (2005) CO2 concentrating mechanisms in algae: mechanisms, environmental modulation, and evolution. Annu Rev Plant Biol 56:99–131

Issa AA, Abd-Alla MH, Ohyama T (2014) Nitrogen fixing cyanobacteria: future prospect. Adv Biol Ecol Nitrogen Fix 2:24–48

Katoch M, Mazmouz R, Chau R, Pearson LA, Pickford R, Neilan BA (2016) Heterologous production of cyanobacterial mycosporine-like amino acids mycosporine- ornithine and mycosporine-lysine in Escherichia coli. Appl Environ Microbiol 82(20):6167–6173

Khazi MI, Demirel Z, Dalay MC (2018) Evaluation of growth and phycobiliprotein composition of cyanobacteria isolates cultivated in different nitrogen sources. J Appl Phycol 30(3):1513–1523

Klanchui A, Cheevadhanarak S, Prommeenate P, Meechai A (2017) Exploring components of the CO2-concentrating mechanism in alkaliphilic cyanobacteria through genome-based analysis. Comput Struct Biotechnol J 15:340–350

Kumar D, Kannaujiya VK, Jaiswal J, Sinha RP (2020) Effects of ultraviolet and photosynthetically active radiation on phycocyanin of habitat specific cyanobacteria. J Scient Res 64(1)

Li Y, Lin Y, Loughlin PC, Chen M (2014) Optimization and effects of different culture conditions on growth of Halomicronema hongdechloris–a filamentous cyanobacterium containing chlorophyll f. Front Plant Sci 5:67

MacKenzie TD, Burns RA, Campbell DA (2004) Carbon status constrains light acclimation in the cyanobacterium Synechococcus elongatus. Plant Physiol 136(2):3301–3312

Mangan NM, Brenner MP (2014) Systems analysis of the CO2 concentrating mechanism in cyanobacteria. Elife 3:e02043

Mareš J, Hájek J, Urajová P, Kopecký J, Hrouzek P (2014) A hybrid non-ribosomal peptide/polyketide synthetase containing fatty-acyl ligase (FAAL) synthesizes the β-amino fatty acid lipopeptides puwainaphycins in the Cyanobacterium Cylindrospermum alatosporum. PLoS One 9(11):e111904

Müller C, Reuter W, Wehrmeyer W, Dau H, Senger H (1993) Adaptation of the photosynthetic apparatus of anacystis nidulans to irradiance and CO2-concentration. Botanica Acta 106(6):480–487

Munagamage T, Rathnayake IVN, Pathiratne A, Megharaj M (2020) Comparison of sensitivity of tropical freshwater microalgae to environmentally relevant concentrations of cadmium and hexavalent chromium in three types of growth media. Bull Environ Contam Toxicol 105(3):397–404

Nygård CA, Dring MJ (2008) Influence of salinity, temperature, dissolved inorganic carbon and nutrient concentration on the photosynthesis and growth of Fucus vesiculosus from the Baltic and Irish Seas. Eur J Phycol 43(3):253–262

Poza-Carrión C, Fernández-Valiente E, Piñas FF, Leganés F (2001) Acclimation of photosynthetic pigments and photosynthesis of the cyanobacterium Nostoc sp. strain UAM206 to combined fluctuations of irradiance, pH, and inorganic carbon availability. J Plant Physiol 158(11):1455–1461

Radway JC, Weissman JC, Wilde EW, Benemann JR (1992) Exposure of Fischerella [Mastigocladus] to high and low temperature extremes: strain evaluation for a thermal mitigation process. J Appl Phycol 4(1):67–77

Ramírez M, Hernández-Mariné M, Mateo P, Berrendero E, Roldán M (2011) Polyphasic approach and adaptative strategies of Nostoc cf. commune (Nostocales, Nostocaceae) growing on Mayan monuments. Fottea 11(1):73–86

Raven JA, Beardall J, Giordano M (2014) Energy costs of carbon dioxide concentrating mechanisms in aquatic organisms. Photosynth Res 121(2):111–124

Shokravi S, Soltani N (2011) Acclimation of the Hapalosiphon sp. (Cyanoprokaryota) to Combination Effects of Dissolved Inorganic Carbon and pH at Extremely Limited Irradiance. Int j Algae 13(4):379–391

Singh JS, Kumar A, Rai AN, Singh DP (2016) Cyanobacteria: a precious bio-resource in agriculture, ecosystem, and environmental sustainability. Front Microbiol 7:529

Soltani N, Khavari-Nejad RA, Yazdi MT, Shokravi S, Fernández-Valiente E (2006) Variation of nitrogenase activity, photosynthesis and pigmentation of the cyanobacterium Fischerella ambigua strain FS18 under different irradiance and pH values. World J Microbiol Biotechnol 22(6):571–576

Soltani N, Siahbalaie R, Shokravi S (2010) A New Description of Fischerella Ambigua (Näg.) Gom.− a Multidisciplinary Approach. Int J Algae 12(1):19–36

Sugiura K, Itoh S (2012) Single-cell confocal spectrometry of a filamentous cyanobacterium Nostoc at room and cryogenic temperature. Diversity and differentiation of pigment systems in 311 cells. Plant Cell Physiol 53(8):1492–1506

Tang EP, Vincent WF (1999) Strategies of thermal adaptation by high-latitude cyanobacteria. New Phytol 142(2):315–323

Tiwari S, Mchanty P (1996) Cobalt induced changes in photosystem activity in Synechocystis PCC 6803: Alterations in energy distribution and stoichiometry. Photosynth Res 50(3):243–256

Valiente EF, Leganes F (1990) Regulatory effect of pH and incident irradiance on the levels of nitrogenase activity in the cyanobacterium Nostoc UAM 205. J Plant Physiol 135(5):623–627

Vermaas WF, Timlin JA, Jones HD, Sinclair MB, Nieman LT, Hamad SW, Melgaard DK, Haaland DM (2008) In vivo hyperspectral confocal fluorescence imaging to determine pigment localization and distribution in cyanobacterial cells. Proc Natl Acad Sci 105(10):4050–4055

Watanabe M, Semchonok DA, Webber-Birungi MT, Ehira S, Kondo K, Narikawa R, Ohmori M, Boekema EJ, Ikeuchi M (2014) Attachment of phycobilisomes in an antenna–photosystem I supercomplex of cyanobacteria. Proc Natl Acad Sci 111(7):2512–2517

Young EB, Beardall J (2005) Modulation of photosynthesis and inorganic carbon acquisition in a marine microalga by nitrogen, iron, and light availability. Can J Bot 83(7):917–928

Zhao J, Brand JJ (1989) Specific bleaching of phycobiliproteins from cyanobacteria and red algae at high temperature in vivo. Arch Microbiol 152(5):447–452

Zorz JK, Allanach JR, Murphy CD, Roodvoets MS, Campbell DA, Cockshutt AM (2015) The RUBISCO to photosystem II ratio limits the maximum photosynthetic rate in picocyanobacteria. Life 5(1):403–417
Acknowledgements
The authors appreciate the kind collaboration of Professor Neda Soltani (Shahid Beheshti University, Iran) and Professor Eduardo Fernandez Valiente (Autonomous University of Madrid -UAM).
Additional information
Publisher's Note
Springer Nature remains neutral with regard to jurisdictional claims in published maps and institutional affiliations.
Communicated by I. Cann.
About this article
Cite this article
Shokravi, S., Bahavar, N. Growth and photosynthesis acclimated response of the cyanobacterium Fischerella sp. FS 18 exposed to extreme conditions: alkaline pH, limited irradiance, and carbon dioxide concentration. Extremophiles 25, 493–500 (2021). https://doi.org/10.1007/s00792-021-01244-x
Received:

Accepted:

Published:

Issue Date:
Keywords
Alkaline pH

Cyanobacteria

Extreme condition

Fischerella sp. FS 18

Photosynthesis