Abstract
The haloalkalitolerant bacterium Egicoccus halophilus EGI 80432T exhibits high adaptability to saline–alkaline environment. The salinity adaptation mechanism of E. halophilus EGI 80432T was fully understood based on transcriptome analyses and physiological responses; however, the alkaline response mechanism has not yet been investigated. Here, we investigated the alkaline response mechanism of E. halophilus EGI 80432T by a transcriptomic comparison. In this study, the genes involved in the glycolysis, TCA cycle, starch, and trehalose metabolism for energy production and storage, were up-regulated under highly alkaline condition. Furthermore, genes responsible for the production of acidic and neutral metabolites, i.e., acetate, pyruvate, formate, glutamate, threonine, and ectoine, showed increased expression under highly alkaline condition, compared with the control pH condition. In contrast, the opposite results were observed in proton capture or retention gene expression profiles, i.e., cation/proton antiporters and ATP synthases. The above results revealed that E. halophilus EGI 80432T likely tended to adopt an "acidic metabolites production" strategy in response to a highly alkaline condition. These findings would pave the way for further studies in the saline–alkaline adaptation mechanisms of E. halophilus EGI 80432T, and hopefully provide a new insight into the foundational theory and application in ecological restoration with saline–alkaline strains.
Access options
Buy single article
Instant access to the full article PDF.
US$ 39.95
Tax calculation will be finalised during checkout.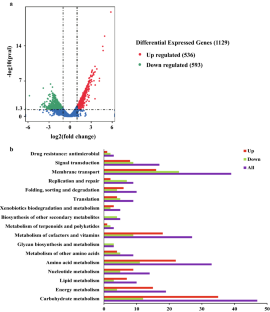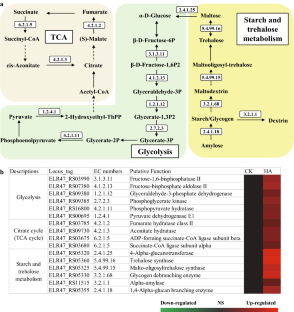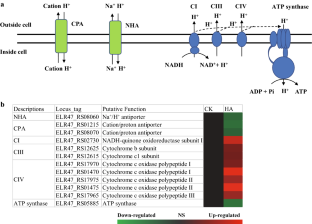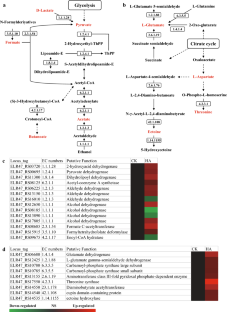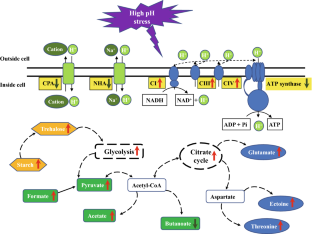 Abbreviations
CPA:

Cation/proton antiporter

NCBI:

National Center for Biotechnology Information

SRA:

Sequence Read Archive

SNP:

Single-nucleotide polymorphisms

SD:

Shine–Dalgarno

DEG:

Differentially expressed gene

FPKM:

Fragments per kilobase of transcript sequence per millions of base pairs

GO:

Gene Ontology

KEGG:

Kyoto Encyclopedia of Genes and Genomes

qPCR:

Quantitative real-time PCR

cDNA:

Complementary DNA

TCA:

Tricarboxylic acid
Acknowledgements
This work was supported by the National Natural Science Foundation of China (nos. 91751206, 32000084 and 32061143043) and China Postdoctoral Science Foundation (No. 2019M662952).
Ethics declarations
Conflict of interest
The authors declare that they have no known competing financial interests or personal relationships that could have appeared to influence the work reported in this paper.
Ethical statement
This article does not contain any studies with human participants or animals performed by any of the authors.
Additional information
Publisher's Note
Springer Nature remains neutral with regard to jurisdictional claims in published maps and institutional affiliations.
Communicated by A. Driessen.
Supplementary Information
Below is the link to the electronic supplementary material.
About this article
Cite this article
Chen, DD., Ahmad, M., Liu, YH. et al. Transcriptomic responses of haloalkalitolerant bacterium Egicoccus halophilus EGI 80432T to highly alkaline stress. Extremophiles (2021). https://doi.org/10.1007/s00792-021-01239-8
Received:

Accepted:

Published:
Keywords
Egicoccus halophilus

Transcriptomic comparison

Alkaline response