Abstract
Biocatalysts provide many advantages over the traditional chemically assisted processes prevalent in industries. Consequently, the search for novel enzymes has increased over the years with a renewed interest in thermophilic and psychrophilic bacterial species. Enzymes or extremozymes extracted from such species have exhibited an affinity to extreme temperatures which is a prerequisite for many industrial applications. However, utilisation of these enzymes faces a major bottleneck. The distribution of sequence data associated with thermophiles and psychrophiles is overwhelming, spanning various databases and scientific literature. Based on more than 100 publications and genomes from over 300 thermophilic and psychrophilic bacterial species, we have constructed the database IND-Enzymes (indenzymes.srmist.edu.in). This database consists of over 20,120 nucleotide and protein sequences belonging to the hydrolytic enzyme class lipase, protease, esterase and amylase. Users can access over 100 published enzymes, 200 PDB structural data. Enzymes derived from genomes can be directly downloaded and users can also access the entire annotation data derived from species individually. Along with an alignment tool and python based pipelines, IND-Enzymes serves as the largest sequence repository for hydrolytic enzymes from thermophilic and psychrophilic bacterial species. This database showcases resources that are essential for protein engineering of hot–cold stable enzymes.
Access options
Buy single article
Instant access to the full article PDF.
US$ 39.95
Tax calculation will be finalised during checkout.
Subscribe to journal
Immediate online access to all issues from 2019. Subscription will auto renew annually.
US$ 79
Tax calculation will be finalised during checkout.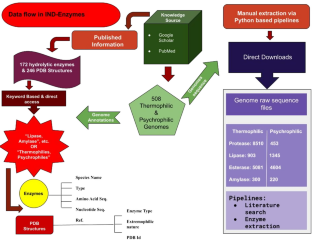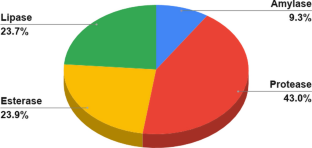 Acknowledgement
Authors like to thank the Office of Information Technology and Knowledge Management (ITKM) SRM-IST, for hosting our database on the institute server. We also acknowledge the ITKM support team for their assistance with database related queries and the Dept. of Biotechnology for allotting the necessary permissions and resources.
Funding
No funding was received in support of this work.
Ethics declarations
Conflict of interest
The authors declare that they have no conflicting financial interests.
Additional information
Publisher's Note
Springer Nature remains neutral with regard to jurisdictional claims in published maps and institutional affiliations.
Communicated by I. Cann.
About this article
Cite this article
Sunny, J.S., Nisha, K., Natarajan, A. et al. IND-enzymes: a repository for hydrolytic enzymes derived from thermophilic and psychrophilic bacterial species with potential industrial usage. Extremophiles 25, 319–325 (2021). https://doi.org/10.1007/s00792-021-01231-2
Received:

Accepted:

Published:

Issue Date:
Keywords
Thermophilic

Psychrophilic

Hydrolytic enzyme

Database

Protein engineering