Abstract
Salted and ripened fish foods are susceptible to cause histamine poisoning. The present study focuses on microbial histamine degradation from high salted fermented fishery products to deepen our understanding about this new and growing field of research. As a result of this first study related to salted–ripened anchovies (Engraulis anchoita), fifty seven moderate and extreme halophilic microbial isolates from salt and salted–ripened anchovy processes were characterized in terms of their phenotype and histamine-degrading capacity. Only 7%—4 isolates—were able to degrade histamine. None of the histamine-degrading isolates presented proteolytic and/or lipolytic activity. One of them designated A18 was chemotactic toward histamine, an interesting property not previously reported for that chemoattractant. However, the S18 and A18 isolates, genotypically identified as Halobacterium sp. and Halomonas sp. respectively, produced indole and/or H2S, both undesirable characteristics associated to off-flavors occurrence. On the other hand, A28 and S20, identified as Halovibrio sp. and Halobacterium sp. respectively, presented desirable properties, such as cytochrome oxidase and catalase activity, and non-production of H2S and indole. These strains also showed characteristics previously reported as dominant in the ripened stage. The results are promising, and A28 and S20 may have the desirable features to improve the anchovy salting–ripening process.
This is a preview of subscription content, log in to check access.
Access options
Buy single article
Instant access to the full article PDF.
US$ 39.95
Price includes VAT for USA
Subscribe to journal
Immediate online access to all issues from 2019. Subscription will auto renew annually.
US$ 99
This is the net price. Taxes to be calculated in checkout.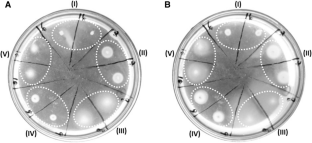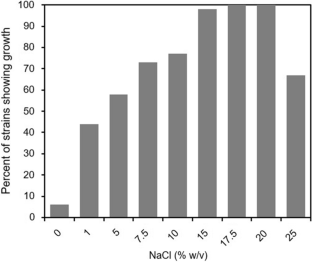 References
Adler J (1966) Chemotaxis in bacteria. Science 153(80):708–716

Alfonzo A, Randazzo W, Barbera M et al (2017) Effect of salt concentration and extremely halophilic archaea on the safety and quality characteristics of traditional salted anchovies. J Aquat Food Prod Technol 26:620–637. https://doi.org/10.1080/10498850.2016.1251521

Aponte M, Blaiotta G, Francesca N, Moschetti G (2010) Could halophilic archaea improve the traditional salted anchovies (Engraulis encrasicholusL.) safety and quality? Lett Appl Microbiol 51:697–703. https://doi.org/10.1111/j.1472-765X.2010.02956.x

Armitano J, Baraquet C, Michotey V et al (2011) The chemical-in-μwell: a high-throughput technique for identifying solutes eliciting a chemotactic response in motile bacteria. Res Microbiol 162:934–938. https://doi.org/10.1016/j.resmic.2011.03.001

Besteiro I, Rodríguez CJ, Pascual C (2000) Chymotrypsin and general proteolytic activities in muscle of Engraulis encrasicolus and Engraulis anchoita during the ripening process. Eur Food Res Technol 210:414–418. https://doi.org/10.1007/s002170050573

Blanch HW, Clark DS (1996) Biochemical engineering. Second edi. Marcel Dekker Inc., New York

Campello F (1985) Approche microbiologique de l'anchoitage. Rev Trav Inst Pech Marit 47:217–226

Casaburi A, Di Monaco R, Cavella S et al (2008) Proteolytic and lipolytic starter cultures and their effect on traditional fermented sausages ripening and sensory traits. Food Microbiol 25:335–347. https://doi.org/10.1016/j.fm.2007.10.006

Chet I, Mitchell R (1976) The relationship between chemical structure of attractants and chemotaxis by a marine bacterium. Can J Microbiol 22:1206–1208. https://doi.org/10.1139/m76-178

Clote P, Backofen R (2000) Computational molecular biology: an introduction. Wiley, Newyork

Corral-Lugo A, Matilla MA, Martín-Mora D et al (2018) High-affinity chemotaxis to histamine mediated by the TlpQ chemoreceptor of the human pathogen Pseudomonas aeruginosa. MBio 9:12. https://doi.org/10.1128/mBio.01894-18

Czerner M, Yeannes MI (2014) Bacterial contribution to salted anchovy (Engraulis anchoita Hubbs & Marinni, 1935) ripening process. J Aquat Food Prod Technol 23:102–114. https://doi.org/10.1080/10498850.2012.697537

D´Ippólito S, de Castro RE, HerreraSeitz K (2011) Chemotactic responses to gas oil of Halomonas spp. strains isolated from saline environments in Argentina. Rev Argent Microbiol 43:107–110. https://doi.org/10.1590/S0325-75412011000200007

Dang H, Lovell CR (2016) Microbial surface colonization and biofilm development in marine environments. Microbiol Mol Biol Rev 80:91–138. https://doi.org/10.1128/MMBR.00037-15

DasSarma S, DasSarma P (2012) Halophiles. In: eLS. John Wiley and Sons Ltd, UK

Developer Core Team R (2008) R: A language and environment for statistical computing. R Foundation for Statistical Computing, Vienna, Austria

EC (2013) Regulation 1019/2013/EU. Commission regulation EU No 1019/2013 amending annex I to regulation EC No 2073/2005 as regards histamine in fishery products OJ. Off J Eur Union 1:46–47

Englert DL, Jayaraman A, Manson MD (2009) Microfluidic techniques for the analysis of bacterial chemotaxis. In: Tian J, Hereld D (eds) Chemotaxis. Humana Press, Methods in Molecular Biology, pp 1–23

FDA (2011) Scombrotoxin (histamine) formation. Fish and fishery products hazards and controls guidance. Springer, Newyork, pp 1–401

Felix MM, Czerner M, Ramírez E, Yeannes MI (2016) Investigation of Halococcus morrhuae in salted-ripened anchovy products. Int Food Res J 23:2668–2674

FIL IDF 73 (1974) Determinación de microorganismos lipolíticos de la manteca.

Fontana C, Bassi D, López C et al (2016) Microbial ecology involved in the ripening of naturally fermented llama meat sausages. A focus on lactobacilli diversity. Int J Food Microbiol 236:17–25. https://doi.org/10.1016/j.ijfoodmicro.2016.07.002

Galdiero E, D'Isanto M, Aliberti F (1997) Effect of saline concentration, pH and growth temperature on the invasive capacity of Listeria monocytogenes. Res Microbiol 148:305–313. https://doi.org/10.1016/S0923-2508(97)81586-0

Geisen R, Lücke FK, Kröckel L (1992) Starter and protective cultures for meat and meat products. Fleischwirtschaft 72:894–898

Gøtterup J, Olsen K, Knöchel S et al (2007) Relationship between nitrate/nitrite reductase activities in meat associated staphylococci and nitrosylmyoglobin formation in a cured meat model system. Int J Food Microbiol 120:303–310. https://doi.org/10.1016/j.ijfoodmicro.2007.08.034

Hernández-Herrero MM, Roig-Sagués AX, Rodriguéz-Jerez JJ, Mora-ventura MT (1999) Halotolerant and halophilic histamine-forming bacteria isolated during the ripening of salted anchovies (Engraulis encrasicholus). J Food Prot 62:509–514. https://doi.org/10.4315/0362-028X-62.5.509

Hölscher T, Bartels B, Lin YC et al (2015) Motility, chemotaxis and aerotaxis contribute to competitiveness during bacterial pellicle biofilm development. J Mol Biol 427:3695–3708. https://doi.org/10.1016/j.jmb.2015.06.014

Huss HH, Valdimarsson G (1990) Microbiology of salted fish. Fish Technol News 10:3–5

ICMSF (1983) Microorganismos de los alimentos. Técnicas de análisis microbiológico. Comisión Internacional de Especificaciones Microbiológicas para los Alimentos, Zaragoza, España, pp 1–432

IRAM (1988) Productos de la industria pesquera: Método para la determinación de microorganismos halófilos extremos. IRAM 15:139

Jiang W, Li C, Xu B et al (2014) Halomonas shantousis sp. nov., a novel biogenic amines degrading bacterium isolated from Chinese fermented fish sauce. Antonie Van Leeuwenhoek 106:1073–1080. https://doi.org/10.1007/s10482-014-0275-4

Jung JY, Lee HJ, Chun BH, Jeon CO (2016) Effects of temperature on bacterial communities and metabolites during fermentation of myeolchi-aekjeot, a traditional Korean fermented anchovy sauce. PLoS ONE 11:1–20. https://doi.org/10.1371/journal.pone.0151351

Kuda T, Izawa Y, Ishii S et al (2012) Suppressive effect of Tetragenococcus halophilus, isolated from fish-nukazuke, on histamine accumulation in salted and fermented fish. Food Chem 130:569–574. https://doi.org/10.1016/j.foodchem.2011.07.074

Lee YC, Kung HF, Huang CY et al (2016) Reduction of histamine and biogenic amines during salted fish fermentation by Bacillus polymyxa as a starter culture. J Food Drug Anal 24:157–163. https://doi.org/10.1016/j.jfda.2015.02.002

Lehane L, Olley J (2000) Histamine fish poisoning revisited. Int J Food Microbiol 58:1–37. https://doi.org/10.1016/S0168-1605(00)00296-8

MacFaddin JF (1980) Pruebas bioquímicas para la identificación de bacterias de importancia clínica. Médica Panamericana, Buenos Aires

Margesin R, Schinner F (2001) Potential of halotolerant and halophilic microorganisms for biotechnology. Extremophiles 5:73–83. https://doi.org/10.1007/s007920100184

Morales-Soto N, Anyan ME, Mattingly AE et al (2015) Preparation, imaging, and quantification of bacterial surface motility assays. J Vis Exp 2015:1–10. https://doi.org/10.3791/52338

Murialdo SE, Sendra GH, Passoni LI et al (2009) Analysis of bacterial chemotactic response using dynamic laser speckle. J Biomed Opt 14:064015. https://doi.org/10.1117/1.3262608

Niven CF, Jeffrey MB, Corlett DA (1981) Differential plating medium for quantitative detection of histamine-producing bacteria. Appl Environ Microbiol 41:321–322. https://doi.org/10.1128/aem.41.1.321-322.1981

Paredi ME, Yeannes MI (1987) Histamina en productos pesqueros. Revista de Ciencias Agrarias. Argentina 8:1–2

Paul D, Singh R, Jain RK (2006) Chemotaxis of Ralstonia sp. SJ98 towards p-nitrophenol in soil. Environ Microbiol 8:1797–1804. https://doi.org/10.1111/j.1462-2920.2006.01064.x

Perez S, Czerner M, Patat ML et al (2018) Monitoring the characteristics of cultivable halophilic microbial community during salted-ripened anchovy (Engraulis anchoita) production. Int J Food Microbiol 286:2. https://doi.org/10.1016/j.ijfoodmicro.2018.08.013

Pons-Sánchez-Cascado S, Veciana-Nogués MT, Vidal-Carou MC (2003) Effect of delayed gutting on biogenic amine contents during ripening of European anchovies. Eur Food Res Technol 216:489–493. https://doi.org/10.1007/s00217-003-0695-2

Ramirez EE, Ameztoy IM, Yeannes MI (1994) Bacterias halófilas como formadoras de histamina Proc Congr Argentino Cienc y Tecnol Aliment. 1er Encuentro Técnicos Aliment del Cono Sur 6:2

Rodrigues MJ, Ho P, López-Caballero ME et al (2003) Characterization and identification of microflora from soaked cod and respective salted raw materials. Food Microbiol 20:471–481. https://doi.org/10.1016/S0740-0020(02)00086-2

Sehgal SN, Gibbons NE (1960) Effect of some metal ions on the growth of Halobacterium cutirubrum. Can J Microbiol 6:165–169. https://doi.org/10.1139/m60-018

SENASA (2018) Decreto Nacional-4238–1968-SENASA - Servicio Nacional de Sanidad y Calidad Agroalimentaria. Versión 86. Capitulo XXIII. Productos de la pesca

Tapingkae W, Parkin KL, Tanasupawat S et al (2010a) Whole cell immobilisation of Natrinema gari BCC 24369 for histamine degradation. Food Chem 120:842–849. https://doi.org/10.1016/j.foodchem.2009.11.025

Tapingkae W, Tanasupawat S, Parkin KL et al (2010b) Degradation of histamine by extremely halophilic archaea isolated from high salt-fermented fishery products. Enzyme Microb Technol 46:92–99. https://doi.org/10.1016/j.enzmictec.2009.10.011

Torracca B, Pedonese F, Turchi B et al (2018) Qualitative and quantitative evaluation of biogenic amines in vitro production by bacteria isolated from ewes' milk cheeses. Eur Food Res Technol 244:721–728. https://doi.org/10.1007/s00217-017-2992-1

Triqui R, Reineccius GA (1995) Flavor development in the ripening of anchovy (Engraulis encrasicholusL.). J Agric Food Chem 43:453–458. https://doi.org/10.1021/jf00050a037

Wolfe AJ, Berg HC (1989) Migration of bacteria in semisolid agar. Proc Natl Acad Sci USA 86:6973–6977. https://doi.org/10.1073/pnas.86.18.6973

Yeannes MI (1996) Histamina en productos pesqueros. In: Silvestre A (ed) Toxicología de los Alimentos. Hemisferio Sur SA, Buenos Aires, pp 30–45

Yoon SH, Ha SM, Kwon S et al (2017) Introducing EzBioCloud: A taxonomically united database of 16S rRNA gene sequences and whole-genome assemblies. Int J Syst Evol Microbiol 67:1613–1617. https://doi.org/10.1099/ijsem.0.001755

Zaman MZ, Bakar FA, Selamat J et al (2014) Degradation of histamine by the halotolerant Staphylococcus carnosus FS19 isolate obtained from fish sauce. Food Control 40:58–63. https://doi.org/10.1016/j.foodcont.2013.11.031

Zgomba Maksimovic A, Zunabovic-Pichler M, Kos I et al (2018) Microbiological hazards and potential of spontaneously fermented game meat sausages: a focus on lactic acid bacteria diversity. LWT - Food Sci Technol 89:418–426. https://doi.org/10.1016/j.lwt.2017.11.017
Acknowledgements
The authors would like to thank Ms. Marisa Romero and Mr. Ariel Trainer of SENASA (Mar del Plata—Regional Laboratory) for their collaboration in histamine quantification analyses and Ms. Silvia Barañano of Pranas S.A. for the supply of raw material.
Funding
This work was supported by the Consejo Nacional de Investigaciones Científicas y Técnicas (PIP 2013 N° 0403 and PIP 2016 N° 0437), Agencia Nacional de Promoción Científica y Tecnológica, MINCyT (PICT 2015 N° 2855), Comisión de Investigaciones Científicas de la Pcia de Bs. As. (C.I.C.), and Universidad Nacional de Mar del Plata (ING447/15).
Ethics declarations
Conflict of interest
The authors report no conflict of interest.
Additional information
Publisher's Note
Springer Nature remains neutral with regard to jurisdictional claims in published maps and institutional affiliations.
Communicated by A. Oren.
About this article
Cite this article
Perez, S., Murialdo, S.E., Ameztoy, I.M. et al. New insights into halophilic prokaryotes isolated from salting–ripening anchovies (Engraulis anchoita) process focused on histamine-degrading strains. Extremophiles (2020). https://doi.org/10.1007/s00792-020-01194-w
Received:

Accepted:

Published:
Keywords
Salted and ripened anchovy

Halophilic prokaryotes

Phenotypic characterization

Chemotaxis

Histamine

16S rRNA identification