Abstract
The crenarchaeon Sulfolobus acidocaldarius, growing optimally at temperatures between 75 and 80 °C, thrives in volcanic hot spring habitats that are typified by large temperature gradients, which impose frequent temperature stresses on the cells. Heat shock response is characterized by an upregulation of heat shock proteins, but similar to most (hyper-)thermophilic archaea, S. acidocaldarius seems to be able to bear supra-optimal temperatures with a restricted repertoire of chaperones. Here, we study the physiological consequences of continuous high-temperature stress and rapid heat shock for S. acidocaldarius. Growth experiments and cell viability assays demonstrate that temperatures of 85 °C and higher result in a decreased growth rate and, when the cells are rapidly subjected to a heat shock, a dynamic increase in mRNA levels of all relevant heat shock proteins and a subset of transcription regulators is observed. When exponentially growing cultures are exposed to a heat shock, the survival tipping point is situated around 90 °C, and the rate of heating determines whether cells are able to cope with this stress or whether the defense mechanism immediately fails, leading to extensive cell death. In conclusion, S. acidocaldarius does not seem to be better equipped to handle sudden supra-optimal temperature stress than mesophilic organisms.
Access options
Buy single article
Instant access to the full article PDF.
US$ 39.95
Tax calculation will be finalised during checkout.
Subscribe to journal
Immediate online access to all issues from 2019. Subscription will auto renew annually.
US$ 79
Tax calculation will be finalised during checkout.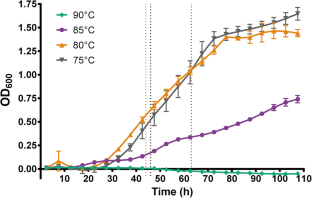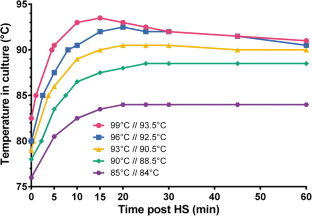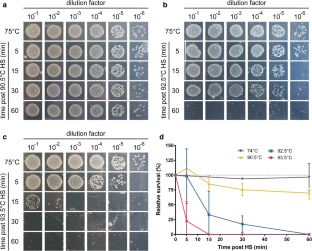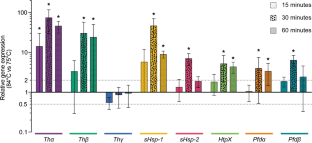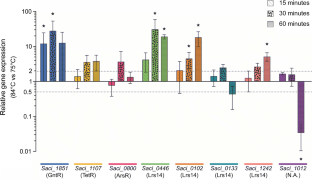 Abbreviations
BR:

Biological replicate

HS:

Heat shock

HSP:

Heat shock protein

Pfdα:

Prefoldin subunit α

Pfdβ:

Prefoldin subunit β

sHSP:

Small heat shock protein

t d :

Doubling time

TF:

Transcription factor

Thα:

Thermosome subunit α

Thβ:

Thermosome subunit β

Thγ:

Thermosome subunit γ

µ :

Specific growth rate
References
Abella M, Rodriguez S, Paytubi S, Campoy S, White MF, Barbe J (2007) The Sulfolobus solfataricus radA paralogue sso0777 is DNA damage inducible and positively regulated by the Sta1 protein. Nucleic Acids Res 35:6788–6797. https://doi.org/10.1093/nar/gkm782

Brock TD, Brock KM, Belly RT, Weiss RL (1972) Sulfolobus: a new genus of sulfur-oxidizing bacteria living at low pH and high temperature. Arch Mikrobiol 84:54–68. https://doi.org/10.1007/BF00408082

Chaston JJ, Smits C, Aragão D, Wong ASW, Ahsan B, Sandin S, Molugu SK, Molugu SK, Bernal RA, Stock D, Stewart AG (2016) Structural and functional insights into the evolution and stress adaptation of type II Chaperonins. Structure 24:364–374. https://doi.org/10.1016/j.str.2015.12.016

D'Amaro A, Valenti A, Napoli A, Rossi M, Ciaramella M (2008) The Prefoldin of the Crenarchaeon Sulfolobus solfataricus. Protein Pept Lett 15:1055–1062. https://doi.org/10.2174/092986608786071094

Esteves AM, Graça G, Peyriga L, Torcato IM, Borges N, Portais JC, Santos H (2019) Combined transcriptomics–metabolomics profiling of the heat shock response in the hyperthermophilic archaeon Pyrococcus furiosus. Extremophiles 23:101–118. https://doi.org/10.1007/s00792-018-1065-0

Fiorentino G, Cannio R, Rossi M, Bartolucci S (2003) Transcriptional regulation of the gene encoding an alcohol dehydrogenase in the archaeon Sulfolobus solfataricus involves multiple factors and control elements. J Bacteriol 185:3926–3934. https://doi.org/10.1128/JB.185.13.3926-3934.2003

Haddaji N, Mahdhi AK, Krifi B, Ben Ismail M, Bakhrouf A (2015) Change in cell surface properties of Lactobacillus casei under heat shock treatment. FEMS Microbiol Lett 362:1–7. https://doi.org/10.1093/femsle/fnv047

Juneja VK, Foglia TA, Marmer BS (1998) Heat resistance and fatty acid composition of Listeria monocytogenes: effect of pH, acidulant, and growth temperature. J Food Prot 61:683–687. https://doi.org/10.4315/0362-028X-61.6.683

Kagawa HK, Yaoi T, Brocchieri L, McMillan RA, Alton T, Trent JD (2003) The composition, structure and stability of a group II chaperonin are temperature regulated in a hyperthermophilic archaeon. Mol Microbiol 48:143–156. https://doi.org/10.1046/j.1365-2958.2003.03418.x

Kanai T, Takedomi S, Fujiwara S, Atomi H, Imanaka T (2009) Identification of the Phr-dependent heat shock regulon in the hyperthermophilic archaeon, Thermococcus kodakaraensis. J Biochem 147:361–370. https://doi.org/10.1093/jb/mvp177

Karr EA, Isom CE, Trinh V, Peeters E (2017) Chapter 2: Transcription factor-mediated gene regulation in Archaea. In: Clouet-d'Orval B (ed) RNA metabolism and gene expression in Archaea. Springer International Publishing, Switzerland, pp 27–69

Kessler A, Sezonov G, Inaki Guijarro J, Desnoues N, Rose T, Delepierre M, Bell SD, Prangishvili D (2006) A novel archaeal regulatory protein, Sta1, activates transcription from viral promoters. Nucleic Acids Res 34:4837–4845. https://doi.org/10.1093/nar/gkl502

Kocabiyik S (2009) Essential structural and functional features of small heat shock proteins in molecular chaperoning process. Protein Pept Lett 16:613–622. https://doi.org/10.2174/092986609788490249

Koga Y (2012) Thermal adaptation of the archaeal and bacterial lipid membranes. Archaea. https://doi.org/10.1155/2012/789652

Laksanalamai P, Robb FT (2004) Small heat shock proteins from extremophiles: a review. Extremophiles 8:1–11. https://doi.org/10.1007/s00792-003-0362-3

Lemmens L, Baes R, Peeters E (2018) Heat shock response in archaea. Emerg Top Life Sci 2:581–593. https://doi.org/10.1042/ETLS20180024

Lemmens L, Tilleman L, De Koning E, Valegård K, Lindås A-C, Van Nieuwerburgh F, Maes D, Peeters E (2019) YtrASa, a GntR-family transcription factor, represses two genetic loci encoding membrane proteins in Sulfolobus acidocaldarius. Front Microbiol 10:1–15. https://doi.org/10.3389/fmicb.2019.02084

Li D, Yang F, Lu B, Chen D, Yang W-J (2012) Thermotolerance and molecular chaperone function of the small heat shock protein HSP20 from hyperthermophilic archaeon, Sulfolobus solfataricus P2. Cell Stress Chaperones 17:103–108. https://doi.org/10.1007/s12192-011-0289-z

Li L, Banerjee A, Bischof LF, Maklad HR, Hoffmann L, Henche AL, Veliz F, Bildl W, Schulte U, Orell A, Essen LO, Peeters E, Albers SV (2017) Wing phosphorylation is a major functional determinant of the Lrs14-type biofilm and motility regulator AbfR1 in Sulfolobus acidocaldarius. Mol Microbiol 105:777–793. https://doi.org/10.1111/mmi.13735

Lopez T, Dalton K, Frydman J (2015) The mechanism and function of group II chaperonins. J Mol Biol 427:2919–2930. https://doi.org/10.1016/j.jmb.2015.04.013.The

López-García P, Forterre P (2000) DNA topology and the thermal stress response, a tale from mesophiles and hyperthermophiles. BioEssays 22:738–746. https://doi.org/10.1002/1521-1878(200008)22:8%3c738:AID-BIES7%3e3.0.CO;2-5

López-García P, Knapp S, Ladenstein R, Forterre P (1998) In vitro DNA binding of the archaeal protein Sso7d induces negative supercoiling at temperatures typical for thermophilic growth. Nucleic Acids Res 26:2322–2328. https://doi.org/10.1093/nar/26.10.2322

Marcén M, Ruiz V, Serrano MJ, Condón S, Mañas P (2017) Oxidative stress in E. coli cells upon exposure to heat treatments. Int J Food Microbiol 241:198–205. https://doi.org/10.1016/j.ijfoodmicro.2016.10.023

Mejía R, Gómez-Eichelmann MC, Fernández MS (1999) Fatty acid profile of Escherichia coli during the heat-shock response. Biochem Mol Biol Int 47:835–844. https://doi.org/10.1080/15216549900201923

Mordukhova EA, Lee HS, Pan JG (2008) Improved thermostability and acetic acid tolerance of Escherichia coli via directed evolution of homoserine o-succinyltransferase. Appl Environ Microbiol 74:7660–7668. https://doi.org/10.1128/AEM.00654-08

Napoli A, Kvaratskelia M, White MF, Ciaramella M (2001) A novel member of the bacterial-archaeal regulator family is a nonspecific DNA-binding protein and induces positive supercoiling. J Biol Chem 276:10745–10752. https://doi.org/10.1074/jbc.M010611200

Nguyen MT (2006) The effect of temperature on the growth of the bacteria Escherichia coli DH5α. Saint Martin's Univ Biol J 1:87–94

Ohtaki A, Noguchi K, Yohda M (2010) Structure and function of archaeal prefoldin, a co-chaperone of group II chaperonin. Front Biosci 15:708–717. https://doi.org/10.2741/3641

Okochi M, Nomura T, Zako T, Arakawa T, Iizuka R, Ueda H, Funatsu T, Leroux M, Yohda M (2004) Kinetics and binding sites for interaction of the prefoldin with a group II chaperonin. J Biol Chem 279:31788–31795. https://doi.org/10.1074/jbc.M402889200

Orell A, Peeters E, Vassen V, Jachlewski S, Schalles S, Siebers B, Albers S-V (2013) Lrs14 transcriptional regulators influence biofilm formation and cell motility of Crenarchaea. ISME J 7:1886–1898. https://doi.org/10.1038/ismej.2013.68

Pfaffl MW (2001) A new mathematical model for relative quantification in real-time RT–PCR. Nucleic Acids Res 29:2002–2007. https://doi.org/10.1016/S0043-1354(98)00516-8

Pfaffl MW, Tichopad A, Prgomet C, Neuvians TP (2004) Determination of stable housekeeping genes, differentially regulated target genes and sample integrity: bestkeeper—excel-based tool using pair-wise correlations. Biotechnol Lett 26:509–515. https://doi.org/10.1023/B:BILE.0000019559.84305.47

Quehenberger J, Albersmeier A, Glatzel H, Hackl M, Kalinowski J, Spadiut O (2019) A defined cultivation medium for Sulfolobus acidocaldarius. J Biotechnol 301:56–67. https://doi.org/10.1016/j.jbiotec.2019.04.028

Rani S, Sharma A, Goel M (2018) Insights into archaeal chaperone machinery: a network-based approach. Cell Stress Chaperones 23:1257–1274. https://doi.org/10.1007/s12192-018-0933-y

Richter K, Haslbeck M, Buchner J (2010) The heat shock response: life on the verge of death. Mol Cell 40:253–266. https://doi.org/10.1016/j.molcel.2010.10.006

Rohlin L, Trent JD, Salmon K, Kim U, Gunsalus RP, Liao JC (2005) Heat shock response of Archaeoglobus fulgidus. J Bacteriol 187:6046–6057. https://doi.org/10.1128/JB.187.17.6046-6057.2005

Roy M, Gupta S, Patranabis S, Ghosh A (2018) The oligomeric plasticity of Hsp20 of Sulfolobus acidocaldarius protects environment-induced protein aggregation and membrane destabilization. BBA Biomembr 1860:2549–2565. https://doi.org/10.1016/j.bbamem.2018.09.005

Sahlan M, Zako T, Yohda M (2018) Prefoldin, a jellyfish-like molecular chaperone: functional cooperation with a group II chaperonin and beyond. Biophys Rev 10:339–345. https://doi.org/10.1007/s12551-018-0400-0

Siegert R, Leroux MR, Scheufler C, Hartl FU, Moarefi I (2000) Structure of the molecular chaperone prefoldin: unique interaction of multiple coiled coil tentacles with unfolded proteins. Cell 103:621–632. https://doi.org/10.1016/s0092-8674(00)00165-3

Tachdjian S, Kelly RM (2006) Dynamic metabolic adjustments and genome plasticity are implicated in the heat shock response of the extremely thermoacidophilic archaeon Sulfolobus solfataricus. J Bacteriol 188:4553–4559. https://doi.org/10.1128/JB.00080-06

Takemata N, Samson RY, Bell SD (2019) Physical and functional compartmentalization of archaeal chromosomes. Cell 179:165–179.e18. https://doi.org/10.1016/j.cell.2019.08.036

Trent JD, Osipiuk J, Pinkau T (1990) Acquired thermotolerance and heat shock in the extremely thermophilic archaebacterium Sulfolobus sp. Strain B12. J Bacteriol 172:1478–1484

Trent JD, Gabrielsen M, Jensen B, Neuhard J, Olsen J (1994) Acquired thermotolerance and heat shock proteins in thermophiles from the three phylogenetic domains. J Bacteriol 176:6148–6152. https://doi.org/10.1128/jb.176.19.6148-6152.1994

Untergasser A, Cutcutache I, Koressaar T, Ye J, Faircloth BC, Remm M, Rozen SG (2012) Primer3-new capabilities and interfaces. Nucleic Acids Res 40:1–12. https://doi.org/10.1093/nar/gks596

Vainberg IE, Lewis SA, Rommelaere H, Ampe C, Vandekerckhove J, Klein HL, Cowan NJ (1998) Prefoldin, a chaperone that delivers unfolded proteins to cytosolic chaperonin. Cell 93:863–873. https://doi.org/10.1016/S0092-8674(00)81446-4

Van Derlinden E, Bernaerts K, Van Impe JF (2008) Dynamics of Escherichia coli at elevated temperatures: effect of temperature history and medium. J Appl Microbiol 104:438–453. https://doi.org/10.1111/j.1365-2672.2007.03592.x

Vierke G, Engelmann A, Hebbeln C, Thomm M (2003) A novel archaeal transcriptional regulator of heat shock response. J Biol Chem 278:18–26. https://doi.org/10.1074/jbc.M209250200

Wagner M, Van Wolferen M, Wagner A, Lassak K, Meyer BH, Reimann J, Albers S (2012) Versatile genetic tool box for the crenarchaeote Sulfolobus acidocaldarius. Front Microbiol 3:1–12. https://doi.org/10.3389/fmicb.2012.00214

Wang K, Sybers D, Maklad HR, Lemmens L, Lewyllie C, Zhou X, Schult F, Bräsen C, Siebers B, Valegård K, Lindås AC, Peeters E (2019) A TetR-family transcription factor regulates fatty acid metabolism in the archaeal model organism Sulfolobus acidocaldarius. Nat Commun 10:1–16. https://doi.org/10.1038/s41467-019-09479-1
Acknowledgements
We are grateful to David Sybers for insightful discussions regarding S. acidocaldarius growth curves. We thank Aquila Biolabs for their assistance in setting up a high-temperature on-line growth measurement system. This research was supported by the Research Council of the Vrije Universiteit Brussel and the Research Foundation Flanders (FWO-Vlaanderen) (PhD fellowship 1134419N to Rani Baes, research grant 1526418N and research project G021118).
Ethics declarations
Conflict of interest
The authors declare that they have no conflict of interest.
Additional information
Publisher's Note
Springer Nature remains neutral with regard to jurisdictional claims in published maps and institutional affiliations.
Communicated by M. Moracci.
Electronic supplementary material
Below is the link to the electronic supplementary material.
About this article
Cite this article
Baes, R., Lemmens, L., Mignon, K. et al. Defining heat shock response for the thermoacidophilic model crenarchaeon Sulfolobus acidocaldarius. Extremophiles 24, 681–692 (2020). https://doi.org/10.1007/s00792-020-01184-y
Received:

Accepted:

Published:

Issue Date:
Keywords
Archaea

Sulfolobus

Heat shock

Transcriptional regulation

Thermosome