Abstract
Genome search of Geobacillus thermopakistaniensis, formerly Geobacillus sp. SBS-4S, revealed the presence of an open reading frame (ESU71923) annotated as laccase. However, the gene product did not display any laccase-like activity against the substrates examined. The laccase activity was, therefore, purified from G. thermopakistaniensis cells and N-terminal amino acid residues of the enzyme were determined. These residues matched the N-terminal sequence of an open reading frame annotated as a copper oxidase (ESU72270). In order to characterize the enzyme, recombinant ESU72270 was prepared in Escherichia coli. The recombinant protein was found to exhibit a negligible amount of laccase activity when produced in the absence of copper in the growth medium. However, the recombinant protein exhibited significantly high laccase activity when produced in the presence of copper. The recombinant enzyme showed highest activity at 60 °C and a pH of 7–7.5. The purified enzyme was highly tolerant to various halides and organic solvents, thus having a potential for various industrial applications. To the best of our knowledge, this is the first characterization of a laccase from genus Geobacillus which identifies a gene responsible for functional laccase in this genus.
Access options
Buy single article
Instant access to the full article PDF.
US$ 39.95
Tax calculation will be finalised during checkout.
Subscribe to journal
Immediate online access to all issues from 2019. Subscription will auto renew annually.
US$ 79
Tax calculation will be finalised during checkout.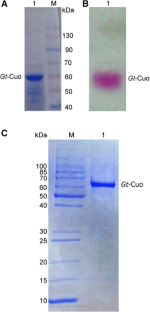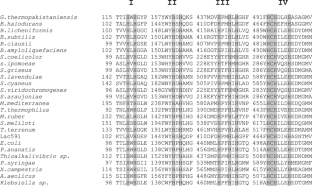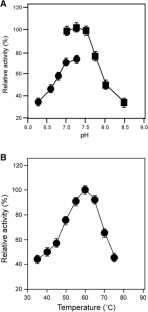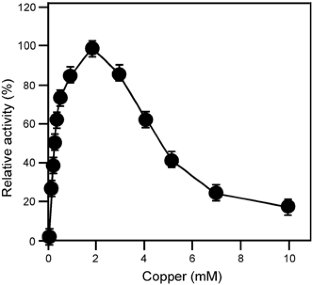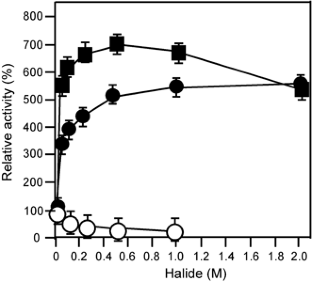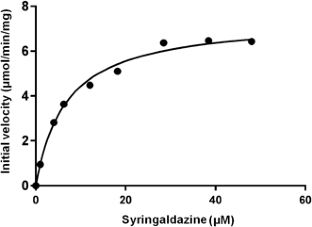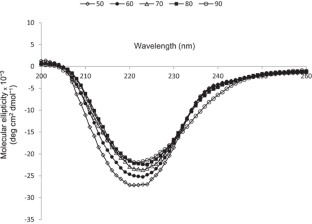 References
Ausec L, Črnigoj M, Šnajder M, Ulrih NP, Mandic-Mulec I (2015) Characterization of a novel high-pH-tolerant laccase-like multicopper oxidase and its sequence diversity in Thioalkalivibrio sp. Appl Microbiol Biotechnol 99:9987–9999

Bourbonnais R, Paice MG, Reid ID, Lanthier P, Yaguchi M (1995) Lignin oxidation by laccase isozymes from Trametes versicolor and role of the mediator 2, 2′-azinobis (3-ethylbenzthiazoline-6-sulfonate) in kraft lignin depolymerization. Appl Environ Microbiol 61:1876–1880

Brander S, Mikkelsen JD, Kepp KP (2015) TtMCO: a highly thermostable laccase-like multicopper oxidase from the thermophilic Thermobaculum terrenum. J Mol Catal B Enzym 112:59–65

Callejón S, Sendra R, Ferrer S, Pardo I (2016) Cloning and characterization of a new laccase from Lactobacillus plantarum J16 CECT 8944 catalyzing biogenic amines degradation. Appl Microbiol Biotechnol 100:3113–3124

Couto SR, Herrera JLT (2006) Industrial and biotechnological applications of laccases: a review. Biotechnol Adv 24:500–513

Enaud E, Trovaslet M, Naveau F, Decristoforo A, Bizet S, Vanhulle S, Jolivalt C (2011) Laccase chloride inhibition reduction by an anthraquinonic substrate. Enzyme Microb Technol 49:517–525

Fang Z, Li T, Wang Q, Zhang X, Peng H, Fang W, Hong Y, Ge H, Xiao Y (2011) A bacterial laccase from marine microbial metagenome exhibiting chloride tolerance and dye decolorization ability. Appl Microbiol Biotechnol 89:1103–1110

Feng H, Zhang D, Sun Y, Zhi Y, Mao L, Luo Y, Xu L, Wang L, Zhou P (2015) Expression and characterization of a recombinant laccase with alkalistable and thermostable properties from Streptomyces griseorubens JSD-1. Appl Biochem Biotechnol 176:547–562

Gochev VK and Krastanov AI (2007) Fungal laccases. Bulg J Agric Sci 13:75–83

Guan ZB, Zhang N, Song CM, Zhou W, Zhou LX, Zhao H, Xu CW, Cai YJ, Liao XR (2014) Molecular cloning, characterization, and dye-decolorizing ability of a temperature- and pH-stable laccase from Bacillus subtilis X1. Appl Biochem Biotechnol 172:1147–1157

Guo X, Zhou S, Wang Y, Song J, Wang H, Kong D, Zhu J, Dong W, He M, Hu G, Ruan Z (2016) Characterization of a highly thermostable and organic solvent-tolerant copper-containing polyphenol oxidase with dye-decolorizing ability from Kurthia huakuii LAM0618T. PLoS One. doi:10.1371/journal.pone.0164810

Hildén K, Hakala TK, Lundell T (2009) Thermotolerant and thermostable laccases. Biotechnol Lett 31:1117–1128

Hoegger PJ, Kilaru S, James TY, Thacker JR, Kües U (2006) Phylogenetic comparison and classification of laccase and related multicopper oxidase protein sequences. FEBS J 273:2308–2326

Kalyani DC, Munk L, Mikkelsen JD, Meyer AS (2016) Molecular and biochemical characterization of a new thermostable bacterial laccase from Meiothermus ruber DSM 1279. RSC Adv 6:3910–3918

Kim HW, Lee SY, Park H, Jeon SJ (2015) Expression, refolding, and characterization of a small laccase from Thermus thermophilus HJ6. Protein Expr Purif 114:37–43

Koschorreck K, Richter SM, Ene AB, Roduner E, Schmid RD, Urlacher VB (2008) Cloning and characterization of a new laccase from Bacillus licheniformis catalyzing dimerization of phenolic acids. Appl Microbiol Biotechnol 79:217–224

Lee SY (1996) High cell density culture of Escherichia coli. Trends Biotechnol 14:98–105

Liu H, Cheng Y, Du B, Tong C, Liang S, Han S, Zheng S, Lin Y (2015) Overexpression of a novel thermostable and chloride-tolerant laccase from Thermus thermophilus SG0. 5JP17-16 in Pichia pastoris and its application in synthetic dye decolorization. PLoS One. doi:10.1371/journal.pone.0119833

Lu L, Wang TN, Xu TF, Wang JY, Wang CL, Zhao M (2013) Cloning and expression of thermo-alkali-stable laccase of Bacillus licheniformis in Pichia pastoris and its characterization. Bioresour Technol 134:81–86

Machczynski MC, Vijgenboom E, Samyn B, Canters GW (2004) Characterization of SLAC: a small laccase from Streptomyces coelicolor with unprecedented activity. Protein Sci 13:2388–2397

Martins LO, Soares CM, Pereira MM, Teixera M, Costa T, Jones GH, Henriques AO (2002) Molecular and biochemical characterization of a highly stable bacterial laccase that occurs as a structural component of the Bacillus subtilis endospore coat. J Biol Chem 277:18849–18859

Miyazaki K (2005) A hyperthermophilic laccase from Thermus thermophilus HB27. Extremophiles 9:415–425

Reiss R, Ihssen J, Thony-Meyer L (2011) Bacillus pumilus laccase: a heat stable enzyme with a wide substrate spectrum. BMC Biotechnol. doi:10.1186/1472-6750-11-9

Riva S (2006) Laccases: blue enzymes for green chemistry. Trends Biotechnol 24:219–226

Rivera-Hoyos CM, Morales-Álvarez ED, Poutou-Piñales RA, Pedroza-Rodríguez AM, RodrÍguez-Vázquez R, Delgado-Boada JM (2013) Fungal laccases. Fungal Biol Rev 27:67–82

Rosano GL, Ceccarelli EA (2014) Recombinant protein expression in Escherichia coli: advances and challenges. Front microbiol 5:172

Sanchez-Amat A, Lucas-Elío P, Fernández E, García-Borrón JC, Solano F (2001) Molecular cloning and functional characterization of a unique multipotent polyphenol oxidase from Marinomonas mediterranea. Biochim Biophys Acta 1547:104–116

Sharma P, Goel R, Capalash N (2007) Bacterial laccases. World J Microbiol Biotechnol 23:823–832

Siddiqui MA, Rashid N, Ayyampalayam S, Whitman WB (2014) Draft genome sequence of Geobacillus thermopakistaniensis strain MAS1. Genome Announc. doi:10.1128/genomeA.00559-14

Sondhi S, Sharma P, Saini S, Puri N, Gupta N (2014) Purification and characterization of an extracellular, thermo-alkali-stable, metal tolerant laccase from Bacillus tequilensis SN4. PLoS One. doi:10.1371/journal.pone.0096951

Sørensen HP, Mortensen KK (2005) Soluble expression of recombinant proteins in the cytoplasm of Escherichia coli. Microb Cell Fact 4:1. doi:10.1186/1475-2859-4-1

Suzuki T, Endo K, Ito M, Tsujibo H, Miyamoto K, Inamori Y (2003) A thermostable laccase from Streptomyces lavendulae REN-7: purification, characterization, nucleotide sequence, and expression. Biosci Biotechnol Biochem 67:2167–2175

Tayyab M, Rashid N, Akhtar M (2010) Isolation and identification of lipase producing thermophilic Geobacillus sp. SBS-4S: cloning and characterization of the lipase. J Biosci Bioeng 111:272–278

Verma A, Shikot P (2014) Purification and characterization of thermostable laccase from thermophilic Geobacillus thermocatenulatus MS5 and its applications in removal of textile dyes. Sch Acad J Biosci 2:479–485

Vieille C, Zeikus GJ (2001) Hyperthermophilic enzymes: sources, uses, and molecular mechanisms for thermostability. Microbiol Mol Biol Rev 65:1–43

Wang TN, Zhao M (2017) A simple strategy for extracellular production of CotA laccase in Escherichia coli and decolorization of simulated textile effluent by recombinant laccase. Appl Microbiol Biotechnol 101:685–696

Xu F (1996) Oxidation of phenols, anilines, and benzenethiols by fungal laccases: correlation between activity and redox potentials as well as halide inhibition. BioChemistry 35:7608–7614
Additional information
Communicated by A. Driessen.
About this article
Cite this article
Basheer, S., Rashid, N., Ashraf, R. et al. Identification of a novel copper-activated and halide-tolerant laccase in Geobacillus thermopakistaniensis . Extremophiles 21, 563–571 (2017). https://doi.org/10.1007/s00792-017-0925-3
Received:

Accepted:

Published:

Issue Date:
Keywords
Geobacillus thermopakistaniensis

Laccase

Copper oxidase

Thermostable

Halide-tolerant