Abstract
Comparisons of the genomes of Bacillus pumilus SAFR-032 and the closely related type strain, B. pumilus ATCC7061T, exposed an extended region of non-homologous genes. A detailed examination of this region revealed the presence of an ICEBs1-like integrative conjugative element in SAFR-032. A similar element was subsequently located elsewhere in the ATCC7061T genome. A detailed comparison of these elements and the ICEBs1 of B. subtilis revealed extremely rapid flux in gene content, genome organization and sequence similarity. It is not clear if the B. pumilus elements as they are currently structured are functional. However, it is clear that the past involvement of these elements has brought multiple genes of unknown function to the SAFR-032 genome and these genes may be responsible for the rapid evolution that led to the extreme radiation and desiccation resistance of this organism's spores.
Access options
Buy single article
Instant access to the full article PDF.
USD 39.95
Price excludes VAT (USA)
Tax calculation will be finalised during checkout.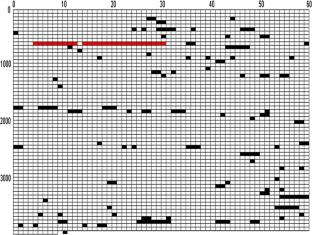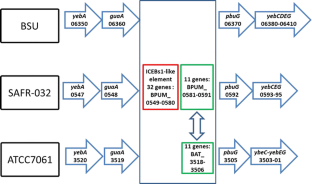 Abbreviations
ICE:

Integrative and conjugative element

SAFR-032:

Bacillus pumilus strain SAFR-032

ATCC7061T :

Bacillus pumilus ATCC7061T

BSU:

Bacillus subtilis

HP:

Hypothetical protein

CHP:

Conserved hypothetical protein

BAT:

Gene locus tag number for the type strain B. pumilus ATCC7061T

BPUM:

Gene locus tag number for B. pumilus SAFR-032
References
Armshaw P, Pembroke JT (2013) Generation and analysis of an ICE R391 deletion library identifies genes involved in the element encoded UV-inducible cell-sensitising function. FEMS Microbiol Lett. doi:10.1111/1574-6968.12107

Auchtung JM, Lee CA, Monson RE, Lehman AP, Grossman AD (2005) Regulation of a Bacillus subtilis mobile genetic element by intercellular signaling and the global DNA damage response. Proc Natl Acad Sci USA 102(35):12554–12559. doi:10.1073/pnas.0505835102

Auchtung JM, Lee CA, Garrison KL, Grossman AD (2007) Identification and characterization of the immunity repressor (ImmR) that controls the mobile genetic element ICEBs1 of Bacillus subtilis. Mol Microbiol 64(6):1515–1528. doi:10.1111/j.1365-2958.2007.05748.x

Bose B, Grossman AD (2011) Regulation of horizontal gene transfer in Bacillus subtilis by activation of a conserved site-specific protease. J Bacteriol 193(1):22–29. doi:10.1128/JB.01143-10

Bose B, Auchtung JM, Lee CA, Grossman AD (2008) A conserved anti-repressor controls horizontal gene transfer by proteolysis. Mol Microbiol 70(3):570–582. doi:10.1111/j.1365-2958.2008.06414.x

Checinska A, Burbank M, Paszczynski AJ (2012) Protection of Bacillus pumilus spores by catalases. Appl Environ Microbiol 78(18):6413–6422. doi:10.1128/AEM.01211-12

Davis BM, Waldor MK (2013) Horizontal gene transfer: linking sex and cell fate. Curr Biol 23(3):R118–R119. doi:10.1016/j.cub.2012.12.035

Frost LS, Koraimann G (2010) Regulation of bacterial conjugation: balancing opportunity with adversity. Future Microbiol 5(7):1057–1071. doi:10.2217/fmb.10.70

Garcillan-Barcia MP, Francia MV, de la Cruz F (2009) The diversity of conjugative relaxases and its application in plasmid classification. FEMS Microbiol Rev 33(3):657–687

Gioia J, Yerrapragada S, Qin X, Jiang H, Igboeli OC, Muzny D, Dugan-Rocha S, Ding Y, Hawes A, Liu W, Perez L, Kovar C, Dinh H, Lee S, Nazareth L, Blyth P, Holder M, Buhay C, Tirumalai MR, Liu Y, Dasgupta I, Bokhetache L, Fujita M, Karouia F, Eswara Moorthy P, Siefert J, Uzman A, Buzumbo P, Verma A, Zwiya H, McWilliams BD, Olowu A, Clinkenbeard KD, Newcombe D, Golebiewski L, Petrosino JF, Nicholson WL, Fox GE, Venkateswaran K, Highlander SK, Weinstock GM (2007) Paradoxical DNA repair and peroxide resistance gene conservation in Bacillus pumilus SAFR-032. PLoS ONE 2(9):e928

Giorno R, Bozue J, Cote C, Wenzel T, Moody KS, Mallozzi M, Ryan M, Wang R, Zielke R, Maddock JR, Friedlander A, Welkos S, Driks A (2007) Morphogenesis of the Bacillus anthracis spore. J Bacteriol 189(3):691–705. doi:10.1128/JB.00921-06

Guglielmini J, Quintais L, Garcillan-Barcia MP, de la Cruz F, Rocha EP (2011) The repertoire of ICE in prokaryotes underscores the unity, diversity, and ubiquity of conjugation. PLoS Genet 7(8):e1002222. doi:10.1371/journal.pgen.1002222

Hastings PJ, Rosenberg SM, Slack A (2004) Antibiotic-induced lateral transfer of antibiotic resistance. Trends Microbiol 12(9):401–404. doi:10.1016/j.tim.2004.07.003

Jones DT, Swindells MB (2002) Getting the most from PSI-BLAST. Trends Biochem Sci 27(3):161–164

Kempf MJ, Chen F, Kern R, Venkateswaran K (2005) Recurrent isolation of hydrogen peroxide-resistant spores of Bacillus pumilus from a spacecraft assembly facility. Astrobiology 5(3):391–405

Lazarevic V, Dusterhoft A, Soldo B, Hilbert H, Mauel C, Karamata D (1999) Nucleotide sequence of the Bacillus subtilis temperate bacteriophage SPbetac2. Microbiology 145(Pt 5):1055–1067

Lee CA, Auchtung JM, Monson RE, Grossman AD (2007) Identification and characterization of int (integrase), xis (excisionase) and chromosomal attachment sites of the integrative and conjugative element ICEBs1 of Bacillus subtilis. Mol Microbiol 66(6):1356–1369. doi:10.1111/j.1365-2958.2007.06000.x

Lee CA, Babic A, Grossman AD (2010) Autonomous plasmid-like replication of a conjugative transposon. Mol Microbiol 75(2):268–279

Lee CA, Thomas J, Grossman AD (2012) The Bacillus subtilis conjugative transposon ICEBs1 mobilizes plasmids lacking dedicated mobilization functions. J Bacteriol 194(12):3165–3172. doi:10.1128/JB.00301-12

Link L, Sawyer J, Venkateswaran K, Nicholson W (2004) Extreme spore UV resistance of Bacillus pumilus isolates obtained from an ultraclean Spacecraft Assembly Facility. Microb Ecol 47(2):159–163

Markowitz VM, Chen IM, Palaniappan K, Chu K, Szeto E, Grechkin Y, Ratner A, Jacob B, Huang J, Williams P, Huntemann M, Anderson I, Mavromatis K, Ivanova NN, Kyrpides NC (2012) IMG: the Integrated Microbial Genomes database and comparative analysis system. Nucleic Acids Res 40(Database issue):D115–22

Mizuno M, Masuda S, Takemaru K, Hosono S, Sato T, Takeuchi M, Kobayashi Y (1996) Systematic sequencing of the 283 kb 210 degrees-232 degrees region of the Bacillus subtilis genome containing the skin element and many sporulation genes. Microbiology 142(Pt 11):3103–3111

Newcombe DA, Schuerger AC, Benardini JN, Dickinson D, Tanner R, Venkateswaran K (2005) Survival of spacecraft-associated microorganisms under simulated Martian UV irradiation. Appl Environ Microbiol 71(12):8147–8156

Nicholson WL, McCoy LE, Kerney KR, Ming DW, Golden DC, Schuerger AC (2012) Aqueous extracts of a Mars analogue regolith that mimics the Phoenix landing site do not inhibit spore germination or growth of model spacecraft contaminants Bacillus subtilis 168 and Bacillus pumilus SAFR-032. Icarus 220(2):904–910. doi:10.1016/j.icarus.2012.06.033

Satomi M, La Duc MT, Venkateswaran K (2006) Bacillus safensis sp. nov., isolated from spacecraft and assembly-facility surfaces. Int J Syst Evol Microbiol 56(Pt 8):1735–1740

Smillie C, Garcillan-Barcia MP, Francia MV, Rocha EP, de la Cruz F (2010) Mobility of plasmids. Microbiol Mol Biol Rev 74(3):434–452. doi:10.1128/MMBR.00020-10

Thomas J, Lee CA, Grossman AD (2013) A conserved helicase processivity factor is needed for conjugation and replication of an integrative and conjugative element. PLoS Genet 9(1):e1003198

Tirumalai MR, Rastogi R, Zamani N, O'Bryant Williams E, Allen S, Diouf F, Kwende S, Weinstock GM, Venkateswaran KJ, Fox GE (2013) Candidate genes that may be responsible for the unusual resistances exhibited by B. pumilus SAFR-032 spores. PLoS One 8(6):e66012. doi:10.1371/journal.pone.0066012

Venkateswaran K, Satomi M, Chung S, Kern R, Koukol R, Basic C, White D (2001) Molecular microbial diversity of a spacecraft assembly facility. Syst Appl Microbiol 24(2):311–320

Venkateswaran K, Kempf M, Chen F, Satomi M, Nicholson W, Kern R (2003) Bacillus nealsonii sp. nov., isolated from a spacecraft-assembly facility, whose spores are gamma-radiation resistant. Int J Syst Evol Microbiol 53(Pt 1):165–172

Venkateswaran K, Chung S, Allton J, Kern R (2004) Evaluation of various cleaning methods to remove bacillus spores from spacecraft hardware materials. Astrobiology 4(3):377–390

Viswanath L, Lu Y, Fox GE (2007) Genome display tool: visualizing features in complex data sets. Source Code Biol Med 2:1

Wozniak RA, Waldor MK (2010) Integrative and conjugative elements: mosaic mobile genetic elements enabling dynamic lateral gene flow. Nat Rev Microbiol 8(8):552–563. doi:10.1038/nrmicro2382
Acknowledgments
This work was supported in part by grants from the Institute of Space Systems Operations at the University of Houston, the Center for Bio-nanotechnology and Environmental Research at Texas Southern University (NASA Cooperative agreement NNX08B4A47A), and the Center for Ribosomal Evolution and Adaptation at the Georgia Institute of Technology (NASA Cooperative Agreement NNA09DA78A).
Conflict of interest
The authors declare that they have no conflict of interest.
Ethical standard
All work described in this manuscript was performed in accordance with current laws in the United States of America.
Additional information
Communicated by H. Atomi.
Electronic supplementary material
Below is the link to the electronic supplementary material.
About this article
Cite this article
Tirumalai, M.R., Fox, G.E. An ICEBs1-like element may be associated with the extreme radiation and desiccation resistance of Bacillus pumilus SAFR-032 spores. Extremophiles 17, 767–774 (2013). https://doi.org/10.1007/s00792-013-0559-z
Received:

Accepted:

Published:

Issue Date:

DOI: https://doi.org/10.1007/s00792-013-0559-z
Keywords
Genome analysis

Comparative genomics

Radiation resistance

Planetary protection

Integrative conjugative elements