Abstract
A novel moderately halophilic, alkaliphilic, non-motile, non-sporulating, catalase-positive, oxidase-negative, aerobic, coccus-shaped, Gram-positive bacterium, designated strain JSM 071043T, was isolated from a subterranean brine sample collected from a salt mine in Hunan Province, China. Growth occurred with 0.5–20% (w/v) NaCl (optimum 5–10%) at pH 6.5–10.5 (optimum pH 8.5) and at 10–40°C (optimum 25–30°C). Good growth also occurred in the presence of 0.5–20% (w/v) KCl (optimum 5–8%) or 0.5–25% (w/v) MgCl2·6H2O (optimum 5–10%). The peptidoglycan type was A4α (l-Lys–l-Ala–l-Glu) and major cell-wall sugars were tyvelose and mannose. The major cellular fatty acids were anteiso-C15:0, iso-C16:0 and anteiso-C17:0. Strain JSM 071043T contained MK-9 and MK-8 as the predominant menaquinones and diphosphatidylglycerol, phosphatidylglycerol and phosphatidylinositol as the major polar lipids. The DNA G + C content was 67.8 mol%. Phylogenetic analysis based on 16S rRNA gene sequences showed that strain JSM 071043T was a member of the suborder Micrococcineae, and was most closely related to Zhihengliuella halotolerans YIM 70185T (sequence similarity 98.9%) and Zhihengliuella alba YIM 90734T (98.2%), and the three strains formed a distinct branch in the phylogenetic tree. The combination of phylogenetic analysis, DNA–DNA relatedness values, phenotypic characteristics and chemotaxonomic data supports the proposal that strain JSM 071043T represents a novel species of the genus Zhihengliuella, for which the name Z. salsuginis sp. nov. is proposed. The type strain is JSM 071043T (= DSM 21149T = KCTC 19466T).
This is a preview of subscription content,
to check access.
Access this article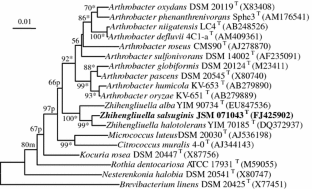 References
Atlas RM, Parks LC (1993) Handbook of microbiological media. CRC Press, Boca Raton, pp 666–672

Chen HH, Li WJ, Tang SK, Kroppenstedt RM, Stackebrandt E, Xu LH, Jiang CL (2004) Corynebacterium halotolerans sp. nov., isolated from saline soil in the west of China. Int J Syst Evol Microbiol 54:779–782

Chen YG, Cui XL, Pukall R, Li HM, Yang YL, Xu LH, Wen ML, Peng Q, Jiang CL (2007) Salinicoccus kunmingensis sp. nov., a moderately halophilic bacterium isolated from a salt mine in Yunnan, south-west China. Int J Syst Evol Microbiol 57:2327–2332

Chen YG, Zhang YQ, Liu ZX, Zhuang DC, Klenk HP, Tang SK, Cui XL, Li WJ (2009) Halobacillus salsuginis sp. nov., a moderately halophilic bacterium from a subterranean brine. Int J Syst Evol Microbiol 59:2505–2509

Chun J, Lee JH, Jung Y, Kim M, Kim S, Kim BK, Lim YW (2007) EzTaxon: a web-based tool for the identification of prokaryotes based on 16S ribosomal RNA gene sequences. Int J Syst Evol Microbiol 57:2259–2261

Collins MD, Jones D (1980) Lipids in the classification and identification of coryneform bacteria containing peptidoglycans based on 2, 4-diaminobutyric acid. J Appl Bacteriol 48:459–470

Cowan ST, Steel KJ (1965) Manual for the identification of medical bacteria. Cambridge University Press, London

Cui XL, Mao PH, Zeng M, Li WJ, Zhang LP, Xu LH, Jiang CL (2001) Streptomonospora salina gen. nov., sp. nov., a new member of the family Nocardiopsaceae. Int J Syst Evol Microbiol 51:357–363

De Ley J, Cattoir H, Reynaerts A (1970) The quantitative measurement of DNA hybridization from renaturation rates. Eur J Biochem 12:133–142

Doetsch RN (1981) Determinative methods of light microscopy. In: Gerhardt P, Murray RGE, Costilow RN, Nester EW, Wood WA, Krieg NR, Phillips GH (eds) Manual of methods for general bacteriology. American Society for Microbiology, Washington, pp 21–33

Felsenstein J (1981) Evolutionary trees from DNA sequences: a maximum likelihood approach. J Mol Evol 17:368–376

Felsenstein J (1985) Confidence limits on phylogenies: an approach using the bootstrap. Evolution 39:783–791

Felsenstein J (2002) PHYLIP (phylogeny inference package), version 3.6a. Distributed by the author. Department of Genome Sciences, University of Washington, Seattle, USA

Gregersen T (1978) Rapid method for distinction of Gram-negative from Gram-positive bacteria. Eur J Appl Microbiol Biotechnol 5:123–127

Groth I, Schumann P, Weiss N, Martin K, Rainey FA (1996) Agrococcus jenensis gen. nov., sp. nov., a new genus of actinomycetes with diaminobutyric acid in the cell wall. Int J Syst Bacteriol 46:234–239

Hopwood DA, Bibb MJ, Chater KF, Kieser T, Bruton CJ, Kieser HM, Lydiate DJ, Smith CP, Ward JM (1985) Preparation of chromosomal, plasmid and phage DNA. In: Hopwood DA, Bibb MJ, Chater KF, Kieser T, Bruton CJ, Kieser HM, Lydiate DJ, Smith CP, Ward JM, Schrempf H (eds) Genetic manipulation of Streptomyces: a laboratory manual. F. Crowe and Sons, Norwich, pp 79–80

Huß VAR, Festl H, Schleifer KH (1983) Studies on the spectrophotometric determination of DNA hybridization from renaturation rates. Syst Appl Microbiol 4:184–192

Jahnke KD (1992) BASIC computer program for evaluation of spectroscopic DNA renaturation data from Gilford System 2600 spectrophotometer on a PC/XT/AT type personal computer. J Microbiol Methods 15:61–73

Kageyama A, Takahashi Y, Morisaki K, Omura S (2008) Arthrobacter oryzae sp. nov. and Arthrobacter humicola sp. nov. Int J Syst Evol Microbiol 58:53–56

Kimura M (1980) A simple method for estimating evolutionary rates of base substitutions through comparative studies of nucleotide sequences. J Mol Evol 16:111–120

Kluge AG, Farris FS (1969) Quantitative phyletics and the evolution of anurans. Syst Zool 18:1–32

Kumar S, Tamura K, Nei M (2004) MEGA3: integrated software for molecular evolutionary genetics analysis and sequence alignment. Brief Bioinform 5:150–163

Mesbah M, Premachandran U, Whitman WB (1989) Precise measurement of the G + C content of deoxyribonucleic acid by high-performance liquid chromatography. Int J Syst Bacteriol 39:159–167

Minnikin DE, O'Donnell AG, Goodfellow M, Alderson G, Athalye M, Schaal A, Parlett JH (1984) An integrated procedure for the extraction of bacterial isoprenoid quinones and polar lipids. J Microbiol Methods 2:233–241

Saitou N, Nei M (1987) The neighbor-joining method: a new method for reconstructing phylogenetic trees. Mol Biol Evol 4:406–425

Sasser M (1990) Identification of bacteria by gas chromatography of cellular fatty acids. MIDI Technical Note 101, MIDI Inc, Newark, DE

Schleifer KH, Kandler O (1972) Peptidoglycan types of bacterial cell walls and their taxonomic implications. Bacteriol Rev 36:407–477

Smibert RM, Krieg NR (1994) Phenotypic characterization. In: Gerhardt P, Murray RGE, Wood WA, Krieg NR (eds) Methods for general and molecular bacteriology. American Society for Microbiology, Washington, pp 607–654

Stackebrandt E, Goebel BM (1994) Taxonomic note: a place for DNA–DNA reassociation and 16S rRNA sequence analysis in the present species definition in bacteriology. Int J Syst Bacteriol 44:846–849

Stackebrandt E, Rainey FA, Ward-Rainey NL (1997) Proposal for a new hierarchic classification system, Actinobacteria classis nov. Int J Syst Bacteriol 47:479–491

Tang ST, Wang Y, Chen Y, Lou K, Cao LL, Xu LH, Li WJ (2009) Zhihengliuella alba sp. nov., and emended description of the genus Zhihengliuella. Int J Syst Evol Microbiol 59:2025–2032

Thompson JD, Gibson TJ, Plewniak F, Jeanmougin F, Higgins DG (1997) The CLUSTAL_X windows interface: flexible strategies for multiple sequence alignment aided by quality analysis tools. Nucleic Acids Res 25:4876–4882

Ventosa A, Quesada E, Rodriguez-Valera F, Ruiz-Berraquero F, Ramos-Cormenzana A (1982) Numerical taxonomy of moderately halophilic Gram-negative rods. J Gen Microbiol 128:1959–1968

Wayne LG, Brenner DJ, Colwell RR, Grimont PAD, Kandler O, Krichevsky MI, Moore LH, Moore WEC, Murray RGE et al (1987) International committee on systematic bacteriology. Report of the ad hoc committee on reconciliation of approaches to bacterial systematics. Int J Syst Bacteriol 37:463–464

Zhang YQ, Yu LY, Liu HY, Zhang YQ, Xu LH, Stackebrandt E, Jiang CL, Li WJ (2007) Zhihengliuella halotolerans gen. nov., sp. nov. a novel member of the family Micrococcaceae from a saline soil in China. Int J Syst Evol Microbiol 57:1018–1023
Acknowledgments
This work was supported by grants from the National Basic Research Program of China (2010CB833800), National Natural Science Foundation of China (NSFC) (30970007) and International Cooperation Research Program of Yunnan Province (2009AC017). We are grateful to Mr. Ke Huang for his excellent technical assistance.
Additional information
Communicated by A. Oren.
The GenBank/EMBL/DDBJ accession number for the 16S rRNA gene sequence of strain JSM 071043T is FJ425902.
About this article
Cite this article
Chen, YG., Tang, SK., Zhang, YQ. et al. Zhihengliuella salsuginis sp. nov., a moderately halophilic actinobacterium from a subterranean brine. Extremophiles 14, 397–402 (2010). https://doi.org/10.1007/s00792-010-0317-4
Received:

Accepted:

Published:

Issue Date:

DOI: https://doi.org/10.1007/s00792-010-0317-4
Keywords