Abstract
Microbial communities inhabiting deep-sea cold seep sediments at the northeastern Japan Sea were characterized by molecular phylogenetic and chemical analyses. White patchy microbial mats were observed along the fault offshore the Hokkaido Island and sediment samples were collected from two stations at the southern foot of the Shiribeshi seamount (M1 site at a depth of 2,961 m on the active fault) and off the Motta Cape site (M2 site at a depth of 3,064 m off the active fault). The phylogenetic and terminal-restriction fragment polymorphism analyses of PCR-amplified 16S rRNA genes revealed that microbial community structures were different between two sampling stations. The members of ANME-2 archaea and diverse bacterial components including sulfate reducers within Deltaproteobacteria were detected from M1 site, indicating the occurrence of biologically mediated anaerobic oxidation of methane, while microbial community at M2 site was predominantly composed of members of Marine Crenarchaeota group I, sulfate reducers of Deltaproteobacteria, and sulfur oxidizers of Epsilonproteobacteria. Chemical analyses of seawater above microbial mats suggested that concentrations of sulfate and methane at M1 site were largely decreased relative to those at M2 site and carbon isotopic composition of methane at M1 site shifted heavier (13C-enriched), the results of which are consistent with molecular analyses. These results suggest that the mat microbial communities in deep-sea cold seep sediments at the northeastern Japan Sea are significantly responsible for sulfur and carbon circulations and the geological activity associated with plate movements serves unique microbial habitats in deep-sea environments.
Access options
Buy single article
Instant access to the full article PDF.
US$ 39.95
Tax calculation will be finalised during checkout.
Subscribe to journal
Immediate online access to all issues from 2019. Subscription will auto renew annually.
US$ 79
Tax calculation will be finalised during checkout.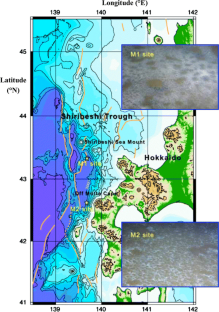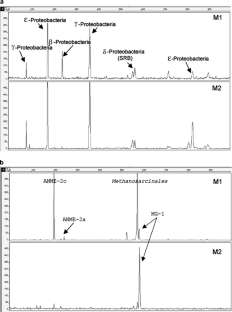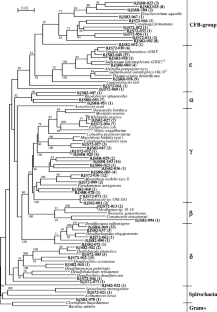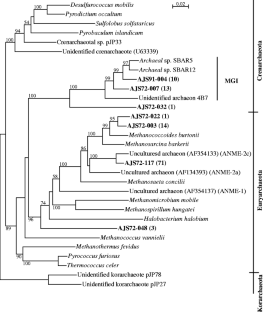 References
Arakawa S, Kato C, Sato T, Nogi Y, Yoshida Y, Usami R, Horikoshi K (2004) Microbial diversity of bacterial mat samples collected at a depth of 3100 m in the Japan Sea. Mar Biotechnol 6:S185–S189

Arakawa S, Mori M, Li L, Nogi Y, Sato T, Yoshida Y, Usami R, Kato C (2005) Cold-seep microbial communities are more abundant at deeper depths in the Japan Trench land slope. J Jap Soc Extremophiles 4:50–55

Boetius A, Ravenschlag K, Schubert CJ, Ricket D, Widdel F, Gieseke A, Amann R, Jorgensen BB, Witte U, Pfannkuche O (2000) A marine microbial consortium apparently mediating anaerobic oxidation of methane. Nature 407:623–626

DeLong EF (1992) Archaea in coastal marine environments. Proc Natl Acad Sci USA 89:5685–5689

Distel DL, Felbeck H, Cavanaugh CM (1994) Evidence for phylogenetic congruence among sulfur-oxidizing chemoautotrophic bacterial endosymbionts and their bivalve hosts. J Mol Evol 38:533–542

Fang J, Arakawa S, Kato C, Schouten S (2006) Microbial diversity of cold-seep sediments in Sagami Bay, Japan as determined by 16S rDNA and lipid analyses. FEMS Microbiol Ecol (in press)

Fujiwara Y, Kato C, Masui N, Fujikura K, Kojima S (2001) Dual symbiosis in the cold-seep thyasirid clam Maorithyas hadalis from the hadal zone in the Japan Trench, western Pacific. Mar Ecol Prog Ser 214:151–159

Inagaki F, Takai K, Komatsu T, Kanematsu T, Fujioka K, Horikoshi K (2001) Archaeology of archaea: geomicrobiological record of Pleistocene thermal events concealed in the deep-sea subseafloor environment. Extremophiles 5:385–392

Inagaki F, Sakihama Y, Inoue A, Kato C, Horikoshi K (2002) Molecular phylogenetic analyses of reverse-transcribed bacterial rRNA obtained from deep-sea cold seep sediments. Environ Microbiol 4:277–294

Inagaki F, Takai K, Kobayashi H, Nealson KH, Horikoshi K (2003) Sulfurimonas autotrophica gen. nov., sp. nov., a novel sulfur-oxidizing ε-proteobacterium isolated from hydrothermal sediments in the Mid-Okinawa Trough. Int J Syst Evol Microbiol 53:1801–1805

Inagaki F, Takai K, Nealson KH, Horikoshi K (2004a) Sulfurovum lithotrophicum gen. nov., sp. nov., a novel sulfur-oxidizing epsilon-proteobacterium isolated from hydrothermal sediments from the mid-Okinawa Trough. Int J Syst Evol Microbiol 54:1477–1457

Inagaki F, Tsunogai U, Suzuki M, Kosaka A, Machiyama H, Takai K, Nunoura T, Nealson KH, Horikoshi K (2004b) Characterization of C1-metabolizing prokaryotic communities in methane seep habitats at the Kuroshima Knoll, the Southern Ryukyu arc, by analyzing pmoA, mmoX, mxaF, mcrA, and 16S rRNA genes. Appl Environ Microbiol 70:7445–7455

Kato C, Li L, Tamaoka J, Horikoshi K (1997) Molecular analyses of the sediment of the 11,000-m deep Mariana Trench. Extremophiles 1:117–123

Kato C, Arakawa S, Usami R, Sato T (2005) Microbial diversity in the cold seep sediments and sulfur circulation (in Japanese). Gekkan Chikyu 27:939–948

Knittel K, Losekann T, Boetius A, Kort R, Amann R (2005) Diversity and distribution of metanotrophic archaea at cold seeps. Appl Environ Microbiol 71:467–479

Kulm LD, Suess E, Moore JC, Carson B, Lewis BT, Ritger SD, Kadko DC, Thornburg TM, Embly RW, Rugh WD, Massoth GJ, Langseth MG, Cochrane GR, Scamman RL (1986) Oregon subduction zone: venting, fauna, and carbonates. Science 231:561–566

Kvenvolden KA (1995) A review of the geochemistry of methane in natural gas hydrate. Org Chem 23:997–1008

Li L, Kato C (1999) Microbial diversity in the sediment collected from cold-seep areas and from different depth of the deep-sea. In: Horikoshi K, Tujii K (eds) Extremophiles in deep-sea environments. Springer, Tokyo, pp 55–88

Li L, Guenzennec J, Nichols P, Henry P, Yanagibayashi M, Kato C (1999a) Microbial diversity in Nankai Trough sediments at a depth of 3843 m. J Oceanogr 55:635–642

Li L, Kato C, Horikioshi K (1999b) Microbial diversity in sediments collected from the deepest cold-seep area, the Japan Trench at a depth of 6,400 m. Mar Biotechnol 1:391–400

Ohta S, Laubier L (1987) Deep biological communities in the subduction zone of Japan from bottom photographs taken during "Nautile" dives in the Kaiko project. Earth Planet Sci Lett 83:329–342

Ohtake M (1995) A seismic gap in the eastern margin of the Sea of Japan as inferred from the time-space distribution of past seismicity. Island Arc 4:156–165

Okamura Y, Satake K, Takeuchi A, Gamo T, Kato C, Sasayama Y, Nakayama F, Ikehara K, Kodera T (2002) Tectonic, geochemical and biological studies in the eastern margin of the Japan Sea—preliminary results of Yokosuka/Shinkai 6500 YK01–06 Cruise. JAMSTEC J Deep Sea Res 20:77–114

Orphan VJ, Hinrichs K-U, Ussler W III, Paull CK, Taylor LT, Sylva SP, Hayes JM, DeLong EF (2001a) Comparative analysis of methane-oxidizing archaea and sulfate-reducing bacteria in anoxic marine sediments. Appl Environ Microbiol 67:1922–1934

Orphan VJ, House CH, Hinrichs KU, McKeegan KD, DeLong EF (2001b) Methane-consuming archaea revealed by directly coupled isotopic and phylogenetic analysis. Science 293:484–487

Saitou N, Nei M (1987) The neighbor-joining method: a new method for reconstructing phylogenetics trees. Mol Biol Evol 4:406–425

Sibuet M, Juniper SK, Pautot G (1988) Cold-seep benthic communities in the Japan subduction zones: geological control of community development. J Mar Res 46:333–348

Takeuchi A, Okamura Y, Kato Y, Ikehara K, Zhang J, Satake K, Nagao T, Hirano M, Watanabe M (2000) Large earthquakes and bottom disturbances in the Okushiri ridge along the eastern margin of Japan Sea. JAMSTEC J Deep Sea Res, 16:29–46

Tsunogai U, Kouzuma F, Nakagawa N, Gamo T, Kaneko T (2002a) Development of multi-bottle gas-tight water sampler WHATS for sampling sea-floor venting fluids. JAMSTEC J Deep Sea Res 21:91–95

Tsunogai U, Nakagawa F, Komatsu D, Gamo T (2002b) Stable carbon and oxygen isotopic analysis of atmospheric carbon monoxide using CF-IRMS by isotope-ratio monitoring of CO. Anal Chem 74:5695–5700

Wei D, Seno T (1998) Determination of the Amurian plate motion, mantle dynamics and plate interactions in East Asia. In: Geodynamics Series, American Geophysical Union, Washington, 27:337–346
Acknowledgments
We are very grateful to the shipboard science party of the YK03-05 cruise (PI, T. Sato) and DSV Shinkai 6500 operation team (commander Mr. Y. Imai and co-workers), and the crew of RV Yokosuka for helping us collect the deep-sea samples. We extend special thanks to Dr. Yukinobu Okamura for providing the map data of active faults in the eastern margin of the Japan Sea as well as for useful discussions. We also thank Mr. Masaru Kawato for supporting the DNA sequencing procedure. This work was supported by the INOUE ENRYO Memorial Foundation for Promoting Sciences (S. A.) and in part by a Grant-in-Aid for Exploratory Research, No. 15651008, provided by the Ministry of Education, Culture, Sports, Science and Technology of Japan (C. K.).
Additional information
Communicated by K. Horikoshi
About this article
Cite this article
Arakawa, S., Sato, T., Sato, R. et al. Molecular phylogenetic and chemical analyses of the microbial mats in deep-sea cold seep sediments at the northeastern Japan Sea. Extremophiles 10, 311–319 (2006). https://doi.org/10.1007/s00792-005-0501-0
Received:

Accepted:

Published:

Issue Date:
Keywords
ANME

AOM

Cold seep

Deep-sea

Deltaproteobacteria

Japan Sea

Microbial diversity

Microbial mat