Abstract
Pet ownership is common. Growing evidence suggests children form deep emotional attachments to their pets. Yet, little is known about children's emotional reactions to a pet's death. The goal of this study was to describe the relationship between experiences of pet death and risk of childhood psychopathology and determine if it was "better to have loved and lost than never to have loved at all". Data came from the Avon Longitudinal Study of Parents and Children, a UK-based prospective birth cohort (n = 6260). Children were characterized based on their exposure to pet ownership and pet death from birth to age 7 (never loved; loved without loss; loved with loss). Psychopathology symptoms at age 8 were compared across groups using multivariable linear regression. Psychopathology symptoms were higher among children who had loved with loss compared to those who had loved without loss (β = 0.35, p = 0.013; 95% CI = 0.07, 0.63), even after adjustment for other adversities. This group effect was more pronounced in males than in females. There was no difference in psychopathology symptoms between children who had loved with loss and those who had never loved (β = 0.20, p = 0.31, 95% CI = −0.18–0.58). The developmental timing, recency, or accumulation of pet death was unassociated with psychopathology symptoms. Pet death may be traumatic for children and associated with subsequent mental health difficulties. Where childhood pet ownership and pet bereavement is concerned, Tennyson's pronouncement may not apply to children's grief responses: it may not be "better to have loved and lost than never to have loved at all".
Access options
Buy single article
Instant access to the full article PDF.
US$ 39.95
Tax calculation will be finalised during checkout.
Subscribe to journal
Immediate online access to all issues from 2019. Subscription will auto renew annually.
US$ 159
Tax calculation will be finalised during checkout.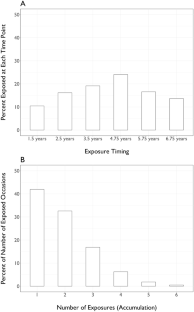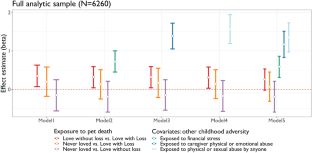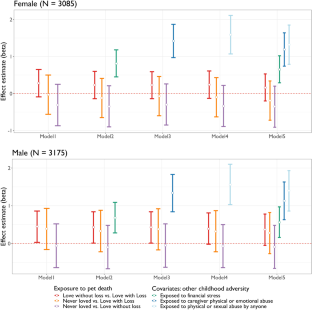 References
1.

Voith VL (2009) The impact of companion animal problems on society and the role of veterinarians. Vet Clin North 39(2):327–345

2.

Utz R (2014) Walking the dog: the effect of pet ownership on human health and health behaviors. Soc Indic Res 116(2):327–339

3.

Murray JK et al (2010) Number and ownership profiles of cats and dogs in the UK. Vet Record 166(6):163

4.

Westgarth C et al (2010) Family pet ownership during childhood: findings from a uk birth cohort and implications for public health research. Intern J Environ Res Public Health 7(10):3704–3729

5.

Hosey G, Melfi V (2014) Human-animal interactions, relationships and bonds a review and analysis of the literature. Intern J Comp Psychol 7:37

6.

Hawkins RD (2017) Scottish society for the prevention of cruelty to, childhood attachment to pets: associations between pet attachment, attitudes to animals, compassion, and humane behaviour. Intern J Environ Res Public Health 14(5):490

7.

Beck L, Madresh EA (2008) Romantic partners and four-legged friends: an extension of attachment theory to relationships with pets. Anthrozoös 21(1):43–56

8.

Carr S, Rockett B (2017) Fostering secure attachment: experiences of animal companions in the foster home. Attach Hum Dev 19(3):259–277

9.

Zilcha-Mano S, Mikulincer M, Shaver PR (2012) Pets as safe havens and secure bases: the moderating role of pet attachment orientations. J Res Pers 46(5):571–580

10.

Bryant BK (1985) The neighborhood walk: sources of support in middle childhood. Monogr Soc Res Child Dev 50(3):122–122

11.

Covert AM et al (1985) Pets, early adolescents, and families. Marriage Family Rev 8(3–4):95–108

12.

Poresky RH, Hendrix C (1990) Differential effects of pet presence and pet-bonding on young children. Psychol Rep 67(1):51–54

13.

Vidović VV, Štetić VV, Bratko D (1999) Pet ownership, type of pet and socio-emotional development of school children. Anthrozoös 12(4):211–217

14.

Poresky RH et al (1988) Young children's companion animal bonding and adults' pet attitudes: a retrospective study. Psychol Rep 62(2):419–425

15.

Poresky RH et al (1988) Children's pets and adults' self-concepts. J Psychol 122(5):463

16.

Guttman G., Predovic M., Zemanek M. (1983) Influence of pet ownership on non-verbal communication and social competence in children in Proceedings of the International Symposium on the Human–Pet Relationship. Vienna.

17.

Endenburg NDB (1995) The roles of pets in enhancing human well-being: effects on child development. In: Robinson I (ed) The Waltham Book of Human-Animal Interaction: Benefits and Responsibilities of Pet Ownership. Pergamon, Exeter, pp 1–17

18.

Grimm D (2015) Why we outlive our pets. Science 350(6265):1182–1185

19.

Melhem NM et al (2011) Grief in children and adolescents bereaved by sudden parental death. Arch Gen Psychiatry 68(9):911–919

20.

Wolraich M et al (2000) The pediatrician and childhood bereavement. American Academy of Pediatrics Committee on Psychosocial. Aspects of child and family health. Pediatrics 105(2):445

21.

Bugge K et al (2014) Young children's grief: parents' understanding and coping. Death Studies 38(1):36

22.

Dowdney L (2000) Childhood bereavement following parental death: annotation. J Child Psychol Psychiatry 41(7):819–830

23.

Sood A et al (2006) Children's reactions to parental and sibling death. Curr Psychiatry Rep 8(2):115–120

24.

Schultz K (1999) Bereaved children. Can Fam Physician 45:2914–2921

25.

Brent D et al (2009) The incidence and course of depression in bereaved youth 21 months after the loss of a parent to suicide, accident, or sudden natural death. Am J Psychiatry 166(7):786–794

26.

Kranzler EM et al (1990) Early childhood bereavement. J Am Acad Child Adolesc Psychiatry 29(4):513–520

27.

Kaplow JB, Howell KH, Layne CM (2014) Do circumstances of the death matter? Identifying socioenvironmental risks for grief-related psychopathology in bereaved youth. J Trauma Stress 27(1):42–49

28.

Kimura Y, Kawabata H, Maezawatype M (2014) Frequency of neurotic symptoms shortly after the death of a pet. J Vet Med Sci 76(4):499

29.

Brown BH, Richards HC, Wilson CA (1996) Pet bonding and pet bereavement among adolescents. J Couns Dev 74(5):505–509

30.

Brown OKDK (2015) Symons, "My Pet Has Passed": relations of adult attachment styles and current feelings of grief and trauma after the event. Death Stud 40:4. https://www.rhodeslab.org/files/PetlossRhodes.pdf

31.

Lowe SR, Rhodes JE, Zwiebach L, Chan CS (2009) The impact of pet loss on the perceived social support and psychological distress of hurricane survivors. J Trauma Stress 22:244–247. https://doi.org/10.1002/jts.20403

32.

Hunt M, Al-Awadi H, Johnson M (2008) Psychological sequelae of pet loss following Hurricane Katrina. Anthrozoös 21(2):109–121

33.

Adrian J, Deliramich A, Frueh B (2009) Complicated grief and posttraumatic stress disorder in humans' response to the death of pets/animals. Bull Menninger Clin 73(3):176–187

34.

Sharkin BS, Knox D (2003) Pet Loss: Issues and Implications for the Psychologist. Prof Psychol Res Pract 34(4):414–421

35.

Kaufman K, Kaufman N (2006) And then the dog died. Death Stud 30(1):61–76

36.

Jarolmen J (1998) A comparison of the grief reaction of children and adults: focusing on pet loss and bereavement. OMEGA 37(2):133–150

37.

Tennyson AT (1852) Victorian philology and the anxiety of language in Tennyson's In Memoriam. Texas Stud Lit Lang 1:28–48

38.

Boyd A et al (2012) Cohort profile: "The Children of the 90's"- the index offspring of the avon longitudinal study of parents and children. Intern J Epidemiol 20:12

39.

Fraser A et al (2012) Cohort profile: The Avon Longitudinal Study of Parents and Children: ALSPAC mothers cohort. Intern J Epidemiol 2:2

40.

Goodman R (1997) The strengths and difficulties questionnaire: a research note. J Child Psychol Psychiatry 38:581–586

41.

Goodman R (2001) Psychometric properties of the strenghts and difficulties questionnaire. J Am Acad Child Adolesc Psychiatry 40:1337–1345

42.

Ezpeleta L et al (2013) Psychometric properties of the strengths and difficulties questionnaire 3–4 in 3-year-old preschoolers. Compr Psychiatry 54(3):282–291

43.

Muris P, Meesters C, van den Berg F (2003) The strengths and difficulties questionnaire (SDQ)–further evidence for its reliability and validity in a community sample of Dutch children and adolescents. Eur Child Adolesc Psychiatry 12(1):1–8

44.

Goodman A, Lamping DL, Ploubidis GB (2010) When to use broader internalizing and externalizing subscales instead of the hypothesized five subscales on the strengths and difficulties questionnaire (SDQ); data from British parents, teachers, and children. J Abnorm Child Psychol 38:1179–1191

45.

Goodman A, Goodman R (2011) Population mean scores predict child mental disorder rates: validating SDQ prevalence estimators in Britain. J Child Psychol Psychiatry 52(1):100–108

46.

Cox JL, Holden JM, Sagovsky R (1987) Detection of postnatal depression. Development of the 10-item Edinburgh Postnatal Depression Scale. Br J Psychiatry 150:782–786

47.

Hibbeln JR et al (2007) Maternal seafood consumption in pregnancy and neurodevelopmental outcomes in childhood (ALSPAC study): an observational cohort study. The Lancet 369(9561):578–585

48.

Suren P et al (2014) Parental obesity and risk of autism spectrum disorder. Pediatrics 133(5):e1128–e1138

49.

Oliver BR et al (2011) Social cognition and conduct problems: a developmental approach. J Am Acad Child Adolesc Psychiatry 50(4):385–394

50.

Parslow RA et al (2005) Pet ownership and health in older adults: findings from a survey of 2,551 community-based Australians aged 60–64. Gerontology 51(1):40–47

51.

Mullersdorf M et al (2010) Aspects of health, physical/leisure activities, work and socio-demographics associated with pet ownership in Sweden. Scand J Public Health 38(1):53–63

52.

Podsakoff PM et al (2003) Common method biases in behavioral research: a critical review of the literature and recommended remedies. J Appl Psychol 88(5):879–903

53.

Holt S, Buckley H, Whelan S (2008) The impact of exposure to domestic violence on children and young people: a review of the literature. Child Abuse Negl 32(8):797–810

54.

Chilcoat HD, Breslau N (1997) Does psychiatric history bias mothers' reports? An application of a new analytic approach. J Am Acad Child Adolesc Psychiatry 36(7):971–979

55.

Ringoot AP et al (2015) Parental depression and child well-being: young children's self-reports helped addressing biases in parent reports. J Clin Epidemiol 68(8):928–938

56.

van Buuren S, Boshuizen HC, Knook DL (1999) Multiple imputation of missing blood pressure covariates in survival analysis. Stat Med 18(6):681–694

57.

van Buuren S, Groothuis-Oudshoorn K (2011) Mice: multivariate imputation by chained equations in R. J Stat Softw 45:1548–7660

58.

White IR, Royston P, Wood AM (2011) Multiple imputation using chained equations: issues and guidance for practice. Stat Med 30(4):377–399

59.

Rud AG, Beck AM (2003) Companion animals in Indiana elementary schools. Anthrozoös 16(3):241–251

60.

Uttley C (2013) Animal attraction: including animals in early childhood classrooms. YC Young Children 68(4):16–21

61.

Eme RF (1979) Sex differences in childhood psychopathology: a review. Psychol Bull 86(3):574

62.

Nolen-Hoeksema S, Girgus JS (1994) The emergence of gender differences in depression during adolescence. Psychol Bull 115(3):424–443

63.

Keiley MK et al (2001) The timing of child physical maltreatment: a cross-domain growth analysis of impact on adolescent externalizing and internalizing problems. Dev Psychopathol 13(4):891–912

64.

Dunn EC et al (2018) What life course theoretical models best explain the relationship between exposure to childhood adversity and psychopathology symptoms: recency, accumulation, or sensitive periods? Psychol Med 48(15):2562–2572

65.

Smith AD et al (2016) A structured approach to hypotheses involving continuous exposures over the life course. Int J Epidemiol 45(4):1271–1279

66.

Ben-Shlomo Y, Kuh D (2002) A life course approach to chronic disease epidemiology: conceptual models, empirical challenges, and interdisciplinary perspectives. Int J Epidemiol 31:285–293

67.

Evans GW, Li D, Whipple SS (2013) Cumulative risk and child development. Psychol Bull 139(1):342–396

68.

Shanahan L et al (2011) Child-, adolescent- and young adult-onset depressions: differential risk factors in development? Psychol Med 41(11):2265–2274

69.

Dunn EC et al (2013) Developmental timing of child maltreatment and symptoms of depression and suicidal ideation in young adulthood: results from the National Longitudinal Study of Adolescent Health. Depress Anxiety 30(10):955–964

70.

Teicher MH, Anderson CM, Polcari A (2012) Childhood maltreatment is associated with reduced volume in the hippocampal subfields CA3, dentate gyrus, and subiculum. Pro Nat Acad Sci 109(9):E563–E572

71.

Westgarth C et al (2013) Pet ownership, dog types and attachment to pets in 9–10 year old children in Liverpool. UK BMC Vet Res 9:102
Acknowledgments
This publication is the work of the authors, each of whom serve as guarantors for the contents of this paper. This work was conducted with support from the National Institutes of Health Award K01MH102403 and R01MH113930. The content is solely the responsibility of the authors and does not necessarily represent the official views of the National Institutes of Health. The authors thank Janine Cerutti for her assistance in preparing this manuscript for publication.
Funding
We are extremely grateful to all the families who took part in this study, the midwives for their help in recruiting them, and the whole ALSPAC team, which includes interviewers, computer and laboratory technicians, clerical workers, research scientists, volunteers, managers, receptionists and nurses. The UK Medical Research Council and the Wellcome Trust (Grant ref: 102215/2/13/2) and the University of Bristol provide core support for ALSPAC. A comprehensive list of grants funding is available on the ALSPAC website (https://www.bristol.ac.uk/alspac/external/documents/grant-acknowledgements.pdf).
Ethics declarations
Conflict of interest
On behalf of all authors, the corresponding author, states that there is no conflict of interest. All authors have completed the ICMJE uniform disclosure form at www.icmje.org/coi_disclosure.pdf and declare: no support from any organization for the submitted work; no financial relationships with any organizations that might have an interest in the submitted work in the previous 3 years; no other relationships or activities that could appear to have influenced the submitted work.
License for publication
The Corresponding Author has the right to grant on behalf of all authors and does grant on behalf of all authors, a worldwide license to the Publishers and its licensees in perpetuity, in all forms, formats and media (whether known now or created in the future), to (i) publish, reproduce, distribute, display and store the Contribution, (ii) translate the Contribution into other languages, create adaptations, reprints, include within collections and create summaries, extracts and/or, abstracts of the Contribution, (iii) create any other derivative work(s) based on the Contribution, (iv) to exploit all subsidiary rights in the Contribution, (v) the inclusion of electronic links from the Contribution to third party material where-ever it may be located; and, (vi) license any third party to do any or all of the above.
Ethical approval
Ethical approval for the study was obtained from the ALSPAC Ethics and Law Committee and the Local Research Ethics Committee. Informed consent for the use of data collected via questionnaires and clinics was obtained from participants following the recommendations of the ALSPAC Ethics and Law Committee at the time. More details are available on the ALSPAC website (www.bristol.ac.uk/alspac), including a fully searchable data dictionary.
Transparency statement
Dr. Erin C. Dunn, the manuscript's senior author and grantor, affirms that this manuscript is an honest, accurate, and transparent account of the study being reported; that no important aspects of the study have been omitted; and that any discrepancies from the study as planned (and, if relevant, registered) have been explained.
Electronic supplementary material
Below is the link to the electronic supplementary material.
About this article
Cite this article
Crawford, K.M., Zhu, Y., Davis, K.A. et al. The mental health effects of pet death during childhood: is it better to have loved and lost than never to have loved at all?. Eur Child Adolesc Psychiatry (2020). https://doi.org/10.1007/s00787-020-01594-5
Received:

Accepted:

Published:
Keywords
Depressive disorders

Epidemiology

Cohort

Trauma

Risk assessment

Childhood

Experience

Pet

Death