Abstract
The causes of mental disorders are multifactorial including genetic and environmental exposures, parental psychopathology being the greatest risk factor for their offspring. We set out to quantify the risk of parental psychiatric morbidity with the incidence of mental disorders among their offspring before the age of 22 years and study the sex- and age-specific associations. The present study utilises the 1987 Finnish Birth Cohort (FBC) data, which is a register-based follow-up of all 60,069 children born in Finland 1987 and followed-up until 2008. Data on psychiatric morbidity are based on inpatient care episodes of parents and both inpatient and outpatient visits of offspring and were collected from the Finnish Hospital Discharge Register which covers all Finnish citizens accessing specialized care. Altogether 7.6% of the cohort members had a parent or both parents treated at psychiatric inpatient care during the follow-up. Parental psychiatric morbidity increased the offspring's risk for psychiatric diagnoses two to threefold versus those children without parental psychiatric hospitalization, mother's morbidity comprising a greater risk than that of father's. The risk was prominent for both sexes of the offspring throughout childhood and adolescence. Psychiatric disorders possess significant intergenerational continuum. It is essential to target preventive efforts on the high-risk population that comprises families with a parent or both having mental disorders. It also implies developing appropriate social and health care interventions to support the whole family.
Access options
Buy single article
Instant access to the full article PDF.
USD 39.95
Price excludes VAT (USA)
Tax calculation will be finalised during checkout.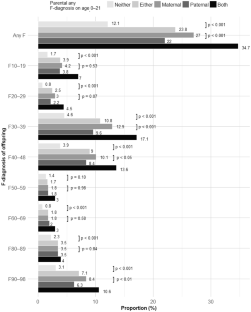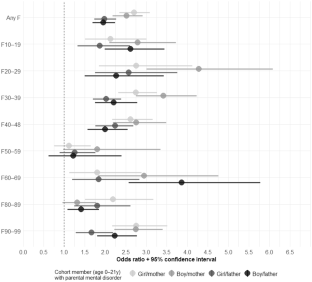 References
Kessler RC, Davis CG, Kendler KS (1997) Childhood adversity and adult psychiatric disorder in the US National Comorbidity Study. Psychol Med 27:1101–1119

Pirkola S, Isometsä E, Aro H, Kestilä L, Hämäläinen J, Veijola J et al (2005) Childhood adversities as risk factors for adult mental disorders. Results from the Health 2000 study. Soc Psychiatry Psychiatr Epidemiol 40:769–777

Greif Green J, McLaughlin KA, Berglund PA, Gruber MJ, Sampson NA, Zaslavsky AM et al (2010) Childhood adversities and adult psychiatric disorders in the National Comorbility Survey Replication I. Arch Gen Psychiatry 67:113–123

McLaughlin KA, Gadermann AM, Hwang I, Sampson NA, Al-Hamzawi A, Andrade LH et al (2012) Parent psychopathology and offspring mental disorders: results from the WHO World Mental Health Surveys. Br J Psychiatry 200:290–299

D'Onofrio BM, Slutske WS, Turkheimer E, Emery RE, Harden KP, Heath AC et al (2007) Intergenerational transmission of childhood conduct problems. A children of twins study. Arch Gen Psychiatry 64:820–829

Johnson SE, Lawrence D, Perales F, Baxter J, Zubrick SR (2018) Prevalence of mental disorders among children and adolescents of parents with self-reported mental health problems. Community Ment Health J 54:884–897

Rasic D, Hajek T, Alda M, Uher R (2014) Risk of mental illness in offspring of parents with schizophrenia, bipolar disorder, and major depressive disorder: a meta-analysis of family high-risk studies. Schizophr Bull 40:28–38

Gottesman II, Laursen TM, Bertelsen A, Mortensen PB (2010) Severe mental disorders in offspring with 2 psychiatrically ill parents. Arch Gen Psychiatry 67:252–257

Connell AM, Goodman SH (2002) The association between psychopathology in fathers versus mothers and children's internalizing and externalizing behavior problems: a meta-analysis. Psychol Bull 128:746–773

Malmberg L-E, Flouri E (2011) The comparison and interdependence of maternal and paternal influences on young children's behavior and resilience. J Clin Child Adolesc Psychol 40:434–444

Aylott A, Zwicker A, MacKenzie LE, Cumby J, Propper L, Abidi S et al (2019) Like father like daughter: sex-specific parent-of-origin effects in the transmission of liability for psychotic symptoms to offspring. J Dev Orig Health Dis 10:100–107

Goldstein JM, Cherkerzian S, Seidman LJ, Petryshen TL, Fitzmaurice G, Tsuang MT, Buka SL (2011) Sex-specific rates of transmission of psychosis in the New England high-risk family study. Schizophr Res 128:150–155

Nomura Y, Warner V, Wickramaratne P (2001) Parents concordant for major depressive disorder and the effect of psychopathology in offspring. Psychol Med 31:1211–1222

Gutierrez-Galve L, Stein A, Hanington L, Heron J, Ramchandani P (2015) Paternal depression in the postnatal period and child development: mediators and moderators. Pediatrics 135:2014–2411

Bouma E, Ormel J, Verhulst F, Oldehinkel A (2008) Stressful life events and depressive problems in early adolescent boys and girls: the influence of parental depression, temperament and family environment. J Affect Disord 105:185–193

van Santvoort F, Hosman CM, Janssens JM, van Doesum KT, Reupert A, van Loon LM (2015) The impact of various parental mental disorders on children's diagnoses: a systematic review. Clin Child Fam Psychol Rev 18:281–299

Dean K, Stevens H, Mortensen PB, Murray RM, Walsh E, Pedersen CB (2010) Full spectrum of psychiatric outcomes among offspring with parental history of mental disorder. Arch Gen Psychiatry 67:822–829

Ramchandani P, Psychogiou L (2009) Paternal psychiatric disorders and children's psychosocial development. Lancet 374(9690):646–653

Gershon A, Hayward C, Schraedley-Desmond P, Rudolph KD, Booster GD, Gotlib IH (2011) Life stress and first onset of psychiatric disorders in daughters of depressed mothers. J Psychiatr Res 45:855–862

Psychogiou L, Moberly NJ, Parry E, Nath S, Kallitsoglou A, Russell G (2017) Parental depressive symptoms, children's emotional and behavioural problems, and parents' expressed emotion-critical and positive comments. PLoS ONE 12(10):e0183546

Fletcher RJ, Feeman E, Garfield C, Vimpani G (2011) The effects of early paternal depression on children's development. Med J Aust 195:685–689

Paananen R, Ristikari T, Merikukka M, Gissler M (2013) Social determinants of mental health: a Finnish nationwide follow-up study on mental disorders. J Epidemiol Commun Health 67:1025–1031

Paananen R, Santalahti P, Merikukka M, Rämö A, Wahlbeck K, Gissler M (2013) Socioeconomic and regional aspects in the use of specialized psychiatric care—a Finnish nationwide follow-up study. Eur J Public Health 23:372–377

Saukkonen S (2009) Special health care and mental health care 2008. Statistical report/Terveyden ja hyvinvoinnin laitos (THL):200924/2009. http://urn.fi/URN:NBN:fi-fe201205085018. Accessed 1 Apr 2020

Tick NT, van der Ende J, Verhulst FC (2008) Ten-year increase in service use in the Dutch population. Eur Child Adolesc Psychiatry 17:373–380

Zwaanswijk M, Verhaak PF, Bensing JM, van der Ende J, Verhulst FC (2003) Help seeking for emotional and behavioural problems in children and adolescents: a review of recent literature. Eur Child Adolesc Psychiatry 12:153–161

Demyttenaere K, Bruffaerts R, Posada-Villa J, Gasquet I, Kovess V, Lepine JP et al (2004) Prevalence, severity, and unmet need for treatment of mental disorders in the World Health Organization World Mental Health Surveys. JAMA 291:2581–2590

Patten SB, Williams VA, Lavorato DH, Bulloch AGM, D'Arcy C, Streiner DL (2012) Recall of recent and more remote depressive episodes in a prospective cohort study. Soc Psychiatry Psychiatr Epidemiol 47:691–696

Moffitt TE, Caspi A, Taylor A, Kokaua J, Milne BJ, Polanczyk G, Poulton R (2010) How common are common mental disorders? Evidence that lifetime prevalence rates are doubled by prospective versus retrospective ascertainment. Psychol Med 40:899–909

Paananen R, Gissler M (2012) Cohort profile: the 1987 Finnish Birth Cohort. Int J Epidemiol 41:941–945

Gissler M, Haukka J (2004) Finnish health and social welfare registers in epidemiological research. Norsk Epidemiologi 14:113–120

Beardslee WR, Versage EM, Gladstone TR (1998) Children of affectively ill parents: a review of the past 10 years. J Am Acad Child Adolesc Psychiatry 37:1134–1141

Beardslee WR, Gladstone TR, O'Connor EE (2011) Transmission and prevention of mood disorders among children of affectively ill parents: a review. J Am Acad Child Adolesc Psychiatry 50:1098–1109

Burke L (2003) The impact of maternal depression on familial relationships. Int Rev Psychiatr 15:243–255

Elgar FJ, McGrath PJ, Waschbusch DA, Stewart SH, Curtis LJ (2004) Mutual influences on maternal depression and child adjustment problems. Clin Psychol Rev 24:441–459

Nath S, Russell G, Kuyken W, Psychogiou L, Ford T (2016) Does father-child conflict mediate the association between fathers' postnatal depressive symptoms and children's adjustment problems at 7 years old? Psychol Med 46:1719–1733

Allen JP, Manning N, Meyer J (2010) Tightly linked systems: reciprocal relations between maternal depressive symptoms and maternal reports of adolescent externalizing behavior. J Abnorm Psychol 119:825–835

Appleyard K, Egeland B, van Dulmen MH, Sroufe LA (2005) When more is not better: the role of cumulative risk in child behavior outcomes. J Child Psychol Psychiatry 46(3):235–245

Fryers T, Brugha T (2013) Childhood determinants of adult psychiatric disorder. Clin Pract Epidemiol Ment Health 9:1–50

McGrath JJ, McLaughlin KA, Saha S, Aguilar-Gaxiola S, Al-Hamzawi A, Alonso J et al (2017) The association between childhood adversities and subsequent first onset of psychotic experiences: a cross-national analysis of 23 998 respondents from 17 countries. Psychol Med 47:1230–1245

Solantaus T, Paavonen EJ (2009) Impact of parents' mental health disorders on psychiatric problems of the offspring (Article in Finnish). Duodecim 125:1839–1844

Zwicker A, MacKenzie LE, Drobinin V, Howes Vallis E, Patterson VC, Stephens M et al (2019) Basic symptoms in offspring of parents with mood and psychotic disorders. BJPsych Open 5(4):e54

Maciejewski D, Hillegers M, Penninx B (2018) Offspring of parents with mood disorders: time for more transgenerational research, screening and preventive intervention for this high-risk population. Curr Opin Psychiatry 31:349–357
Ethics declarations
Conflict of interest
The authors declare that they have no conflict of interest.
Ethical approval
The study obtained ethics approval of the Ethical committee at the Finnish Institute for Health and Welfare §28/2009 and have therefore been performed in accordance with the ethical standards laid down in the 1964 Declaration of Helsinki and its later amendments.
Electronic supplementary material
Below is the link to the electronic supplementary material.
About this article
Cite this article
Paananen, R., Tuulio-Henriksson, A., Merikukka, M. et al. Intergenerational transmission of psychiatric disorders: the 1987 Finnish Birth Cohort study. Eur Child Adolesc Psychiatry 30, 381–389 (2021). https://doi.org/10.1007/s00787-020-01524-5
Received:

Accepted:

Published:

Issue Date:

DOI: https://doi.org/10.1007/s00787-020-01524-5
Keywords