Abstract
Psychiatric comorbidity in traumatized youth is prevalent, but such associations between two disorders may be confounded with other comorbid conditions. Few studies have examined the unique relationships among multiple disorders. Which disorders maximally explain the relationships between others and whether such disorders differ by sex remain largely unknown. Using a construct-level network approach, this study characterized the independent associations among nine prevalent emotional and behavioral disorders/problems evaluated by the PTSD Checklist for DSM-5, the Revised Children's Anxiety and Depression Scale, and the Youth Self-Report in a sample of 1181 disaster-exposed adolescents (53.9% girls; a mean age of 14.3 \(\pm \) 0.8 years). The associations were strong among the seven internalizing problems and between the two externalizing ones, but weaker between these two spectra of psychopathology. Major depressive disorder (MDD) was most strongly connected with others, maximally accounting for the associations, especially those between the two spectra. Overall and individual association strength and the connecting role of MDD were generally equivalent across sex. These findings highlight the necessity of MDD in linking comorbid forms of psychopathology in traumatized youth, and suggest MDD as a potential intervention priority in this population.
Access options
Buy single article
Instant access to the full article PDF.
US$ 39.95
Tax calculation will be finalised during checkout.
Subscribe to journal
Immediate online access to all issues from 2019. Subscription will auto renew annually.
US$ 159
Tax calculation will be finalised during checkout.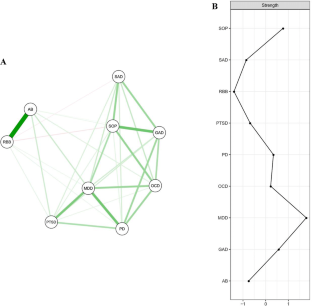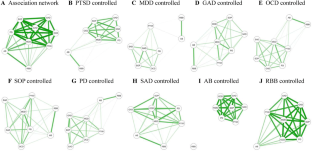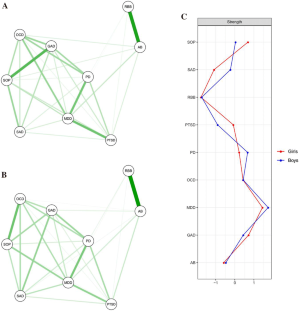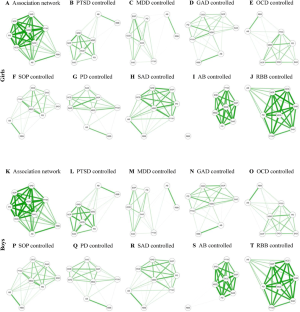 References
1.

Kessler RC, Berglund P, Demler O, Jin R, Merikangas KR, Walters EE (2005) Lifetime prevalence and age-of-onset distributions of DSM-IV disorders in the National Comorbidity Survey Replication. Arch Gen Psychiatry 62:593–602

2.

Copeland WE, Keeler G, Angold A, Costello EJ (2007) Traumatic events and posttraumatic stress in childhood. Arch Gen Psychiatry 64:577–584

3.

Hoven CW, Duarte CS, Lucas CP et al (2005) Psychopathology among New York City public school children 6 months after September 11. Arch Gen Psychiatry 62:545–551

4.

Cheng J, Liang Y, Fu L, Liu Z (2018) Posttraumatic stress and depressive symptoms in children after the Wenchuan earthquake. Eur J Psychotraumatol 9:1472992

5.

Goenjian AK, Pynoos RS, Steinberg AM et al (1995) Psychiatric comorbidity in children after the 1988: Earthquake in Armenia. J Am Acad Child Adolesc Psychiatry 34:1174–1184

6.

Lewinsohn PM, Rohde P, Seeley JR (1995) Adolescent psychopathology: III. The clinical consequences of comorbidity. J Am Acad Child Adolesc Psychiatry 34:510–519

7.

Anker JJ, Forbes MK, Almquist ZW et al (2017) A network approach to modeling comorbid internalizing and alcohol use disorders. J Abnorm Psychol 126:325–339

8.

Hoorelbeke K, Marchetti I, De Schryver M, Koster EH (2016) The interplay between cognitive risk and resilience factors in remitted depression: a network analysis. J Affect Disord 195:96–104

9.

McElroy E, Shevlin M, Murphy J, McBride O (2018) Co-occurring internalizing and externalizing psychopathology in childhood and adolescence: a network approach. Eur Child Adolesc Psychiatry 27:1449–1457

10.

Geng F, Zhou Y, Liang Y et al (2019) Posttraumatic stress disorder and psychiatric comorbidity among adolescent earthquake survivors: a longitudinal cohort study. J Abnorm Child Psychol 47:671–681

11.

McNally RJ (2016) Can network analysis transform psychopathology? Behav Res Ther 86:95–104

12.

Borsboom D (2017) A network theory of mental disorders. World Psychiatry 16:5–13

13.

Haag C, Robinaugh DJ, Ehlers A, Kleim B (2017) Understanding the emergence of chronic posttraumatic stress disorder through acute stress symptom networks. JAMA Psychiatry 74:649–650

14.

Robinaugh DJ, Millner AJ, McNally RJ (2016) Identifying highly influential nodes in the complicated grief network. J Abnorm Psychol 125:747–757

15.

McNally RJ (2017) Networks and nosology in posttraumatic stress disorder. JAMA Psychiatry 74:124–125

16.

van Borkulo CD, Boschloo L, Borsboom D, Penninx BW, Waldorp LJ, Schoevers RA (2015) Association of symptom network structure with the course of longitudinal depression. JAMA Psychiatry 72:1219–1226

17.

van Rooijen G, Isvoranu AM, Kruijt OH et al (2018) A state-independent network of depressive, negative and positive symptoms in male patients with schizophrenia spectrum disorders. Schizophr Res 193:232–239

18.

Horesh D, Lowe SR, Galea S, Uddin M, Koenen KC (2015) Gender differences in the long-term associations between posttraumatic stress disorder and depression symptoms: findings from the Detroit neighborhood health study. Depress Anxiety 32:38–48

19.

McLean CP, Asnaani A, Litz BT, Hofmann SG (2011) Gender differences in anxiety disorders: prevalence, course of illness, comorbidity and burden of illness. J Psychiatr Res 45:1027–1035

20.

Wiesner M (2003) A longitudinal latent variable analysis of reciprocal relations between depressive symptoms and delinquency during adolescence. J Abnorm Psychol 112:633–645

21.

Weathers FW, Litz BT, Keane TM, Palmieri PA, Marx BP, Schnurr PP (2013) The PTSD checklist for DSM-5 (PCL-5). https://www.ptsd.va.gov. Accessed 4 May 2014

22.

Krüger-Gottschalk A, Knaevelsrud C, Rau H et al (2017) The German version of the Posttraumatic Stress Disorder Checklist for DSM-5 (PCL-5): Psychometric properties and diagnostic utility. BMC Psychiatry 17:379

23.

Liu L, Wang L, Cao C, Qing Y, Armour C (2016) Testing the dimensional structure of DSM-5 posttraumatic stress disorder symptoms in a nonclinical trauma-exposed adolescent sample. J Child Psychol Psychiatry 57:204–212

24.

Chorpita BF, Yim L, Moffitt C, Umemoto LA, Francis SE (2000) Assessment of symptoms of DSM-IV anxiety and depression in children: a revised child anxiety and depression scale. Behav Res Ther 38:835–855

25.

Chorpita BF, Moffitt CE, Gray J (2005) Psychometric properties of the revised child anxiety and depression scale in a clinical sample. Behav Res Ther 43:309–322

26.

Achenbach TM (1991) Manual for the youth self-report and 1991 profile. Department of Psychiatry, University of Vermont, Burlington

27.

Leung PW, Kwong SL, Tang CP et al (2006) Test-retest reliability and criterion validity of the Chinese version of CBCL, TRF, and YSR. J Child Psychol Psychiatry 47:970–973

28.

Epskamp S, Fried EI (2016) A tutorial on regularized partial correlation networks. https://arxiv.org/abs/1607.01367. Accessed 7 July 2018

29.

Epskamp S, Cramer AO, Waldorp LJ, Schmittmann VD, Borsboom D (2012) qgraph: network visualizations of relationships in psychometric data. J Stat Softw 48:1–18

30.

Friedman JH, Hastie T, Tibshirani R (2008) Sparse inverse covariance estimation with the graphical lasso. Biostatistics 9:432–441

31.

Borsboom D, Cramer AO (2013) Network analysis: an integrative approach to the structure of psychopathology. Annu Rev Clin Psychol 9:91–121

32.

Fruchterman TM, Reingold EM (1991) Graph drawing by force-directed placement. Softw Pract Exp 21:1129–1164

33.

Opsahl T, Agneessens F, Skvoretz J (2010) Node centrality in weighted networks: generalizing degree and shortest paths. Soc Netw 32:245–251

34.

Epskamp S, Borsboom D, Fried EI (2018) Estimating psychological networks and their accuracy: a tutorial paper. Behav Res Methods 50:195–212

35.

Forbes MK, Wright AG, Markon KE, Krueger RF (2017) Evidence that psychopathology symptom networks have limited replicability. J Abnorm Psychol 126:969–988

36.

McNally RJ, Heeren A, Robinaugh DJ (2017) A Bayesian network analysis of posttraumatic stress disorder symptoms in adults reporting childhood sexual abuse. Eur J Psychotraumatol 8:1341276

37.

Terluin B, de Boer MR, de Vet HC (2016) Differences in connection strength between mental symptoms might be explained by differences in variance: reanalysis of network data did not confirm staging. PLoS ONE 11:e0155205

38.

Cohen J (1988) Statistical power analysis for the behavioral sciences, 2nd edn. Lawrence Erlbaum Associates, Hillsdale

39.

van Borkulo CD (2016) NetworkComparisonTest: statistical comparison of two networks based on three invariance measures. https://cran.r-project.org/web/packages/NetworkComparisonTest/index.html. Accessed 7 July 2018

40.

Jones PJ (2018) Networktools: tools for identifying important nodes in networks. https://cran.rproject.org/web/packages/networktools/index.html. Accessed 7 July 2018

41.

Vitaro F, Tremblay RE, Kerr M, Pagani L, Bukowski WM (1997) Disruptiveness, friends' characteristics, and delinquency in early adolescence: a test of two competing models of development. Child Dev 68:676–689

42.

Bittner A, Egger HL, Erkanli A, Costello EJ, Foley DL, Angold A (2007) What do childhood anxiety disorders predict? J Child Psychol Psychiatry 48:1174–1183

43.

Saigh PA, Yasik AE, Oberfield RA, Halamandaris PV, McHugh M (2002) An analysis of the internalizing and externalizing behaviors of traumatized urban youth with and without PTSD. J Abnorm Psychol 111:462–470

44.

Copeland WE, Shanahan L, Costello EJ, Angold A (2009) Childhood and adolescent psychiatric disorders as predictors of young adult disorders. Arch Gen Psychiatry 66:764–772

45.

Watson D (2005) Rethinking the mood and anxiety disorders: a quantitative hierarchical model for DSM-V. J Abnorm Psychol 114:522–536

46.

Angold A, Costello EJ, Erkanli A (1999) Comorbidity. J Child Psychol Psychiatry 40:57–87

47.

Vidal-Ribas P, Brotman MA, Valdivieso I, Leibenluft E, Stringaris A (2016) The status of irritability in psychiatry: a conceptual and quantitative review. J Am Acad Child Adolesc Psychiatry 55:556–570

48.

Moshier SJ, Bovin MJ, Gay NG et al (2018) Examination of posttraumatic stress disorder symptom networks using clinician-rated and patient-rated data. J Abnorm Psychol 127:541–547

49.

Trickey D, Siddaway AP, Meiser-Stedman R, Serpell L, Field AP (2012) A meta-analysis of risk factors for post-traumatic stress disorder in children and adolescents. Clin Psychol Rev 32:122–138
Acknowledgements
This study was funded by the External Cooperation Program of Chinese Academy of Sciences (153111KYSB20160036), the National Natural Science Foundation of China (31271099, 31471004), and the Key Project of Research Base of Humanities and Social Sciences of Ministry of Education (16JJD190006).
Ethics declarations
Conflict of interest
The authors declare that they have no conflict of interest.
Ethical approval
This study has been approved by the Institutional Review Board of the Institute of Psychology, Chinese Academy of Sciences and has been performed in accordance with the 1964 Declaration of Helsinki and its later amendments.
Informed consent
Informed consent/assent was obtained from all participants and their guardians.
Electronic supplementary material
Below is the link to the electronic supplementary material.
About this article
Cite this article
Cao, X., Wang, L., Cao, C. et al. Depicting the associations between different forms of psychopathology in trauma-exposed adolescents. Eur Child Adolesc Psychiatry 29, 827–837 (2020). https://doi.org/10.1007/s00787-019-01400-x
Received:

Accepted:

Published:

Issue Date:
Keywords
Comorbidity

Trauma

Sex

Adolescence