Abstract
There is sparse knowledge on how the amount of gaming overlaps with—and is longitudinally related to—psychiatric symptoms of ADHD and emotional problems throughout early and middle childhood. In this prospective study of 791 Norwegian children, we investigated the amount of electronic gaming at ages 6, 8, and 10 while also measuring DSM symptoms of such disorders. Cross-lagged longitudinal analyses showed that more ADHD symptoms at age 8 predicted more gaming at age 10, whereas gaming did not predict more psychiatric symptoms, controlled for gender and socio-economic status. Cross-sectional overlaps between gaming and symptoms were marginal but nonetheless increased with each age level. Hence, time spent gaming did not forecast more psychiatric problems at these ages, but children with more ADHD symptoms were more likely to increase their amount of gaming throughout middle childhood. Results indicate that the sheer amount of gaming is not harmful to children's mental health, but that poorly regulated children become more attracted to games throughout childhood. Findings are discussed in light of the coexistence of problematic gaming and psychiatric problems reported among adolescents and adults, as well as the potential beneficial psychological outcomes from gaming.
This is a preview of subscription content, log in to check access.
Access options
Buy single article
Instant access to the full article PDF.
US$ 39.95
Price includes VAT for USA
Subscribe to journal
Immediate online access to all issues from 2019. Subscription will auto renew annually.
US$ 199
This is the net price. Taxes to be calculated in checkout.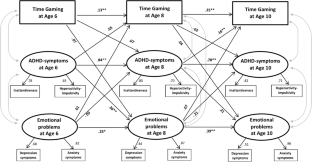 References
1.

Angold A, Costello EJ (2000) The child and adolescent psychiatric assessment (CAPA). J Am Acad Child Adolesc Psychiatry 39:39–48. https://doi.org/10.1097/00004583-200001000-00015

2.

American Psychiatric Association (1994) Diagnostic and statistical manual of mental disorders, 4th edn. Author, Washington, DC

3.

Baumeister RF (1991) Escaping the self: alcoholism, spirituality, masochism, and other flights from the burden of selfhood. Basic Books, New York

4.

Bussing R, Zima BT, Perwien AR (2000) Self-esteem in special education children with ADHD: relationship to disorder characteristics and medication use. J Am Acad Child Adolesc Psychiatry 39:1260–1269. https://doi.org/10.1097/00004583-200010000-00013

5.

Brunborg GS, Mentzoni RA, Frøyland LR (2014) Is video gaming, or video game addiction, associated with depression, academic achievement, heavy episodic drinking, or conduct problems? J Behav Addict 3:27–32. https://doi.org/10.1556/JBA.3.2014.002

6.

Carruth B, Wright DG, White RK (2014) Addiction intervention: strategies to motivate treatment-seeking behavior. Routledge, Oxford

7.

Cole SH, Hooley JM (2013) Clinical and personality correlates of MMO gaming. Soc Sci Comput Rev 31:424–436. https://doi.org/10.1177/0894439312475280

8.

Costello EJ, Mustillo S, Erkanli A, Keeler G, Angold A (2003) Prevalence and development of psychiatric disorders in childhood and adolescence. Arch Gen Psychiatry 60:837–844. https://doi.org/10.1001/archpsyc.60.8.837

9.

Coyne SM, Warburton WA, Essig LW, Stockdale LA (2018) Violent video games, externalizing behavior, and prosocial behavior: a five-year longitudinal study during adolescence. Develop Psychol 54:1868–1880

10.

Csikszentmihalyi M (1998) Finding flow: the psychology of engagement with everyday life. Basic Books, New York

11.

Durkin K, Barber B (2002) Not so doomed: computer game play and positive adolescent development. J Appl Dev Psychol 23(4):373–392

12.

Egger HL, Erkanli A, Keeler G, Potts E, Walter BK, Angold A (2006) Test-retest reliability of the preschool age psychiatric assessment (PAPA). J Am Acad Child Adolesc Psychiatr 45(5):538–549

13.

Gentile DA (2009) Pathological video-game use among youth ages 8 to 18 A National study. Psychol Sci 20:594–602. https://doi.org/10.1111/j.1467-9280.2009.02340.x

14.

Gentile DA, Choo H, Liau A, Sim T, Li D, Fung D, Khoo A (2011) Pathological video game use among youths: a two-year longitudinal study. Pediatrics 127:319–329. https://doi.org/10.1542/peds.2010-1353

15.

Gentile DA, Swing EL, Lim CG, Khoo A (2012) Video game playing, attention problems, and impulsiveness: evidence of bidirectional causality. Psychol Popul Media Cult 1:62–70. https://doi.org/10.1037/a0026969

16.

Hagström D, Kaldo V (2014) Escapism among players of MMORPGs—conceptual clarification, its relation to mental health factors, and development of a new measure. Cyberpsychol Behav Soc Netw 17:19–25. https://doi.org/10.1089/cyber.2012.0222

17.

Heitzler CD, Martin SL, Duke J, Huhman M (2006) Correlates of physical activity in a national sample of children aged 9–13 years. Prev Med 42:254–260. https://doi.org/10.1016/j.ypmed.2006.01.010

18.

Hjorth L, Richardson I (2014) Gaming in social, locative and mobile media. Springer, New York

19.

Hu L, Bentler PM (1999) Cutoff criteria for fit indexes in covariance structure analysis: conventional criteria versus new alternatives. Struct Equ Model Multidiscipl J 6:1–55. https://doi.org/10.1080/10705519909540118

20.

Jensen PS, Mrazek D, Knapp PK, Steinberg L, Pfeffer C, Schowalter J, Shapiro T (1997) Evolution and revolution in child psychiatry: ADHD as a disorder of adaptation. J Am Acad Child Adolesc Psychiatry 36:1672–1681. https://doi.org/10.1097/00004583-199712000-00015

21.

Kardefelt-Winther D, Heeren A, Schimmenti A, van Rooij A, Maurage P, Carras M, Billieux J et al (2017) How can we conceptualize behavioural addiction without pathologizing common behaviours? Addiction 112(10):1709–1715. https://doi.org/10.1111/add.13763

22.

Kuss DJ, Griffiths MD (2012) Internet gaming addiction: a systematic review of empirical research. Int J Ment Health Addict 10:278–296. https://doi.org/10.1007/s11469-011-9318-5

23.

Kuss DJ, Louws J, Wiers RW (2012) Online gaming addiction? Motives predict addictive play behavior in massively multiplayer online role-playing games. Cyberpsychol Behav Soc Netw 15:480–485. https://doi.org/10.1089/cyber.2012.0034

24.

Lafrenière M-AK, Verner-Filion J, Vallerand RJ (2012) Development and validation of the Gaming Motivation Scale (GAMS). Personal Individ Differ 53:827–831. https://doi.org/10.1016/j.paid.2012.06.013

25.

Lang A, Zhou S, Schwartz N, Bolls PD, Potter RF (2000) The effects of edits on arousal, attention, and memory for television messages: when an edit is an edit can an edit be too much? J Broadcast Electron Media 44:94–109. https://doi.org/10.1207/s15506878jobem4401_7

26.

Lemmens JS, Valkenburg PM, Peter J (2011) Psychosocial causes and consequences of pathological gaming. Comput Hum Behav 27:144–152. https://doi.org/10.1016/j.chb.2010.07.015

27.

Marsh HW, Hau K-T, Wen Z (2004) In search of golden rules: Comment on hypothesis-testing approaches to setting cutoff values for fit indexes and dangers in overgeneralizing Hu and Bentler's (1999) findings. Struct Equ Model 11:320–341. https://doi.org/10.1207/s15328007sem1103_2

28.

Mathiak KA, Klasen M, Weber R, Ackermann H, Shergill SS, Mathiak K (2011) Reward system and temporal pole contributions to affective evaluation during a first-person shooter video game. BMC Neurosci 12(1):66. https://doi.org/10.1186/1471-2202-12-66

29.

Mazurek MO, Engelhardt CR (2013) Video game use in boys with autism spectrum disorder, ADHD, or typical development. Pediatrics 132:260–266. https://doi.org/10.1542/peds.2012-3956

30.

Medietilsynet (2016). Barn og medier 2016. https://www.barnogmedier2016.no/mediehverdagen. Accessed 24 Aug 2018

31.

Mehroof M, Griffiths MD (2010) Online gaming addiction: the role of sensation seeking, self-control, neuroticism, aggression, state anxiety, and trait anxiety. Cyberpsychol Behav Soc Netw 13:313–316. https://doi.org/10.1089/cyber.2009.0229

32.

Mentzoni RA, Brunborg GS, Molde H, Myrseth H, Skouverøe KJM, Hetland J, Pallesen S (2011) Problematic video game use: estimated prevalence and associations with mental and physical health. Cyberpsychol Behav Soc Netw 14:591–596. https://doi.org/10.1089/cyber.2010.0260

33.

Moosbrugger H, Schermelleh-Engel K, Kelava A, Klein AG (2009) Testing multiple nonlinear Effectsin structural equation modeling: a comparison of alternative estimation approaches. In: Teo T, Khine MS (eds.) Structural equation modelling in educational research: concepts and applications. Sense Publishers, Rotterdam ( Muthén, L. K., & Muthén, B. O. (2012). Mplus (Version 7.1). Los Angeles, CA: Author)

34.

Nikkelen SW, Valkenburg PM, Huizinga M, Bushman BJ (2014) Media use and ADHD-related behaviors in children and adolescents: a meta-analysis. Dev Psychol 50:2228–2241. https://doi.org/10.1037/a0037318

35.

Petry NM, Rehbein F, Gentile DA, Lemmens JS, Rumpf HJ, Mößle T, Borges G et al (2014) An international consensus for assessing Internet gaming disorder using the new DSM-5 approach. Addiction 109:1399–1406. https://doi.org/10.1111/add.12457

36.

Rikkers W, Lawrence D, Hafekost J, Zubrick SR (2016) Internet use and electronic gaming by children and adolescents with emotional and behavioural problems in Australia—results from the second Child and Adolescent Survey of Mental Health and Wellbeing. BMC Public Health 16:399. https://doi.org/10.1186/s12889-016-3058-1

37.

Steinsbekk S, Wichstrøm L (2018) Cohort profile: the Trondheim Early Secure study (TESS)—a study of mental health, psychosocial development and health behavior from preschool to adolescence. Int J Epidemiol. https://doi.org/10.1093/ije/dyy190

38.

Stenseng F, Rise J, Kraft P (2012) Activity engagement as escape from self: the role of self-suppression and self-expansion. Leisure Sci 34:19–38. https://doi.org/10.1111/jopy.12096

39.

Stenseng F, Belsky J, Skalicka V, Wichstrøm L (2015) Social exclusion predicts impaired self-regulation: a 2-year longitudinal panel study including the transition from preschool to school. J Personal 83(2):212–220. https://doi.org/10.1111/jopy.12096

40.

Strahler Rivero T, Herrera Nuñez LM, Uehara Pires E, Amodeo Bueno OF (2015) ADHD rehabilitation through video gaming: a systematic review using PRISMA guidelines of the current findings and the associated risk of bias. Front Psychiatry 6:151. https://doi.org/10.3389/fpsyt.2015.00151

41.

The Norwegian Media Authority (2016) Barn og medier 2016. Retreived from http://www.barnogmedier2016.no/mediehverdagen. Accessed 24 Aug 2018

42.

The NPD Group (2015) Kids and gaming 2015. https://www.npd.com/wps/portal/npd/us/news/press-releases/2015/kids-move-away-from-home-computers-for-gaming-in-droves/. Accessed 24 Aug 2018

43.

Swing EL, Gentile DA, Anderson CA, Walsh DA (2010) Television and video game exposure and the development of attention problems. Pediatrics 126:214–221. https://doi.org/10.1542/peds.2009-1508

44.

Van Rooij AJ, Ferguson CJ, Colder Carras M, Kardefelt-Winther D, Shi J, Aarseth E, Deleuze J et al (2018) A weak scientific basis for gaming disorder: let us err on the side of caution. J Behav Addict 7(1):1–9. https://doi.org/10.1556/2006.7.2018.19

45.

Wichstrøm L, Stenseng F, Belsky von Soest JT, Hygen BW (2018) Symptoms of Internet gaming disorder in youth: predictors and comorbidity. JAbnormal Child Psychol.https://doi.org/10.1007/s10802-018-0422-x. (Advance online publication)
Acknowledgements
This research was funded by Grants 240097 and 228685/H10 from the Research Council of Norway. Thanks to all the families that are participating, and those who have participated, in the Trondheim Early Secure Study.
Ethics declarations
Conflict of interest
None.
About this article
Cite this article
Stenseng, F., Hygen, B.W. & Wichstrøm, L. Time spent gaming and psychiatric symptoms in childhood: cross-sectional associations and longitudinal effects. Eur Child Adolesc Psychiatry 29, 839–847 (2020). https://doi.org/10.1007/s00787-019-01398-2
Received:

Accepted:

Published:

Issue Date:
Keywords
ADHD

Internet gaming disorder

Cross-lagged analyses

Structural equation modeling

Community sample

Video games