Abstract
Affective lability, defined as the propensity to experience excessive and unpredictable changes in mood, has been proposed as a potential transdiagnostic predictor of major mood and psychotic disorders. A parental diagnosis of bipolar disorder has been associated with increased affective lability in offspring. However, the association between affective lability and family history of other mood and psychotic disorders has not been examined. We measured affective lability using the self- and parent-reported Children's Affective Lability Scale in a cohort of 320 youth aged 6–17 years, including 137 offspring of a parent with major depressive disorder, 68 offspring of a parent with bipolar disorder, 24 offspring of a parent with schizophrenia, and 91 offspring of control parents. We tested differences in affective lability between groups using mixed-effects linear regression. Offspring of a parent with major depressive disorder (β = 0.46, 95% CI 0.17–0.76, p = 0.002) or bipolar disorder (β = 0.47, 95% CI 0.12–0.81, p = 0.008) had significantly higher affective lability scores than control offspring. Affective lability did not differ significantly between offspring of a parent with schizophrenia and offspring of control parents. Our results suggest that elevated affective lability during childhood is a marker of familial risk for mood disorders.
This is a preview of subscription content, log in to check access.
Access options
Buy single article
Instant access to the full article PDF.
US$ 39.95
Price includes VAT for USA
Subscribe to journal
Immediate online access to all issues from 2019. Subscription will auto renew annually.
US$ 199
This is the net price. Taxes to be calculated in checkout.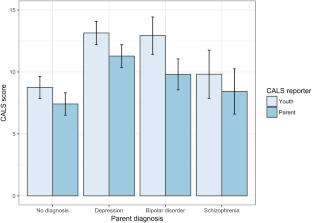 References
1.

Vos T, Allen C, Arora M et al (2016) Global, regional, and national incidence, prevalence, and years lived with disability for 310 diseases and injuries, 1990–2015: a systematic analysis for the global burden of disease study 2015. Lancet 388:1545–1602

2.

Smith K (2011) Trillion-dollar brain drain. Nature 478:15

3.

Zwicker A, Denovan-Wright EM, Uher R (2018) Gene–environment interplay in the etiology of psychosis. Psychol Med 48:1925–1936

4.

Uher R, Zwicker A (2017) Etiology in psychiatry: embracing the reality of poly-gene-environmental causation of mental illness. World Psychiatry 16:121–129

5.

Forstner AJ, Hecker J, Hofmann A et al (2017) Identification of shared risk loci and pathways for bipolar disorder and schizophrenia. PLoS One 12:e0171595

6.

Lee SH, Ripke S, Neale BM et al (2013) Genetic relationship between five psychiatric disorders estimated from genome-wide SNPs. Nat Genet 45:984–994

7.

Selzam S, Coleman JRI, Caspi A, Moffitt TE, Plomin R (2018) A polygenic p factor for major psychiatric disorders. Transl Psychiatry 8:205

8.

Gandal MJ, Haney JR, Parikshak NN et al (2018) Shared molecular neuropathology across major psychiatric disorders parallels polygenic overlap. Science 359:693–697

9.

Caspi A, Houts RM, Belsky DW et al (2014) The p factor: one general psychopathology factor in the structure of psychiatric disorders? Clin Psychol Sci 2:119–137

10.

Gottesman II, Laursen TM, Bertelsen A, Mortensen PB (2010) Severe mental disorders in offspring with 2 psychiatrically ill parents. Arch Gen Psychiatry 67:252

11.

Meier SM, Pavlova B, Dalsgaard S et al (2018) Attention-deficit hyperactivity disorder and anxiety disorders as precursors of bipolar disorder onset in adulthood. Br J Psychiatry 213(3):555–560

12.

Broome MR, Saunders KEA, Harrison PJ, Marwaha S (2015) Mood instability: significance, definition and measurement. Br J Psychiatry 207:283–285

13.

Sheppes G, Suri G, Gross JJ (2015) Emotion regulation and psychopathology. Annu Rev Clin Psychol 11:379–405

14.

Kochman FJ, Hantouche EG, Ferrari P, Lancrenon S, Bayart D, Akiskal HS (2005) Cyclothymic temperament as a prospective predictor of bipolarity and suicidality in children and adolescents with major depressive disorder. J Affect Disord 85:181–189

15.

Gerson AC, Gerring JP, Freund L et al (1996) The children's affective lability scale: a psychometric evaluation of reliability. Psychiatry Res 65:189–198

16.

Reich DB, Zanarini MC, Fitzmaurice G (2012) Affective lability in bipolar disorder and borderline personality disorder. Compr Psychiatry 53:230–237

17.

Birmaher B, Goldstein BI, Axelson DA et al (2013) Mood lability among offspring of parents with bipolar disorder and community controls. Bipolar Disord 15:253–263

18.

Maoz H, Goldstein T, Axelson DA et al (2014) Dimensional psychopathology in preschool offspring of parents with bipolar disorder. J Child Psychol Psychiatry 55:144–153

19.

Hafeman DM, Merranko J, Axelson D et al (2016) Toward the definition of a bipolar prodrome: dimensional predictors of bipolar spectrum disorders in at-risk youths. Am J Psychiatry 173:695–704

20.

Thompson RJ, Berenbaum H, Bredemeier K (2011) Cross-sectional and longitudinal relations between affective instability and depression. J Affect Disord 130:53–59

21.

Rice F, Sellers R, Hammerton G et al (2017) Antecedents of new-onset major depressive disorder in children and adolescents at high familial risk. JAMA Psychiatry 74:153

22.

Goghari VM (2017) Personality dimensions in schizophrenia: a family study. Psychiatry Res 251:162–167

23.

Marwaha S, Broome MR, Bebbington PE, Kuipers E, Freeman D (2014) Mood instability and psychosis: analyses of British national survey data. Schizophr Bull 40:269–277

24.

Rasic D, Hajek T, Alda M, Uher R (2014) Risk of mental illness in offspring of parents with schizophrenia, bipolar disorder, and major depressive disorder: a meta-analysis of family high-risk studies. Schizophr Bull 40:28–38

25.

Uher R, Cumby J, MacKenzie LE et al (2014) A familial risk enriched cohort as a platform for testing early interventions to prevent severe mental illness. BMC Psychiatry 14:344

26.

Kaufman J, Birmaher B, Brent D et al (1997) Schedule for affective disorders and schizophrenia for school-age children-present and lifetime version (K-SADS-PL): initial reliability and validity data. J Am Acad Child Adolesc Psychiatry 36:980–988

27.

Wechsler D (1999) Wechsler abbreviated scale of intelligence. Psychological Corporation, San Antonio

28.

Bates D, Mächler M, Bolker B, Walker S (2015) Fitting linear mixed-effects models using lme4. J Stat Softw 67:1–48

29.

Propper L, Ortiz A, Slaney C et al (2015) Early-onset and very-early-onset bipolar disorder: distinct or similar clinical conditions? Bipolar Disord 17:814–820

30.

Althoff RR, Crehan ET, He J-P, Burstein M, Hudziak JJ, Merikangas KR (2016) Disruptive mood dysregulation disorder at ages 13–18: results from the national comorbidity survey—adolescent supplement. J Child Adolesc Psychopharmacol 26:107–113

31.

Carlson GA (2016) Disruptive mood dysregulation disorder: where did it come from and where is it going. J Child Adolesc Psychopharmacol. 26:90–93

32.

Propper L, Cumby J, Patterson VC et al (2017) Disruptive mood dysregulation disorder in offspring of parents with depression and bipolar disorder. Br J Psychiatry 210:408–412

33.

Power RA, Kyaga S, Uher R et al (2013) Fecundity of patients with schizophrenia, autism, bipolar disorder, depression, anorexia nervosa, or substance abuse vs their unaffected siblings. JAMA Psychiatry 70:22
Acknowledgements
The work leading to this publication has been supported by funding from the Canada Research Chairs Program (Award Number 231397), the Canadian Institutes of Health Research (Grant reference numbers 124976, 142738 and 148394), the Brain & Behavior Research Foundation (NARSAD) Independent Investigator Grant 24684, Nova Scotia Health Research Foundation (Grants 275319, 1716 and 353892) and the Dalhousie Medical Research Foundation. Ms. Zwicker has been supported by the Lindsay Family Graduate Studentship. Mr. Drobinin was supported by the CIHR Doctoral Award (157975).
Ethics declarations
Conflict of interest
The authors have no conflicts of interest to declare.
Electronic supplementary material
Below is the link to the electronic supplementary material.
About this article
Cite this article
Zwicker, A., Drobinin, V., MacKenzie, L.E. et al. Affective lability in offspring of parents with major depressive disorder, bipolar disorder and schizophrenia. Eur Child Adolesc Psychiatry 29, 445–451 (2020). https://doi.org/10.1007/s00787-019-01355-z
Received:

Accepted:

Published:

Issue Date:
Keywords
Severe mental illness

Mood lability

Cohort study

High-risk offspring

Developmental psychopathology

Antecedent