Abstract
Previous studies have suggested environmental factors may contribute to the risk of attention-deficit/hyperactivity disorder (ADHD). The current meta-analysis examined (1) the difference in the duration of maternal breastfeeding between children with and without ADHD, and (2) the association between maternal breastfeeding and ADHD in children. The data of individual studies were synthesized with a random-effects model. Eleven articles were included in this meta-analysis. Children with ADHD had significantly less breastfeeding duration than controls (Hedges' g = − 0.36, 95% confidence intervals (CIs) = − 0.61 to − 0.11, p = 0.005; difference in means: − 2.44 months, 95% CIs = − 3.17 to − 1.71, p < 0.001). In addition, the rates of non-exclusive breastfeeding in children with ADHD is significantly higher in "under 3 months" (odds ratio (OR) = 1.90, 95% CIs = 1.45 to 2.48, p < 0.001) but lower in "6 to 12 months" (OR = 0.69, 95% CIs = 0.49 to 0.98, p = 0.039) and "over 12 months" (OR = 0.58, 95% CIs = 0.35 to 0.97, p = 0.038) than controls. Children with ADHD received significantly higher rate of exclusive breastfeeding duration "under 3 months" (OR = 1.51, 95% CIs = 1.20 to 1.89, p < 0.001) but lower in "over 3 months" (OR = 0.52, 95% CIs = 0.29 to 0.95, p = 0.033) than controls. Furthermore, an association was found between non-breastfeeding and ADHD children (adjusted OR = 3.71, 95% CI = 1.94 to 7.11, p < 0.001). Our results suggest maternal breastfeeding is associated with a lower risk of ADHD in children. Future longitudinal research is required to confirm/refute these findings and to explore possible mechanisms underlying this association.
Access options
Buy single article
Instant access to the full article PDF.
USD 39.95
Price excludes VAT (USA)
Tax calculation will be finalised during checkout.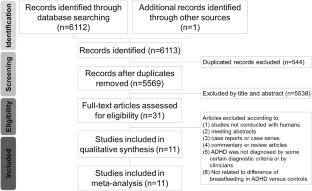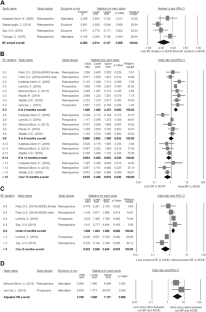 Abbreviations
ADHD:

Attention-deficit/hyperactivity disorder

BF:

Breastfeeding

CI:

Confidence interval

CPRS:

Conners' Parent Rating Scale

CTRF:

Conners' teacher rating form

DSM-5:

Diagnostic and statistical manual of mental disorders, fifth edition

DSM-IV:

Diagnostic and statistical manual of mental disorders, fourth edition

ES:

Effect size

ICD-10:

International statistical classification of diseases and related health problems 10th revision

MA:

Meta-analysis

MOOSE:

Meta-analysis of observational studies in epidemiology

n/a:

Not available

NOS:

Newcastle–Ottawa scale

OR:

Odds ratio

PUFAs:

Polyunsaturated fatty acids
References
Polanczyk G, de Lima MS, Horta BL, Biederman J, Rohde LA (2007) The worldwide prevalence of ADHD: a systematic review and metaregression analysis. Am J Psychiatry 164:942–948

Polanczyk GV, Willcutt EG, Salum GA, Kieling C, Rohde LA (2014) ADHD prevalence estimates across three decades: an updated systematic review and meta-regression analysis. Int J Epidemiol 43:434–442

Centers for Disease Control and Prevention (2010) Increasing prevalence of parent-reported attention-deficit/hyperactivity disorder among children—United States, 2003 and 2007. MMWR Morb Mortal Wkly Rep 59:1439–1443

Sergeant J (2004) EUNETHYDIS—searching for valid aetiological candidates of attention-deficit hyperactivity disorder or hyperkinetic disorder. Eur Child Adolesc Psychiatry 13(Suppl 1):I43–I49

Matza LS, Paramore C, Prasad M (2005) A review of the economic burden of ADHD. Cost Eff Resour Alloc 3:5

Stadler DD, Musser ED, Holton KF, Shannon J, Nigg JT (2016) Recalled initiation and duration of maternal breastfeeding among children with and without ADHD in a well characterized case–control sample. J Abnorm Child Psychol 44:347–355

Polanska K, Jurewicz J, Hanke W (2012) Exposure to environmental and lifestyle factors and attention-deficit/hyperactivity disorder in children—a review of epidemiological studies. Int J Occup Med Environ Health 25:330–355

Gould KL, Coventry WL, Olson RK, Byrne B (2018) Gene-environment interactions in ADHD: the roles of SES and chaos. J Abnorm Child Psychol 46:251–263

Livingstone LT, Coventry WL, Corley RP, Willcutt EG, Samuelsson S, Olson RK, Byrne B (2016) Does the environment have an enduring effect on ADHD? A longitudinal study of monozygotic twin differences in children. J Abnorm Child Psychol 44:1487–1501

Sasaki T, Hashimoto K, Oda Y, Ishima T, Kurata T, Takahashi J, Kamata Y, Kimura H, Niitsu T, Komatsu H, Ishikawa M, Hasegawa T, Shiina A, Hashimoto T, Kanahara N, Shiraishi T, Iyo M (2015) Decreased levels of serum oxytocin in pediatric patients with attention deficit/hyperactivity disorder. Psychiatry Res 228:746–751

Serpero LD, Frigiola A, Gazzolo D (2012) Human milk and formulae: neurotrophic and new biological factors. Early Hum Dev 88(Suppl 1):S9–12

Carter CS (2003) Developmental consequences of oxytocin. Physiol Behav 79:383–397

Mimouni-Bloch A, Kachevanskaya A, Mimouni FB, Shuper A, Raveh E, Linder N (2013) Breastfeeding may protect from developing attention-deficit/hyperactivity disorder. Breastfeed Med 8:363–367

Schmitt J, Romanos M (2012) Prenatal and perinatal risk factors for attention-deficit/hyperactivity disorder. Arch Pediatr Adolesc Med 166:1074–1075

Lemcke S, Parner ET, Bjerrum M, Thomsen PH, Lauritsen MB (2016) Early development in children that are later diagnosed with disorders of attention and activity: a longitudinal study in the Danish National Birth Cohort. Eur Child Adolesc Psychiatry 25:1055–1066

Kadziela-Olech H, Piotrowska-Jastrzebska J (2005) The duration of breastfeeding and attention deficit hyperactivity disorder. Rocz Akad Med Bialymst 50:302–306

Field SS (2014) Interaction of genes and nutritional factors in the etiology of autism and attention deficit/hyperactivity disorders: a case control study. Med Hypotheses 82:654–661

Ptacek R, Kuzelova H, Stefano GB, Raboch J, Sadkova T, Goetz M, Kream RM (2014) Disruptive patterns of eating behaviors and associated lifestyles in males with ADHD. Med Sci Monit 20:608–613

Say GN, Babadagi Z, Karabekiroglu K (2015) Breastfeeding history in children with autism and attention deficit hyperactivity disorder. Breastfeed Med 10:283–284

Stroup DF, Berlin JA, Morton SC, Olkin I, Williamson GD, Rennie D, Moher D, Becker BJ, Sipe TA, Thacker SB (2000) Meta-analysis of observational studies in epidemiology: a proposal for reporting. Meta-analysis Of Observational Studies in Epidemiology (MOOSE) group. JAMA 283:2008–2012

Steinman G, Mankuta D (2013) Breastfeeding as a possible deterrent to autism—a clinical perspective. Med Hypotheses 81:999–1001

Sabuncuoglu O (2013) Understanding the relationships between breastfeeding, malocclusion, ADHD, sleep-disordered breathing and traumatic dental injuries. Med Hypotheses 80:315–320

Bar S, Milanaik R, Adesman A (2016) Long-term neurodevelopmental benefits of breastfeeding. Curr Opin Pediatr 28:559–566

Conners CK, Sitarenios G, Parker JD, Epstein JN (1998) The revised Conners' Parent Rating Scale (CPRS-R): factor structure, reliability, and criterion validity. J Abnorm Child Psychol 26:257–268

Goyette CH, Conners CK, Ulrich RF (1978) Normative data on revised Conners Parent and Teacher Rating Scales. J Abnorm Child Psychol 6:221–236

Bawor M, Dennis BB, Anglin R, Steiner M, Thabane L, Samaan Z (2014) Sex differences in outcomes of methadone maintenance treatment for opioid addiction: a systematic review protocol. Syst Rev 3:45

Borenstein M, Hedges LV, Higgins JP, Rothstein HR (2010) A basic introduction to fixed-effect and random-effects models for meta-analysis. Res Synth Methods 1:97–111

Higgins JP, Thompson SG, Spiegelhalter DJ (2009) A re-evaluation of random-effects meta-analysis. J R Stat Soc Ser A Stat Soc 172:137–159

Higgins JP, Thompson SG, Deeks JJ, Altman DG (2003) Measuring inconsistency in meta-analyses. BMJ 327:557–560

Borenstein M, Higgins JP, Hedges LV, Rothstein HR (2017) Basics of meta-analysis: I2 is not an absolute measure of heterogeneity. Res Synth Methods 8:5–18

Higgins JP, Green S (2011) 10.4.3.1 Recommendations on testing for funnel plot asymmetry. In: Higgins JP, Green S (eds) Cochrane handbook for systematic reviews of interventions. Cochrane Library

Egger M, Davey Smith G, Schneider M, Minder C (1997) Bias in meta-analysis detected by a simple, graphical test. BMJ 315:629–634

Duval S, Tweedie R (2000) Trim and fill: a simple funnel-plot-based method of testing and adjusting for publication bias in meta-analysis. Biometrics 56:455–463

Tobias A (1999) Assessing the influence of a single study in meta-analysis. STATA Techn Bull 47:15–17

Turkoglu S, Bilgic A, Akca OF (2015) ADHD symptoms, breast-feeding and obesity in children and adolescents. Pediatr Int 57:546–551

Sabuncuoglu O, Orengul C, Bikmazer A, Kaynar SY (2014) Breastfeeding and parafunctional oral habits in children with and without attention-deficit/hyperactivity disorder. Breastfeed Med 9:244–250

van Dyk L, Springer P, Kidd M, Steyn N, Solomons R, van Toorn R (2015) Familial-environmental risk factors in South African children with attention-deficit hyperactivity disorder (ADHD): a case–control study. J Child Neurol 30:1327–1332

Lawrence RA (2014) The risks of not breastfeeding: new associations. Breastfeed Med 9:237–238

Chronis AM, Lahey BB, Pelham WE Jr, Kipp HL, Baumann BL, Lee SS (2003) Psychopathology and substance abuse in parents of young children with attention-deficit/hyperactivity disorder. J Am Acad Child Adolesc Psychiatry 42:1424–1432

Tuthill EL, Pellowski JA, Young SL, Butler LM (2017) Perinatal depression among HIV-infected women in KwaZulu-Natal South Africa: prenatal depression predicts lower rates of exclusive breastfeeding. AIDS Behav 21:1691–1698

Babinski DE, Pelham WE Jr, Molina BS, Gnagy EM, Waschbusch DA, Wymbs BT, Sibley MH, Derefinko KJ, Kuriyan AB (2016) Maternal ADHD, parenting, and psychopathology among mothers of adolescents with ADHD. J Atten Disord 20:458–468

Groen-Blokhuis MM, Franic S, van Beijsterveldt CE, de Geus E, Bartels M, Davies GE, Ehli EA, Xiao X, Scheet PA, Althoff R, Hudziak JJ, Middeldorp CM, Boomsma DI (2013) A prospective study of the effects of breastfeeding and FADS2 polymorphisms on cognition and hyperactivity/attention problems. Am J Med Genet B Neuropsychiatr Genet 162B:457–465

Park S, Kim BN, Kim JW, Shin MS, Yoo HJ, Cho SC (2014) Protective effect of breastfeeding with regard to children's behavioral and cognitive problems. Nutr J 13:111

Winkler B, Aulenbach J, Meyer T, Wiegering A, Eyrich M, Schlegel PG, Wiegering V (2015) Formula-feeding is associated with shift towards Th1 cytokines. Eur J Nutr 54:129–138

Oades RD, Myint AM, Dauvermann MR, Schimmelmann BG, Schwarz MJ (2010) Attention-deficit hyperactivity disorder (ADHD) and glial integrity: an exploration of associations of cytokines and kynurenine metabolites with symptoms and attention. Behav Brain Funct 6:32

Chang SM, Rowe J, Goopy S (2014) Non-family support for breastfeeding maintenance among career women in Taiwan: a qualitative study. Int J Nurs Pract 20:293–301

Attanasio L, Kozhimannil KB, McGovern P, Gjerdingen D, Johnson PJ (2013) The impact of prenatal employment on breastfeeding intentions and breastfeeding status at 1 week postpartum. J Hum Lact 29:620–628

Li R, Fein SB, Chen J, Grummer-Strawn LM (2008) Why mothers stop breastfeeding: mothers' self-reported reasons for stopping during the first year. Pediatrics 122(Suppl 2):S69–S76
Acknowledgements
The authors declare that there are no conflicts of interest or funding in relation to the subject of this study. This manuscript had been presented as the poster in the 55th Annual Meeting of Taiwanese Society of Psychiatry. We had contacted the authors Field S.S., Lemcke S., Ptacek R., Say G.N., and Turkoglu S. for inquiry of original data and we thank for their responding and help.
Ethics declarations
Conflict of interest
The authors state that there are no any competing interests in the current literature.
Electronic supplementary material
Below is the link to the electronic supplementary material.
About this article
Cite this article
Tseng, PT., Yen, CF., Chen, YW. et al. Maternal breastfeeding and attention-deficit/hyperactivity disorder in children: a meta-analysis. Eur Child Adolesc Psychiatry 28, 19–30 (2019). https://doi.org/10.1007/s00787-018-1182-4
Received:

Accepted:

Published:

Issue Date:

DOI: https://doi.org/10.1007/s00787-018-1182-4
Keywords
Attention-deficit/hyperactivity disorder

Breastfeeding

Meta-analysis

Nutrition

Risk