Abstract
Despite being home to a large population of vulnerable children there is a dearth of population-based evidence on childhood mental disorders in sub-Saharan Africa. Parent and child mental health are rarely measured concurrently, despite potential for confounding with other risk factors, including parental HIV. Using the parent-report Child Behaviour Checklist (CBCL) we assessed children's mental health in a population-based cohort of 1536 HIV-negative children (31% HIV-exposed, 18% HIV-affected, 51% HIV-unexposed) aged 7–11 years. CBCL was scored using CBCL Rating-to-Score software. A binary indicator was determined using the clinical threshold ≥ 65. We modelled mental disorders using logistic regression, including covariates associated with the mother, child, household, and parenting. Structural equation modelling techniques also derived continuous latent variables representing the underlying mental health and parent-relationship constructs. Prevalence of conduct disorders (11.8%) was high, regardless of HIV exposure, while HIV-affected children had increased odds of affective disorders. Maternal depression increased odds of externalising disorders; maternal anxiety was associated with affective and anxiety disorders. Mother–child relationship dysfunction increased odds of all disorders, including: affective [aOR = 5.1 (2.6–9.9)]; oppositional [aOR = 7.9 (4.0–15.5)]; conduct [aOR = 4.3 (2.6–7.2)] disorders. Food insecurity and male gender increased odds of somatic disorders; breastfeeding halved odds of conduct disorders. In the latent model, associations were substantially stronger for the mother–child relationship and externalising disorders (Oppositional 0.464 p < 0.001; Conduct 0.474 p = <0.001). Conduct disorders were high for all children regardless of HIV exposure. The mother–child relationship was strongly related to all child disorders, suggesting potential for concurrent interventions targeting child behaviours and the parent–child or mother–child relationship.
This is a preview of subscription content, log in to check access.
Access options
Buy single article
Instant access to the full article PDF.
US$ 39.95
Price includes VAT for USA
Subscribe to journal
Immediate online access to all issues from 2019. Subscription will auto renew annually.
US$ 199
This is the net price. Taxes to be calculated in checkout.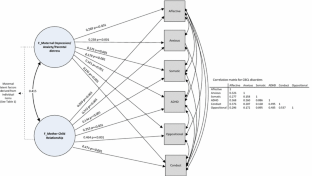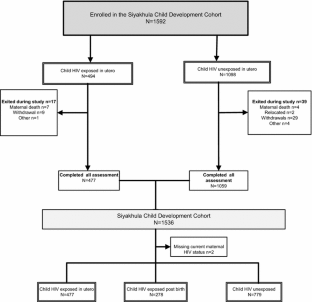 References
1.

Polanczyk GV, Salum GA, Sugaya LS, Caye A, Rohde LA (2015) Annual research review: a meta-analysis of the worldwide prevalence of mental disorders in children and adolescents. J Child Psychol Psychiatry 56(3):345–365

2.

Collishaw S (2015) Annual research review: secular trends in child and adolescent mental health. J Child Psychol Psychiatry 56(3):370–393

3.

Cortina MA, Sodha A, Fazel M, Ramchandani PG (2012) Prevalence of child mental health problems in sub-Saharan Africa: a systematic review. Arch Pediatr Adolesc Med 166(3):276–281

4.

Cortina MA, Fazel M, Hlungwani TM, Kahn K, Tollman S, Cortina-Borja M, Stein A (2013) Childhood psychological problems in school settings in rural Southern Africa. PLoS One 8(6):e65041

5.

Kariuki SM, Abubakar A, Kombe M, Kazungu M, Odhiambo R, Stein A, Newton CR (2017) Burden, risk factors, and comorbidities of behavioural and emotional problems in Kenyan children: a population-based study. Lancet Psychiatry 4(2):136–145

6.

Merikangas KR, He J (2014) Epidemiology of mental disorders in children and adolescents. From Research to Practice in Child and Adolescent Mental Health:19

7.

Bassani DG, Padoin CV, Veldhuizen S (2008) Counting children at risk. Soc Psychiatry Psychiatr Epidemiol 43(11):927–935. https://doi.org/10.1007/s00127-008-0376-3

8.

van Santvoort F, Hosman CM, Janssens JM, van Doesum KT, Reupert A, van Loon LM (2015) The impact of various parental mental disorders on children's diagnoses: a systematic review. Clin Child Fam Psychol Rev 18(4):281–299

9.

Kim HK, Capaldi DM, Pears KC, Kerr DC, Owen LD (2009) Intergenerational transmission of internalising and externalising behaviours across three generations: gender-specific pathways. Crim Behav Ment Health 19(2):125–141

10.

Short SE, Goldberg RE (2015) Children living with HIV-infected adults: estimates for 23 countries in sub-Saharan Africa. PLoS One 10(11):e0142580

11.

Stein A, Pearson RM, Goodman SH, Rapa E, Rahman A, McCallum M, Howard LM, Pariante CM (2014) Effects of perinatal mental disorders on the fetus and child. Lancet 384(9956):1800–1819. https://doi.org/10.1016/s0140-6736(14)61277-0

12.

Sherr L, Croome N, Castaneda KP, Bradshaw K (2014) A systematic review of psychological functioning of children exposed to HIV: using evidence to plan for tomorrow's HIV needs. AIDS Behav 18(11):2059–2074

13.

Rochat T, Houle B, Stein A, Coovadia H, Coutsoudis A, Desmond C, Newell M-L, Bland R (2016) Exclusive breastfeeding and cognition, executive function, and behavioural disorders in primary school-aged children in rural South Africa: a cohort analysis. PLOS Med 13(6):e1002044. https://doi.org/10.1371/journal.pmed.1002044

14.

Tanser F, Hosegood V, Barnighausen T, Herbst K, Nyirenda M, Muhwava W, Newell C, Viljoen J, Mutevedzi T, Newell ML (2008) Cohort profile: Africa Centre Demographic Information System (ACDIS) and population-based HIV survey. Int J Epidemiol 37(5):956–962. https://doi.org/10.1093/ije/dym211

15.

Bland R, Coovadia H, Coutsoudis A, Rollins N, Newell M (2010) Cohort profile: mamanengane or the Africa centre vertical transmission study. Int J Epidemiol 39(2):351–360. https://doi.org/10.1093/ije/dyp165

16.

Achenbach TM, Rescorla LA (2001) Manual for the ASEBA School-Age Forms & Profiles University of Vermont, Research Center for Children, Youth, & Families, Burlington

17.

Seligman LD, Ollendick TH, Langley AK, Baldacci HB (2004) The utility of measures of child and adolescent anxiety: a meta-analytic review of the Revised Children's Manifest Anxiety Scale, the State-Trait Anxiety Inventory for Children, and the Child Behavior Checklist. J Clin Child Adoles Psychol 33(3):557–565

18.

Kroenke K, Spitzer RL, Williams JBW, Löwe B (2010) The patient health questionnaire somatic, anxiety, and depressive symptom scales: a systematic review. Gen Hosp Psychiatry 32(4):345–359. https://doi.org/10.1016/j.genhosppsych.2010.03.006

19.

Abidin R (1995) Parenting stress index professional manual, 3rd edn. Psychological Assessment Resources Incorporated Florida, United States

20.

Steiger JH (2004) Beyond the F test: effect size confidence intervals and tests of close fit in the analysis of variance and contrast analysis. Psychol Methods 9(2):164

21.

L-t Hu, Bentler PM, Kano Y (1992) Can test statistics in covariance structure analysis be trusted? Psychol Bull 112(2):351

22.

Rowe R, Costello EJ, Angold A, Copeland WE, Maughan B (2010) Developmental pathways in oppositional defiant disorder and conduct disorder. J Abnorm Psychol 119(4):726

23.

Pilling S, Gould N, Whittington C, Taylor C, Scott S (2013) Recognition, intervention, and management of antisocial behaviour and conduct disorders in children and young people: summary of NICE-SCIE guidance. BMJ 346:f1298

24.

Fergusson DM, John Horwood L, Ridder EM (2005) Show me the child at seven: the consequences of conduct problems in childhood for psychosocial functioning in adulthood. J Child Psychol Psychiatry 46(8):837–849

25.

Weaver LJ, Hadley C (2009) Moving beyond hunger and nutrition: a systematic review of the evidence linking food insecurity and mental health in developing countries. Ecol Food Nutr 48(4):263–284

26.

Souverein FA, Ward CL, Visser I, Burton P (2016) Serious, violent young offenders in South Africa are they life-course persistent offenders? J Interpers Violence 31(10):1859–1882

27.

Burke JD, Hipwell AE, Loeber R (2010) Dimensions of oppositional defiant disorder as predictors of depression and conduct disorder in preadolescent girls. J Am Acad Child Adolesc Psychiatry 49(5):484–492

28.

Campo JV (2012) Annual Research Review: functional somatic symptoms and associated anxiety and depression—developmental psychopathology in pediatric practice. J Child Psychol Psychiatry 53(5):575–592

29.

Shanahan L, Zucker N, Copeland WE, Bondy C, Egger HL, Costello EJ (2015) Childhood somatic complaints predict generalized anxiety and depressive disorders during young adulthood in a community sample. Psychol Med 45(08):1721–1730

30.

Hart SL, Hodgkinson SC, Belcher HM, Hyman C, Cooley-Strickland M (2013) Somatic symptoms, peer and school stress, and family and community violence exposure among urban elementary school children. J Behav Med 36(5):454–465

31.

Ramchandani PG, Hotopf M, Sandhu B, Stein A (2005) The epidemiology of recurrent abdominal pain from 2 to 6 years of age: results of a large, population-based study. Pediatrics 116(1):46–50

32.

Loe IM, Feldman HM (2007) Academic and educational outcomes of children with ADHD. J Pediatr Psychol 32(6):643–654

33.

Cluver L, Orkin M, Boyes ME, Sherr L, Makasi D, Nikelo J (2013) Pathways from parental AIDS to child psychological, educational and sexual risk: developing an empirically-based interactive theoretical model. Soc Sci Med 87:185–193

34.

Goldberg RE, Short SE (2016) What do we know about children living with HIV-infected or AIDS-ill adults in Sub-Saharan Africa? A systematic review of the literature. AIDS Care 28(sup2):130–141. https://doi.org/10.1080/09540121.2016.1176684

35.

DeHovitz J, Uuskula A, El-Bassel N (2014) The HIV epidemic in Eastern Europe and Central Asia. Curr HIV/AIDS Rep 11(2):168–176. https://doi.org/10.1007/s11904-014-0202-3

36.

Gokengin D, Oprea C, Uysal S, Begovac J (2016) The growing HIV epidemic in Central Europe: a neglected issue? J Virus Erad 2(3):156–161

37.

Alvarez-del Arco D, Monge S, Azcoaga A, Rio I, Hernando V, Gonzalez C, Alejos B, Caro AM, Perez-Cachafeiro S, Ramirez-Rubio O, Bolumar F, Noori T, Del Amo J (2013) HIV testing and counselling for migrant populations living in high-income countries: a systematic review. Eur J Pub Health 23(6):1039–1045. https://doi.org/10.1093/eurpub/cks130

38.

Goosen S, Hoebe CJPA, Waldhober Q, Kunst AE (2015) High HIV prevalence among asylum seekers who gave birth in the Netherlands: a nationwide study based on antenatal HIV tests. PLoS One 10(8):e0134724. https://doi.org/10.1371/journal.pone.0134724

39.

Ringoot AP, Tiemeier H, Jaddoe VW, So P, Hofman A, Verhulst FC, Jansen PW (2015) Parental depression and child well-being: young children's self-reports helped addressing biases in parent reports. J Clin Epidemiol 68(8):928–938

40.

Keenan K, Wroblewski K, Hipwell A, Loeber R, Stouthamer-Loeber M (2010) Age of onset, symptom threshold, and expansion of the nosology of conduct disorder for girls. J Abnorm Psychol 119(4):689

41.

Rochat T, Mitchell J, Stein A, Mkwanazi N, Bland R (2016) The Amagugu Intervention: a conceptual framework for increasing HIV disclosure and parent-led communication about health and HIV prevention among HIV-infected parents with HIV-uninfected primary school-aged children. Fron Public Health. https://doi.org/10.3389/fpubh.2016.00183

42.

Rochat T, Arteche AX, Stein A, Mitchell J, Bland R (2015) Maternal and child psychological outcomes of HIV disclosure to young children in rural South Africa: the Amagugu intervention. AIDS 29(Suppl 1):67–79. https://doi.org/10.1097/QAD.0000000000000668

43.

Rochat T, Netsi E, Redinger S, Stein A (2017) Parenting and HIV. Curr Opin Psychol 15:155–161
Funding
The Siyakhula Cohort was funded by Grand Challenges, Canada Saving Brains (0063-03). Grand Challenges "Saving Brains" required standardisation of core metrics across all eleven funded cohorts, including socio-demographic and economic variables and data on child cognition. The funder played no other role in the design of the study. The Africa Health Research Institute, previously called Africa Centre for Population Health, University of Kwa-Zulu Natal is funded by the Wellcome Trust (Previous Africa Centre 097410/Z/11; Current AHRI 201433/Z/16/Z). The demographic surveillance is co-funded by the South Africa Department of Science and Technology through the DST/MRC South African Population Research Infrastructure Network (SAPRIN). The original Vertical Transmission Study was funded separately by Wellcome Trust (063009/Z/00/2). Tamsen Rochat receives salary support from the Newton Advanced Fellowship Scheme (AF160108). Additional support of the DST-NRF Centre of Excellence (CoE) in Human Development (ACC2018004; OPP201600035; OPP20150015) awarded to Tamsen Rochat towards manuscript development is acknowledged. Opinions expressed and conclusions arrived at are those of the authors and are not necessarily to be attributed to the funders.
Ethics declarations
Conflict of interest
The authors have no conflicts of interest to declare.
Additional information
Tamsen J. Rochat and Brian Houle are joint first authors.
Electronic supplementary material
Below is the link to the electronic supplementary material.
About this article
Cite this article
Rochat, T.J., Houle, B., Stein, A. et al. Prevalence and risk factors for child mental disorders in a population-based cohort of HIV-exposed and unexposed African children aged 7–11 years. Eur Child Adolesc Psychiatry 27, 1607–1620 (2018). https://doi.org/10.1007/s00787-018-1146-8
Received:

Accepted:

Published:

Issue Date:
Keywords
Mental disorders

Parenting stress

HIV

Africa

Child