Abstract
Patient-focused cognitive-behavioral therapy in children with aggressive behavior, which uses group-based social skills training, has resulted in significant reductions in behavioral problems, with effect sizes in the small-to-medium range. However, effects of individually delivered treatments and effects on aggressive behavior and comorbid conditions rated from different perspectives, child functional impairment, child quality of life, parent–child relationship, and parental psychopathology have rarely been assessed. In a randomized controlled trial, 91 boys aged 6–12 years with a diagnosis of oppositional defiant disorder/conduct disorder and peer-related aggression were randomized to receive individually delivered social competence training (Treatment Program for Children with Aggressive Behavior, THAV) or to an active control involving group play that included techniques to activate resources and the opportunity to train prosocial interactions in groups (PLAY). Outcome measures were rated by parents, teachers, or clinicians. Mostly moderate treatment effects for THAV compared to PLAY were found in parent ratings and/or clinician ratings on aggressive behavior, comorbid symptoms, psychosocial impairment, quality of life, parental stress, and negative expressed emotions. In teacher ratings, significant effects were found for ADHD symptoms and prosocial behavior only. THAV is a specifically effective intervention for boys aged 6–12 years with oppositional defiant disorder/conduct disorder and peer-related aggressive behavior as rated by parents and clinicians.
This is a preview of subscription content, log in to check access.
Access options
Buy single article
Instant access to the full article PDF.
US$ 39.95
Price includes VAT for USA
Subscribe to journal
Immediate online access to all issues from 2019. Subscription will auto renew annually.
US$ 199
This is the net price. Taxes to be calculated in checkout.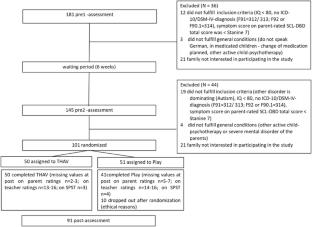 References
1.

National Institute for Health and Care Excellence (2013) Antisocial behaviour and conduct disorders in children and young people: Recognition, intervention, and management. National Clinical Guideline Number 158. National Institute for Health and Care Excellence. IOP Publishing Nice. https://www.nice.org.uk/guidance/cg158. Accessed 9 Mar 2016

2.

Webster-Stratton C, Reid MJ, Hammond M (2004) Treating children with early-onset conduct problems: intervention outcomes for parent, child, and teacher training. J Clin Child Adolesc Psychol 33(1):105–124

3.

Dodge KA, Schwartz D (1997) Social information processing mechanisms in aggressive behaviour. In: Stoff DM, Breiling J, Maser JD (eds) Handbook of antisocial behavior. Wiley, New York, pp 171–180

4.

Frick PJ (2012) Developmental pathways to conduct disorder: implications for future directions in research, assessment, and treatment. J Clin Child Adolesc Psychol 41(3):378–389

5.

Fossum S, Handegård BH, Adolfsen F, Vis SA, Wynn R (2016) A meta-analysis of long-term outpatient treatment effects for children and adolescents with conduct problems. J Child Fam Stud 25:15–29

6.

Dishion TJ, McCord J, Poulin F (1999) When interventions harm: peer groups and problem behavior. Am Psychol 54:755–764

7.

Gifford-Smith M, Dodge KA, Dishion ZJ, McCord J (2005) Peer influence in children and adolescents: crossing the bridge from developmental to intervention science. J Abnorm Child Psychol 33:255–265

8.

Ang RP, Hughes JN (2001) Differential benefits of skills training with antisocial youth based on group composition: a meta-analytic investigation. Sch Psychol Rev 31:164–185

9.

Weisz JR, Doss AJ, Hawley KM (2005) Youth psychotherapy outcome research: a review and critique of the evidence base. Annu Rev Psychol 56:337–363

10.

Lochman JE, Barry TD, Pardi DA (2003) Anger control training for aggressive youth. In: Kazdin AE, Weisz JR (eds) Evidence-based psychotherapies for children and adolescents. Guilt Press, New York, pp 263–281

11.

Webster-Stratton C (2005) Early intervention with videotape modelling: Programs for families and children with oppositional defiant disorder or conduct disorder. American Psychological Association, Washington, DC

12.

McCart MR, Priester PE, Davies WH, Azen R (2006) Differential effectiveness of behavioural parent-training and cognitive-behavioural therapy for antisocial youth: a meta-analysis. J Abnorm Child Psychol 34(4):527–543

13.

Smeets KC, Anouk AM, Leeijen M, van der Molen J, Scheepers FE, Buitelaar JK et al (2015) Treatment moderators of cognitive behavior therapy to reduce aggressive behavior: a meta-analysis. Eur Child Adolesc Psychiatry 24:255–264

14.

Lochman JE, Wells KC (2004) The coping power program for preadolescent aggressive boys and their parents: outcome effects at the 1-year follow-up. J Consult Clin Psychol 72(4):571–578

15.

Kazdin AE, Siegel TC, Bass D (1992) Cognitive problem-solving skills training and parent management training in treatment of antisocial behaviour in children. J Consult Clin Psychol 60(5):733–747

16.

Görtz-Dorten A, Döpfner M (2010) Therapieprogramm für Kinder mit aggressivem Verhalten (THAV). [Treatment program for children with aggressive behaviour (THAV)]. Hogrefe, Göttingen

17.

Card NA, Stucky BD, Sawalani GM, Little TD (2008) Direct and indirect aggression during childhood and adolescence: a meta-analytic review of gender differences, intercorrelations, and relations to maladjustment. Child Dev 79:1185–1229

18.

Görtz-Dorten A, Benesch C, Hautmann C, Berk-Pawlitzek E, Faber M, Lindenschmidt T et al (2017) Efficacy of an individualized social competence training for children with oppositional defiant disorders/conduct disorders. Psychother Res 27:326–337

19.

Döpfner M, Görtz-Dorten A, Lehmkuhl G (2008) DISYPS-II: Diagnostik-System für psychische Störungen im Kindes- und Jugendalter nach ICD-10 und DSM-IV [DISYPS-II: diagnostic system for psychiatric disorders in children and adolescents], 3rd edn. Hans Huber, Bern

20.

Görtz-Dorten A, Döpfner M (2010) Fragebogen zum aggressiven Verhalten von Kindern (FAVK). [German questionnaire for aggressive behaviour]. Hogrefe, Göttingen

21.

Achenbach TM (1991) Manual for the child behaviour checklist 4–18 and 1991 profile. University of Vermont, Department of Psychiatry, Burlington

22.

Achenbach TM (1991) Manual for the teacher report form and 1991 profile. University of Vermont, Department of Psychiatry, Burlington

23.

Frick PJ (2004) The inventory of callous-unemotional traits. Unpublished rating scale. University of New Orleans, New Orleans

24.

Weiss MD, Dickson R, Wasdell M (2005) Weiss functional impairment rating scale-parent report (WFIRS-P). In: Presented at American Psychiatric Association 158th annual meeting, May 21–26, Atlanta, GA

25.

Gajria K, Kosinski M, Sikirica V, Huss M, Livote E, Reilly K et al (2015) Psychometric validation of the Weiss functional impairment rating scale-parent report form in children and adolescents with attention-deficit/hyperactivity disorder. Health Qual Life Outcomes. https://doi.org/10.1186/s1295501503791

26.

Ravens-Sieberer U, Bullinger M (1998) Assessing health related quality of life in chronically ill children with the German KINDL: first psychometric and content-analytical results. Qual Life Res 7(5):399–407

27.

Lovibond SH, Lovibond PF (1995) Manual for depression anxiety stress scales, 2nd edn. Psychology Foundation, Sydney

28.

Essau C (1995) Depression anxiety stress scales (German-Version). IOP Publishing 2.PsyUnsw. http://www2.psy.unsw.edu.au/groups/dass/translations.htm. Accessed 11 Aug 2017

29.

Magaña AB, Goldstein MJ, Karno M, Miklowitz DJ, Jenkins J, Falloon IR (1986) A brief method for assessing expressed emotion in relatives of psychiatric patients. Psychiatry Res 17(3):203–212

30.

Daley D, Sonuga-Barke EJS, Thompson M (2003) Assessing expressed emotion in mothers of preschool AD/HD children: psychometric properties of a modified speech sample. Br J Clin Psychol 42(Pt 1):53–67

31.

Roberts C, Roberts SA (2005) Design and analysis of clinical trials with clustering effects due to treatment. Clin Trials 2(2):152–162

32.

Dunlap WP, Cortina JM, Vaslow JB, Burke MJ (1996) Meta-analysis of experiments with matched designs. Psychol Methods 2:170–177

33.

SPSS Statistics 24 (2017) IBM Corp, Armonk

34.

Kazdin AE, Bass D, Siegel TC, Thomas C (1989) Cognitive-behavioural therapy and relationship therapy in the treatment of children referred for antisocial behavior. J Consult Clin Psychol 57(4):522–535

35.

McArdle PM, Moseley D, Quibell T, Johnson R, Allen A, Hammal D et al (2002) School-based indicated prevention: a randomised trial of group therapy. J Child Psychol Psychiatry 43(6):705–712

36.

Van Manen TG, Prins PJM, Emmelkamp PMG (2004) Reducing aggressive behaviour in boys with a social cognitive group treatment: results of a randomized controlled trial. J Am Acad Child Adolesc Psychiatr 43(12):1478–1487

37.

Michelson L, Mannarino AP, Marchione KE, Stern M, Figueroa J, Beck S (1983) A comparative outcome study of behavioural social-skills training, interpersonal problem-solving skills and nondirective control treatments with child psychiatric outpatients. Behav Res Ther 21(5):545–556

38.

Szapocznik J, Rio A, Murray E, Cohen R, Scopetta M, Rivas-Vazquez A et al (1989) Structural family versus psychodynamic child therapy for problematic Hispanic boys. J Consult Clin Psychol 57(5):571–578

39.

Van de Wiel NM, Matthys W, Cohen-Kettenis PT, Maassen GH, Lochman JE, Van Engeland H (2007) The effectiveness of an experimental treatment when compared to care as usual depends on the type of care as usual. Behav Modif 31(3):298–312

40.

Kolko DJ, Dorn LD, Bukstein OG, Pardini D, Holden EA, Hart J (2009) Community vs. clinic-based modular treatment of children with early-onset ODD or CD: a clinical trial with 3-year follow-up. J Abnorm Child Psychol 37(5):591–609

41.

Lochman JE, Baden RE, Boxmeyer CL, Powell NP, Qu L, Salekin KL et al (2014) Does a booster session augment the preventive effects of an abbreviated version of the coping power program for aggressive children? J Abnorm Child Psychol 42(3):367–381

42.

Pickles A, Rowe R, Simonoff E, Foley D, Rutter M, Silberg J (2001) Child psychiatric symptoms and psychosocial impairment: relationship and prognostic significance. Br J Psychiatry 179:230–235

43.

Kazdin AE, Wassell GW (2000) Therapeutic changes in children, parents, and families resulting from treatment of children with conduct problems. J Am Acad Child Adolesc Psychiatry 39(4):414–420

44.

Baker BL, Heller TL, Henker B (2000) Expressed emotion, parenting stress and adjustment in mothers of young children with behaviour problems. J Child Psychol Psychiatry 41(7):907–915

45.

Peris TS, Baker BL (2000) Applications of the expressed emotion construct to young children with externalizing behaviour: stability and prediction over time. J Child Psychol Psychiatry 41(4):457–462

46.

Harrington R, Peters S, Green J, Byford S, Woods J, McGowan R (2000) Randomised comparison of the effectiveness and costs of community and hospital based mental health services for children with behavioural disorders. BMJ 321(7268):1047–1050

47.

Snyder KV, Kymissis P, Kessler K (1999) Anger management for adolescents: efficacy of brief group therapy. J Am Acad Child Adolesc Psychiatry 38(11):1409–1416

48.

Sukhodolsky DG, Solomon RM, Perine J (2000) Cognitive-behavioural anger-control intervention for elementary school children: a treatment-outcome study. J Child Adolesc Gr Ther 10:159–170

49.

Kendall PC, Reber M, McLeer S, Epps J, Roman KR (1990) Cognitive-behavioural treatment of conduct-disordered children. Cognit Ther Res 14:279–297

50.

Omizo MM, Hershberger JM, Omizo SA (1988) Teaching children to cope with anger. Elem Sch Guid Couns 22:241–245
Acknowledgements
The study received financial support from the School of Child and Adolescent Behavior Therapy at the University Hospital Cologne. The authors wish to thank all families that participated in this study.
Ethics declarations
Conflict of interest
AG.-D. and M.D. receive royalties from publishing companies as authors of books and treatment manuals on child behavioral therapy, and of assessment manuals, including the treatment manual for THAV, which is evaluated in this trial. Other authors have no potential conflicts of interest.
Electronic supplementary material
Below is the link to the electronic supplementary material.
About this article
Cite this article
Goertz-Dorten, A., Benesch, C., Berk-Pawlitzek, E. et al. Efficacy of individualized social competence training for children with oppositional defiant disorders/conduct disorders: a randomized controlled trial with an active control group. Eur Child Adolesc Psychiatry 28, 165–175 (2019). https://doi.org/10.1007/s00787-018-1144-x
Received:

Accepted:

Published:

Issue Date:
Keywords
Social skills training

Oppositional defiant disorder

Conduct disorder

RCT design