Abstract
Physical activity (PA) can improve sleep quality, low energy, and fatigue. Though poor sleep quality may induce feelings of low energy and fatigue, the potential moderating effect of sleep quality on associations between PA and feelings of energy and fatigue among adolescents is unknown. Thus, this study examined the moderating effect of sleep quality on associations between PA frequency and feelings of energy and fatigue among adolescents in Ireland. Adolescents (N = 481; 281 males, 200 females) aged 15.1 ± 1.7 years self-reported PA frequency, feelings of energy and fatigue, and sleep quality (September to December 2015). Two-way ANCOVAs examined variation in feelings of energy and fatigue according to the interaction of PA and sleep quality. Standardized mean difference (d) quantified the magnitude of differences. Poor sleepers with low PA reported greater feelings of fatigue compared to normal sleepers with low PA (d = 1.02; 95% CI 0.60, 1.44), and poor sleepers with moderate PA reported greater feelings of fatigue compared to normal sleepers with moderate PA (d = 0.50; 0.17, 0.82). Poor sleepers with low PA reported greater feelings of fatigue compared to both poor sleepers with moderate PA (d = 0.44; 0.05, 0.83) and poor sleepers with high PA (d = 0.87; 0.46, 1.28). Poor sleepers with moderate PA reported greater feelings of fatigue compared to poor sleepers with high PA (d = 0.52; 0.14, 0.91). Poor sleep did not moderate the association between PA and feelings of energy. Sleep quality moderates the association between PA frequency and feelings of fatigue. Fatigue symptoms improve as PA frequency increases among adolescents with poor sleep quality.
This is a preview of subscription content,
to check access.
Access this article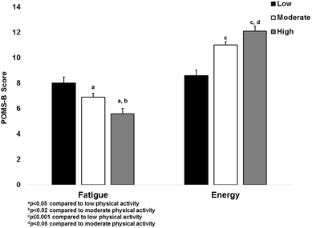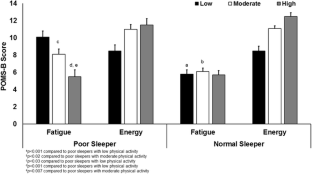 Similar content being viewed by others
References
Martiniuk AL, Senserrick T, Lo S, Williamson A, Du W, Grunstein RR, Woodward M, Glozier N, Stevenson M, Norton R (2013) Sleep-deprived young drivers and the risk for crash: the DRIVE prospective cohort study. JAMA Pediatr 167(7):647–655

Hysing M, Haugland S, Stormark KM, Bøe T, Sivertsen B (2015) Sleep and school attendance in adolescence: results from a large population-based study. Scand J Public Health 43(1):2–9

Fukuda S, Yamano E, Joudoi T, Mizuno K, Tanaka M, Kawatani J, Takano M, Tomoda A, Imai-Matsumura K, Miike T (2010) Effort-reward imbalance for learning is associated with fatigue in school children. Behav Med 36(2):53–62

Viner RM, Clark C, Taylor SJ, Bhui K, Klineberg E, Head J, Booy R, Stansfeld SA (2008) Longitudinal risk factors for persistent fatigue in adolescents. Arch Pediatr Adolesc Med 162(5):469–475

Ghandour RM, Overpeck MD, Huang ZJ, Kogan MD, Scheidt PC (2004) Headache, stomachache, backache, and morning fatigue among adolescent girls in the United States: associations with behavioral, sociodemographic, and environmental factors. Arch Pediatr Adolesc Med 158(8):797–803

Currie C, Hurrelmann K, Settertobulte W, Smith B, Todd J (1999) Health and health behaviour among young people: international report. In: Health and health behaviour among young people: international report

ter Wolbeek M, van Doornen L, Kavelaars A, Heijnen C (2006) Severe fatigue in adolescents: a common phenomenon? Pediatrics 117(6):e1078

Jones JF, Nisenbaum R, Solomon L, Reyes M, Reeves WC (2004) Chronic fatigue syndrome and other fatiguing illnesses in adolescents: a population-based study. J Adolesc Health 35(1):34–40

Rimes KA, Goodman R, Hotopf M, Wessely S, Meltzer H, Chalder T (2007) Incidence, prognosis, and risk factors for fatigue and chronic fatigue syndrome in adolescents: a prospective community study. Pediatrics 119(3):e603–e609

Watanabe N, Stewart R, Jenkins R, Bhugra DK, Furukawa TA (2008) The epidemiology of chronic fatigue, physical illness, and symptoms of common mental disorders: a cross-sectional survey from the second British National Survey of Psychiatric Morbidity. J Psychosom Res 64(4):357–362

Norris T, Collin SM, Tilling K, Nuevo R, Stansfeld SA, Sterne JAC, Heron J, Crawley E (2017) Natural course of chronic fatigue syndrome/myalgic encephalomyelitis in adolescents. Arch Dis Child 102(6):522–528

Buysse DJ, Reynolds CF III, Monk TH, Berman SR, Kupfer DJ (1989) The Pittsburgh Sleep Quality Index: a new instrument for psychiatric practice and research. Psychiatry Res 28(2):193–213

Alapin I, Fichten CS, Libman E, Creti L, Bailes S, Wright J (2000) How is good and poor sleep in older adults and college students related to daytime sleepiness, fatigue, and ability to concentrate? J Psychosom Res 49(5):381–390

Dewald JF, Meijer AM, Oort FJ, Kerkhof GA, Bögels SM (2010) The influence of sleep quality, sleep duration and sleepiness on school performance in children and adolescents: a meta-analytic review. Sleep Med Rev 14(3):179–189

Kerkhof GA (2017) Epidemiology of sleep and sleep disorders in The Netherlands. Sleep Med 30:229–239

Tham SW, Holley AL, Zhou C, Clarke GN, Palermo TM (2013) Longitudinal course and risk factors for fatigue in adolescents: the mediating role of sleep disturbances. J Pediatr Psychol 38(10):1070–1080

Youngstedt SD, Kline CE (2006) Epidemiology of exercise and sleep. Sleep Biol Rhythms 4(3):215–221

Kredlow MA, Capozzoli MC, Hearon BA, Calkins AW, Otto MW (2015) The effects of physical activity on sleep: a meta-analytic review. J Behav Med 38(3):427–449

Vyazovskiy VV, Cirelli C, Tononi G (2011) Electrophysiological correlates of sleep homeostasis in freely behaving rats. Prog Brain Res 193:17

Buchmann A, Ringli M, Kurth S, Schaerer M, Geiger A, Jenni OG, Huber R (2010) EEG sleep slow-wave activity as a mirror of cortical maturation. Cereb Cortex 21(3):607–615

Puetz TW (2006) Physical activity and feelings of energy and fatigue. Sports Med 36(9):767–780

Puetz TW, O'Connor PJ, Dishman RK (2006) Effects of chronic exercise on feelings of energy and fatigue: a quantitative synthesis. Psychol Bull 132(6):866

Loy BD, O'Connor PJ, Dishman RK (2013) The effect of a single bout of exercise on energy and fatigue states: a systematic review and meta-analysis. Fatigue Biomed Health Behav 1(4):223–242

Chennaoui M, Arnal PJ, Sauvet F, Léger D (2015) Sleep and exercise: a reciprocal issue? Sleep Med Rev 20:59–72

Bray SR, Born HA (2004) Transition to university and vigorous physical activity: implications for health and psychological well-being. J Am Coll Health 52(4):181–188

ter Wolbeek M, van Doornen LJ, Kavelaars A, Tersteeg-Kamperman MD, Heijnen CJ (2011) Fatigue, depressive symptoms, and anxiety from adolescence up to young adulthood: a longitudinal study. Brain Behav Immun 25(6):1249–1255

Kalak N, Gerber M, Kirov R, Mikoteit T, Yordanova J, Pühse U, Holsboer-Trachsler E, Brand S (2012) Daily morning running for 3 weeks improved sleep and psychological functioning in healthy adolescents compared with controls. J Adolesc Health 51(6):615–622

Lang C, Kalak N, Brand S, Holsboer-Trachsler E, Pühse U, Gerber M (2016) The relationship between physical activity and sleep from mid adolescence to early adulthood. A systematic review of methodological approaches and meta-analysis. Sleep Med Rev 28:32–45

McDowell CP, MacDonncha C, Herring MP (2017) Brief report: associations of physical activity with anxiety and depression symptoms and status among adolescents. J Adolesc 55:1–4

Carotenuto M, Esposito M, Pascotto A (2010) Migraine and enuresis in children: an unusual correlation? Med Hypotheses 75(1):120–122

Carotenuto M, Gallai B, Parisi L, Roccella M, Esposito M (2013) Acupressure therapy for insomnia in adolescents: a polysomnographic study. Neuropsychiatr Dis Treatm 9:157

Carotenuto M, Esposito M, Precenzano F, Castaldo L, Roccella M (2011) Cosleeping in childhood migraine. Miner Pediatr 63(2):105

Prochaska JJ, Sallis JF, Long B (2001) A physical activity screening measure for use with adolescents in primary care. Arch Pediatr Adolesc Med 155(5):554–559

McNair DM, Lorr M, Droppleman LF (1992) EdITS manual for the profile of mood states. EdITS, San Diego, CA

O'Connor PJ (2004) Evaluation of four highly cited energy and fatigue mood measures. J Psychosom Res 57(5):435–441

Lipsey MW, Wilson D (2000) Practical meta-analysis. Sage Publications, Inc., Thousand Oaks, CA

Christie AD, Seery E, Kent JA (2016) Physical activity, sleep quality, and self-reported fatigue across the adult lifespan. Exp Gerontol 77:7–11

Giles A, Callister R, Nasstasia Y, Baker A, Halpin S, Hides L, Dascombe B, Kelly B (2014) Daily monitoring of mood, sleep behaviours, screen time, energy levels and physical activity in a sample of depressed youth. J Sci Med Sport 18:e152

Langguth N, Schmid J, Gawrilow C, Stadler G (2016) Within-person link between depressed affect and moderate-to-vigorous physical activity in adolescence: an intensive longitudinal approach. Appl Psychol Health Well Being 8(1):44–63

Kimm SY, Glynn NW, Kriska AM, Barton BA, Kronsberg SS, Daniels SR, Crawford PB, Sabry ZI, Liu K (2002) Decline in physical activity in black girls and white girls during adolescence. N Engl J Med 347(10):709–715

Probst JC, Laditka SB, Moore CG, Harun N, Powell MP, Baxley EG (2006) Rural-urban differences in depression prevalence: implications for family medicine. Fam Med Kansas City 38(9):653

Guillaume M, Lapidus L, Björntorp P, Lambert A (1997) Physical activity, obesity, and cardiovascular risk factors in children. The Belgian Luxembourg Child Study II. Obesity 5(6):549–556

Aarnio M, Kujala U, Kaprio J (1997) Associations of health-related behaviors, school type and health status to physical activity patterns in 16 year old boys and girls. Scand J Soc Med 25(3):156–167

Ji X, Liu J (2015) Associations between blood zinc concentrations and sleep quality in childhood: a cohort study. Nutrients 7(7):5684–5696

Prather AA, Bogdan R, Hariri PAR (2013) Impact of sleep quality on amygdala reactivity, negative affect, and perceived stress. Psychosom Med 75(4):350

Hirose A, Terauchi M, Akiyoshi M, Owa Y, Kato K, Kubota T (2016) Subjective insomnia is associated with low sleep efficiency and fatigue in middle-aged women. Climacteric 19(4):369–374

De Havas JA, Parimal S, Soon CS, Chee MW (2012) Sleep deprivation reduces default mode network connectivity and anti-correlation during rest and task performance. Neuroimage 59(2):1745–1751

Hampson JP, Zick SM, Khabir T, Wright BD, Harris RE (2015) Altered resting brain connectivity in persistent cancer related fatigue. NeuroImage Clin 8:305–313

Boraxbekk C-J, Salami A, Wåhlin A, Nyberg L (2016) Physical activity over a decade modifies age-related decline in perfusion, gray matter volume, and functional connectivity of the posterior default-mode network—a multimodal approach. NeuroImage 131:133–141

Youngstedt SD, Kline CE, Elliott JA, Zielinski MR, Devlin TM, Moore TA (2016) Circadian phase-shifting effects of bright light, exercise, and bright light + exercise. J Circadian Rhythms 14:2. https://doi.org/10.5334/jcr.137

Kline CE, Durstine JL, Davis JM, Moore TA, Devlin TM, Youngstedt SD (2010) Circadian rhythms of psychomotor vigilance, mood, and sleepiness in the ultra-short sleep/wake protocol. Chronobiol Int 27(1):161–180
Ethics declarations
Conflict of interest
The authors declare that they have no conflict of interest.
Ethical approval
All procedures performed in studies involving human participants were in accordance with the ethical standards of the institutional and/or national research committee and with the 1964 Helsinki declaration and its later amendments or comparable ethical standards.
Informed consent
Informed consent was obtained from all individual participants included in the study.
About this article
Cite this article
Herring, M.P., Monroe, D.C., Kline, C.E. et al. Sleep quality moderates the association between physical activity frequency and feelings of energy and fatigue in adolescents. Eur Child Adolesc Psychiatry 27, 1425–1432 (2018). https://doi.org/10.1007/s00787-018-1134-z
Received:

Accepted:

Published:

Issue Date:

DOI: https://doi.org/10.1007/s00787-018-1134-z
Keywords