Abstract
Problematic internet use may lead to serious psychosocial dysfunction. Recent studies have found comparable prevalence in both male and female adolescents. We pursue the neglected questions how male and female adolescents differ regarding their patterns of internet use and how gender, peer attachment and patterns of use are related to pathological internet use. In 2410 adolescents (1307 girls and 1103 boys) aged 12–18 years from different types of school we assessed peer attachment, frequency and use of eight specific applications and indicators of pathological internet use. Three patterns of internet use, 'social'; 'sex and games" and 'functional' were identified and connections between variables were modeled by ordered sequences of regression. We found that problematic internet use—sex and games as well as social usage—was more prevalent in boys. Insecure peer attachment predicted problematic internet use in both sexes. Also, excessive usage of internet games and sex mediated the influence of peer attachment insecurity on problematic internet use, but only for boys. Our study identified that adolescents with insecure peer attachment are at higher risk for problematic internet use. With regard to specific types of internet use, the consumption of online games and sex was identified as risk factor in boys with increasing age. Further studies are needed to understand and possibly subgroup problematic internet use behavior in girls. Our findings suggest that increasing the quality of peer relationships may be promising approach in the prevention and treatment of problematic internet use.
This is a preview of subscription content, log in to check access.
Access options
Buy single article
Instant access to the full article PDF.
US$ 39.95
Tax calculation will be finalised during checkout.
Subscribe to journal
Immediate online access to all issues from 2019. Subscription will auto renew annually.
US$ 199
Tax calculation will be finalised during checkout.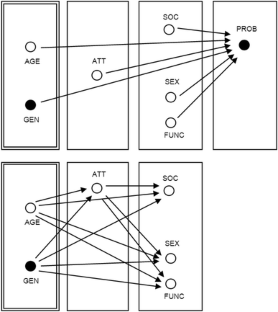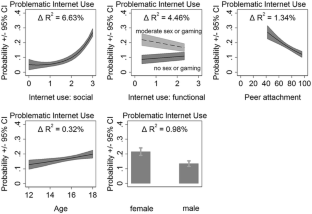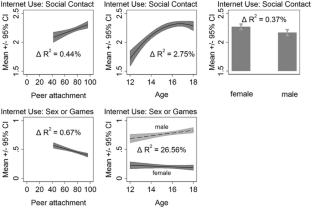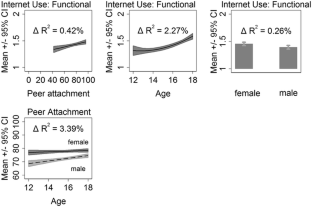 References
1.

Kormas G et al (2011) Risk factors and psychosocial characteristics of potential problematic and problematic internet use among adolescents: a cross-sectional study. BMC Public Health 11:595

2.

Tsitsika A et al (2011) Determinants of Internet addiction among adolescents: a case-control study. ScientificWorldJournal 11:866–874

3.

Armsden GC, Greenberg MT (1987) The inventory of parent and peer attachment: individual differences and their relationship to psychological well-being in adolescence. J Youth Adolesc 16(5):427–454

4.

Lee BW, Stapinski LA (2012) Seeking safety on the internet: relationship between social anxiety and problematic internet use. J Anxiety Disord 26(1):197–205

5.

Tokunaga RS (2014) A unique problem or the manifestation of a preexisting disorder? The mediating role of problematic Internet use in the relationships between psychosocial problems and functional impairment. Commun Res 41(4):531–560

6.

Beutel ME et al (2011) Regular and problematic leisure-time Internet use in the community: results from a German population-based survey. Cyberpsychol Behav Soc Netw 14(5):291–296

7.

Kaess M et al (2014) Pathological Internet use among European adolescents: psychopathology and self-destructive behaviours. Eur Child Adolesc Psychiatry 23(11):1093–1102

8.

Tsitsika A et al (2014) Internet addictive behavior in adolescence: a cross-sectional study in seven European countries. Cyberpsychol Behav Soc Netw 17(8):528–535

9.

Starcevic V (2013) Is Internet addiction a useful concept? Aust N Z J Psychiatry 47(1):16–19

10.

American Psychiatric Association (2013) Diagnostic and statistical manual of mental disorders (DSM-5®). Washington DC

11.

Petry NM, O'Brien CP (2013) Internet gaming disorder and the DSM-5. Addiction 108(7):1186–1187

12.

Schimmenti A et al (2014) Insecure attachment attitudes in the onset of problematic Internet use among late adolescents. Child Psychiatry Hum Dev 45(5):588–595

13.

Starcevic V, Aboujaoude E (2016) Internet addiction: reappraisal of an increasingly inadequate concept. CNS Spectr 13(1):1–7

14.

Young KS (1999) The research and controversy surrounding internet addiction. Cyberpsychol Behav 2(5):381–383

15.

Wang H et al (2011) Problematic Internet use in high school students in Guangdong Province, China. PLoS ONE 6(5):e19660

16.

Müller KW et al (2013) Prevalence of internet addiction in the general population: results from a German population-based survey. Behav Inf Technol 33(7):757–766

17.

Kiraly O et al (2014) Problematic internet use and problematic online gaming are not the same: findings from a large nationally representative adolescent sample. Cyberpsychol Behav Soc Netw 17(12):749–754

18.

Durkee T et al (2012) Prevalence of pathological internet use among adolescents in Europe: demographic and social factors. Addiction 107(12):2210–2222

19.

van Rooij AJ et al (2010) Compulsive Internet use: the role of online gaming and other internet applications. J Adolesc Health 47(1):51–57

20.

Meerkerk GJ, Van Den Eijnden RJ, Garretsen HF (2006) Predicting compulsive Internet use: it's all about sex! Cyberpsychol Behav 9(1):95–103

21.

Morrison CM, Gore H (2010) The relationship between excessive Internet use and depression: a questionnaire-based study of 1,319 young people and adults. Psychopathology 43(2):121–126

22.

Pawlikowskia M et al (2014) Pathological Internet use—it is a multidimensional and not a unidimensional construct. Addict Res Theory 22(2):166–175

23.

Müller KW et al (2016) A hidden type of internet addiction? Intense and addictive use of social networking sites in adolescents. Comput Hum Behav 55:172–177

24.

Wilson K, Fornasier S, White KM (2010) Psychological predictors of young adults' use of social networking sites. Cyberpsychol Behav Soc Netw 13(2):173–177

25.

Magoon ME, Ingersoll GM (2006) Parental modeling, attachment, and supervision as moderators of adolescent gambling. J Gambl Stud 22(1):1–22

26.

Lei L, Wu Y (2007) Adolescents' paternal attachment and Internet use. CyberPsychol Behav 10(5):633–639

27.

Allen JP et al (2007) The relation of attachment security to adolescents' paternal and peer relationships, depression, and externalizing behavior. Child Dev 78(4):1222–1239

28.

Senormanci O et al (2014) Attachment and family functioning in patients with internet addiction. Gen Hosp Psychiatry 36(2):203–207

29.

Ko CH et al (2014) The exacerbation of depression, hostility, and social anxiety in the course of Internet addiction among adolescents: a prospective study. Compr Psychiatry 55(6):1377–1384

30.

Eichenberg C, Dyba J, Schott M (2016) Attachment style, motives for use and Internet addiction. Psychiatr Prax 44:41–46

31.

Dykas MJ, Ziv Y, Cassidy J (2008) Attachment and peer relations in adolescence. Attach Hum Dev 10(2):123–141

32.

Willoughby T (2008) A short-term longitudinal study of Internet and computer game use by adolescent boys and girls: prevalence, frequency of use, and psychosocial predictors. Dev Psychol 44(1):195–204

33.

Milani L, Osualdella D, Di Blasio P (2009) Quality of interpersonal relationships and problematic Internet use in adolescence. Cyberpsychol Behav 12(6):681–684

34.

Blais JJ et al (2008) Adolescents online: the importance of internet activity choices to salient relationships. J Youth Adolesc 37(5):522–536

35.

Michal M et al (2015) Prevalence and correlates of depersonalization in students aged 12–18 years in Germany. Soc Psychiatry Psychiatr Epidemiol 50(6):995–1003

36.

Muller KW et al (2015) Regular gaming behavior and internet gaming disorder in European adolescents: results from a cross-national representative survey of prevalence, predictors, and psychopathological correlates. Eur Child Adolesc Psychiatry 24(5):565–574

37.

Braun B et al (2016) Personality and video gaming: comparing regular gamers, non-gamers, and gaming addicts and differentiating between game genres. Comput Hum Behav 55:406–412

38.

Müller KW, Beutel ME, Wölfling K (2014) A contribution to the clinical characterization of Internet addiction in a sample of treatment seekers: validity of assessment, severity of psychopathology and type of co-morbidity. Compr Psychiatry 55(4):770–777

39.

Kuss DJ et al (2014) Assessing internet addiction using the parsimonious internet addiction components model—preliminary study. Int J Mental Health Addict 12:351–366

40.

Bentler PM (1990) Comparative fit indexes in structural models. Psychol Bull 107(2):238–246

41.

Raja SN, McGee R, Stanton WR (1992) Perceived attachments to parents and peers and psychological well-being in adolescence. J Youth Adolesc 21(4):471–485

42.

StataCorp (2011) Stata Statistical Software: Release 12. StataCorp LP, College Station

43.

Wermuth N, Sadeghi K (2012) Sequences of regressions and their independences. Test 2:215–252

44.

Wright S (1934) The method of path coefficients. Ann Math Stat 5:161–215

45.

Wermuth N, Cox DR (2001) Graphical models: an overview. In: Baltes PB, Smelser NJ (eds) International Encyclopedia of the social and behavioural sciences. Elsevier, Amsterdam, pp 6379–6386

46.

Cox DR, Wermuth N (1996) Multivariate dependencies: models, analysis and interpretation, vol 1. Chapman & Hall, London

47.

Wölfling K et al (2015) Männlich, einsam, ängstlich und depressiv—Begleiterkrankungen und Risikofaktoren von Internetsucht. Suchttherapie 16(04):157–162

48.

Beutel ME et al (2011) Clinical characteristics of computer game and internet addiction in persons seeking treatment in an outpatient clinic for computer game addiction. Z Psychosom Med Psychother 57(1):77–90

49.

Wang CW et al (2015) Exploring personality characteristics of Chinese adolescents with internet-related addictive behaviors: trait differences for gaming addiction and social networking addiction. Addict Behav 42:32–35

50.

Wajcman J (2000) Reflections on gender and technology studies: in what state is the art? Soc Stud Sci 30(3):447–464

51.

Morahan-Martin J, Schumacher P (2003) Loneliness and social uses of the Internet. Comput Hum Behav 19(6):659–671

52.

Davis K (2012) Friendship 2.0: adolescents' experiences of belonging and self-disclosure online. J Adolesc 35(6):1527–1536

53.

Wölfling K et al (2011) Emotionale Befindlichkeit und dysfunktionale Stressverarbeitung bei Personen mit Internetsucht. Sucht 1:27–37
Ethics declarations
Ethical approval
The study has been approved by the ethics committee of the State Board of Physicians of Rhineland-Palatinate (Germany) and has been performed in accordance with the ethical standards laid down in the 1964 Declaration of Helsinki and its later amendments.
Conflict of interest
The authors declare that they have no conflict of interest.
About this article
Cite this article
Reiner, I., Tibubos, A.N., Hardt, J. et al. Peer attachment, specific patterns of internet use and problematic internet use in male and female adolescents. Eur Child Adolesc Psychiatry 26, 1257–1268 (2017). https://doi.org/10.1007/s00787-017-0984-0
Received:

Accepted:

Published:

Issue Date:
Keywords
Peer attachment

Problematic Internet use

Attachment insecurity

Sex differences

Online sex

Adolescence