Abstract
The past years have been characterized by a large refugee crisis across the globe. The exposure to preflight, flight, and resettlement stressors puts refugee children and their families at risk of developing emotional and behavioral disorders. A unique Western-based approach of mental health problems seems to be insufficient to address the complexity of interactions between individual vulnerabilities and more ecological surrounding systems. We looked into (1) the reasons for referral; and (2) the process diagnostic outcomes after ethnopsychiatric and psychological assessment. We conducted a thematic content analysis on 93 files of refugee children. The findings suggest that mental health care professionals need to hold into account the multiplicity and intertwining of ongoing challenges to the well-being of refugee children. The integration of a Western-based psychiatric assessment with a more ecologically based view can lead to a more culturally sensitive approach in refugee children and their families. This way, both under- and overdiagnosis of psychiatric disorders could be avoided to further optimalise mental health care in this population.
Access options
Buy single article
Instant access to the full article PDF.
US$ 39.95
Tax calculation will be finalised during checkout.
Subscribe to journal
Immediate online access to all issues from 2019. Subscription will auto renew annually.
US$ 159
Tax calculation will be finalised during checkout.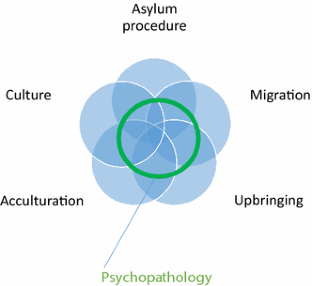 References
1.

UNHCR The UN refugee agency (2016) Global trends. Forced displacement in 2015. Retrieved from http://www.unhcr.org/576408cd7.pdf. Accessed 7 March 2017

2.

Commissariaat-Generaal voor de vluchtelingen en staatlozen (2017) Asielstatistieken. Overzicht 2016. Retrieved from http://www.cgvs.be/sites/default/files/asielstatistieken_2016_nl.pdf. Accessed 7 March 2017

3.

Silove D, Steel Z, McGorry P, Mohan P (1998) Psychiatric symptoms and living difficulties in Tamil asylum seekers: comparisons with refugees and immigrants. Acta Psychiatr Scand 97:175–181

4.

Laban CJ, Gernaat H, Komproe IH, van der Tweel I, Jong De (2005) Postmigration living problems and common psychiatric disorders in Iraqi asylum seekers in the Netherlands. J Nerv Ment Dis 193(12):825–832

5.

Porter M, Haslam N (2005) Predisplacement and postdisplacement factors associated with mental health of refugees and internally displaced persons. A meta-analysis. J Am Med Assoc 294:602–612

6.

Fazel M, Wheeler J, Danesh J (2005) Prevalence of serious mental disorder in 7000 refugees resettled in western countries: a systematic review. Lancet 365(9467):1309–1314

7.

Miller KE, Rasmussen A (2010) War exposure, daily stressors and mental health in conflict and post-conflict settings: bridging the divide between trauma-focused and psychosocial frameworks. Soc Sci Med 70(1):7–16

8.

Domnich A, Panatto D, Gasparini R, Amicizia D (2012) The "Healthy Immigrant" effect: does it exist in Europe today? Ital J Public Health 9:3

9.

Stevens G, Walsh SD, Huijts T, Maes M, Madsen KR, Cavallo F, Molcho M (2015) An internationally comparative study of immigration and adolescent emotional behavioural problems: effects of generation and gender. J Adolesc Health 57(6):587–594

10.

Laban CJ, Gernaat H, Komproe IH, Schreuders BA, De Jong J (2004) Impact of a long asylum procedure on the prevalence of psychiatric disorders in Iraqi asylum seekers in The Netherlands. J Nerv Ment Dis 2004(192):843–851

11.

Betancourt TS, Khan KT (2008) The mental health of children affected by armed conflict: protective processes and pathways to resilience. Int Rev Psychiatry 20(3):317–328

12.

Daud A, Klinteberg B, Rydelius P-A (2008) Resilience and vulnerability among refugees of traumatized and non-traumatized parents. Child Adolesc Psychiatry Ment Health 2:7

13.

Locke CJ, Southwick K, McCloskey LA, Fernández-Esquer ME (1996) The psychological and medical sequelae of war in central American refugee mothers and children. Arch Pediatr Adolesc Med J 150(8):822–828. doi:10.1001/archpedi.1996.02170330048008

14.

Bevaert F (2013) Ethnic differences in pathways in care for young children with problem behaviour: road work in progress. University Medical Center, Rotterdam

15.

Bhui K, Stansfeld S, Hull S, Priebe S, Mole F, Feder G (2014) Ethnic variations in pathways to and use of specialist mental health services in the UK: systematic review ethnic variations in pathways to and use of specialist mental health services in the UK Systematic review. Most 182(2):105–116

16.

Derr AS (2015) Mental health service use among immigrants in the United States: a systematic review. Psychiatr Serv 67(3):265–274

17.

van Dijk R, Beijers H, Groen S (2012) Het culturele interview. Pharos, Utrecht

18.

Serneels G, Villanueva O'Driscoll J, Imeraj L, Vanfraussen K, Lampo A An intervention supporting the mental health of children with a refugee background. Issues in mental health nursing (In press)

19.

American Psychiatric Association (APA) (2013) Diagnostic and statistical manual of mental disorders, 5th edn. APA, DSM-V

20.

Braun V, Clarke V (2006) Using thematic analysis in psychology. Qual Res Psychol 3(2):77–101

21.

Neuendorf KA (2016) The content analysis guidebook. Sage, London

22.

Lustig SL, Kia-Keating M, Grant Knight W, Geltman P, Ellis H, Kinzie D, Keane T, Saxe GN (2004) Review of child and adolescent refugee mental health. J Am Acad Child Adolesc Psychiatry 31(1):24–36

23.

Christopher M (2004) A broader view of trauma: a biopsychosocial-evolutionary view of the role of the traumatic stress response in the emergence of pathology and/or growth. Clin Psychol Rev 24:75–98

24.

Fazel M, Reed RV, Panter-Brick C, Stein A (2012) Mental health of displaced and refugee children resettled in high-income countries: risk and protective factors. Lancet 379(9812):266–282

25.

Stevens G, Vollebregh W (2007) Mental health in migrant children. J Child Psychol Psychiatry 49(3):276–294

26.

Gadeberg AK, Norredam M (2016) Urgent need for validated trauma and mental health screening tools for refugee children and youth. Eur Child Adolesc Psychiatry 25:929–931. doi:10.1007/s00787-016-0837-2

27.

Stöfsel M, Mooren T (2010) Complex trauma: diagnostiek en behandeling. Bohn Stafleu van Loghem, Houten

28.

Söndergaard HP, Ekblad S, Theorell T (2003) Screening for post-traumatic stress disorder among refugees in Stockholm. Nord J Psychiatry 57:185–189

29.

Ghorashi H, van de Vijver FJR (2010) Culturele erkenning, persoonlijke ontwikkeling en etnische identiteit. In: de Jong J, Colijn S (eds) Handboek culturele psychiatrie en psychotherapie. de Tijdstroom, Utrecht, pp 57–74

30.

Bronfenbrenner U (1977) Toward an experimental ecology of human development. Am Psychol 32:513–531

31.

Serdarevic M, Chronister KM (2005) Research with immigrant populations: the application of an ecological framework to mental health research with immigrant populations. Int J Ment Health Promot 7:24–34

32.

Kagitcibasi C (2007) Family, self and human development across cultures. Theory and applications. Lawrence Erlbaun Associates Inc, New Jersey

33.

Lewig K, Arney F, Salveron M (2010) Challenges to parenting in a new culture: implications for child and family welfare. Eval Program Plan 33(3):324–332

34.

Ward C, Geeraert N (2016) Advancing acculturation theory and research: the acculturation process in its ecological context. Curr Opin Psychol 8:98–104

35.

Stuart J, Ward C (2011) A question of balance: exploring the acculturation, integration and adaptation of muslim immigrant youth. Psychosoc Interv 20(3):255–267

36.

Fresnoza-Flot A (2009) Migration status and transnational mothering: the case of Filipino migrants in France. Glob Netw 9(2):252–270

37.

Miller KE, Rasco LM (eds) (2004) The mental health of refugees: ecological approaches to healing and adaptation. Lawrence Erlbaum Associates, New Jersey

38.

Rumberger RW (2003) The causes and consequences of student mobility. J Negro Educ 72(1):6–21

39.

Stark L, DeCormier Plosky W, Horn R, Canavera M (2015) 'He always thinks he is nothing': the psychosocial impact of discrimination on adolescent refugees in urban Uganda. Soc Sci Med 146:173–181

40.

Cristini F, Scacchi L, Perkins D, Santinello M, Vieno A (2011) The influence of discrimination on immigrant adoloscents' depressive symptoms: what buffers detrimental effects ? Psychosoc Interv 20(3):243–253

41.

Söndergaard HP, Solvig E, Töres T (2001) Self-reported life event patterns and their relation to health among recently resettled Iraqi and Kurdish refugees in Sweden. J Nerv Ment Dis 189(12):838–845

42.

Selten JP, Cantor-Graae E (2007) Hypothesis: social defeat is a risk factor for schizophrenia? Br J Psychiatry 51:9

43.

Kubiak S (2005) Trauma and cumulative adversity in women of a disadvantaged social location. Am J Orthopsychiatry 75:451–465
Ethics declarations
Conflict of interest
On behalf of all authors, the corresponding author states that there is no conflict of interest.
Funding
European Refugee Fund.
About this article
Cite this article
Villanueva O'Driscoll, J., Serneels, G. & Imeraj, L. A file study of refugee children referred to specialized mental health care: from an individual diagnostic to an ecological perspective. Eur Child Adolesc Psychiatry 26, 1331–1341 (2017). https://doi.org/10.1007/s00787-017-0981-3
Received:

Accepted:

Published:

Issue Date:
Keywords
Refugees

Refugee children

Ecological framework

Culturally sensitive approach

File study

Mental health care