Abstract
Increasing divorce rates leave more and more children to deal with the separation of their parents. Recent research suggests that children of divorced parents more often experience psychological and physical symptoms than children of non-divorced parents. The processes that mediate the relationship between parental divorce and ill-health, however, are still elusive. This study investigated the mediating role of psychological factors such as resilience and rejection sensitivity on the long-term consequences of parental divorce in young adults. One hundred and ninety-nine participants (mean age 22.3 years) completed an online survey, including measures of mental health, childhood trauma, resilience, and rejection sensitivity. Participants with divorced parents (33 %) reported increased levels of psychological symptoms, childhood trauma, rejection sensitivity, and lower levels of resilience. The association between parental divorce and mental health was fully mediated by resilience, rejection sensitivity, and childhood trauma. The mediation model explained up to 44 % of the total variance in mental health symptoms. Resilience and rejection sensitivity are crucial factors for successful coping with the experience of parental separation. Prevention programs that help to boost children's resilience might help to reduce the long-term effects of parental divorce on their attachment style (e.g., rejection sensitivity), thereby improving their mental health on the long run. Furthermore, the results call for parental awareness and counseling to target and reduce the observed increased level of childhood trauma. Limitations concern the cross-sectional and retrospective design of the study.
Access options
Buy single article
Instant access to the full article PDF.
USD 39.95
Price excludes VAT (USA)
Tax calculation will be finalised during checkout.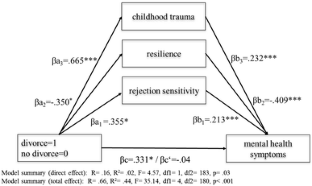 References
Amato PR, Keith B (1991) Parental divorce and the well-being of children: a meta-analysis. Psychol Bull 110:26–46

Crowell JA, Treboux D, Brockmeyer S (2009) Parental divorce and adult children's attachment representations and marital status. Attach Hum Dev 11:87–101

Mikulincer M, Shaver PR (2012) An attachment perspective on psychopathology. World Psychiatry 11:11–15

Downey G, Feldman SI (1996) Implications of rejection sensitivity for intimate relationships. J Pers Soc Psychol 70:1327–1343

Ayduk O, Downey G, Kim M (2001) An expectancy-value model of personality diathesis for depression: rejection sensitivity and depression in women. Pers Soc Psychol Bull 27:868–877

Staebler K, Helbing E, Rosenbach C, Renneberg B (2011) Rejection sensitivity and borderline personality disorder. Clin Psychol Psychot 18:275–283

Singh-Taylor A, Korosi A, Molet J, Gunn BG, Baram TZ (2015) Synaptic rewiring of stress-sensitive neurons by early-life experience: a mechanism for resilience? Neurobiol stress 1:109–115

Schulze J, Gutz L, Renneberg B (2012) Ein effizienterer weg um zurückweisungsempfindlichkeit zu erfassen—entwicklung einer kurzversion des rejection sensitivity questionnaires (RSQ). In Vögele C (ed) Abstractband des 30. Symposium klinische psychologie und psychotherapie der DGPs fachgruppe klinische psychologie und psychotherapie [book of abstracts of the 30th symposium for clinical psychology and psychotherapy of the DGPs chapter clinical psychology and psychotherapy], University of Luxembourg, Luxembourg

Leppert K, Koch B, Brähler E, Strauss B (2008) Die Resilienzskala (RS)—Uberprüfung der langform RS-25 und einer kurzform RS-13. Klin Diagn Eval 2:226–243

Preacher KJ, Hayes AF (2004) SPSS and SAS procedures for estimating indirect effects in simple mediation models. Behav Res Meth Ins Comput 36:717–731
Ethics declarations
Conflict of interest
On behalf of all authors, the corresponding author states that there is no conflict of interest.
About this article
Cite this article
Schaan, V.K., Vögele, C. Resilience and rejection sensitivity mediate long-term outcomes of parental divorce. Eur Child Adolesc Psychiatry 25, 1267–1269 (2016). https://doi.org/10.1007/s00787-016-0893-7
Received:

Accepted:

Published:

Issue Date:

DOI: https://doi.org/10.1007/s00787-016-0893-7
Keywords