Abstract
Age of onset, callous-unemotional (CU) traits and anger dysregulation have separately been proposed as relevant factors in explaining the heterogeneity of antisocial behaviour (ASB). Taking a dimensional perspective, this study examined the specific contributions and the mutual influences (i.e., interactions) of these three characteristics on specific dimensions of ASB (i.e., criminal behaviours and externalizing symptoms). Assessments were conducted on 536 youths from institutions with the youth psychopathic traits inventory (CU traits), the Massachusetts youth screening instrument—second version (anger dysregulation), the criminology questionnaire (criminal behaviours) and the child behavior checklist (externalizing symptoms), rated by both the youths and their carers. Using Bayes as estimators, the results revealed that the number and frequency of crimes (and, more specifically, damage to property, property offenses and media crimes) were explained by a specific contribution of each factor (age of onset, CU traits and anger dysregulation). Additionally, the interactions between age of onset and CU traits or anger dysregulation were relevant predictors of some types of crimes (i.e., damage to property, property offences and media crimes). Furthermore, when rated by youths, externalizing symptoms were explained by CU traits and anger dysregulation. However, when rated by the carer, anger dysregulation was more important in explaining externalizing symptoms. This study highlights the importance of considering these factors altogether and the value of using a dimensional perspective when examining the structure of ASB in youths. Consequently, future classifications should take into account the mutual account of these characteristics, which were previously studied separately.
Access options
Buy single article
Instant access to the full article PDF.
US$ 39.95
Tax calculation will be finalised during checkout.
Subscribe to journal
Immediate online access to all issues from 2019. Subscription will auto renew annually.
US$ 159
Tax calculation will be finalised during checkout.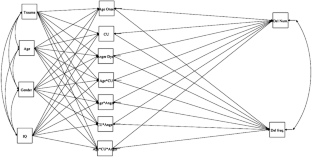 References
1.

Krug EG, Dahlberg LL, Mercy JA, Zwi AB, Lozano R (2002) World report on violence and health. World Health Organization, Geneva

2.

Loeber R, Farrington DP (2001) The significance of child delinquency. In: Loeber R, Farrington DP (eds) Child delinquents: development, intervention and service needs. Sage, Thousand Oaks, pp 1–24

3.

D'Amico F, Knapp M, Beecham J, Sandberg S, Taylor E, Sayal K (2014) Use of services and associated costs for young adults with childhood hyperactivity/conduct problems: 20-year follow-up. Br J Psychiatry 204:441–447

4.

Blongien DM, Hicks BM, Krueger RF, Patrick CJ, Iacono WG (2005) Psychopathic personality traits: heritability and genetic overlap with internalizing and externalizing psychopathology. Psychol Med 35:637–648

5.

Dölitzsch C, Schmid M, Keller F, Besier T, Fegert JM, Schmeck K et al (2016) Professional caregiver's knowledge of self-reported delinquency in an adolescent sample in Swiss youth welfare and juvenile justice institutions. Int J Law Psychiatry (in press)

6.

Fazel S, Doll H, Langstrom N (2008) Mental disorders among adolescents in juvenile detention and correctional facilities: a systematic review and metaregression analysis of 25 surveys. J Am Acad Child Adolesc Psychiatry 47:1010–1019

7.

Frick PJ, Viding E (2009) Antisocial behavior from a developmental psychopathology perspective. Dev Psychopathol 21:1111–1131

8.

Moffitt TE (2006) Life-course persistent versus adolescence-limited antisocial behavior. In: Cicchetti D, Cohen J (eds) Developemental psychaphtology, risk, disorder, and adaptation, 2nd edn. Wiley, New York, pp 570–598

9.

Pardini DA, Frick PJ (2013) Multiple developmental pathways to conduct disorder: current conceptualizations and clinical implications. J Can Acad Child Adolesc Psychiatry 22:20–25

10.

Frick PJ, White SF (2008) Research review: the importance of callous-unemotional traits for developmental models of aggressive and antisocial behavior. J Child Psychol Psychiatry 49:359–375

11.

Fairchild G, Passamonti L, Hurford G, Hagan CC, von dem Hagen EA, van Goozen SH et al (2011) Brain structure abnormalities in early-onset and adolescent-onset conduct disorder. Am J Psychiatry 168:624–633

12.

Moffitt TE (1993) Adolescence-limited and life-course-persistent antisocial behavior: a developmental taxonomy. Psychol Rev 100:674–701

13.

Dandreaux DM, Frick PJ (2009) Developmental pathways to conduct problems: a further test fo the childhood and adolescent-onset distinction. J Abnorm Child Psychol 37:375–385

14.

American P, Association (2013) Diagnostic and statistical manual of mental disorders, 5th edn. American Psychiatric Publishing, Arlington

15.

Odgers CL, Moffitt TE, Broadbent JM, Dickson N, Hancox RJ, Harrington H et al (2008) Female and male antisocial trajectories: from childhood origins to adult outcomes. Dev Psychopathol 20:673–716

16.

Frick PJ, Loney BR (1999) Outcomes of children and adolescents with oppositional defiant disorder and conduct disorder. In: Quay HC, Hogan AE (eds) Handbook of disruptive behavior diorders. Kluwer, Dordrecht, pp 507–524

17.

Moffitt TE, Caspi A, Harrington H, Milne BJ (2002) Males on the life-course-persistent and adolescence-limited antisocial pathways: follow-up at age 26 years. Dev Psychopathol 14:179–207

18.

Woodward LJ, Fergusson DM, Horwood LJ (2002) Romantic relationships of young people with childhood and adolescent onset antisocial behavior problems. J Abnorm Child Psychol 30:231–243

19.

Frick PJ, Cornell AH, Barry CT, Bodin SD, Dane HE (2003) Callous-unemotional traits and conduct problems in the prediction of conduct problem severity, aggression, and self-report of delinquency. J Abnorm Child Psychol 31:457–470

20.

Frick PJ, Ellis M (1999) Callous-unemotional traits and subtypes of conduct disorder. Clin Child Fam Psychol Rev 2:149–168

21.

Loeber R, Pardini D (2008) Neurobiology and the development of violence: common assumptions and controversies. Philos Trans R Soc Lond B Biol Sci 363:2491–2503

22.

Hipwell AE, Pardini DA, Loeber R, Sembower M, Keenan K, Stouthamer-Loeber M (2007) Callous-unemotional behaviors in young girls: shared and unique effects relative to conduct problems. J Clin Child Adolesc Psychol 36:293–304

23.

Pardini DA, Lochman JE, Frick PJ (2003) Callous/unemotional traits and social-cognitive processes in adjudicated youths. J Am Acad Child Adolesc Psychiatry 42:364–371

24.

Arsenio WF, Cooperman S, Lover A (2000) Affective predictors of preschoolers' aggression and peer acceptance: direct and indirect effects. Dev Psychol 36:438–448

25.

Lengua LJ, Kovacs EA (2005) Bidirectional associations between temparement and parenting and the prediction of adjustment problems in middle childhood. J Appl Dev Psychol 72:571–578

26.

Rothbart MK, Ahadi AS, Hershey KL (1994) Temperament and social behavior in childhood. Merrill Palmer Q 40:21–39

27.

Whelan YM, Leibenluft E, Stringaris A, Barker ED (2015) Pathways from maternal depressive symptoms to adolescent depressive symptoms: the unique contribution of irritability symptoms. J Child Psychol Psychiatry 56:1092–1100

28.

Moffitt TE (2003) Life-course persistent and adolescence-limited antisocial behavior: a 10-year research review and research agenda. In: Lahey BB, Moffitt TE, Caspi A (eds) Causes of conduct disorder and juvenile delinquency. Guilford, New York, pp 49–75

29.

Hyde LW, Burt SA, Shaw DS, Donnellan MB, Forbes EE (2015) Early starting, agressive, and/or callous-unemotional ? Examining the overlap and predictive utility of antisocial behavior subtypes. J Abnorm Psychol 124:329–342

30.

Frick PJ (2012) Developmental pathways to conduct disorder: implications for future directions in research, assessment, and treatment. J Clin Child Adolesc Psychol 41:378–389

31.

Cecil CA, Lysenko LJ, Jaffee SR, Pingault J-B, Smith RG, Relton CL et al (2014) Environmental risk, oxytocin receptor gene (OXTR) methylation and youth callous-unemotional traits: a 13-year longitudinal study. Mol psychiatry 19:1071–1077

32.

Baker LA, Jacobson KC, Raine A, Lozano DI, Bezdjian S (2007) Genetic and environmental bases of childhood antisocial behavior: a multi-informant twin study. J Abnorm Psychol 116:219–235

33.

Schmid M, Kölch M, Fegert JM, Schmeck K, MAZ-Team (2013) Abschlussbericht Modellversuch Abklärung und Zielerreichung in stationäaren Massnahmen

34.

Boers K, Reinecke J (2007) Delinquenz im Jugendalter: Erkenntnisse einer Münsteraner Längsschnittstudie [Delinquency in adolescence: findings of a longitudinal study in Münster]. Waxmann, Münster

35.

Achenbach TM (1991) Manual of the child behaviour checklist 4/18 and 1991 Profiles. Department of Psychiatry, University of Vermont, Burlington

36.

Achenbach TM (1991) Manual for the youth self-report and 1991 profiles. Department of Psychiatry, University of Vermont, Burlington

37.

Andershed H, Kerr M, Stattin H, Levander S (2002) Psychopathic traits in non referred youths: A new assessment tool. In: Blauuw E, Sheridan L (eds) Psychopaths: current international perspectives. Elsevier, The Hague, pp 131–158

38.

Pihet S, Suter M, Meylan N, Schmid M (2014) Factor structure of the youth psychopathic trats inventory: using the total score, three scale scores and/or 10 subscale scores. Crim Justice Behav 41:1214–1231

39.

Stadlin C, Pérez T, Schmeck K, Di Gallo A, Schmid M (2016) Konstruktvalidität un Faktorenstrucktur des deutschsparhcigen youth psychopathic traits inventory (YPI) in einer repräsentativen Schulstichprobe. Diagnostica (in press)

40.

Grisso T, Barnum R (2014) Massachusetts youth screening intrument-version 2 (MAYSI-2): user's manual and technical report. Professional Ressource Press, Sarasota

41.

Tagay S, Dullmann S, Hermans E, Repic N, Hiller R, Senf W (2011) The essen trauma-inventory for children and adolescents (ETI-CA). Z Kinder Jugendpsychiatr Psychother 39:323–340

42.

Raven JC, Court JH, Raven J (1998) Progressive matrices standart (PM38). Oxford University Press, Oxford

43.

Raven JC (2000) The Raven's Progressive Matrices: change and stability over culture and time. Cognitive Psychol 41:1–48

44.

Muthén LK, Muthén BO (1998–2010) Mplus user's guide 6th Edn, Muthén & Muthén, Los Angeles

45.

Lynch S (2007) Introduction to applied bayesian statistics and estimation for social scientist. Springer, New York

46.

van de Schoot R, Hoijtink H, Mulder J, Van Aken MA, de Castro BO, Meeus W et al (2011) Evaluating expectations about negative emotional states of aggressive boys using Bayesian model selection. Dev Psychol 47:203–212

47.

van de Schoot R, Kaplan D, Denissen J, Asendorpf JB, Neyer FJ, van Aken MA (2014) A gentle introduction to bayesian analysis: applications to developmental research. Child Dev 85:842–860

48.

Yuan Y, MacKinnon DP (2009) Bayesian mediation analysis. Psychol Methods 14:301–322

49.

Schultz D, Izard CE, Bear G (2004) Children's emotion processing: relations to emotionality and aggression. Dev Psychopathol 16:371–387

50.

Orobio de Castro B, Veerman JW, Koops W, Bosch JD, Monshouwer HJ (2002) Hostile attribution of intent and aggressive behavior: a meta-analysis. Child Dev 73:916–934

51.

Moffitt TE, Arseneault L, Jaffee SR, Kim-Cohen J, Koenen KC, Odgers CL et al (2008) Research review: DSM-V conduct disorder: research needs for an evidence base. [Article]. J Child Psychol Psychiatry 49:3–33
Acknowledgments
We would like to thank the Ministry of justice, the 64 Youth Welfare and Juvenile Justice Institutions, and especially the adolescents that offered their time for the assessments. Furthermore, the authors wish to express their gratitude to Marnie Reed for her proof-reading.
Ethics declarations
Conflict of interest
None.
About this article
Cite this article
Urben, S., Stéphan, P., Habersaat, S. et al. Examination of the importance of age of onset, callous-unemotional traits and anger dysregulation in youths with antisocial behaviors. Eur Child Adolesc Psychiatry 26, 87–97 (2017). https://doi.org/10.1007/s00787-016-0878-6
Received:

Accepted:

Published:

Issue Date:
Keywords
Antisocial behaviour

Youths

Age of onset

Callous-unemotional traits

Anger dysregulation