Abstract
Youth suicide is a significant public health problem. A systematic review was conducted to examine the effectiveness of school, community and healthcare-based interventions in reducing and preventing suicidal ideation, suicide attempts and deliberate self-harm in young people aged 12–25 years. PsycInfo, PubMed and Cochrane databases were searched to the end of December 2014 to identify randomised controlled trials evaluating the effectiveness of psychosocial interventions for youth suicide. In total, 13,747 abstracts were identified and screened for inclusion in a larger database. Of these, 29 papers describing 28 trials fulfilled the inclusion criteria for the current review. The results of the review indicated that just over half of the programs identified had a significant effect on suicidal ideation (Cohen's d = 0.16–3.01), suicide attempts (phi = 0.04–0.38) or deliberate self-harm (phi = 0.29–0.33; d = 0.42). The current review provides preliminary support for the implementation of universal and targeted interventions in all settings, using a diverse range of psychosocial approaches. Further quality research is needed to strengthen the evidence-base for suicide prevention programs in this population. In particular, the development of universal school-based interventions is promising given the potential reach of such an approach.
Access options
Buy single article
Instant access to the full article PDF.
US$ 39.95
Tax calculation will be finalised during checkout.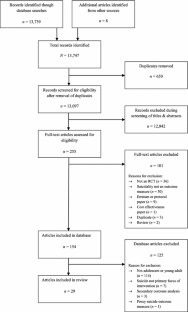 References
1.

Patton GC, Coffey C, Sawyer SM, Viner RM, Haller DM, Bose K, Vos T, Ferguson J, Mathers CD (2009) Global patterns of mortality in young people: a systematic analysis of population health data. Lancet 374:881–892

2.

Australian Bureau of Statisitics (2014) Causes of death, 2012. Cat. no. 3303.0. ABS, Canberra, Australia

3.

National Center for Health Statistics (2014) Health, United States, 2013: with specific feature on prescription drugs. NCHS, Hyattsville

4.

Evans E, Hawton K, Rodham K, Deeks J (2005) The prevalence of suicidal phenomena in adolescents: a systematic review of population-based studies. Suicide Life Threat Behav 35:239–250

5.

Whitlock J, Wyman PA, Moore SR (2014) Connectedness and suicide prevention in adolescents: pathways and implications. Suicide Life Threat Behav 44:246–272

6.

Gould MS, Greenberg T, Velting DM, Shaffer D (2003) Youth suicide risk and preventive interventions: a review of the past 10 years. J Am Acad Child Adolesc Psychiatry 42:386–405

7.

Katz C, Bolton S-L, Katz LY, Isaak C, Tilston-Jones T, Sareen J, Swampy Cree Suicide Prevention Team (2013) A systematic review of school-based suicide prevention programs. Depress Anxiety 30:1030–1045

8.

Gould MS, Marrocco FA, Hoagwood K, Kleinman M, Amakawa L, Altschuler E (2009) Service use by at-risk youth after school-based suicide screening. J Am Acad Child Adolesc Psychiatry 48:1193–1201

9.

Pisani AR, Schmeelk-Cone K, Gunzler D, Petrova M, Goldston DB, Tu X, Wyman PA (2012) Assoications between suicidal high school students' help-seeking and their attitudes and perceptions of social environment. J Youth Adolesc 41:1312–1324

10.

Schmeelk-Cone K, Pisani AR, Petrova M, Wyman PA (2012) Three scales assessing high school students' attitudes and perceived norms about seeking adult help for distress and suicide concerns. Suicide Life Threat Behav 42:157–172

11.

Mrazek PJ, Haggerty RJ (1994) Reducing risks for mental disorders: frontiers for preventive intervention research. National Academy Press, Washington

12.

Silverman MM, Maris RW (1995) The prevention of suicidal behaviors: an overview. Suicide Life Threat Behav 25:10–21

13.

Robinson J, Cox G, Malone A, Williamson M, Baldwin G, Fletcher K, O'Brien M (2013) A systematic review of school-based interventions aimed at preventing, treating and responding to suicide-related behavior in young people. Crisis 34:164–182

14.

Brent DA, McMakin DL, Kennard BD, Goldstein TR, Mayes TL, Douaihy AB (2013) Protecting adolescents from self-harm: a critical review of intervention studies. J Am Acad Child Adolesc Psychiatry 52:1260–1271

15.

Glenn CR, Franklin JC, Nock MK (2015) Evidence-based psychosocial treatments for self-injurious thoughts and behaviours in youth. J Clin Child Adolesc Psychol 44:1–29

16.

Ougrin D, Tranah T, Stahl D, Moran P, Asarnow JR (2015) Therapeutic interventions for suicide attempts and self-harm in adolescents: systematic review and meta-analysis. J Am Acad Child Adolesc Psychiatry 54:97–107

17.

Christensen H, Calear AL, Van Spijker B, Gosling J, Petrie K, Donker T, Fenton K (2014) Psychosocial interventions for suicidal ideation, plans, and attempts: a database of randomised controlled trials. BMC Psychiatry 14:86

18.

Joiner TE, Van Orden KA, Witte TK, Selby EA, Ribeiro JD, Lewis R, Rudd MD (2009) Main predictions of the interpersonal–psychological theory of suicidal behavior: empirical tests in two samples of young adults. J Abnorm Psychol 118(3):634–646

19.

Nock MK, Hwang I, Sampson NA, Kessler RC (2009) Mental disorders, comorbidity and suicidal behavior: results from the national comorbidity survey replication. Mol Psychiatry 15:868–876

20.

Cohen JD (1988) Statistical power analysis for the behavioral sciences. Lawrence Earlbaum Associates, Hillsdale

21.

Neil AL, Christensen H (2009) Efficacy and effectiveness of school-based prevention and early intervention programs for anxiety. Clin Psychol Rev 29:208–215

22.

Cuijpers P, Weitz E, Twisk J, Kuehner C, Cristea I, David D, DeRubeis RJ, Dimidjian S, Dunlop BW, Faramarzi M, Hegerl U, Jarrett RB, Kennedy SH, Kheirkhah F, Mergl R, Miranda J, Mohr DC, Segal ZV, Siddique J, Simons AD, Vittengl JR, Hollon SD (2014) Gender as predictor and moderator of outcome in cognitive behavior therapy and pharmacotherapy for adult depression: an "individual patient data" meta-analysis. Depress Anxiety 31(11):941–951

23.

Mehlum L, Tormoen AJ, Ramberg M, Haga E, Diep LM, Laberg S, Larsson BS, Stanley BH, Miller AL, Sund AM, Groholt B (2014) Dialectical behavior therapy for adolescents with repeated suicidal and self-harming behavior: a randomized trial. J Am Acad Child Adolesc Psychiatry 53(10):1082–1091

24.

Randell BP, Eggert LL, Pike KC (2001) Immediate post intervention effects of two brief youth suicide prevention interventions. Suicide Life Threat Behav 31:41–61

25.

Eggert LL, Thompson EA, Randell BP, Pike KC (2002) Preliminary effects of brief school-based prevention approaches for reducing youth suicide—risk behaviors, depression, and drug involvement. J Child Adolesc Psychiatr Nurs 15:48–64

26.

Thompson EA, Eggert LL, Randell BP, Pike KC (2001) Evaluation of indicated suicide risk prevention approaches for potential high school dropouts. Am J Public Health 91:742–752

27.

Hooven C, Walsh E, Pike KC, Herting JR (2012) Promoting CARE: including parents in youth suicide prevention. Fam Community Health 35:225–235

28.

Aseltine RH Jr, DeMartino R (2004) An outcome evaluation of the SOS suicide prevention program. Am J Public Health 94:446–451

29.

Aseltine RH Jr, James A, Schilling EA, Glanovsky J (2007) Evaluating the SOS suicide prevention program: a replication and extension. BMC Public Health 7:161

30.

Tang TC, Jou SH, Ko CH, Huang SY, Yen CF (2009) Randomized study of school-based intensive interpersonal psychotherapy for depressed adolescents with suicidal risk and parasuicide behaviors. Psychiatry Clin Neurosci 63:463–470

31.

King CA, Kramer A, Preuss L, Kerr DC, Weisse L, Venkataraman S (2006) Youth-Nominated Support Team for Suicidal Adolescents (Version 1): a randomized controlled trial. J Consult Clin Psychol 74:199–206

32.

King CA, Klaus N, Kramer A, Venkataraman S, Quinlan P, Gillespie B (2009) The Youth-Nominated Support Team-Version II for suicidal adolescents: a randomized controlled intervention trial. J Consult Clin Psychol 77(5):880–893

33.

Cotgrove A, Zirinsky L, Black D, Weston D (1995) Secondary prevention of attempted suicide in adolescence. J Adolesc 18:569–577

34.

Fitzpatrick KK, Witte TK, Schmidt NB (2005) Randomized controlled trial of a brief problem-orientation intervention for suicidal ideation. Behav Ther 36:323–333

35.

Harrington R, Kerfoot M, Dyer E, McNiven F, Gill J, Harrington V, Woodham A, Byford S (1998) Randomized trial of a home-based family intervention for children who have deliberately poisoned themselves. J Am Acad Child Adolesc Psychiatry 37:512–518

36.

Huey SJ Jr, Henggeler SW, Rowland MD, Halliday-Boykins CA, Cunningham PB, Pickrel SG, Edwards J (2004) Multisystemic therapy effects on attempted suicide by youths presenting psychiatric emergencies. J Am Acad Child Adolesc Psychiatry 43:183–190

37.

Robinson J, Yuen HP, Gook S, Hughes A, Cosgrave E, Killackey E, Baker K, Jorm A, McGorry P, Yung A (2012) Can receipt of a regular postcard reduce suicide-related behaviour in young help seekers? A randomized controlled trial. Early Interv Psychiatry 6:145–152

38.

Green J, Wood A, Kerfoot M, Trainor G, Roberts C, Rothwell J, Woodham A, Ayodeji E, Barrett B, Byford S (2011) Group therapy for adolescents with repeated self harm: randomised controlled trial with economic evaluation. BMJ 342:d682

39.

Rosenbaum Asarnow J, Baraff LJ, Berk M, Grob CS, Devich-Navarro M, Suddath R, Piacentini JC, Rotheram-Borus MJ, Cohen D, Tang L (2011) An emergency department intervention for linking pediatric suicidal patients to follow-up mental health treatment. Psychiatr Serv 62:1303–1309

40.

Rossouw TI, Fonagy P (2012) Mentalization-based treatment for self-harm in adolescents: a randomized controlled trial. J Am Acad Child Adolesc Psychiatry 51:1304–1313

41.

Pineda J, Dadds MR (2013) Family intervention for adolescents with suicidal behavior: a randomized controlled trial and mediation analysis. J Am Acad Child Adolesc Psychiatry 52:851–862

42.

Alavi A, Sharifi B, Ghanizadeh A, Dehbozorgi G (2013) Effectiveness of cognitive-behavioral therapy in decreasing suicidal ideation and hopelessness of the adolescents with previous suicidal attempts. Iran J Pediatr 23:467–472

43.

Diamond GS, Wintersteen MB, Brown GK, Diamond GM, Gallop R, Shelef K, Levy S (2010) Attachment-based family therapy for adolescents with suicidal ideation: a randomized controlled trial. J Am Acad Child Adolesc Psychiatry 49:122–131

44.

Donaldson D, Spirito A, Esposito-Smythers C (2005) Treatment for adolescents following a suicide attempt: results of a pilot trial. J Am Acad Child Adolesc Psychiatry 44:113–120

45.

Eskin M, Ertekin K, Demir H (2008) Efficacy of a problem-solving therapy for depression and suicide potential in adolescents and young adults. Cognit Ther Res 32:227–245

46.

Esposito-Smythers C, Spirito A, Kahler CW, Hunt J, Monti P (2011) Treatment of co-occurring substance abuse and suicidality among adolescents: a randomized trial. J Consult Clin Psychol 79:728–739

47.

Hazell PL, Martin G, McGill K, Kay T, Wood A, Trainor G, Harrington R (2009) Group therapy for repeated deliberate self-harm in adolescents. J Am Acad Child Adolesc Psychiatry 48:662–670

48.

Ougrin D, Boege I, Stahl D, Banarsee R, Taylor E (2013) Randomised controlled trial of therapeutic assessment versus usual assessment in adolescents with self-harm: 2-year follow-up. Arch Dis Child 98:772–776

49.

Power P, Bell R, Mills R, Herrman-Doig T, Davern M, Henry L, Yuen H, Khademy-Deljo A, McGorry P (2003) Suicide prevention in first episode psychosis: the development of a randomised controlled trial of cognitive therapy for acutely suicidal patients with early psychosis. Aust N Z J Psychiatry 37:414–420

50.

Rudd MD, Rajab MH, Orman DT, Stulman DA, Joiner T, Dixon W (1996) Effectiveness of an outpatient intervention targeting suicidal young adults: preliminary results. J Consult Clin Psychol 64:179–190

51.

Wood A, Trainor G, Rothwell J, Moore A, Harrington R (2001) Randomized trial of group therapy for repeated deliberate self-harm in adolescents. J Am Acad Child Adolesc Psychiatry 40:1246–1253

52.

Székely A, Thege BK, Mergl R, Birkás E, Rózsa S, Purebl G, Hegerl U (2013) How to decrease suicide rates in both genders? An effectiveness study of a community-based intervention (EAAD). PLoS One 8:e75081

53.

Wasserman D, Hoven CW, Wasserman C, Wall M, Eisenberg R, Hadlaczky G, Kelleher I, Sarchiapone M, Apter A, Balazs J, Bobes J, Brunner R, Corcoran P, Cosman D, Guillemin F, Haring C, Iosue M, Kaess M, Kahn J-P, Keeley H, Musa GJ, Nemes B, Postuvan V, Saiz P, Reiter-Theil S, Varnik A, Varnik P, Carli V (2015) School-based suicide prevention programmes: the SEYLE cluster-randomised, controlled trial. Lancet 385:1536–1544
Acknowledgments
ALC and HC are supported by National Health and Medical Research Council (NHMRC) Fellowships 1013199 and 1056964. The database used in the current review is maintained by the NHMRC Centre of Research Excellence in Suicide Prevention (1042580). We would like to thank Jacqueline Brewer, John Gosling, Katherine Petrie, Daniela Solomon, Kanupriya Kahlia Hehir and Angeline Tjhin for their assistance in completing the review.
Ethics declarations
Ethical standards
The manuscript does not contain clinical studies or patient data.
Conflict of interest
The authors declare that they have no conflict of interest.
About this article
Cite this article
Calear, A.L., Christensen, H., Freeman, A. et al. A systematic review of psychosocial suicide prevention interventions for youth. Eur Child Adolesc Psychiatry 25, 467–482 (2016). https://doi.org/10.1007/s00787-015-0783-4
Received:

Accepted:

Published:

Issue Date:
Keywords
Suicide

Prevention

Early intervention

School

Community

Healthcare