Abstract
It is important that depressed patients receive adequate and safe care as described in clinical guidelines. The aim of this study was to evaluate the implementation of the Dutch depression guideline for children and adolescents, and to identify factors that were associated with the uptake of the guideline recommendations. The study took place in specialised child and adolescent mental healthcare. An implementation project was initiated to enhance the implementation of the guideline. An evaluation study was performed alongside the implementation project, using structured registration forms and interviews with healthcare professionals. Six multidisciplinary teams participated in the implementation study. The records of 655 patients were analysed. After 1 year, 72 % of all eligible patients had been screened for depression and 38 % were diagnosed with the use of a diagnostic instrument. The severity of the depression was assessed in 77 % of the patients during the diagnostic process, and 41 % of the patients received the recommended intervention based on the depression severity. Of the patients that received antidepressants, 25 % received weekly checks for suicidal thoughts in the first 6 weeks. Monitoring of the patients' response was recorded in 32 % of the patients. A wide range of factors were perceived to influence the uptake of guideline recommendations, e.g. the availability of capable professionals, available time, electronic tools and reminders, and the professionals' skills and attitudes. With the involvement of the teams, recommendations were provided for nationwide implementation of the guideline. In conclusion, a systematic implementation programme using stepped care principles for the allocation of depression interventions seems successful, but there remains room for further improvement.
Access options
Buy single article
Instant access to the full article PDF.
USD 39.95
Price includes VAT (USA)
Tax calculation will be finalised during checkout.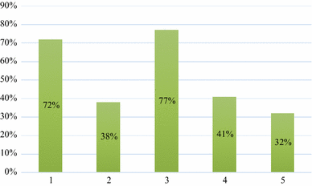 References
1.

Costello EJ, Erkanli A, Angold A (2006) Is there an epidemic of child or adolescent depression? JCPP 47:1263–1271

2.

Angold A, Costello EJ (2001) Epidemiology of depression in children and adolescents. In: Goodyer I (ed) The depressed child and adolescent, 2nd edn. Cambridge University Press, Cambridge, pp 143–178

3.

Dierker LC, Albano AM, Clarke GN et al (2001) Screening for anxiety and depression in early adolescence. JAACAP 40:929–936

4.

Pavuluri M, Birmaher B (2004) A practical guide to using ratings of depression and anxiety in child psychiatric practice. Curr Psychiatry Rep 6:108–116

5.

Thapar A, Collishaw S, Pine DS, Thapar AK (2012) Depression in adolescents. Lancet 379:1056–1067

6.

Smit E, Bohlmeijer E, Cuijpers P (2003) Wetenschappelijke onderbouwing depressiepreventie. Epidemiologie, aangrijpingspunten, huidige praktijk, nieuwe richtingen. Trimbos-instituut, Utrecht

7.

Chassin L, Ritter J (2001) Vulnerability to substance use disorders in childhood and adolescence. In: Ingram RE, Price JM (eds) Vulnerability to psychopathology: risk across the lifespan. Guilford Press, NY, pp 107–134

8.

Keenan-Miller D, Hammen CL, Brennan PA (2007) Health outcomes related to early adolescent depression. J Adolesc Health 41:256–262

9.

Hasler G, Pine DS, Kleinbaum DG et al (2005) Depressive symptoms during childhood and adult obesity: the Zurich cohort study. Mol Psychiatry 10:842–850

10.

US Burden of disease collaborators (2013) The state of US health, 1990–2010. Burden of diseases, injuries and risk factors. JAMA 310:591–608

11.

Harrington R (2001) Depression, suicide and deliberate self-harm in adolescence. Br Med Bull 57:47–60

12.

National Collaborating Centre for Mental Health (2005) Depression in children and young people: identification and management in primary, community and secondary care. The British Psychological Society and the Royal College of Psychiatrists, Leicester

13.

Beyondblue (2010) Clinical practice guidelines: depression in adolescents and young adults. Beyondblue, the national depression initiative, Melbourne

14.

Birmaher B, Brent D, AACAP Work Group on Quality Issues (2007) Practice parameter for the assessment and treatment of children and adolescents with depressive disorder. J Am Acad Child Adolesc Psychiatry Pediatrics 46:1503–1526

15.

Landelijke Stuurgroep Multidisciplinaire Richtlijnontwikkeling in de GGZ (2009) Richtlijn voor depressie bij jeugd, addendum. Trimbos-instituut, Utrecht

16.

Grol R, Grimshaw J (2003) From best evidence to best practice: effective implementation of change in patients care. Lancet 362:1225–1230

17.

Perera A, Gupta P, Samuel R, Berg B (2007) A survey of anti-depressant prescribing practice and the provision of psychological therapies in a South London CAMHS from 2003 to 2006. Child Adolesc Ment Health 12:70–72

18.

Hetrick SE, Thompson A, Yuen K, Finch S, Parker AG (2012) Is there a gap between recommended and "real world" practice in the management of depression in young people? A medical file audit of practice. BMC Health Serv Res 12:178

19.

Morrato EH, Libby AM, Orton HD, Degruy FV, Brent DA, Allen R (2008) Frequency of provider contact after FDA advisory on risk of pediatric suicidality with SSRIs. Am J Psychiatry 165:42–50

20.

Grol R, Wensing M (2004) What drives change? Barriers to and incentives for achieving evidence-based practice. Med J Aust 180(Suppl 6):S57–S60

21.

Murray J, Cartwright-Hatton S (2006) NICE guidelines on treatment of depression in childhood and adolescence: implications from a CBT perspective. Behav Cognitive Psychother 34:129–137

22.

Van der Linden D, De Graaf I (2010) State of the art. Bekendheid met en gebruik van evidence based interventies in de jeugd-ggz. Trimbos-instituut, Utrecht

23.

Grol R, Wensing M (2006) Implementatie. Effectieve verbetering van de patiëntenzorg. Elsevier Gezondheidszorg, Maarssen

24.

Strengthening the reporting of observational studies in epidemiology (STROBE) statement (2013) STROBE initiative. www.strobe-statement.org. Accessed 23 Oct 2013

25.

RATS (2013) Biomed central. http://www.biomedcentral.com/authors/rats. Accessed 23 Oct 2013

26.

Wilson T, Berwick DM, Cleary PD (2003) What do collaborative improvement projects do? Experience from seven countries. Jt Comm J Qual Saf 29:85–93

27.

Schouten LM, Hulscher ME, van Everdingen JJ, Huijsman R, Grol RP (2008) Evidence for the impact of quality improvement collaboratives: systematic review. BMJ 336:1491–1494

28.

Nadeem E, Olin SS, Hill LC, Hoagwood KE, Horwitz SM (2013) Understanding the components of quality improvement collaboratives: a systematic literature review. Milbank Q 2:354–394

29.

Nadeem E, Olin SS, Hill LC, Hoagwood KE, Horwitz SM (2014) A literature review of learning collaboratives in mental health care: used but untested. Psychiatr Serv 9:1088–1099

30.

Baker R, Camosso-Stefinovic J, Gillies C, Shaw EJ, Cheater F, Flottorp S, Robertson N (2010) Tailored interventions to overcome identified barriers to change: effects on professional practice and healthcare outcomes. Cochrane Database Syst Rev. doi:10.1002/14651858.CD005470

31.

Damschroder LJ, Aron DC, Keith RE, Kirsh SR, Alexander JA, Lowery JC (2009) Fostering implementation of health services research findings into practice: a consolidated framework for advancing implementation science. Implement Sci 4:50

32.

VERBI GmbH (2007) MAXQDA. The art of data analysis. http://bit.ly/1aQrdcX. Accessed May 2012

33.

Kramer TL, Miller TL, Phillips SD, Robbins JM (2008) Quality of mental healthcare for depressed adolescents. Am J Med Qual 23:96–104

34.

Hermens MLM, van Splunteren PT, van den Bosch A, Verheul R (2011) Barriers to implementing the clinical guideline on borderline personality disorder in the Netherlands. Psychiatric Serv 62:1381–1383

35.

Van Splunteren P, Hermens M (2011) From knowledge to action. Application of guidelines in mental healthcare [in Dutch: Van kennis naar actie. Toepassing van richtlijnen in de ggz]. Tijdschr Voor Gedragstherapie 44:285–297

36.

American Psychiatric Association (2000) Diagnostic and statistical manual of mental disorders, 4th edn, text revision. APA, Washington, DC

37.

Deming WE (1986) Out of the crisis: quality, productivity and competitive position. Cambridge University Press, Cambridge

38.

Langley GJ, Nolan KM, Nolan TW, Norman CL, Provost LP (1996) The improvement guide. A practical approach to enhancing organizational performance. Jossey-Bass Publishers, San Francisco

39.

Silverman WK, Albano AM (1996) Anxiety disorders interview schedule for children for DSM-IV: children and parent version. Psychological Corporation/Graywind Publications Incorporated, San Antonio

40.

Achenbach TM (1991) Manual for the child behaviour checklist/4–18, YSR and TRF profiles. University of Vermont (Department of Psychiatry), Burlington

41.

Kovacs M (1992) Children's depression inventory manual. Multi-Health systems, North Tonawanda

42.

Kaufman J, Birmaher B, Brent D, Rao U, Flynn C, Moreci P, Williamson D, Ryan N (1997) Schedule for affective disorders and schizophrenia for school-age children-present and lifetime version (K-SADS-PL): initial reliability and validity data. J Am Acad Child Adolesc Psychiatry 36:980–988

43.

Goodman R (2001) Psychometric properties of the strengths and difficulties questionnaire. J Am Acad Child Adolesc Psychiatry 40:1337–1345

44.

Van Oort M, van't Land H, de Ruiter C (2005) Screeningsinstrument psychische stoornissen voor Bureau Jeugdzorg: Schriftelijk of mondeling?. Trimbos-instituut, Utrecht
Acknowledgments
The study was funded by the Netherlands Organisation for Health Research and Development (ZonMW), Grant Number 80-92440-98-012. Anna Muntingh (AM) was one of the researchers who conducted the data collection and analysis.
Conflict of interest
The authors declare that they have no conflict of interest.
About this article
Cite this article
Hermens, M.L.M., Oud, M., Sinnema, H. et al. The multidisciplinary depression guideline for children and adolescents: an implementation study. Eur Child Adolesc Psychiatry 24, 1207–1218 (2015). https://doi.org/10.1007/s00787-014-0670-4
Received:

Accepted:

Published:

Issue Date:
Keywords
Qualitative research

Depression

Implementation

Guidelines

Children

Adolescents