Abstract
Callous–unemotional (CU) traits, including an uncaring nature and reduced empathy, represent a strongly heritable pattern of socio-emotional responding linked with elevated risk for severe, persistent delinquent behavior. Although evidence suggests that CU traits vary continuously across the population, research linking CU traits and delinquency is often conducted with incarcerated or clinical samples, obscuring potential heterogeneity in this relationship across the full range of high-CU individuals. Using a nationally representative sample, this study examines the role of neighborhood income in moderating the association between CU traits and delinquency in terms of both level and type of offending. Findings corroborate the link between CU traits and delinquency and suggest that the link between high-CU traits and violent delinquency may be unique to youth living in low-income neighborhoods.
Access options
Buy single article
Instant access to the full article PDF.
USD 39.95
Price excludes VAT (USA)
Tax calculation will be finalised during checkout.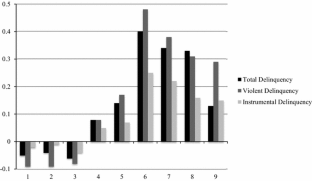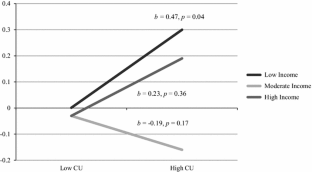 References
Frick PJ, White SF (2008) The importance of callous–unemotional traits for developmental models of aggressive and antisocial behavior. J Child Psychol Psychiatry 49(4):359–375

Kimonis ER, Frick PJ, Munoz LC, Aucoin KJ (2007) Can a laboratory measure of emotional processing enhance the statistical prediction of aggression and delinquency in detained adolescents with callous–unemotional traits? J Abnorm Child Psychol 35(5):773–785

Hare RD, Neumann CS (2010) The role of antisociality in the psychopathy construct: comment on Skeem and Cooke (2010). Psychol Assess 22(2):446–454

Skeem JL, Cooke DJ (2010) Is criminal behavior a central component of psychopathy? Conceptual directions for resolving the debate. Psychol Assess 22(2):433–445

Hare RD (2006) Psychopathy: a clinical and forensic overview. Psychiatr Clin North Am 29(3):709–724

Pardini DA, Erickson K, Loeber R, Raine A (2013) Lower amygdala volume in men is associated with childhood aggression, early psychopathic traits, and future violence. Biol Psychiatry (in press)

Pitchford I (2001) The origins of violence: is psychopathy an adaptation? Human Nat Rev 1:28–36

Gao Y, Raine A (2010) Successful and unsuccessful psychopaths: a neurobiological model. Behav Sci Law 28:194–210

Hall JR, Benning SD (2006) The "successful" psychopath: adaptive and subclinical manifestations of psychopathy in the general population. In: Patrick CJ (ed) Handbook of psychopathy. Guilford Press, New York, pp 459–478

Barker E, Oliver B, Viding E, Salekin R, Maughan B (2011) The impact of prenatal maternal risk, fearless temperament and early parenting on adolescent callous unemotional traits: a 14-year longitudinal investigation. J Child Psychol Psychiatry 52(8):878–888

Sampson RJ, Morenoff JD, Gannon-Rowley T (2002) Assessing "neighborhood effects": social processes and new directions in research. Annu Rev Sociol 28:443–478

Sun IY, Triplett R, Gainey RR (2004) Neighborhood characteristics and crime: a test of Sampson and Groves' model of social disorganization. Western Criminol Rev 5(1):1–16

Meier MH, Slutske WS, Andt S, Cadoret RJ (2008) Impulsive and callous traits are more strongly associated with delinquent behavior in higher-risk neighborhoods among boys and girls. J Abnorm Psychol 117(2):377–385

Trentacosta CJ, Hyde LW, Shaw DS, Cheong J (2009) Adolescent dispositions for antisocial behavior in context: the roles of neighborhood dangerousness and parental knowledge. J Abnorm Psychol 118(3):564

Blair RJR, Peschardt KS, Budhani S, Mitchell DGV, Pine DS (2006) The development of psychopathy. J Child Psychol Psychiatry 47(3–4):262–275

Frick PJ, Kimonis ER, Dandreaux DM, Farell JM (2003) The 4-year stability of psychopathic traits in non-referred youth. Behav Sci Law 21(6):713–736

Lynam DR, Caspi A, Moffitt TE, Loeber R, Stouthamer-Loeber M (2007) Longitudinal evidence that psychopathy scores in early adolescence predict adult psychopathy. J Abnorm Psychol 116:155–165

Obradovic J, Pardini D, Long JD, Loeber R (2007) Measuring interpersonal callousness in boys from childhood to adolescence: an examination of longitudinal invariance and temporal stability. J Clin Child Adolesc Psychol 36:276–292

Lozier LM, Cardinale EM, VanMeter JW, Marsh AA (2014) Mediation of the relationship between callous–unemotional traits and proactive aggression by amygdala response to fear among children with conduct problems. JAMA Psychiatry 71:627–636

Viding E, Fontaine NMG, McCrory EJ (2012) Antisocial behavior in children with and without callous–unemotional traits. J R Soc Med 105:195–200

Blair RJR (2003) Facial expressions, their communicatory functions and neuro-cognitive substrates. Philos Trans R Soc Lond B Biol Sci 358:561–572

Kiehl KA (2006) A cognitive neuroscience perspective on psychopathy: evidence for paralimbic system dysfunction. Psychiatry Res 142:107–128

Viding E, Blair RJ, Moffitt TE, Plomin R (2005) Evidence for substantial genetic risk for psychopathy in 7-year-olds. J Child Psychol Psychiatry 46:592–597

Lynam DR, Gudonis L (2005) The development of psychopathy. Annu Rev Clin Psychol 1:381–407

Gao Y, Raine A, Schug RA (2011) P3 event-related potentials and childhood maltreatment in successful and unsuccessful psychopaths. Brain Cogn 77(2):176–182

Marsh AA, Blair RJR (2008) Deficits in facial affect recognition among antisocial populations: a meta-analysis. Neurosci Biobehav Rev 32(3):454–465

McCrory E, De Brito SA, Viding E (2010) Research review: the neurobiology and genetics of maltreatment and adversity. J Child Psychol Psychiatry 51:1079–1095

Viding E, Jones AP, Frick PJ, Moffitt TE, Plomin R (2008) Heritability of antisocial behavior at nine: do callous–unemotional traits matter? Dev Sci 11(1):17–22

Gao Y, Baker LA, Raine A, Wu H, Bezdjian S (2009) Brief report: interaction between social class and risky decision-making in children with psychopathic tendencies. J Adolesc 32(2):409–414

Marshall LA, Cooke DJ (1999) The childhood experiences of psychopaths: a retrospective study of familial and societal factors. J Pers Disord 13:211–225

Sampson RJ, Raudenbush SW, Earls F (1997) Neighborhoods and violent crime: a multilevel study of collective efficacy. Science 277(5328):918–924

Howard AL, Kimonis ER, Munoz LC, Frick PJ (2012) Violence exposure mediates the relation between callous–unemotional traits and offending patterns in adolescents. J Abnorm Child Psychol 40(8):1237–1247. doi:10.1007/s10802-012-9647-2

Dupere V, Lacourse E, Willms JD, Vitaro F, Tremblay RE (2007) Affiliation to youth gangs during adolescence: the interaction between childhood psychopathic tendencies and neighborhood disadvantage. J Abnorm Child Psychol 35(6):1035–1045

Kingston B, Huizinga D, Elliot DS (2009) A test of social disorganization theory in high-risk urban neighborhoods. Youth Soc 41(1):53–79

Sciandra M, Sanbonmatsu L, Duncan GJ, Gennetian LA, Katz LF, Kessler RC, Kling JR, Ludwig J (2013). Long-term effects of the moving to opportunity residential mobility experiment on crime and delinquency. J Exp Criminol. Retrieved from: http://link.springer.com/article/10.1007/s11292-013-9189-9

Fanti KA, Frick PJ, Georgiou S (2009) Linking callous–unemotional traits to instrumental and non-instrumental forms of aggression. J Psychopathol Behav Assess 31:285–298

White IR, Royston P, Wood AM (2011) Multiple imputation using chained equations: issues and guidance for practice. Stat Med 30:377–399

Royston P (2007) Multiple imputation of missing values: further update of ice, with an emphasis on interval censoring. Stata J 7:445–464

Von Hippel PT (2007) Regression with missing Ys: an improved strategy for analyzing multiply imputed data. Sociol Methodol 37(1):83–117

Graham JW (2009) Missing data analysis: making it work in the real world. Annu Rev Psychol 60:549–576

Frick PJ, Hare RD (2001) The antisocial process screening device. Multi-Health Systems, Toronto

Kimonis ER, Frick PJ, Skeem JL, Marsee MA, Cruise K, Munoz LC et al (2008) Assessing callous–unemotional traits in adolescent offenders: validation of the Inventory of callous–unemotional traits. Int J Law Psychiatry 31(3):241–252

Byrd AL, Kahn RE, Pardini DA (2013) A validation of the inventory of callous–unemotional traits in a community sample of young adult males. J Psychopathol Behav Assess 35(1):20–34

Lilienfeld SO, Widows MR (2005) PPI-R: psychopathic personality inventory—revised

Lilienfeld SO, Patrick CJ, Benning SD, Berg J, Sellbom M, Edens JF (2012) The role of fearless dominance in psychopathy: confusions, controversies, and clarifications. Personal Disord Theory Res Treat 3(3):327–340

Frick PJ, Moffitt TE (2010) A proposal to the DSM-V childhood disorders and the ADHD and disruptive behavior disorders work groups to include a specifier to the diagnosis of conduct disorder based on the presence of callous–unemotional traits. Am Psychiatr Assoc, USA, pp 1–36

Halevy R, Shalvi S, Verschuere B (2014) Being honest about dishonesty: correlating self-reports and actual lying. Human Commun Res 40(1):54–72

Rowe R, Maughan B, Moran P, Ford T, Briskman J, Goodman R (2010) The role of callous unemotional traits in the diagnosis of conduct disorder. J Child Psychol Psychiatry 51(6):688–695

Dunn LM, Dunn LM (1997) Peabody picture vocabulary test, 3rd edn. Pearson Assessments, Bloomington

Biemer PP, Aragon-Logan ED (2009) National longitudinal study of adolescent health: wave IV weights. Retrieved from: http://www.cpc.unc.edu/projects/addhealth/codebooks/wave4

Berg JM, Smith SF, Watts AL, Ammirati R, Green SE, Lilienfeld SO (2013) Misconceptions regarding psychopathic personality: implications for clinical practice and research. Neuropsychiatry 3(1):63–74

Radloff L (1991) The use of the center for epidemiologic studies depression scale in adolescents and young adults. J Youth Adolesc 20:149–166

Willemsen J, Vanheule S, Verhaeghe P (2011) Psychopathy and lifetime experiences of depression. Crim Behav Ment Health 21(4):279–294

Leventhal T, Brooks-Gunn J (2011) Changes in neighborhood poverty from 1990 to 2000 and youth's problem behavior. Dev Psychol 47(6):1680–1698

Ludwig J, Sanbonmatsu L, Gennetian L, Adam L, Duncan GJ, Katz LF, Kessler RC, Kling JR et al (2011) Neighborhoods, obesity and diabetes: a randomized social experiment. N Engl J Med 365:1509–1519

Frick PJ, Cornell AH, Barry CT, Bodin SD, Dane HE (2003) Callous–unemotional traits and conduct problems in the prediction of conduct problem severity, aggression and self-report of delinquency. J Abnorm Child Psychol 31(4):457–470

Lynam DR, Caspi A, Moffitt TE, Wikstrom POH, Loeber R, Novak S (2000) The interaction between impulsivity and neighborhood context on offending: the effects of impulsivity are stronger in poorer neighborhoods. J Abnorm Psychol 109(4):563–574

Bjerk D (2010) Thieves, thugs, and neighborhood poverty. J Urban Econ 68:231–246
Conflict of interest
On behalf of all authors, the corresponding author states that there is no conflict of interest.
Appendices
Appendix A
See Table 3.
Appendix B
See Table 4.
Appendix C
See Table 5.
Appendix D: Supplementary analyses
About this article
Cite this article
Markowitz, A.J., Ryan, R.M. & Marsh, A.A. Neighborhood income and the expression of callous–unemotional traits. Eur Child Adolesc Psychiatry 24, 1103–1118 (2015). https://doi.org/10.1007/s00787-014-0663-3
Received:

Accepted:

Published:

Issue Date:

DOI: https://doi.org/10.1007/s00787-014-0663-3
Keywords
Delinquency

Callous–unemotional traits

Neighborhoods